The ultimate Niigata sake and food tasting experience. "Niigata Meets Futako Sake Girl's Party"
"Futako Sake Girl's Party" is a very popular sake event aimed at women, with the stylish vibe to match boasting an overall attendance so far of around 900 people.
This year's event is a sort of spin-off – a special collaboration with Niigata Prefecture, bringing together nearly 60 varieties of sake from 20 sake breweries and a selection of local culinary delicacies from the prefecture for participants to sample to their heart's content.
For 1,500 yen, participants can indulge in the flavors of Niigata sake for the first and second sessions, or for 2,500 yen, lose oneself in the gourmet extravaganza of the third session, showcasing rare and delicious Niigata delicacies. Talk shows and information sessions on local food, sake, fashion, beauty, and lifestyle will also be held once during each session.
While the event is generally targeted towards women, men can take part if they are accompanied by a women, so why not invite the opposite sex in your life along for some sake fun.
Tickets are available to purchase via Peatix or PassMarket.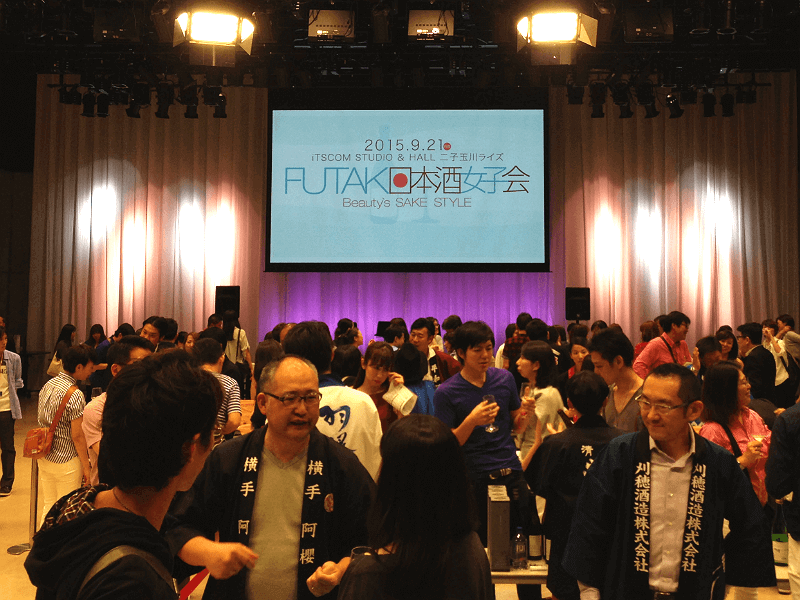 Event details, how to register
Futako Tamagawa Station is accessible via the Tokyu Den En Toshi line, just an 11-minute train ride from Shibuya Station. The area has plenty of shops, fashion boutiques, department stores and cafes, etc – perfect for strolling, relaxing, or shopping before or after the event.
The latest event details can be found on the official Facebook Page.
Event Summary
– Date:20th March 2017(Mon / Public Holiday)
– Session 1:doors open at 11:00, event from 11:30 – 13:30
– Session 2:doors open at 14:00, event from 14:30 – 16:30
– Session 3:doors open at 17:30, event from 18:00 – 20:00
– Entrance Fee (Sessions 1 & 2):1,500 yen. Original ochoko glass with small drawstring bag included.
– Entrance Fee(Session 3):2,500 yen. Includes original wine-glass inspired "Sake Glass" and a selection of delicacies from Niigata.
– Conditions of entry:women, 20yrs or over
* Men will only be admitted if they meet the same age requirements and are accompanied by a female, paying participant.
– Venue:iTSCOM STUDIO&HALL Futako Tamagawa Rise
(Den en toshi line / Ooimachi Line, 3 minutes walk from Futako Tamagawa Station)
– How to Register:Peatix or PassMarket
Participating Brewery List
– Aoki Shuzo:Kakurei / Bokushi
– Takanoi Shuzo :Koshi no Hatsuuume
– Asahi Shuzo  :Asahiyama / Kubota
– Takahashi Shuzo  :Choryou
– Ayumasamune :Ayumasamune
– Takarayama Shuzo  :Takarayama
– Ikedaya Shuzo :Kenshin
– Tamagawa Shuzo  :Tamafuumi / Meguro Gorosuke
– Imayotsukasa Shuzo :Imayotsukasa / KOI
– DHC Shuzo  :Koshi no Bairi
– Kamonishiki Shuzo :Kamonishiki
– Hakkai Jozo   :Hakkaisan
– Koshimeijo   :Koshi no Tsuru / Yamashiroya
– Myoko Shuzo  :Myokosan / Koshi no Setsugetsuka + others
* The above list may be changed without warning.
Contact Us
"Niigata meets Futako Sake Girl's Party" Organising Committee(ITS Communication.Inc)
Tel: 03-6732-7340(Weekdays: 09:15 – 18:00)