Kuramoto Stand, a 4-minute walk from Akihabara station
Situated in the Chabara retail complex, a mere 4-minute walk from Akihabara Station, Kuramoto Stand is a sake-tasting cafe with a food menu that puts the spotlight on fermented ingredients.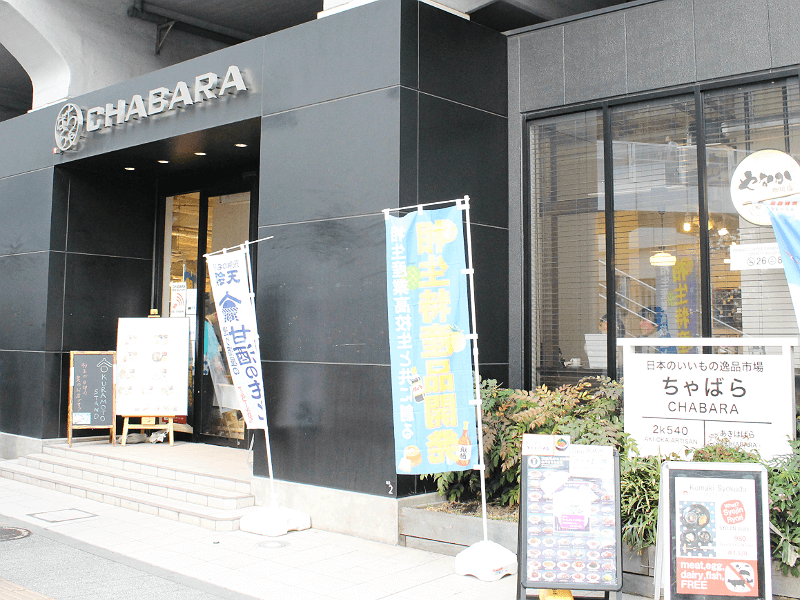 The entrance to this shop and café is marked by four sugidama, balls of cedar branches that are traditionally hung from the eaves of sake breweries. When first displayed, a fresh green sugidama announces that the year's new sake is ready, gradually browning over time as the sake matures. When it comes to their common presence outside of restaurants and bars, it's to beckon the thirsty.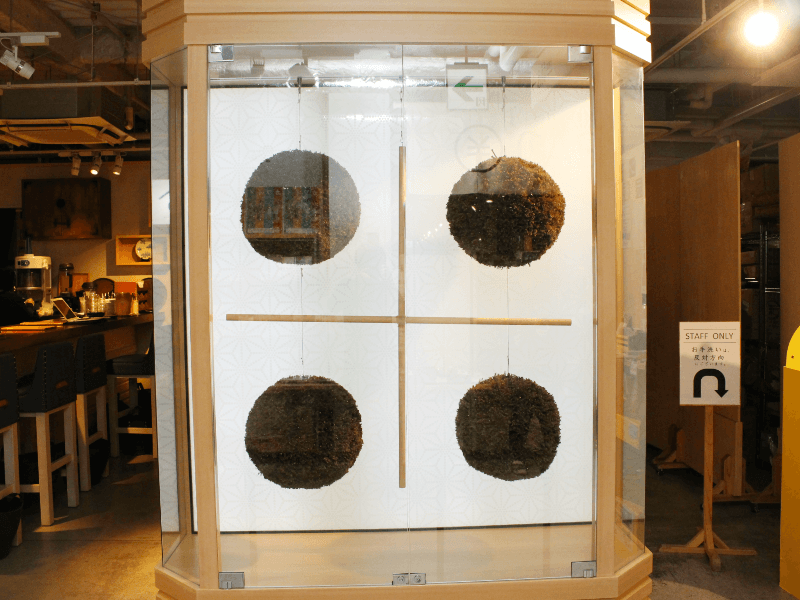 Fermenting a future of health
Niigata Prefecture is home to more sake producers than any other prefecture in Japan, including the KIKUSUI Sake Brewery, which was founded in 1881. KIKUSUI has established Kuramoto Stand as part of the brewery's drive to share its philosophy of making sake that is both delicious and accessible, for people to enjoy as part of their everyday lives. Besides sake, visitors can also try dishes that include fermented ingredients unique to sake brewing: koji, a mold used to make sake, and sake kasu,the lees remaining after sake is pressed.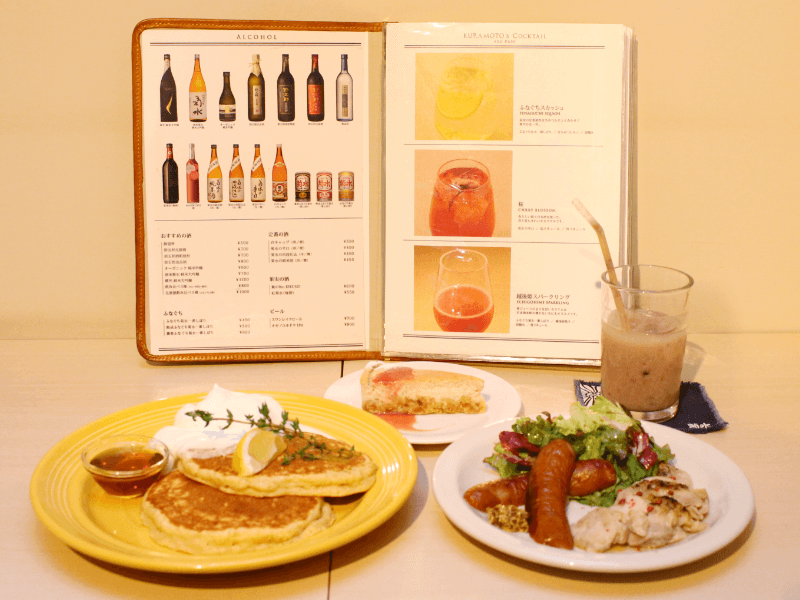 In the fermentation process, the microbes that cling to foodstuffs produce nutrients beneficial to humans through the action of their own enzymes. Fermented foods have been gaining attention as health foods because the fermentation process leads to enhanced flavor, nutritional value and increased preservability (their primary merit for centuries). Some of the health benefits reported include smoothing blood flow and strengthening of the immune system. The Biogenkoji Research Institute has presented cases in which those suffering from prostatic-related disease have experienced significant improvement in general condition.
Products made with koji are a deeply-rooted part of the Japanese lifestyle, so much so that it has been nicknamed the "national fungus". Miso, soy sauce, vinegar, and sake, all indispensable elements of Japanese cuisine, are all made through fermentation thanks to the presence of koji. Meanwhile, the double-fermented Sakasuke, available at Kuramoto Stand, was developed in Niigata Prefecture by fermenting sakekasu with lactic acid bacteria. This "super sake kasu" is used as an ingredient in delicious, nutritious dishes only available at the café.
Recommended menu items
16-grain A
mazake

(500 yen)

A sweet, non-alcoholic amazake made from a sixteen-grain mixture. This full-bodied "drinkable IV solution" has a delicate aroma and a soft, yet beady texture.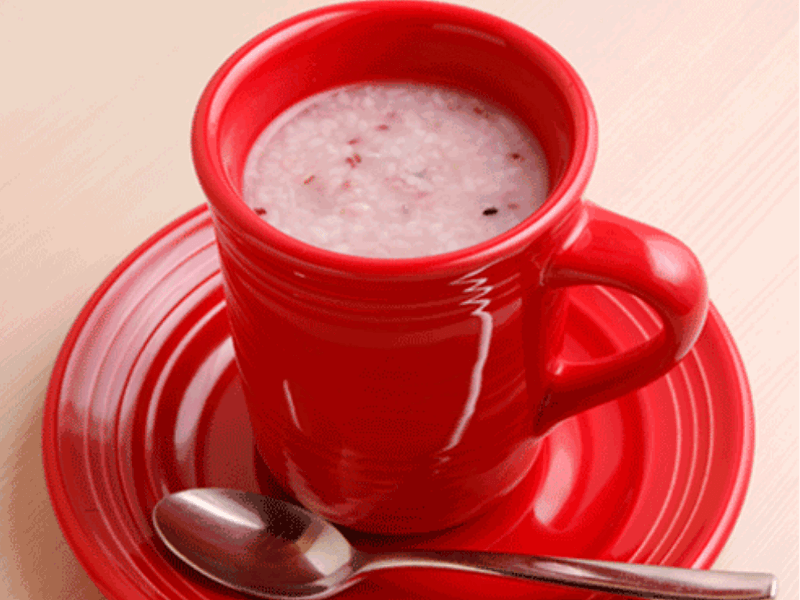 Sakekasu Sausage and Sakasuke Chicken (750 yen)
Kuramoto Stand's sausages are pickled in sakekasu, making them spicy with a peppery bite and a faint sweetness, while chicken pickled in Sakasuke is tender and tasty.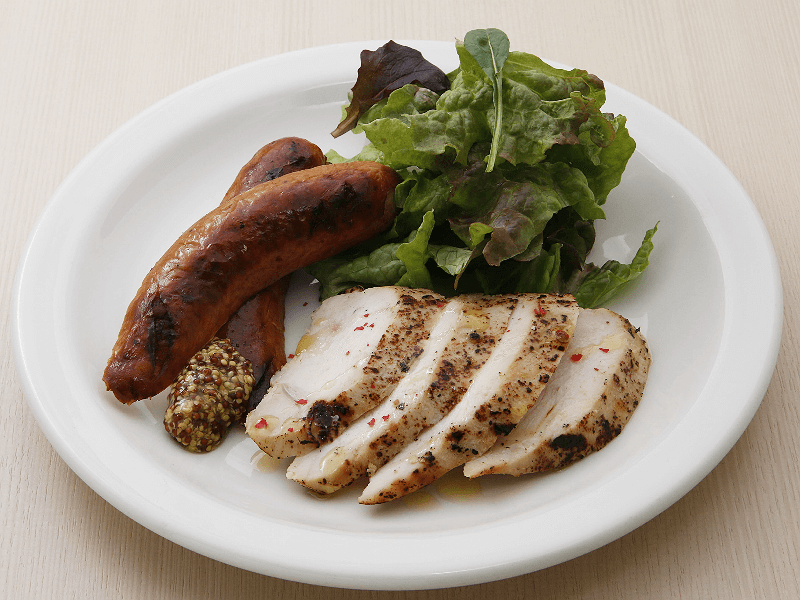 Sakasuke Pancakes with Maple Butter and Lemon (1,050 yen)
Sakasuke kneaded into the batter makes for light and fluffy pancakes. The flavor of the Sakasuke goes well with the maple butter, while the lemon's acidity creates a refreshing aftertaste.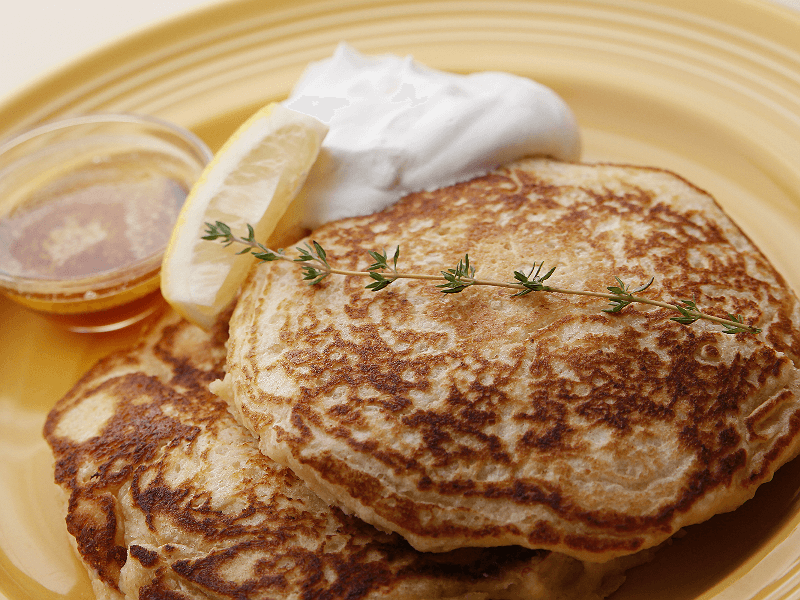 Sakasuke and Echigo-hime Strawberry Cheese Tart (400 yen) served with Mukantei Sake (500 yen)
Sakekasu is also used in the dough of this baked cheese tart. Mukantei sake has a rich taste and aroma with a long finish. When these mingle with the rich flavor and aroma of the tart, the homey sweetness of the cake lightly enhances the fragrance of the sake for a sophisticated taste.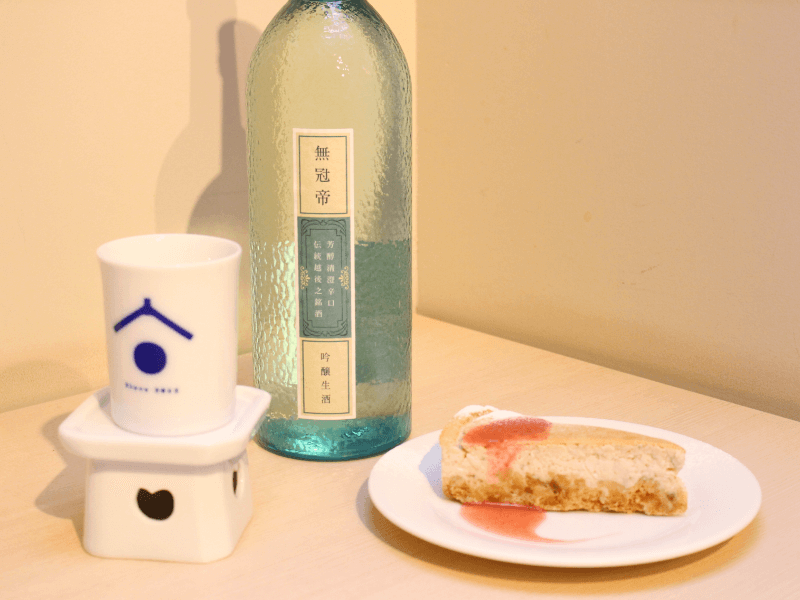 KIKUSUI 3-sake Tasting Flight (800 yen)
Compare three of KIKUSUI Sake Brewery's exceptional brews with this popular tasting flight: KIKUSUI Junmai-shu, KIKUSUI Yondan Shikomi, and KIKUSUI Karakuchi, each selected to offer up a sampling of the breadth of flavors (and possibility) inherent to Japanese sake, while still remaining unique to KIKUSUI – umakuchi (savory), amakuchi (sweet) and karakuchi (dry).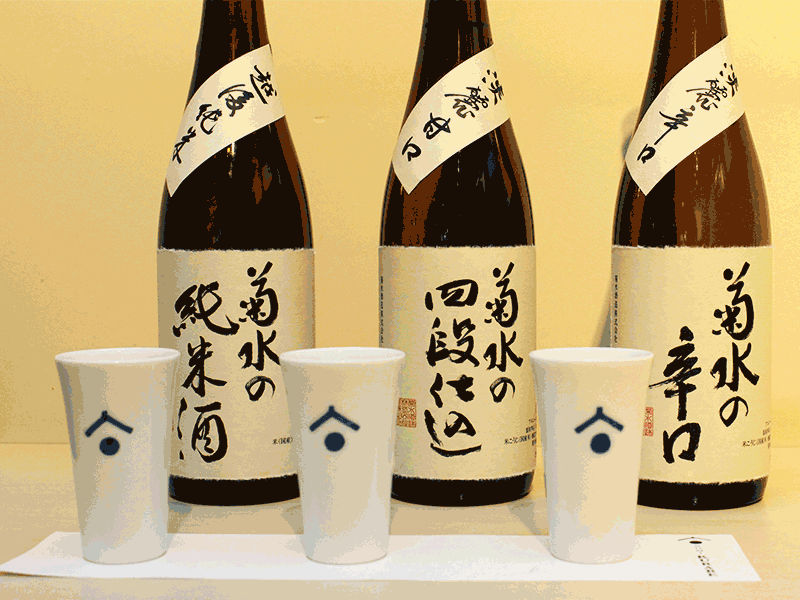 Creating Sake Fans
KIKUSUI Sake Brewery offers experiences and knowledge instead of just souvenirs. Kuramoto Stand's manager, Mr. Kotaro Shimamura, shared some thoughts on the values behind the way the café is run.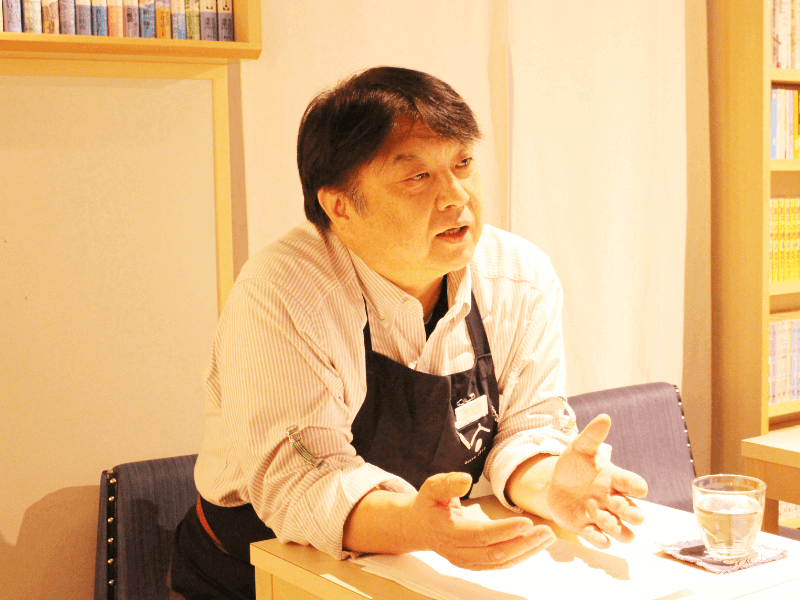 "Rather than Japanese food, our menu is focused on fermented dishes, many of which contain ingredients rooted in Japanese sake and food culture. In this way, we're able to communicate what makes these ingredients so special to nearly anyone, regardless of what their regular dietary habits and tastes may be. For example, while most people may not see pancakes as 'Japanese', when sakasuke is added, the effect is night-and-day. And four times a year we overhaul our menu to offer seasonal items."
In addition to café dining, Kuramoto Stand provides a library of about 350 volumes on sake. Visitors can immerse themselves in the world of sake, sipping on a cup while leafing through a book on the subject.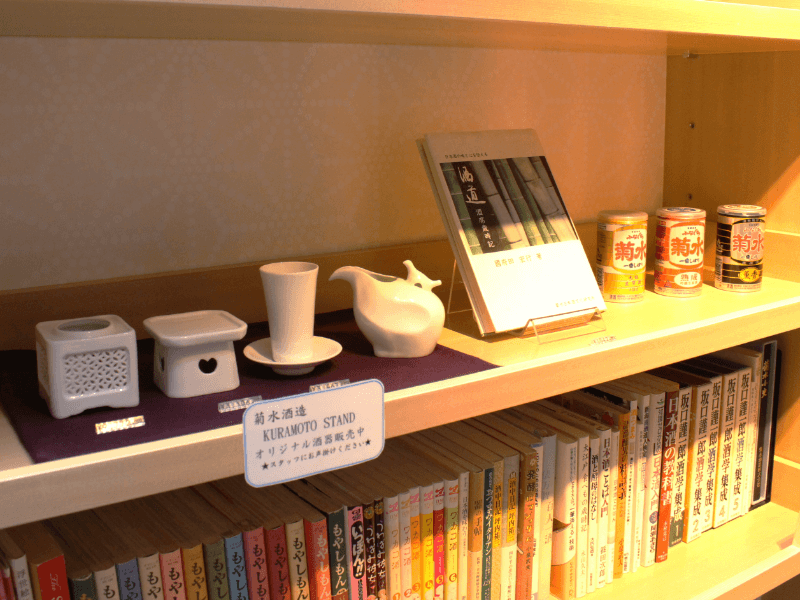 At the neighboring shop, Kayoigura, there are experiences typically only available to those willing to make the pilgrimage out to the brewery itself, offering tastings of rare and valuable brews and the chance to create your own original label for the bottles you purchase.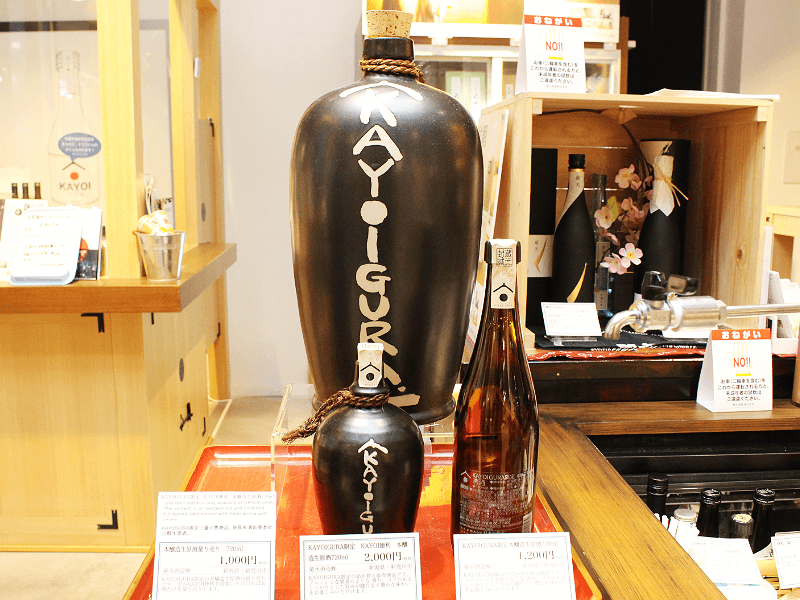 By situating Kuramoto Stand here in Akihabara, the heart of Japanese manga, electronics, and Japanese subculture fandom, KIKUSUI Sake Brewery's goal is to reach out to untapped potential sake fans, helping them make the leap in the process, making it an all-too-convenient spot to take a break from shopping and rest your weary feet in a haven of sake culture.
◎Shop Information
Name: KURAMOTO STAND
Location: Chabara 8-2 Neribeicho Kanda Chiyoda-ku, Tokyo
Tel: 03-3258-0051
Open: 11:00am-8:00pm / Sake custom made bottle Mon-Fri 12:00am-5:00pm, Sat-Sun 11:00am-6:00pm
Closed: Depends on Chabara building
Sponsored by KIKUSUI