Grab a Can of Funaguchi Kikusui Ichiban Shibori Anytime
Convenience stores like 7-Eleven have spread throughout the world. But in Japan, conbini, as they are called, are so astonishingly convenient they are now firmly entrenched in daily life. Convenience stores in busy shopping areas are open 24 hours a day. They are so plentiful you're likely to see two or three in the course of a 10-minute walk, and they offer an impressive product lineup—from groceries and alcohol, to magazines, daily items, and high-quality goods.
Among the conveniently available goods on conbini shelves, the golden can of Funaguchi Kikusui Ichiban Shibori of seishu refined sake stands alone as Japan's first high-quality canned sake.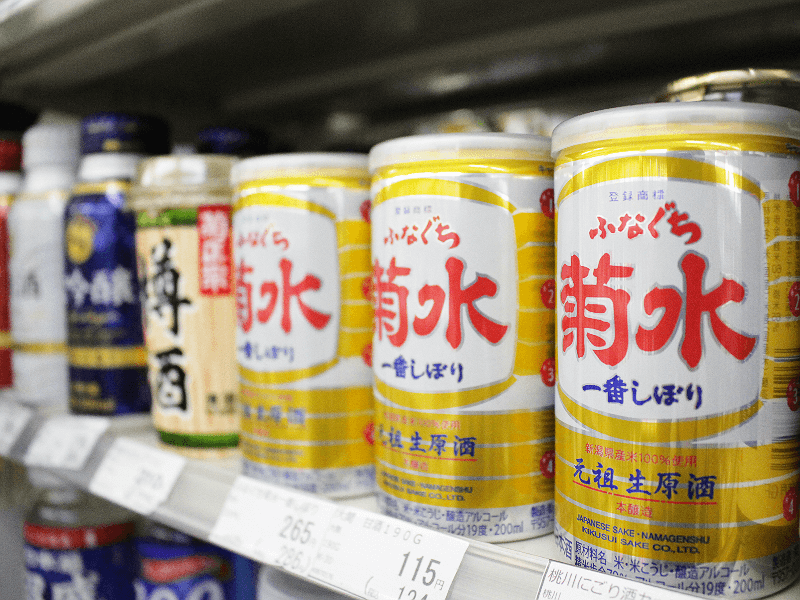 From Brewery Exclusive to Store Shelves Everywhere
Typically, sake is pasteurized and diluted during brewing, but Funaguchi Kikusui Ichiban Shibori is a nama-genshu sake, which means it undergoes neither process. That minimalistic approach means nama-genshu is a very delicate sake, sensitive to sunlight and changes in temperature. Handling sake like this is tricky because deterioration from factors such as the growth of flavor-damaging lactic-acid bacilli becomes a risk.
In the past, facilities and containers that would enable nama-genshu sake to be commercially distributed did not exist. It was a special kind of sake that could only be enjoyed onsite at sake breweries.
In 1972, KIKUSUI finally succeeded in putting this "brewery-only" sake on the market. Ignoring the naysayers who insisted that it was impossible to distribute and sell nama-genshu commercially, the company chose to package it in cans to prevent bacteria from growing. KIKUSUI also increased the alcohol level to help preserve the quality of the sake.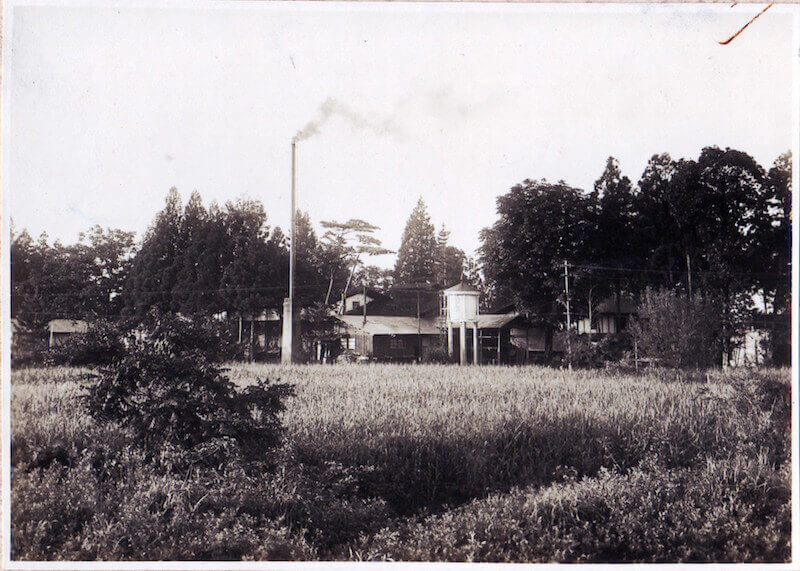 KIKUSUI brewery at the time of challenging "Funaguchi Kikusui Ichiban Shibori"
It took three years to finally bring the canned nama-genshu with that fresh-from-the-brewery taste, Funaguchi Kikusui Ichiban Shibori, to market. Drinking Funaguchi Kikusui Ichiban Shibori is like a brewery tour in a can! It has been a hit on grocery store shelves for over 40 years and is now available in convenience stores, making it even easier to enjoy.
Enjoy Funaguchi Kikusui Ichiban Shibori Anywhere
The beauty of Funaguchi Kikusui Ichiban Shibori is that it can be enjoyed straight from the can — the way you would beer from a bottle. And since drinking alcohol outdoors is legal in most places in Japan, one can simply pop into a convenience store for a can and enjoy it outdoors. The benches along the Sumida River offer an iconic view of Tokyo Skytree and when the weather is nice it's a great place to people-watch. An ideal place to sip a Funaguchi Kikusui Ichiban Shibori.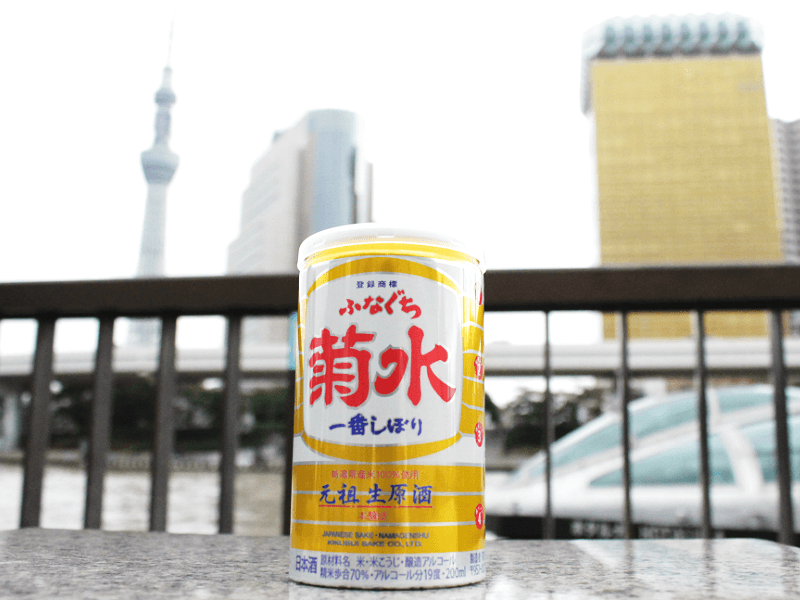 World famous Ueno Park is expansive, it contains a zoo, the National Museum of Western Art, and the National Science Museum, making it a perfect place to take a break from sightseeing and relax with a can of Funaguchi Kikusui Ichiban Shibori.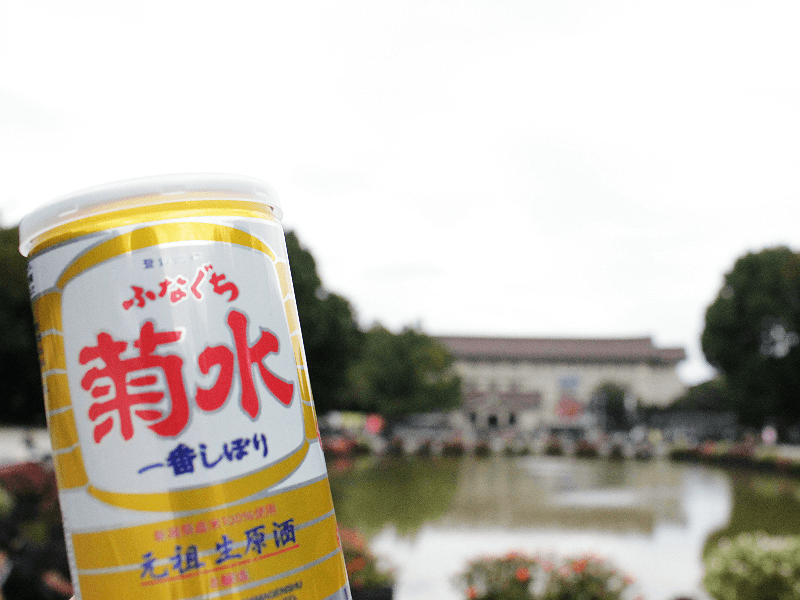 If you find yourself outside Tokyo Station take a minute to enjoy the beautiful architecture before hopping the Shinkansen to Kobe, Kyoto, Sendai or Sapporo. You can even take your can along with you for the ride!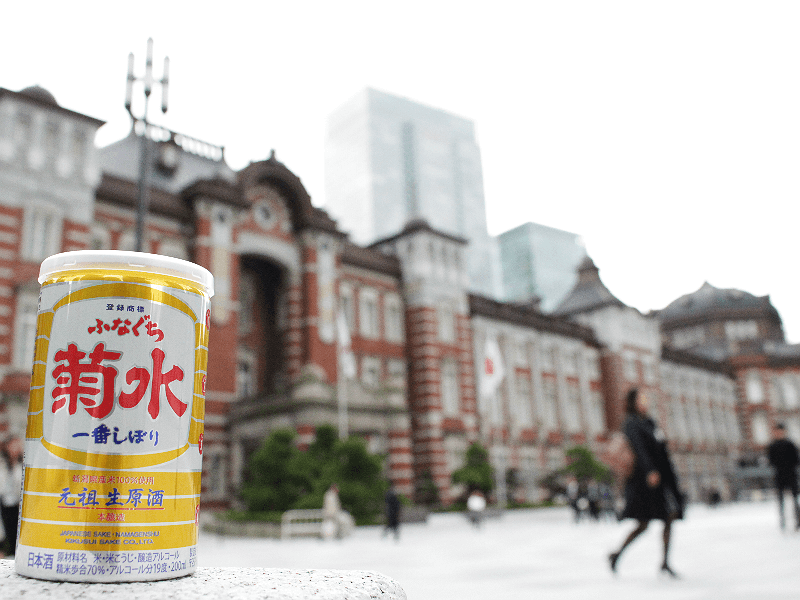 One more recommendation: try a can of Funaguchi Kikusui Ichiban Shibori on the rocks. Adding ice to the rich taste and fresh fragrance of nama-genshu lowers the alcohol content, creating a smoother, easier-drinking beverage.
Editor's Note
With Funaguchi Kikusui Ichiban Shibori, the KIKUSUI brewery solved the seemingly-impossible problem of commercial distribution of nama-genshu sake. What could previously only be drunk onsite at a sake brewery is now sold round-the-clock in convenience stores. Sake fans can freely enjoy nama-genshu while outside enjoying Japan's spectacular scenery.
Sponsored by KIKUSUI