Back in 2007, The International Wine Challenge (IWC), the world's largest wine competition, added a sake category. Every July since then, those in the sake world have raised a glass to celebrate the medal winners, and then promptly scrambled to get their hands on a bottle of each.
This month, we finally managed to procure some of Gekkeikan's Tokusen, which won not only gold medal in the honzojo category, but also the Kyoto Honjozo Trophy, as well as the champion award for "Great Value". This special designation is given to sake that win a gold or silver medal, but also meet certain criteria for volume and pricing – sold for less than 1,000 yen (for a standard 720ml bottle), with more than 100,000 bottles produced. Basically, they're the sake selections that give you more bang for your buck.
Retailing for about 920 yen for a 720ml bottle, Tokusen is certainly a bargain, but is the flavor worthy of gold? We'd be shirking our duty as sake writers if we didn't investigate. Extensively.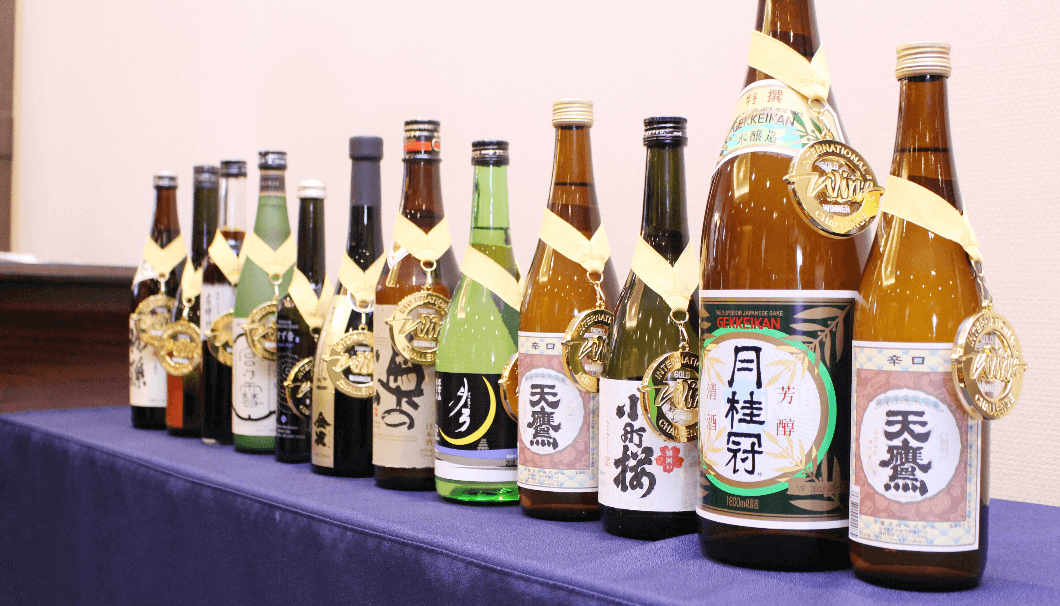 A lineup of IWC Gold Medal sake. Gekkeikan's Tokusen second from right.
It's a tough job, but someone has to do it.
First we tried the Tokusen on its own at about room temperature and it was finely balanced, with full-bodied flavor and notes of caramel and spice that provided depth without overwhelming the palate. For a honjozo, in particular, which tend to have very stable flavor profiles, the Tokusen had not only demonstrated, but maintained, a significant complexity over time. It's the kind of sake that stays interesting as you sip away at it, up to the moment you suddenly realize you've polished off the entire tokkuri, which was exactly our experience.
The IWC tasters described Tokusen as "a complex suite of aromas of cacao powder, baking spices and creme brulee followed on the palate by an umami-filled balance." To us, that makes it sound far more saccharine than it actually is, although it's definitely on the sweeter side of dry.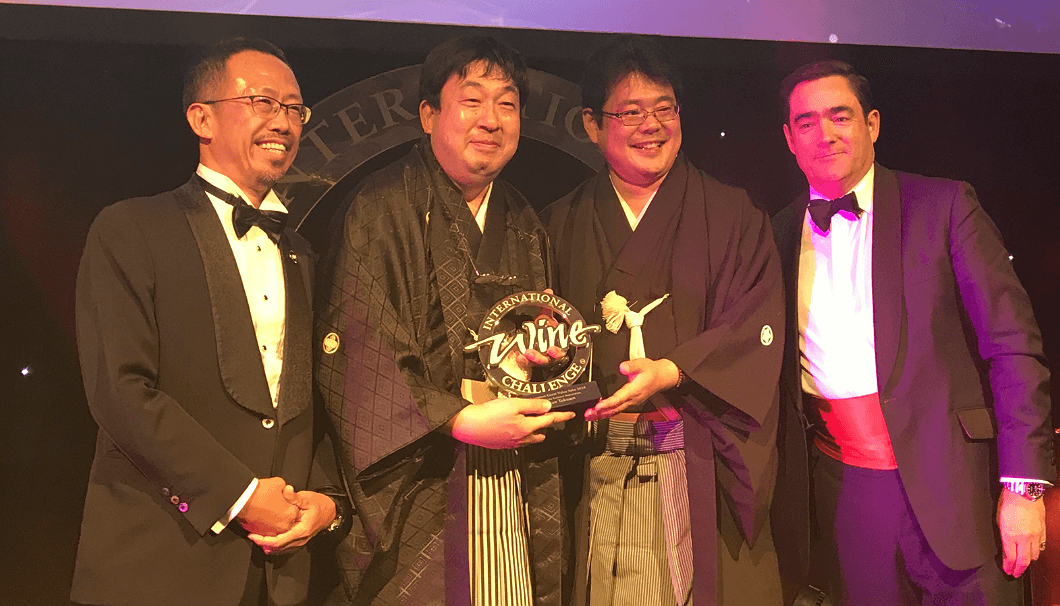 At the IWC Award Ceremony, with representatives from Gekkeikan (center) accepting the IWC Great Value Champion Sake trophy.
Next, we tried pairing the Tokusen with food, and that is where it really shined. The Tokusen held its own with a variety of different foods – from sushi to grilled sausage to potato salad – providing a nice counterpoint without overwhelming the delicate flavors of the fish or allowing strong flavors like wasabi or black pepper to overwhelm it in return.
For us, that makes it a great go-to sake for the home, easily enjoyed with a variety of foods or just by itself. And at this price point, it's also a fine choice for drinkers on a budget or sake newbies looking for something that's easy to pair with whatever's on hand.
Unfortunately for our overseas readers, Tokusen is for the most part only available in Japan. However, building on its success at the IWC, they plan on expanding exports of Tokusen to make it more widely available abroad.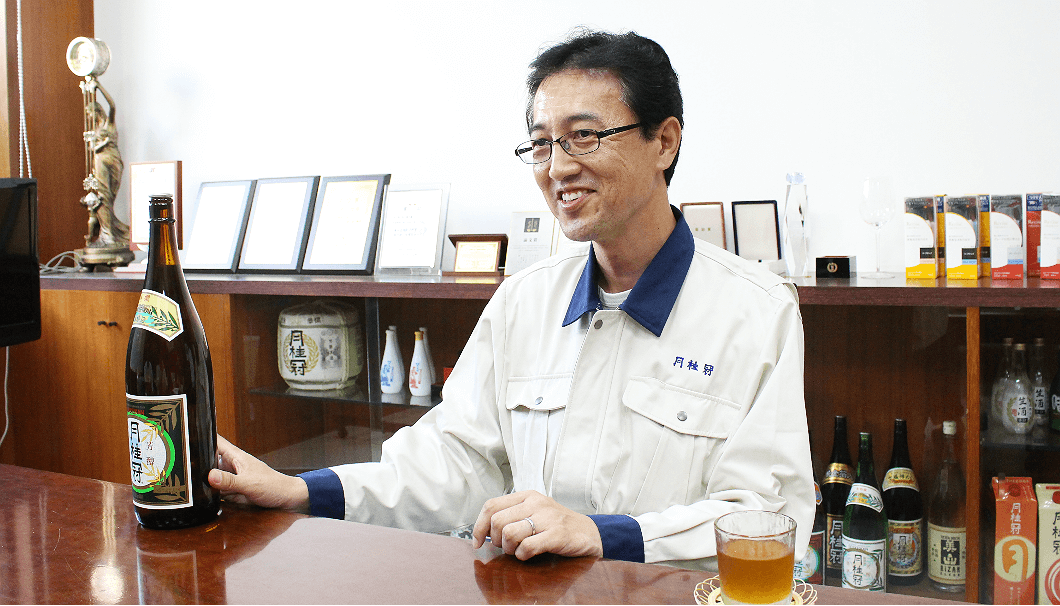 Akira Matsumoto, the man responsible for Tokusen brewing
Akira Matsumoto, the brewer in charge of creating Tokusen, recommends to come to Kyoto and try it at the source.
"It's made with the soft water of Kyoto, so I guess it would go best with Kyoto cuisine, which would be prepared with the same water," he says. "I would recommend trying it at room temperature, with flavorful dishes like stews or simmered dishes. It would probably be great with tempura, too. In winter, you could try simmered tofu or oden hot pots."
Heeding these words of wisdom straight from the brewmaster, we decided it was in our best interest to find out for ourselves, so we promptly made our way to Kyoryori Manshige, a historic restaurant serving delicate Kyoto-style kaiseki meals in luxurious Japanese-style private rooms. Here they've been serving Tokusen for years; long before it won IWC's prestigious award.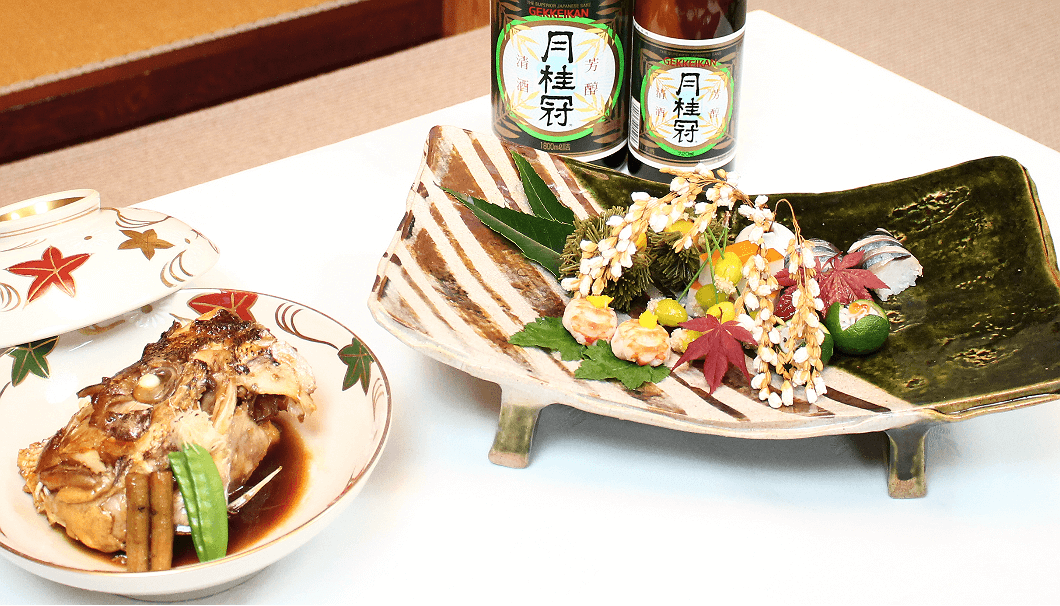 Tokusen served at the historic Kyoto restaurant, Kyorori Manshige.
"It's difficult to find a sake that pairs well with a lot of different foods," says owner and chef Keigo Tamura. In a kaiseki restaurant, the dishes are always changing as ingredients move in and out of season. On top of that, customers ask for the sake hot, chilled or room temperature, depending on their preference. To perfectly match a sake to each dish and customer would take a level of expertise Tamura doesn't claim, so Tokusen is a handy solution, he says.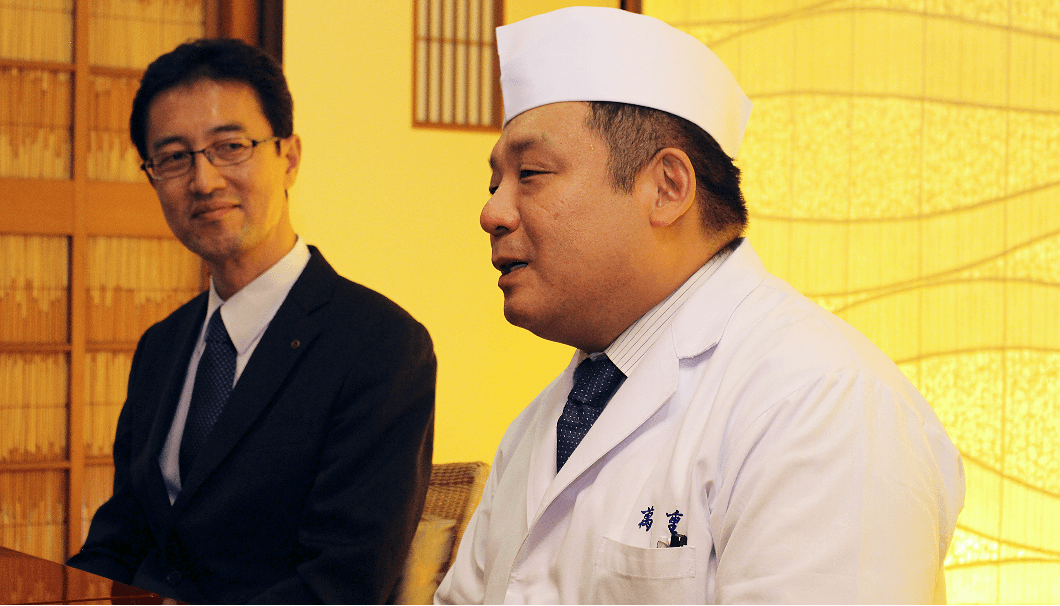 Restaurant owner and chef Keigo Tamura (right), with Mr. Matsumoto
"Tokusen is a sake that doesn't overpower the food," Tamura says. His customers sometimes ask him for his best sake, or the most expensive, but he says what's "best" has a lot to do with the situation, and isn't necessarily what's priciest or the current favorite amongst critics. Tokusen might be reasonably priced, but that doesn't mean it isn't a fine partner for his exquisite food.
"It's all about balance. That's the most important thing," says Tamura.
Our wallets couldn't agree more.