Doburoku is sake in an unpressed state. While originally a common form of home-brew sake, nowadays it is strictly regulated, with selling and brewing licenses reserved to a small number of shrines and specially designated regions only.
In short, even in Japan, you will have a hard time getting hold of a bottle of actual doburoku. Or at least that used to be the case. It's about to get easier with the opening of Nihonshu Hotaru (にほんしゅ ほたる) in Kanda, that not only lets you enjoy doburoku in its freshest form, but also lets you peer into the production process, as well.
Warm Ambience Just a Hop from Tokyo Station
A quick 5 minute stroll west of Kanda Station (one stop from Tokyo Station on the Yamanote Loop Line), as you navigate the lively shopping streets and steady stream of business men, women and local residents, keep your eyes peeled for the simple and unassuming open glass-facade marked by a sake barrel and signboard with the shop's name: にほんしゅ ほたる (Nihonshu Hotaru).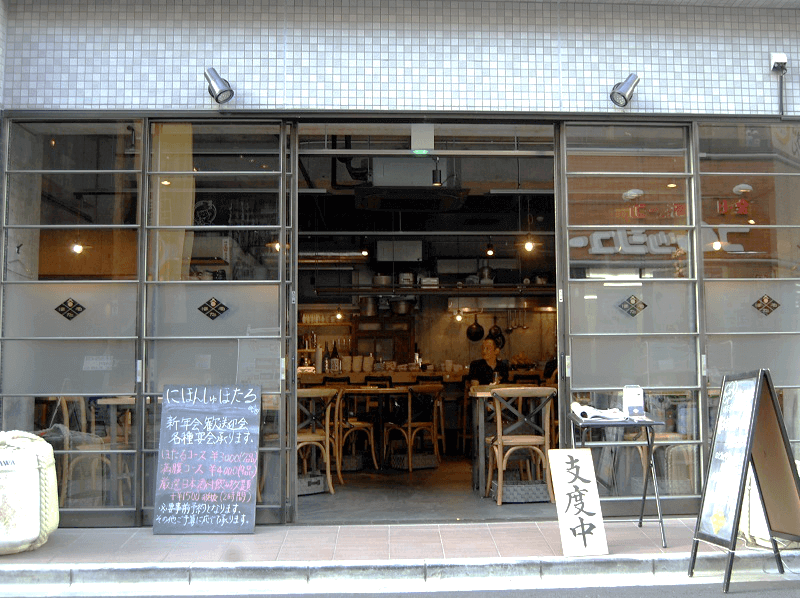 Inside, exposed brick and mortar gives the interior an industrial feel, contrasted by a bright wooden counter and tables. At night, the glass facade reflects a tempting image of the atmosphere and buzz inside.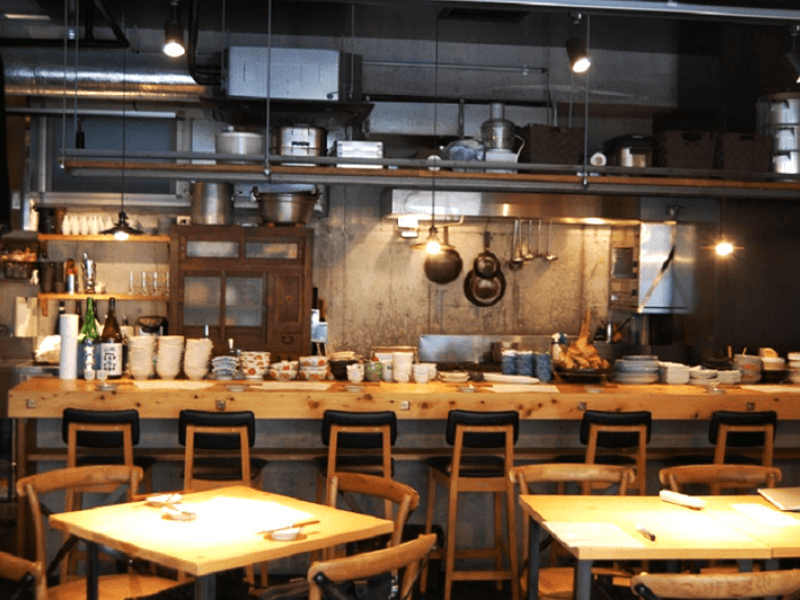 Fastidious Ingredients and Authentic Equipment
All of the doburoku produced in-house is done so within a well-contained space inside the shop just shy of 5 sqaure meters.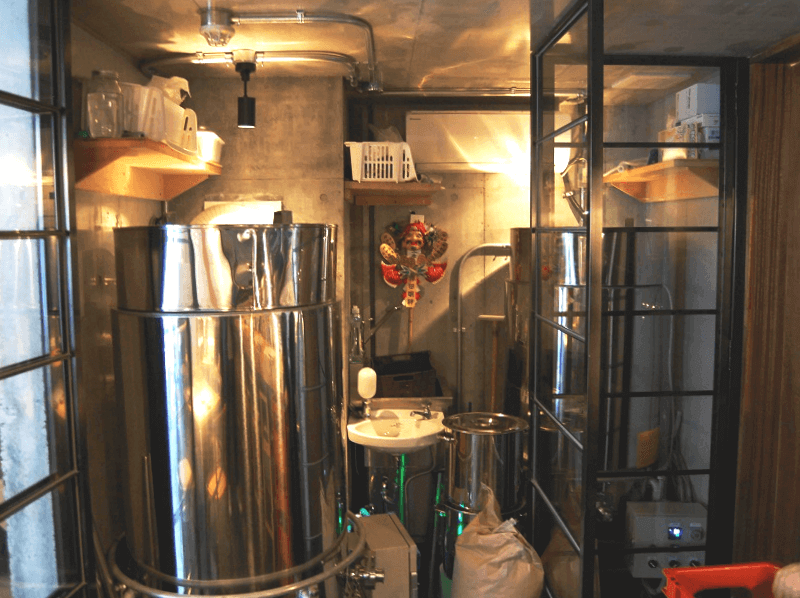 "We brew our own doburoku in-house with the finest ingredients in the hopes that for some drinkers it might lead to an interest in sake itself. By staying daringly close to the way sake is made we can produce something very accessible that achieves that aim," explains founder and master, Miyai Toshiomi.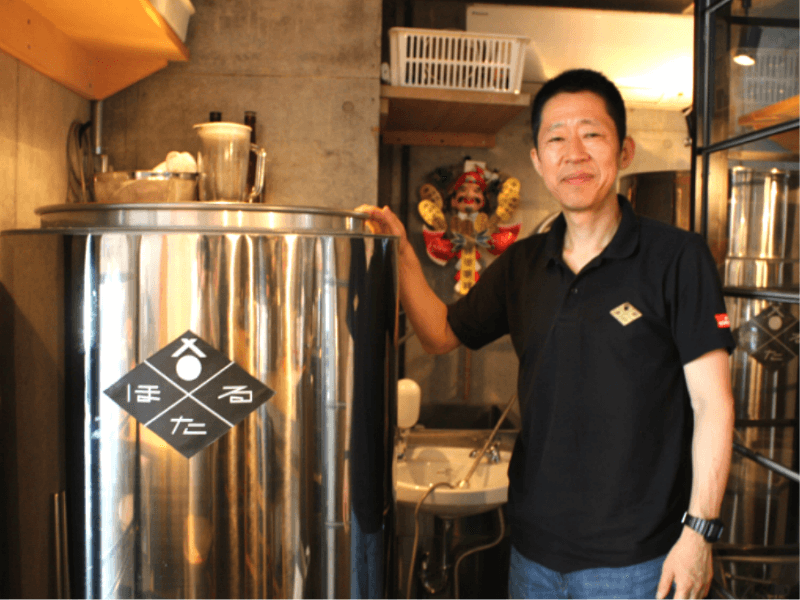 The freshly-made doburoku can be enjoyed by the glass in 60 ml servings at 360 yen a pop. Upon pouring, an airy blast of steamed rice jumps out from the glass while tiny bubbles fizzle elegantly on the surface. A first taste glides down the throat leaving a mild tingling sensation behind as it goes. It's clear the lengths that this shop has gone to create a doburoku that anyone can enjoy: a subtle palate and purposefully sake-like finish.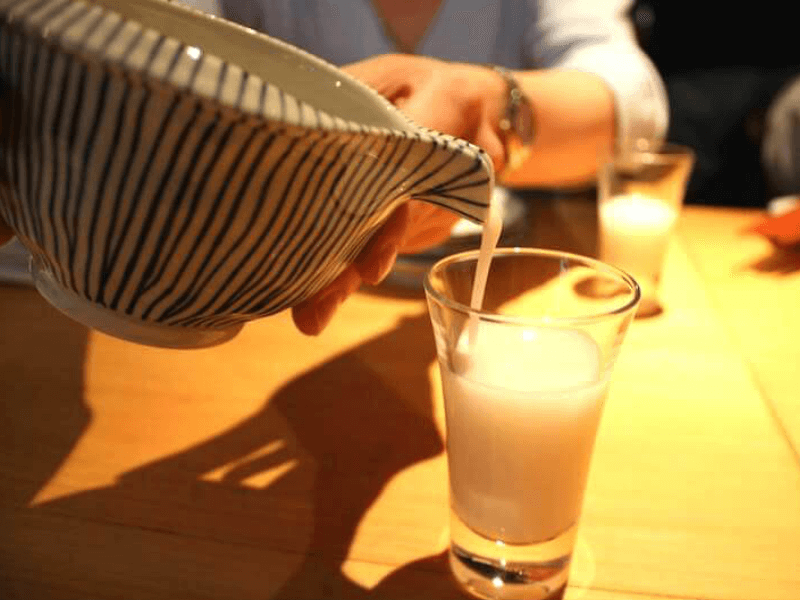 50 Sakes – 1 Price
Aside from doburoku, a somewhat more "conventional" and varied sake selection is also available, from signature brands to seasonal and limited production styles. With 50+ varieties to choose from, all are identically priced by volume: 60 ml (360 yen)、120 ml (650 yen)、180 ml (900 yen).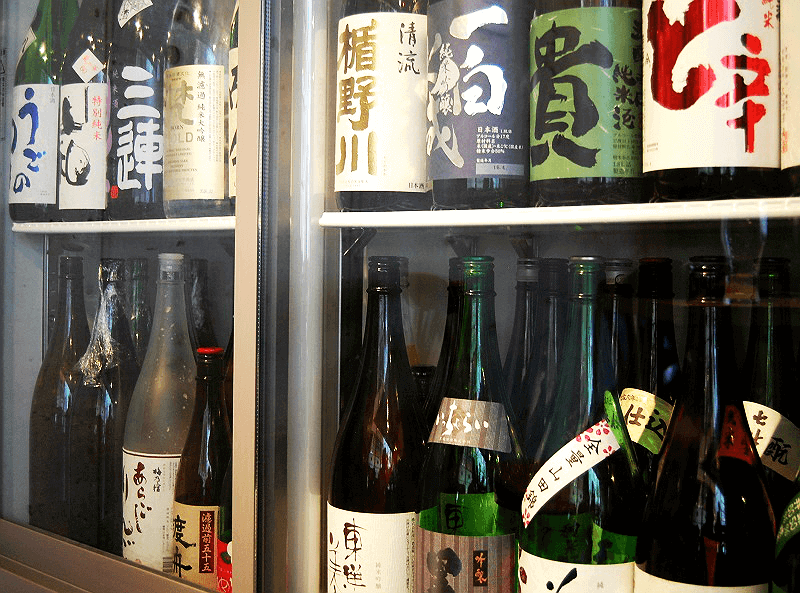 Tasked with marrying this diverse range of sake is master of Japanese culinary arts, Kobe Yuusuke, who spent 20 years honing his skills at hotels and restaurants in the capital. It's a menu as hardcore as you would expect from someone who spends every day exploring the depth and breadth of sake and food pairing.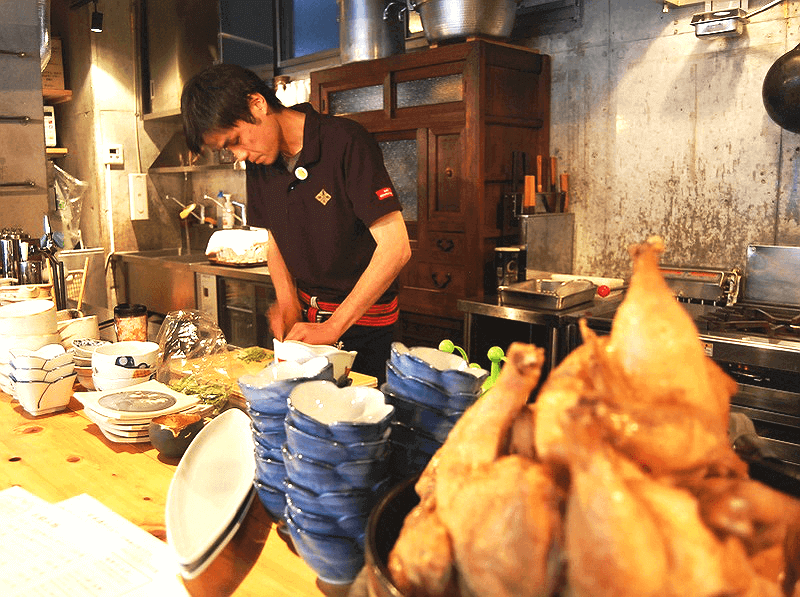 Popular is his signature, Daiginjo Ham Cutlet (480 yen), or leave it up to the master with an assortment of five varieties of tsumami (1,480 yen). White chicken liver simmered in sansho pepper (380 yen) is a highlight, with a slightly gooey texture, richness, and zesty release of sansho on the nose.
Compatibility with food is an inherent part of sake's DNA. A vast scope for experimentation, the adventurous are often well-rewarded.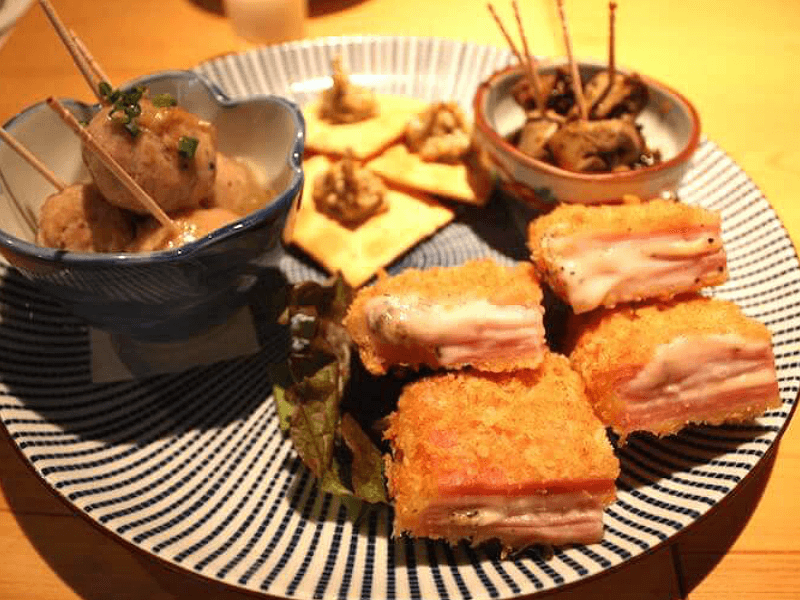 "Spread sake, its history and culture to the masses"
Mr. Miyai is a member of Yo-Ho Brewing, a popular craft-beer maker based in Nagano, widely recognized for its high-quality and reasonably priced, Yona Yona Ale. His home-brewed doburoku is built from experience tackling multiple fermentation-related challenges – garnered during his tenure with the company.
"Every day brought me in contact with freshly-brewed beer and we would sometimes go to sake breweries as part of our training. One day, I got to try freshly-pressed, straight-to-bottle sake and was blown away. It was then that I decided to make sake my life's mission – that's how this all began".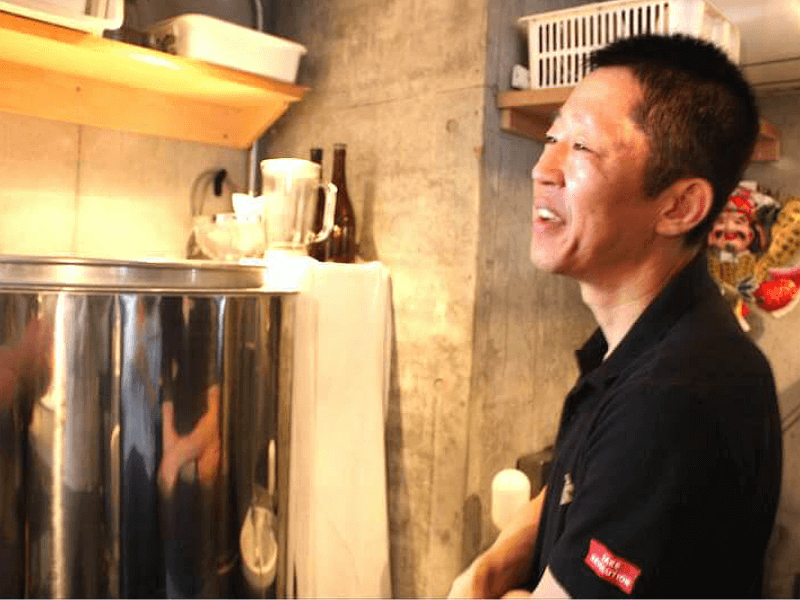 "I ended my tenure at Yo-Ho Brewing to set up my own accountancy firm providing, among other things, a business advisory service to small and mid-sized corporations. At the same time, I thought I might be able to use this new business to support sake and set out to help struggling breweries on the path to regeneration. I would achieve this through a management consultancy that would help breweries establish a foothold in the capital and raise motivation through sales there. However, I quickly realized that any further sales expansion of sake would require opportunities for new blood, mainly young people, to discover sake. That's what led me to branch out from a mere sake brewing consultancy and set up this bar," explains Miyai.
"Sake enlightenment a lifelong mission".
The concept: "Fun, inviting, trendy"
With 50 different types of sake that are simply-priced, doburoku freshly brewed before your eyes, and an approachable but adventurous food menu, it all adds up to an unpretentious and liberating sake experience that feels fresh, while offering up tradition in an approachable way you won't find anywhere else – a welcoming warm buzz in this little corner of Kanda.
◎Shop Information
Name: Nihonshu Hotaru
Location: MⅢ Building 1F 1-17-1 Uchikanda, Chiyoda-ku, Tokyo
Tel: 03-5577-6556
Open: Mon–Fri 17:00–23:30 (LO 22:30) / Sat 17:00-23:00 (LO 22:00)
Closed: Sun, holidays