Ippudo is a ramen chain boasting success both on a national and international level, a major player in the ramen boom currently gracing London, New York, and major metropolis' the world over.
Now they've gone one step further and opened a revolutionary new style of eatery, a ramen shop and standing sake bar combo called "Ippudo Stand", slap-bang in the heart of Tokyo.
Overseas, there is nothing unusual about serving sake with ramen, so why is Japan suddenly taking notice?
Prime Location, Revised Image
Just 3 minutes on foot from Hamamatsucho Station (a quick 4 minute train ride from Tokyo Station), Ippudo Stand couldn't be better located for an impromptu ramen and sake fix.
With a large, open-glass entrance only partly concealed by a rather adorable logo-emblazoned Noren curtain, you'd be forgiven for mistaking it for a hip cafe or a cozy spot for an evening aperitif.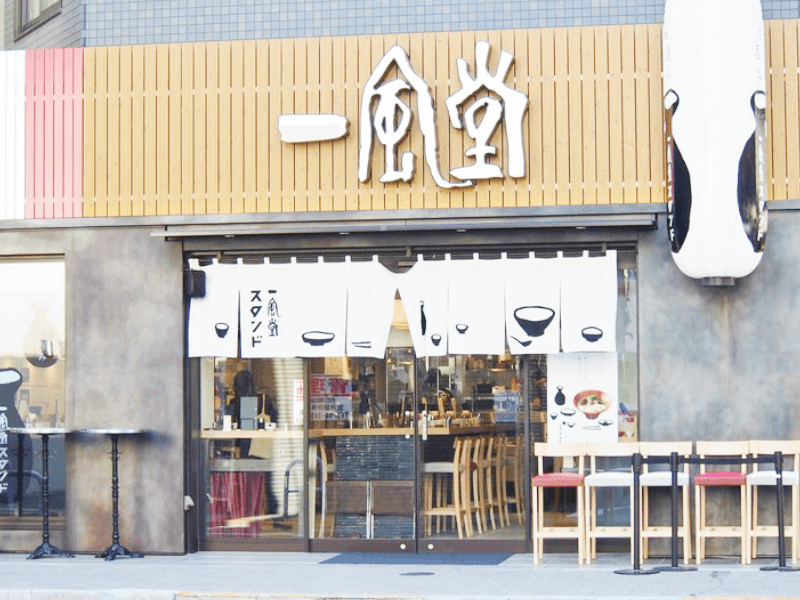 Four Sakes to Map the Palate
There are always 4 unique types of sake to select from, mapped out on 4 easy-to-understand axes: light, rich, classic, or modern.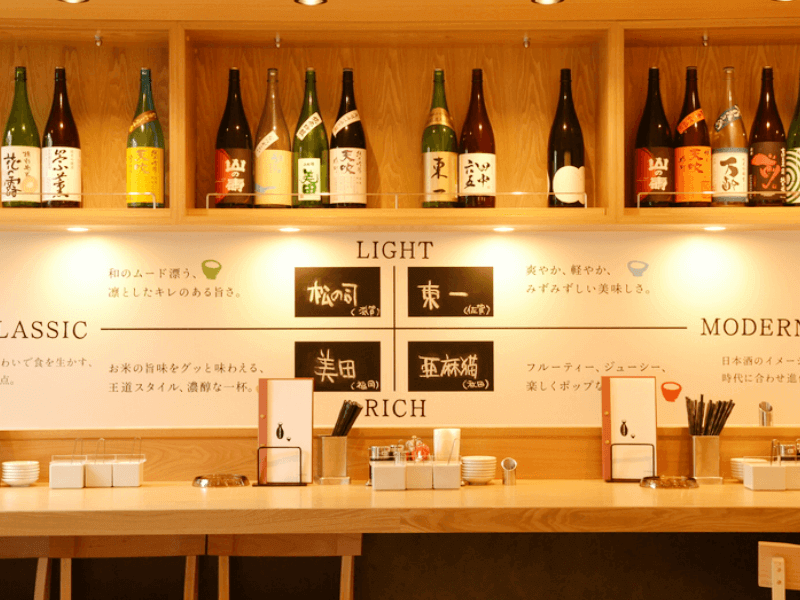 Both this chart and the brands that they showcase are displayed on the wall in front of the counter. Even in Japan, only a very small minority of the sake-consuming populace are brand or flavor profile-savvy. The simple layout is designed with the majority in mind – the sake uninitiated, or, "first-timer".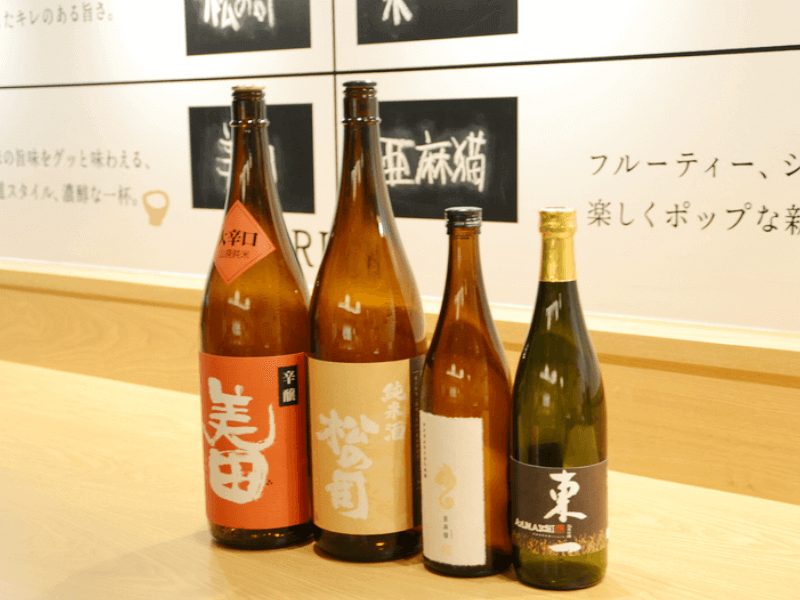 The best part? All sakes are 500 yen (90 ml). A fair price for quick refreshment.
Sake Paired with Ippudo Stand's Original Sake Snacks
In Japan, ramen shops represent delicious and reliable fast food for a city always in a rush – one bowl and out the door. They are a far cry from a relaxed drinking hole, however, which is where Ippudo Stand aspires to claim a new niche. At night, it transforms into a standing-style bar serving sake accompanied by a menu of tsumami – classic izakaya (Japanese pub) grub.
MODERN/RICH: Amaneko Tokubetsu Junmai made with white koji (Akita) 
First up is none other than Aramasa Shuzo's hit, Amaneko. While not every customer that walks in is a sake lover, it's stealing the hearts of many first timers here. The aptly ramen bowl-shaped, ochoko it was served in was a cute little addition to the presentation.
Aramasa's duet of white koji-derived citrus fruit aroma conjures up images of a quaint craft lemonade operation.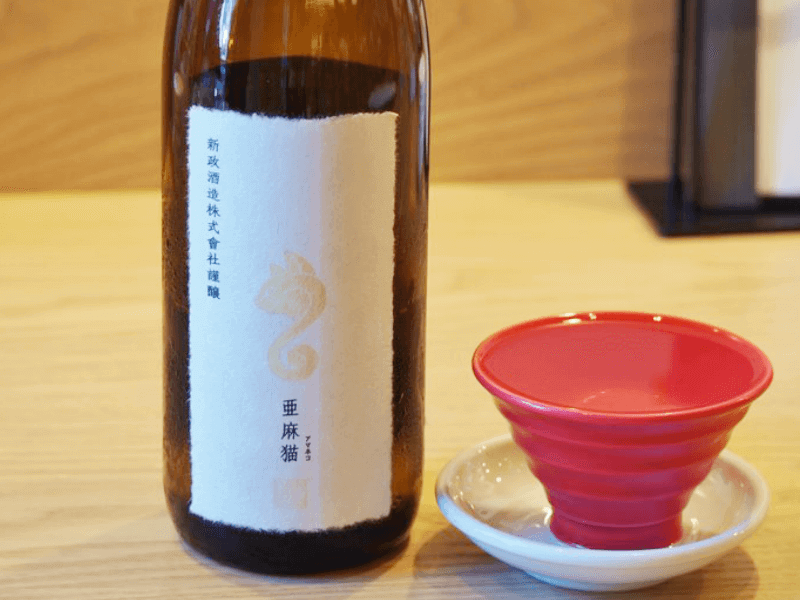 The pairing for this masterpiece?  A dish of olives and pickles marinated in salt and miso (350 yen). Superb simplicity.
Traditional dining staples in their own right, the saltiness permeates the olives, turning them into almost salted plums. Juicy, sweet tomatoes complete the ensemble.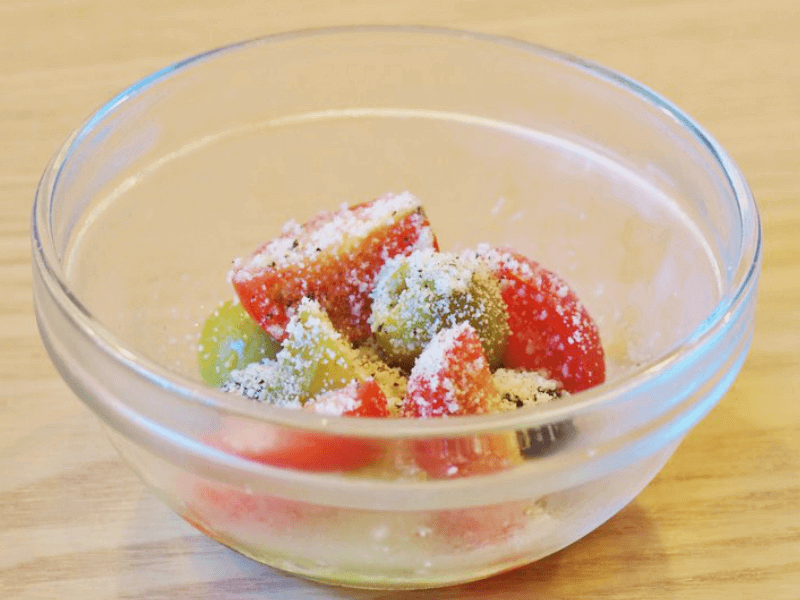 Imported Ramen? Exported Ramen?
Ippudo have created a new model where both beginners and seasoned drinkers alike can revel in the sake buzz. The question is, why did a well-established ramen chain decide to integrate a new sake world into their establishments?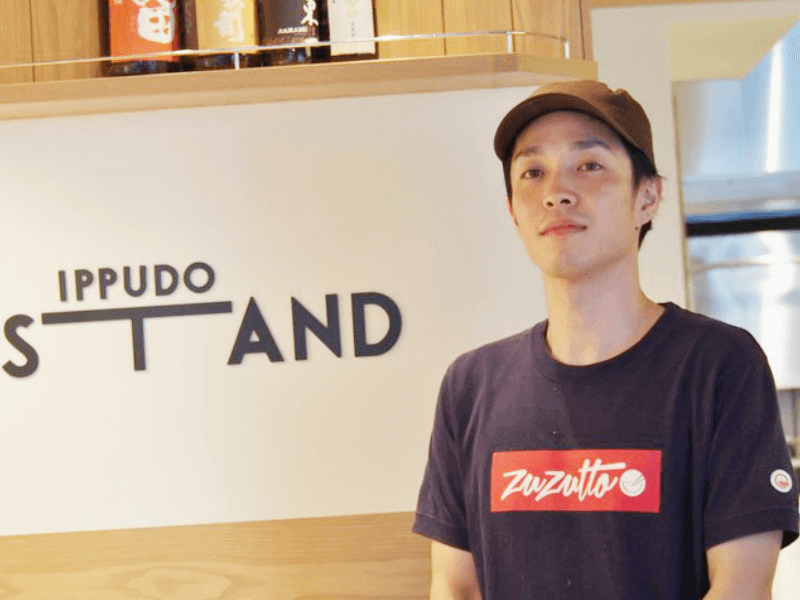 "To answer your question, I would need to talk about the overseas branches of Ippudo," Hamamatsu shop manager, Mr. Hiwatari, explains. "In addition to the 77 branches in Japan, we also manage 56 branches in 12 countries, an overseas expansion that began in 2008 in New York. At each of these branches a 'waiting bar' where customers can sip sake while waiting for a seat is common practice."
It was in 2015 when Shimazu Tomoaki, who had been at the helm of the New York branch since its opening in 2008, proposed trying to emulate the Big Apple style back in sake's homeland of Japan.
The result is Ippudo Stand, essentially the importation of a ramen and sake culture born overseas, reenvisioned for the homeland.
In Closing: It's Got to be Ramen
In Japan, it's common for sake drinkers to close out a night's imbibing with a bowl of ramen. After clearing away 4 sakes and 3 otsumami, you'd best take heed and, "when in Rome (or Tokyo)."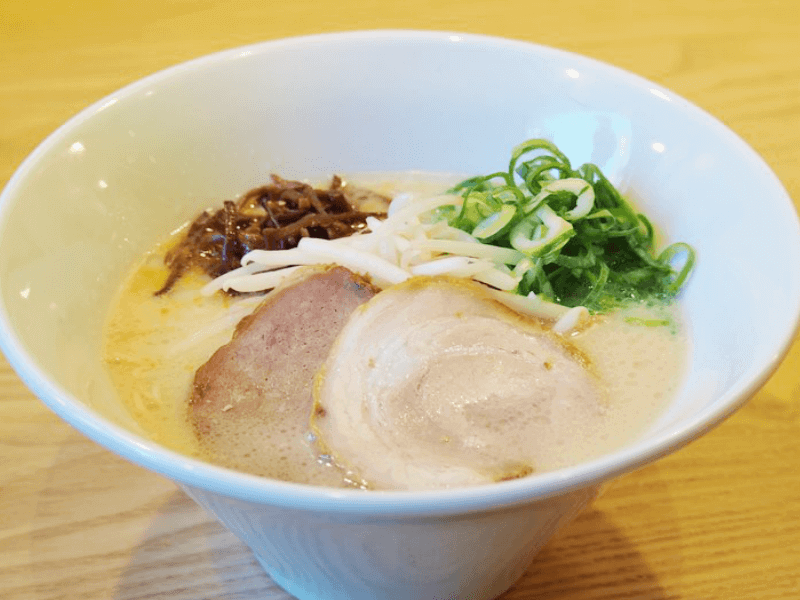 A staple since Ippudo's launch, the "Shiromaru Classic" (790 yen) oozes with pork bone-derived umami, coating the thin al dente noodles like velvety silk. The revolutionary "Akamaru New Taste" (850 yen) marks an exploration of the potential of pork ramen; the pursuit of a more profound, full-bodied ramen introducing an array of spices and original oil blends into the mix.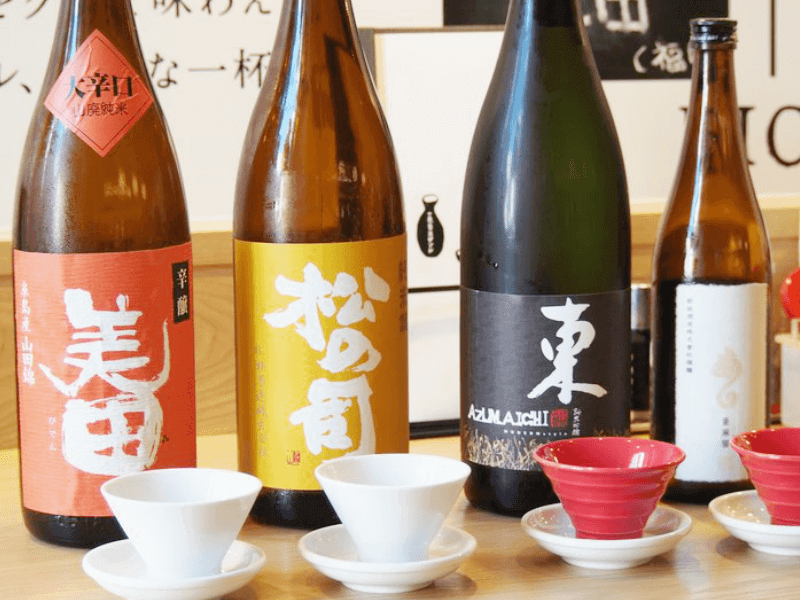 Ippudo's internationally acclaimed ramen is significantly more affordable in its home of Japan. The next time you are in the land of the rising sun, be sure to immerse yourself in a bit of Japanese-style foodie culture with a course of expertly selected sake and otsumami, all polished off with a bowl of Japan's finest noodles.
◎Shop Information
Name: Ippudo Stand, Hamamatucho
Location: Mustlife Daimon, 1-27-6 Hamamatucho, Minato-ku, Tokyo
Tel: 03-6459-0068
Open: Mon–Tue,holiday 11:00–23:00 / Fri,Sat,before holiday 11:00–26:00
Closed: Sun