With 2 stores in Nagoya, 3 in Tokyo (Shinjuku, Kanda, and Shibuya), and one planned in Sapporo, SAKETIMES would like to introduce you to Junmai specialty bar, Yata. A bar with a tasting course with over 30 different kinds of Junmai sake where—with a bit of help from the staff—anyone can find their new favorite sake.
Yata: Providing a gateway to enjoying sake
Yata is a bar with a lot of features to love: the standing style; an exclusive focus on Junmai sake; the tasting course; guidance to the perfect drink by the friendly staff; easy to understand prices and billing; and a stylishly designed interior.
SAKETIMES spoke to Yamamoto Masamori, Representative Director of Yata's managing company, Magnetic Field, about the concept.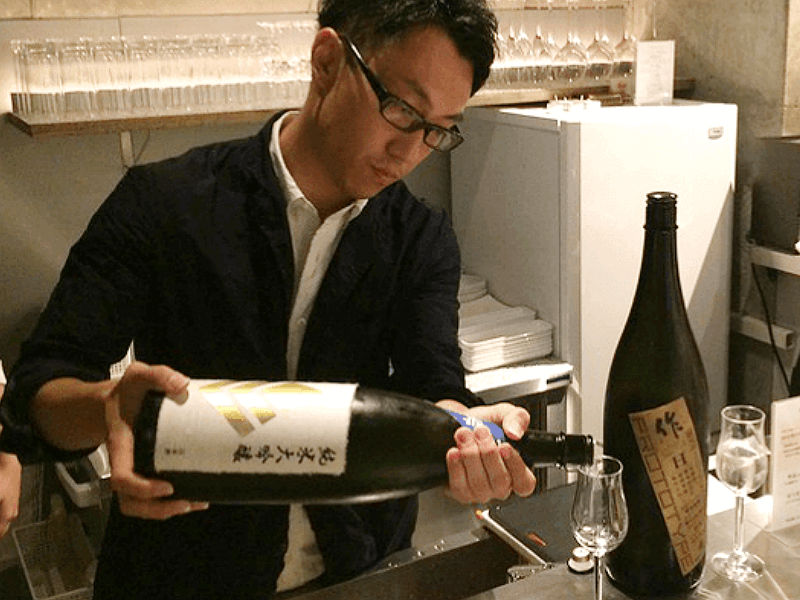 "Yata is like a toy box that helps you expand your mind. Since it is standing style one can feel free to come and go as they please. We want to provide customers with a place where they can learn to enjoy sake as well as serve as a stepping-off point into the world of sake drinking."
This idea is also shown through the name of the shop, Yata. Yamamoto played soccer all his life and decided to use the Yatagarasu, a mystical three-legged crow and the symbol of the Japanese Football league as the namesake of the bar. There is another, deeper meaning to the Yatagarasu symbol: in Japanese Mythology, the Yatagarasu served as a navigator for the first Emperor of Japan, Jimmu, on his journey from Kumano to Yamato. In this way, Yata strives to be a guide to the customer in both name and service.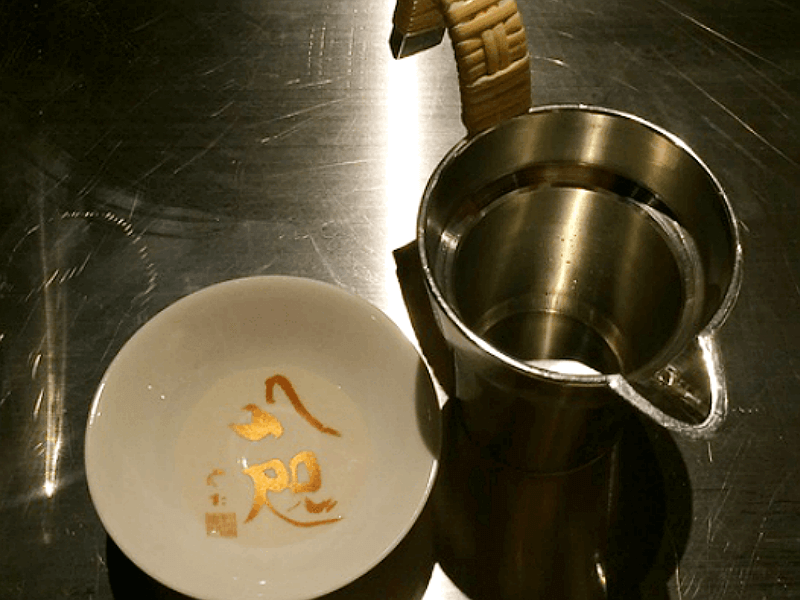 A perfect gateway: Junmai sake
If one were to generalize, sake can be broken into two large groups: Sake that is made from only pure rice, Junmai, and sake that has additional alcohol added to it. At Yata, only Junmai is served. As for the reason, Yamamoto had this to say:
"Because sake with added alcohol tastes a bit more complicated when compared with Junmai, I think that for a new drinker Junmai is better. Also, a Junmai specialty shop has the power to help those new to sake to understand the complex flavors in sake with added alcohol."
For sake newbies, it seems Junmai sake is really the way to go.
A staff that guides you to a drink that matches you
The shop's menu has only three options:
60-minute tasting course (2000 yen, 50ml glass)
Individual sake (All 500 yen, 100ml glass)
Side dishes (All 500 yen, changes every day)
In the tasting course one can enjoy the subtle differences between different temperatures of the same brand of sake. And since individual glasses and side dishes are all 500 yen each it's easy to know how much you'll be paying.
Staff are trained to be pros at helping those new to sake to find a good match for them without drowning them professional jargon. While conversing with the staff, you'll receive informed recommendations from the 30-40 different varieties of sake available, so even first timers can relax and enjoy themselves.
Here we ordered a plate of 3 side dishes. From left to right: Sanma anchovy, dry cured ham, and liver paste on crackers.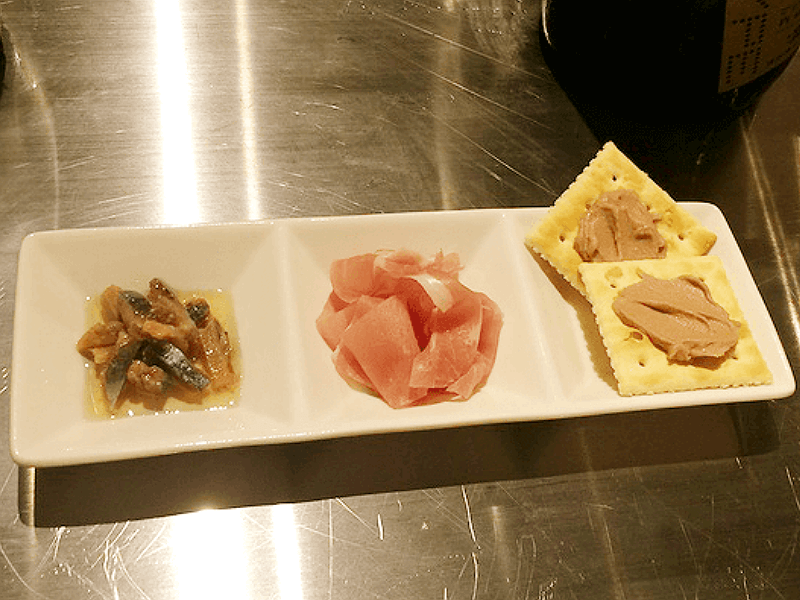 To go along with these side dishes we ordered chilled sake and received this glass of Denshin sake.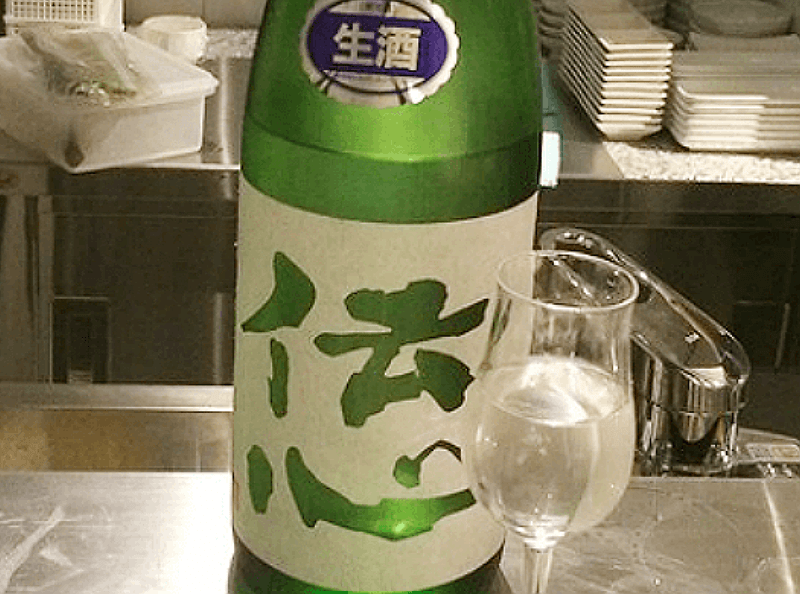 Everyone can be nervous going to their first sake bar, but thanks to the staff and the great sake, there's no doubt you'll leave Yata feeling warm and fuzzy inside.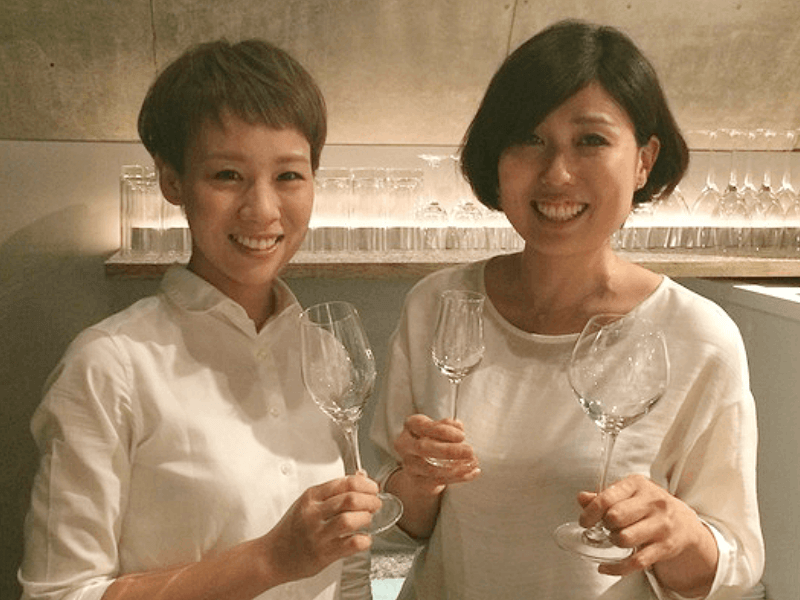 ◎Shop Information
Name: Yata Shibuya
Location: ILA Dougenzaka Building 5F, 1-6 Dougenzaka, Shibuya-ku, Tokyo
Tel: +81-3-3464-043
Open: Mon-Fri 4:00pm–11:30pm (LO 11:00) / Sat,Sun,Holiday 3:00pm-10:30pm(LO 10:00)
Closed: Depends on Atre's schedule
HP: Yata / Shibuya / Shinjuku / Kanda-Nihonbashi / Nagoya-Sakae / Nagoya-Fushimi / Sapporo / *All Japanese Only