Very Special 24-year-old Sake "Gengai" Sells Out 12 Hours Into Preorders
Premium sake brand SAKE100 began accepting preorders for the fourth run of Gengai aged sake on April 5. Because of Gengai's stellar reputation among enthusiasts and gourmands, it had sold out in a mere 12 hours despite a steep price tag of 150,000 yen (US$1,360) per bottle.
Gengai's uniqueness stems from its tragic beginnings at Sawanotsuru Brewery in Kobe City. The brewery had a 300-year history, but was completely destroyed in the Great Hanshin Earthquake in 1995. All of Sawanotsuru's historic buildings succumbed to the disaster, but a number of tanks miraculously survived. Inside a few of these tanks were a substance called "shubo" – often referred to as a starter batch, it's a yeast-rich catalyst to aid in future sake fermentation that isn't normally intended for consumption.
Since their equipment was lost, Sawanotsuru couldn't use this miracle shubo in the next steps of sake brewing, so instead they used it as is, and began pressing sake directly from the shubo. Unsurprisingly, the taste was less than desirable, with unbalanced levels of sweetness and sourness. Nevertheless, something compelled Sawanotsuru to hang on to it, aging it in the slim chance that the aging process would mellow the flavors to something more palatable.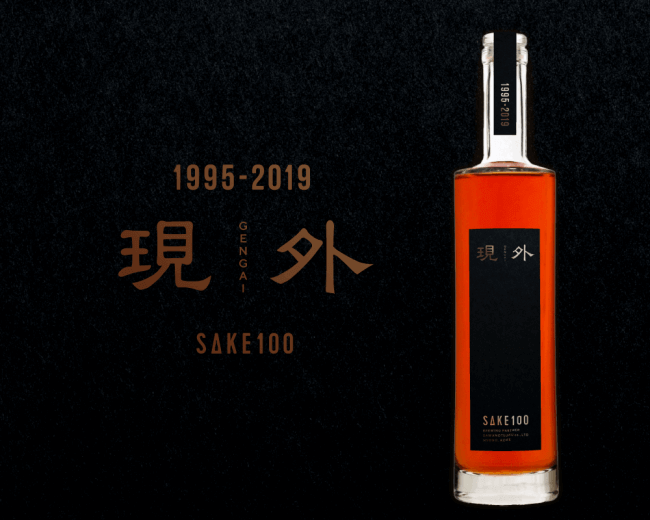 Twenty four years have passed since then and Sawanotsuru had successfully rebuilt itself to its former glory as an industry leader. All the while they hung on to that batch of aged sake pressed straight from shubo. And in fact, Sawanotsuru was shocked to find that the batch had actually matured into an exquisite blend of sweet, sour, and bitter flavors that surpassed that of most aged sake.
Dubbed "Gengai," it was so good that it was added to the premium sake line developed by Clear Inc., Sake 100 which includes other top-shelf brands like Byakko from Tatenokawa Brewery, Kazuma Shuzo's Shinho, and Amairo, brewed by Miyoshino Jozo. Despite the daunting price, Gengai's one-of-a-kind taste and inspiring backstory made waves over social media where it quickly found a large following.
An Event Fit for Gengai
In response to Gengai's overwhelming demand, Clear will be holding a special event, beginning May 22, in honor of this amazing aged sake, at which there will be special talks by Sawanotsuru as well as Clear CEO, Ryuji Ikoma. At the center of these talks will be the concept of vintage in sake brewing, the value inherent in vintage sake, and the future of the category.
It's well known that several factors determine the flavor of a sake, from production regions to the types of rice, water, and yeast used in the brewing process. Aging, though, and its impact on flavor – even with initially undesirable sake brews – is less talked about in the current sake world.
Some aspects of aging sake are understood. Clear and Sawanotsuru dub sake labels falling into this category "vintage," but aging is still a mysterious influence on sake in many ways. Gengai stands as perhaps the best example of this unpredictability, as a sake that by all accounts should have been undrinkable, but turned out a cut above the rest.
So it should be no surprise that people are clamoring for a chance to try Gengai. If you would like to try for yourself, you can register your email address on the SAKE100 Gengai page linked below to receive updates on when the next run of this very limited label will go on sale next.
◎Product Information
Name: Gengai
Brewery: Sawanotsuru (Hyogo Prefecture)
Aging: 24 years
Volume: 500mL
Price: 150,000 yen
Presale Amount: 10 Bottles (Sold Out)
Gengai Update Mailing List: SAKE100 – Gengai
LINK: PRTIMES | 2019/04/08 | プレミアム日本酒ブランド「SAKE100」、1本15万円・24年熟成の『現外 -gengai-』が予約販売開始から12時間で完売!5月下旬に発売記念イベントの開催を決定

◎Three Online Platforms to Showcase Your News
By filling out the form of SAKETIMES PRESS English , your news will be presented on this Weekly News section of the SAKETIMES International website.
◎無料リリース情報配信機能「SAKETIMES PRESS English」
この記事への掲載は、リリース情報配信機能「SAKETIMES PRESS English」から無料でお申し込みいただけます。日本語で申請いただくと、英語の情報に編集し、掲載します。海外に向けた新規リリース情報がございましたら、SAKETIMES PRESS Eglish 申請フォーム より申請ください。