1 Minute Stroll from Akihabara Station
Connected by 4 lines, including the ever-popular Yamanote Line, Akihabara station is just one quick train ride away from both Shinjuku (15 mins) and Tokyo (5 mins) stations.
"KAYOIGURA" is located just outside Akihabara Station's Electric Town exit, tucked away inside "CHABARA", an arts and crafts emporium stocked with rare items from all over Japan. Easy to find, as its located just beyond the popular concept cafes for both "Gundam" and the ever-popular teen idol group "AKB48".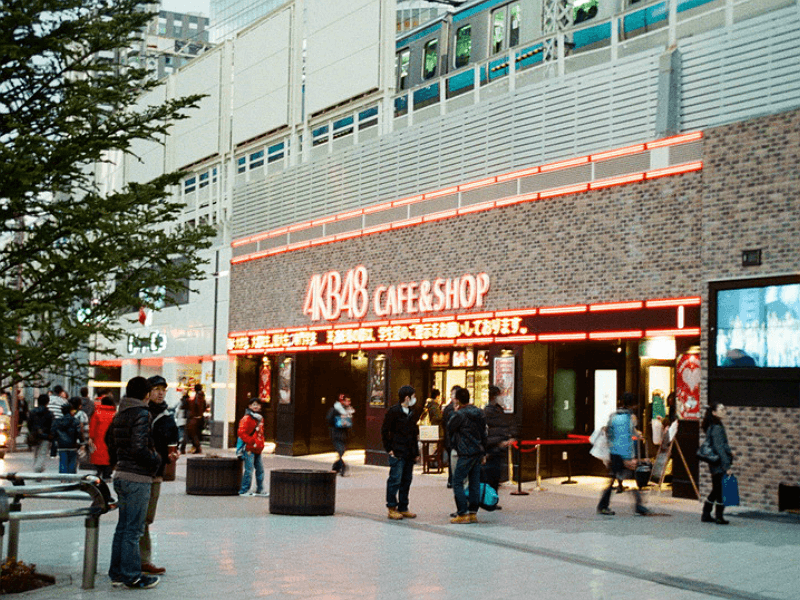 Once you spot "CHABARA", duck inside and keep your eyes peeled for a little shop offering sake tastings – that's "KAYOIGURA".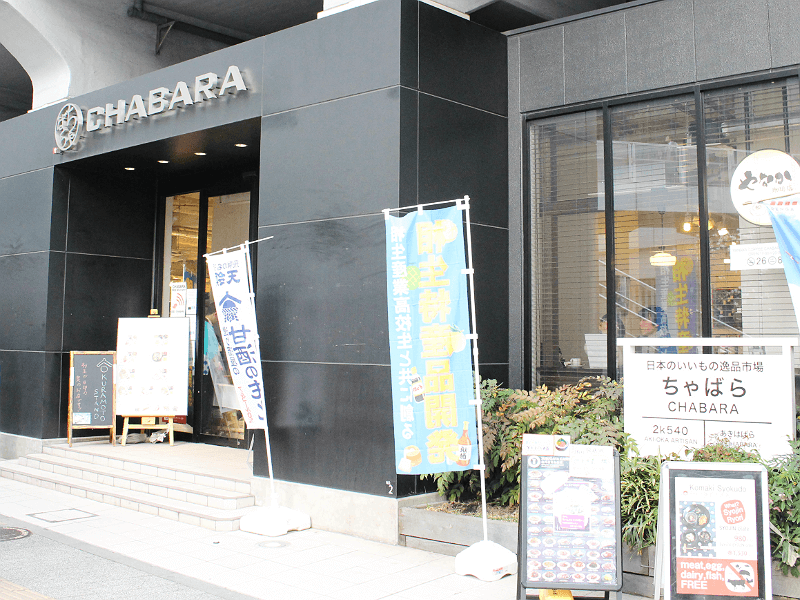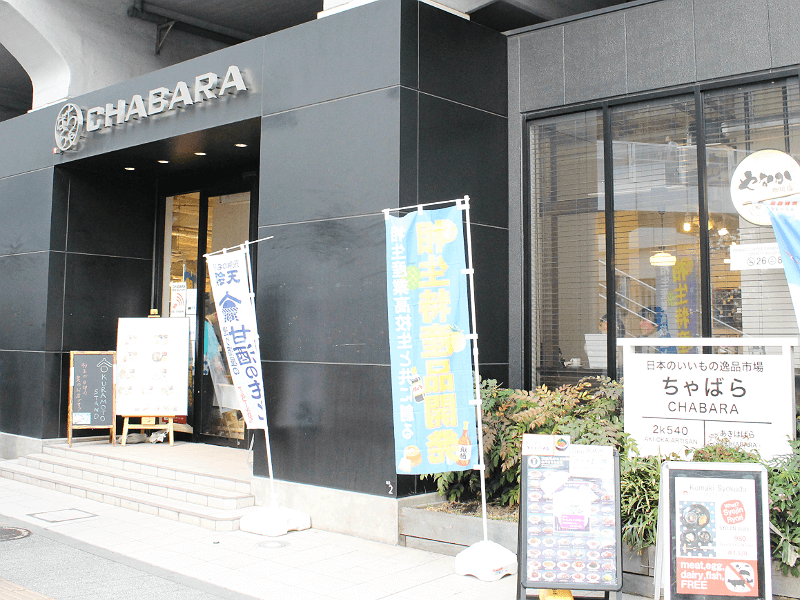 Original Sake Bottle in 30 Minutes
In addition to a wide selection of sake, a selection of souvenir sake snacks, and cute sake cups, they also offer a number of sake-culture-steeped experiences, with"design-your-own-sake-bottle" being their one-of-a-kind offering.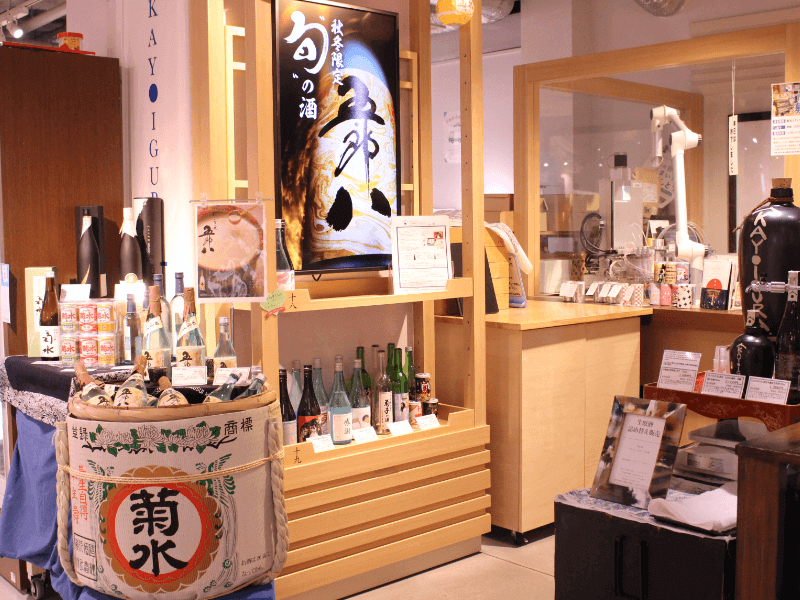 The service represents a growing trend in "custom-made" sake goods. You can customize the bottle with your very own photos and choose from a number of patterns to complete the look. Quick and easy, the whole process can be wrapped up in just 30 minutes.
First you select from 4 sake varieties: (photos below: left to right) a sleek premium "Junmai Daiginjo 720ml (5000 yen)" and "Junmai Ginjo 720ml (3000 yen)"; "Dry Honjozo 720ml" which comes in a wine bottle; and a slightly more friendly sized "Honjozo Nama Genshu 200ml (667 yen)".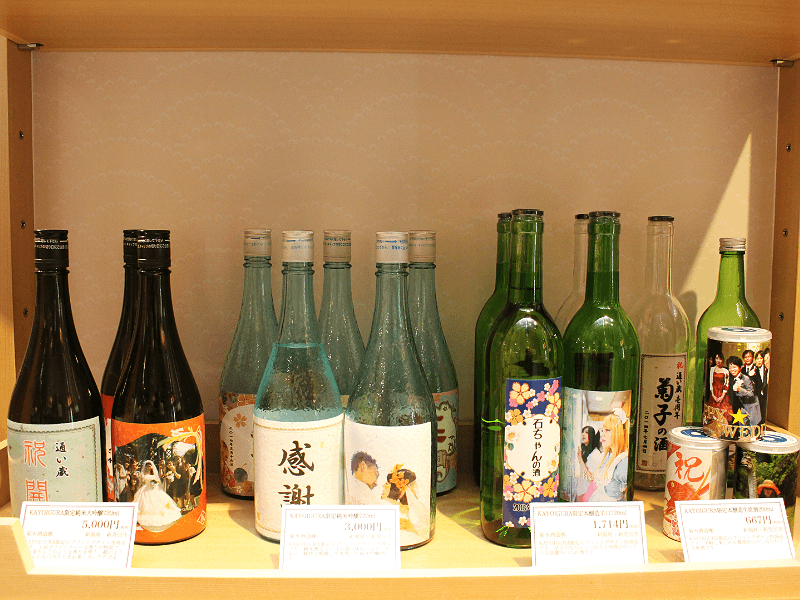 Next, you decide whether you want to print straight onto the bottle itself, or opt for a label. Factoring in drying-time, the direct-print option takes about 2 hours, making it ideal for those looking to do a bit of sipping and shopping in the meantime. The alternative is to print an original label, which takes just 30 minutes. (Note that only the print label option is available for the"Honjozo Nama Genshu 200ml".)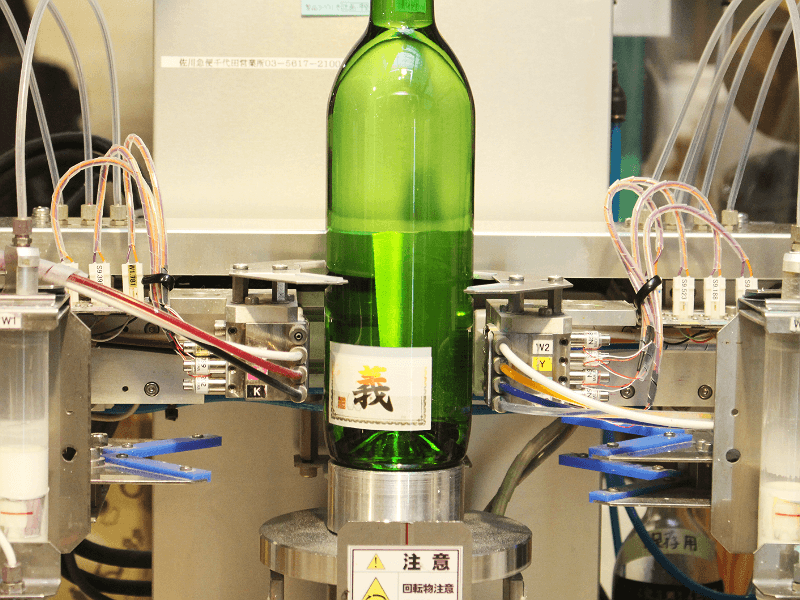 Now all that is left is to choose your photos and a pattern. You can either bring a USB stick with the pre-installed photos or images, or printouts, as the staff will happily scan them in for you. Templates are also available with celebratory messages in English and Japanese to help you transform it into the perfect gift for a friend or loved one.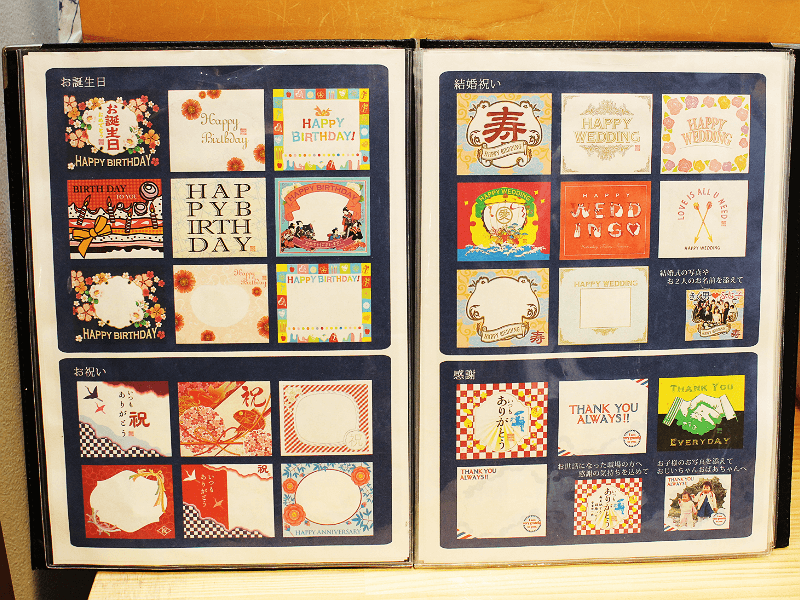 While you are waiting for the bottle, slip into "KURAMOTOSTAND" next door, where you can sample a selection of koji-influenced dishes and sake.
Whether a commemorative bottle or a souvenir to pass on to a friend or loved one, it is sure to be treasured either way.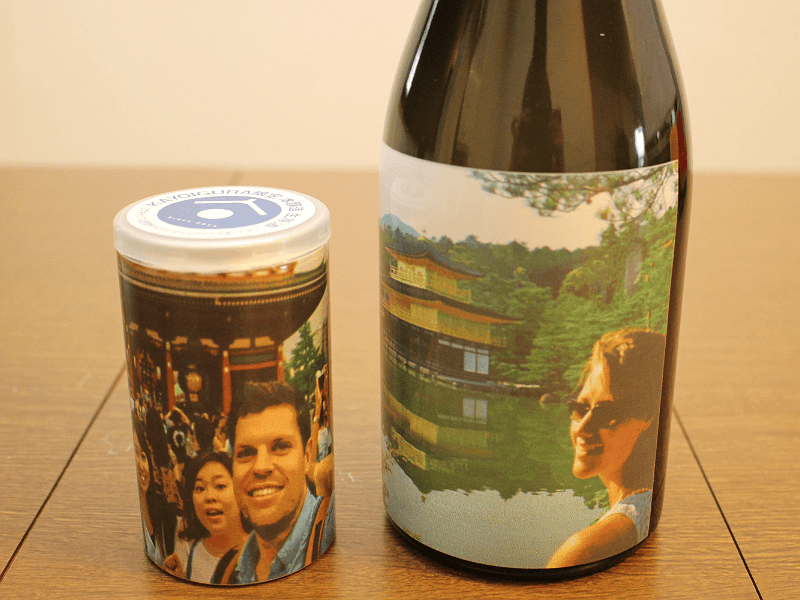 Reviving Sake Culture: KAYOI TOKKURI
The second experience is called "KAYOI TOKKURI". It's the revival of a service that was once popular in Japan about 300 years ago, in the Edo Era, where people could take a large bottle-shaped vase called a tokkuri down to their local sake shop and get it filled up with sake.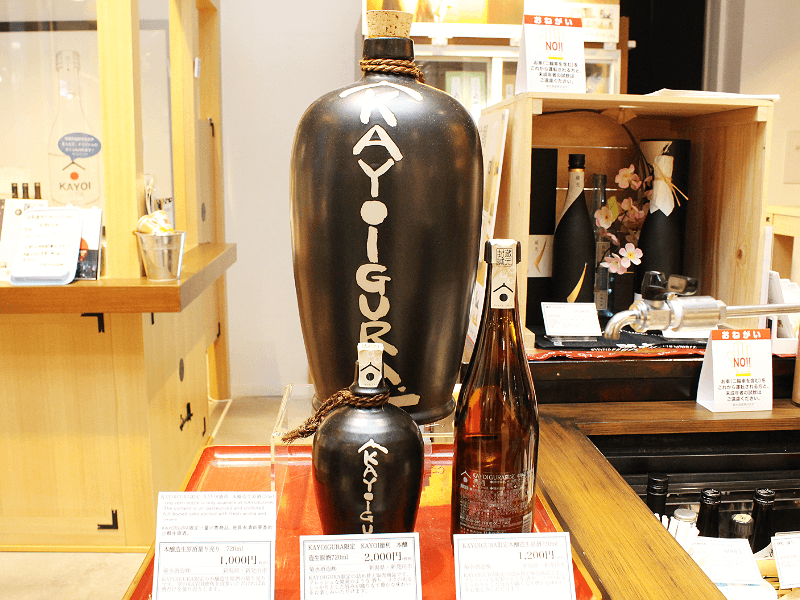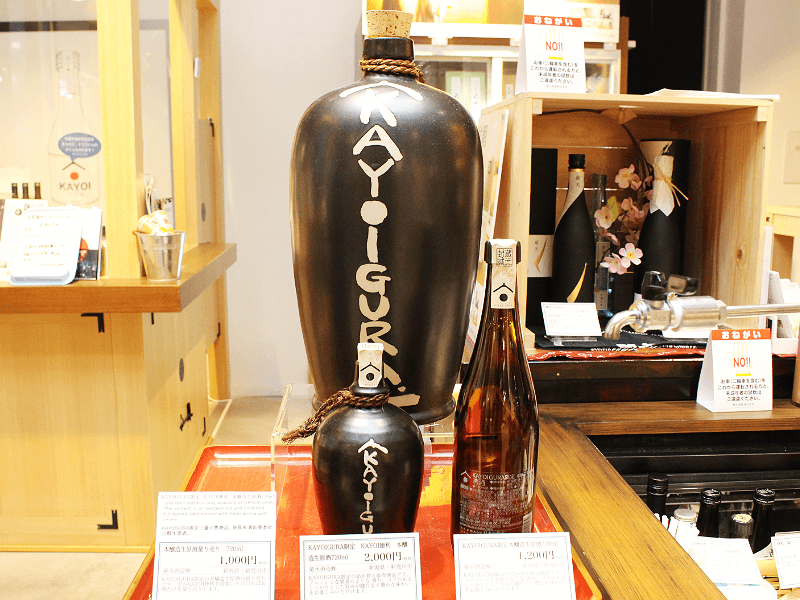 Thanks to the development of better storage and distribution and because it's much more convenient to buy in bottles these days, the practice has all but gone out of fashion, but "KAYOIGURA" has brought it back to make each visit a little more fun.
It's 2,000 yen for the first-time purchase, which includes the price of the tokkuri. For repeated visits, you can top the sake up for just 1,000 yen. A special service like this requires special sake; in this case, shiboritate, newly brewed sake that is unpasteurized (nama) and undiluted (genshu) for a fresher, more full-bodied taste. You would normally have to go all the way to a sake brewery to taste sake like this.
It's a handy storage device for sake and with every reuse you will be honoring a bit of good old-fashioned sake culture in the process. Note that the absence of a lid, however, means that you'll be needing to empty the contents before hopping a plane home.
Souvenirs Galore
Boasting every sake souvenir under the rising sun, "KAYOIGURA" is a sake-searcher's paradise. An ochoko called "Kimenhai" (demon face cup) is a particularly fun purchase, so-called because of its unique design: a demon's face on the underside and a smiley face on the inside. They are available in three colors, each signifying something different: red for disaster, blue for anger, and green for jealousy; jealousy seems to be most people's choice.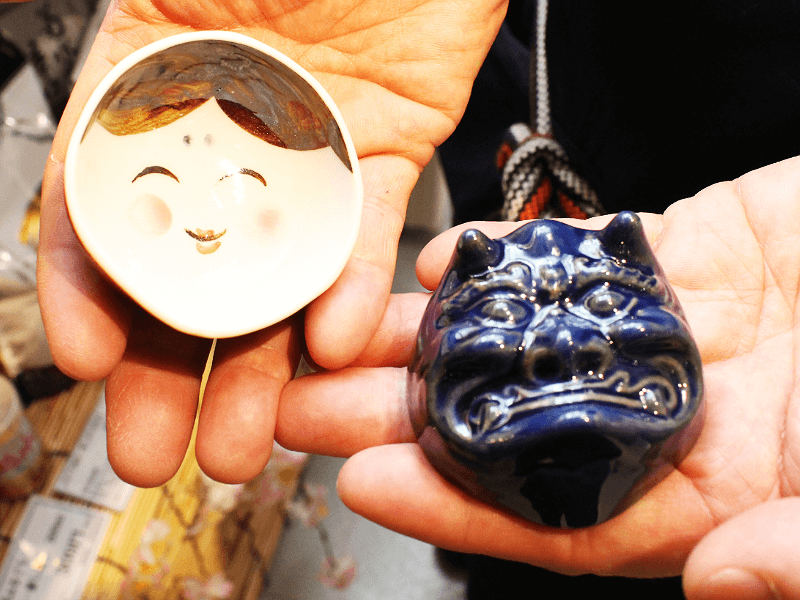 No sake souvenir shopping spree would be complete without a couple of bottles of the nectar itself. There are a wide range of different sake to peruse, a lot of which can be tasted before purchase. The two most popular choices are "Mukantei" (300ml)" and "KIKUSUI Junmai Ginjo (300ml)", both small enough to easily fit inside your luggage. Mukantei's selling point is its beautiful bottle design, while KIKUSUI is completely organic.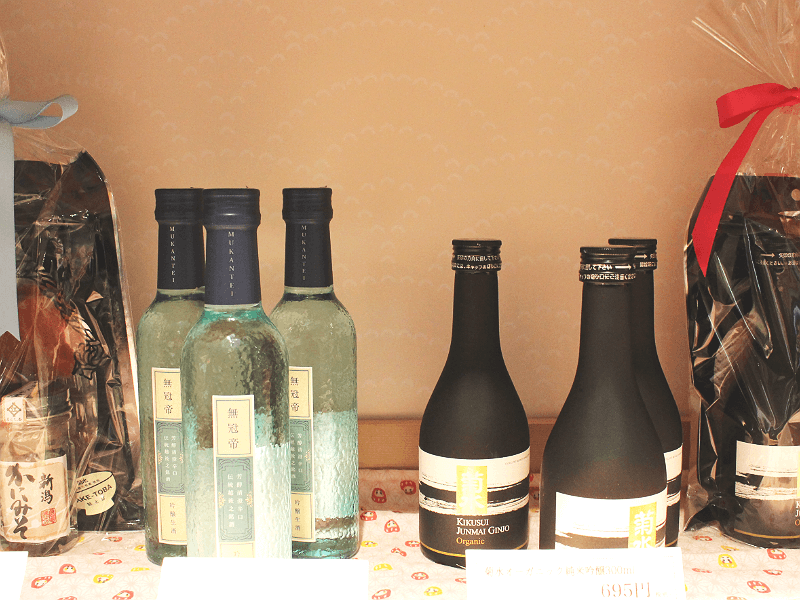 A Place to Learn About Sake Culture
The brainchild behind KAYOIGURA is KIKUSUI, the sake producer whose popular "Funaguchi KIKUSUI Ichiban Shibori" is lining the shelves of New York – in cans.
But what was KIKUSUI's motivation for opening "KAYOIGURA"?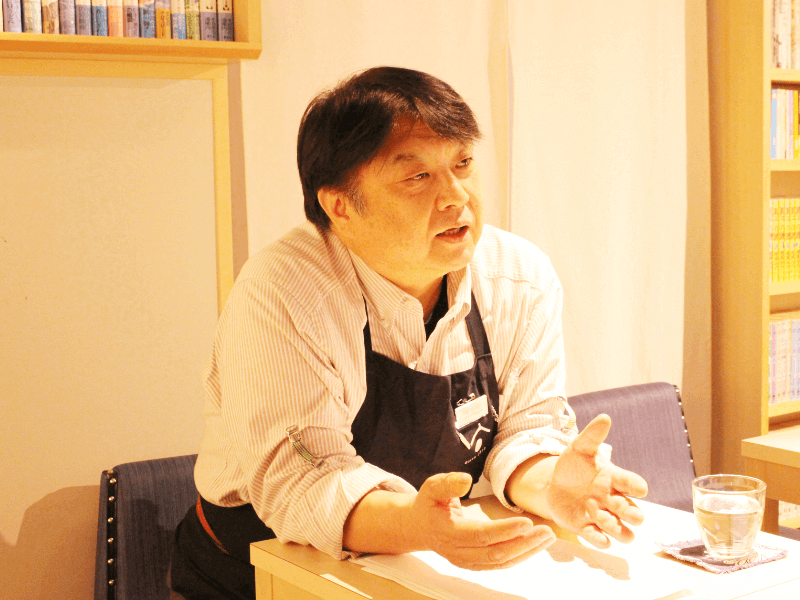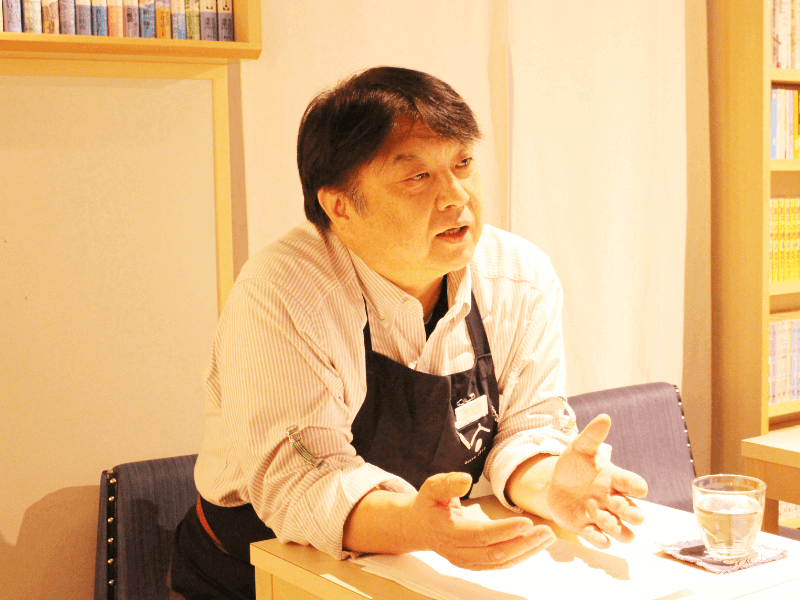 "Sake is no longer just about brewing. It's about growing a fan base, not only for KIKUSUI, but for sake in general. Both our custom-made experiences offer visitors an opportunity to taste sake culture that has traditionally been confined to the sake brewery ", explains the store manager, Shimamura Koutarou.
Sake is more than just craftmanship – it's storytelling – with the power to engage customers and create new fans of the libation through completely original services steeped in sake culture.  KAYOIGURA is the product of KIKUSUI's desire to innovate the simple sake shop into a rich cultural experience.
The next time you are in Akihabara for some anime and gaming subculture, take some time out for beverages and souvenirs at KAYOIGURA.
◎Shop Information
Name: KAYOIGURA / KURAMOTO STAND
Location: Chabara 8-2 Neribeicho Kanda Chiyoda-ku, Tokyo
Tel: 03-3258-0051
Open: 11:00-20:00 / Sake custom made bottle Mon-Fri 12:00-17:00, Sat-Sun 11:00-18:00
Closed: Depends on Chabara building
sponsored by KIKUSUI