Co-founder and Head Brewer, Brandon Doughan and President, Brian Polen travelled an unlikely path to founding New York's first sake brewery, Brooklyn Kura, this January.
When the two Americans met at a wedding party in Japan in 2013, Mr. Polen, 36, was working as a tech analyst for American Express, and Mr. Doughan, 47, was a biochemist at Oregon Health and Science University.
Not the typical resume for future sake brewers.
As they discussed the differences between the high-quality sake in Japan and the low-quality sake typically served hot in American sushi restaurants, they realized they shared a passion that went beyond a passing interest and decided to open their own sake brewery.
It was a chance encounter that changed their lives.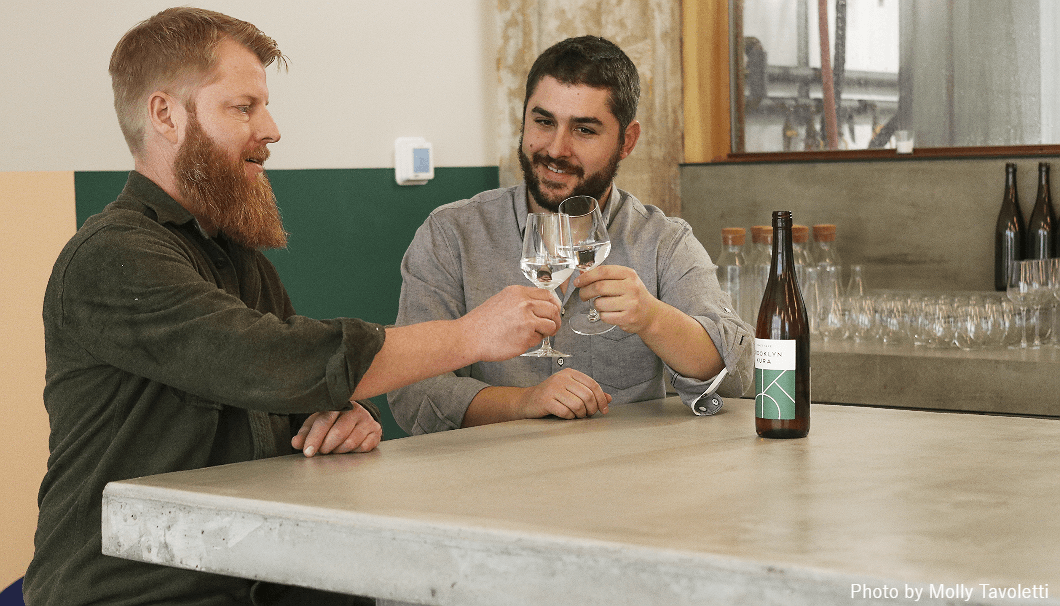 Caption:Mr. Doughan(left) and Mr. Polen(right) enjoy some of their #14 Junmai Ginjo Nama at Brooklyn Kura's taproom bar. #14 Junmai Ginjo Nama is the first sake to bottled and sold by Brooklyn Kura while others are available on tap at the Industry City brewery.
Together they toured sake breweries in Japan and completed a series of courses and apprenticeships to learn more about the culture and gain some of the technical skills required for sake brewing.
"When we were exploring sake breweries in Japan, we asked ourselves why there weren't more Americans brewing sake," said Brian.
For the most part, Mr. Doughan is self taught. When they began homebrewing sake, he used the internet, correspondence with other brewers, and his previous experience as a craft beer homebrewer and scientist to fill the gaps as they went.
"We were really surprised and pleased with the high-quality sake of our homebrews," said Brandon.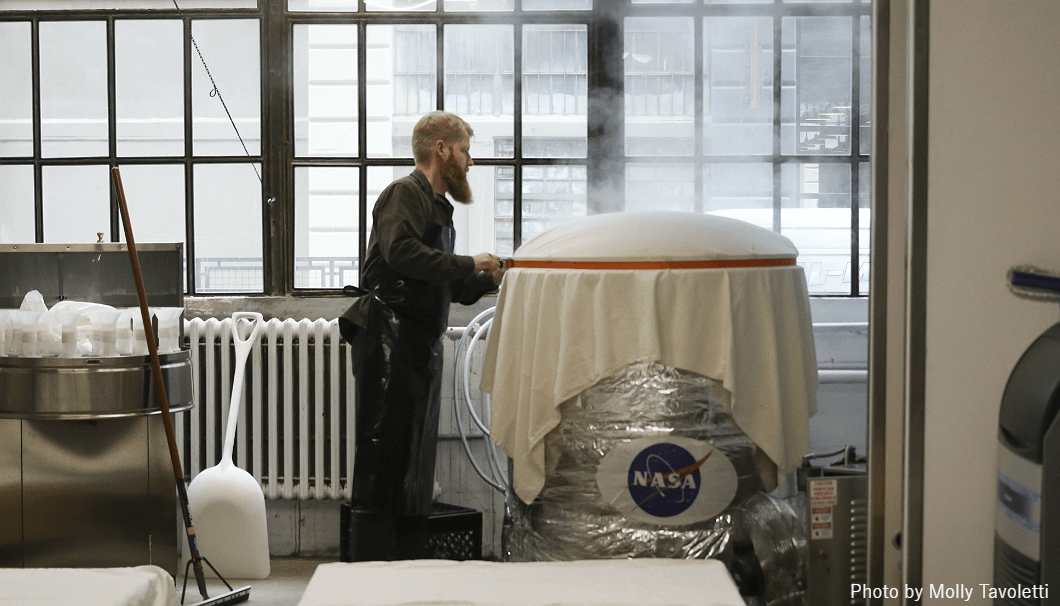 Caption:The rice steamer Mr. Doughan designed and built after struggling to find sake brewing equipment in America. The NASA logo is a nod to Mr. Doughan's former job as a scientist.
After three years of experimentation they felt their commitment was finally yielding results. They decided they were ready to open the brewery they had dreamed up at a wedding party in Japan all those years before.
"There were already a few American brewers on the West Coast, so we saw an opportunity to introduce New Yorkers to sake. We started brewing in the old Pfizer factory, then decided to open our brewery and taproom in Industry City in Sunset Park (Brooklyn, NYC)."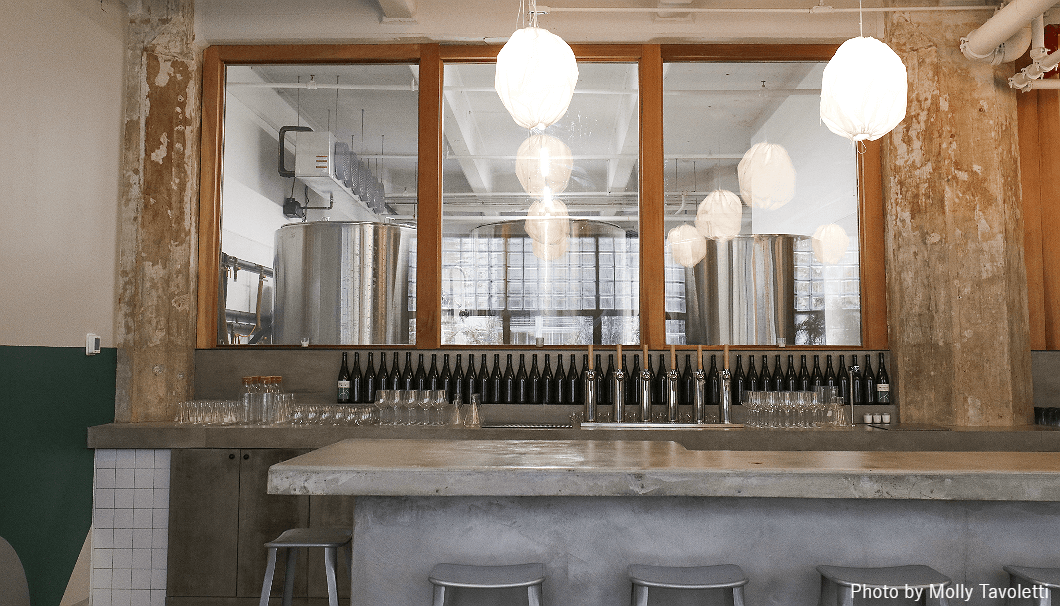 Caption: The interior at Brooklyn Kura's Industry City location in Brooklyn, New York. The taproom has an ever-evolving menu of sake and food, including fried fava, toasted nori, charcuterie, cheese plates, and pizza.
The brewing process at Brooklyn Kura follows the traditional methods and ingredients used in Japanese sake brewing, with a few necessary changes.
"We use yamadanishiki and Calrose rice, both grown in the U.S. and Brooklyn water that is put through two filters — one to remove iron that comes from the pipes and one to remove the chlorine."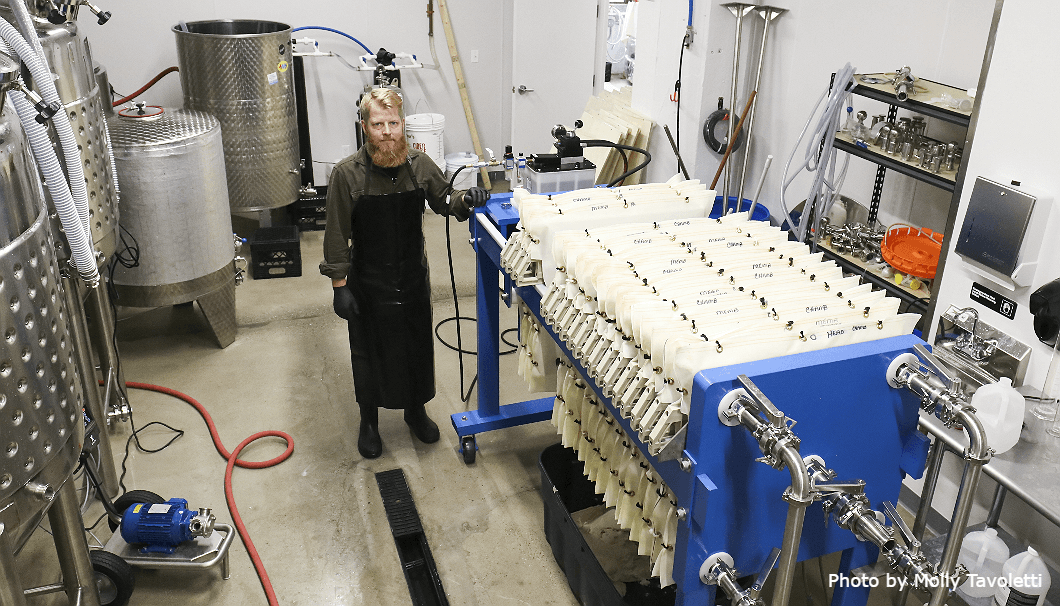 Caption: Mr. Doughan stands next to the equipment necessary to brew sake. Brooklyn Kura cultures its own koji in a month-long process that is the most physical and labor intensive part of sake brewing.
Brooklyn Kura source their koji-kin ("koji spores) from Japan and cultures their own koji in a labor-intensive, month-long process. While koji-kin are readily available to brewers in Japan through a limited number of suppliers, getting access to specific varieties of spores abroad can still be challenging.
"We also use a range of yeasts from both the U.S. and Japan," said Brandon.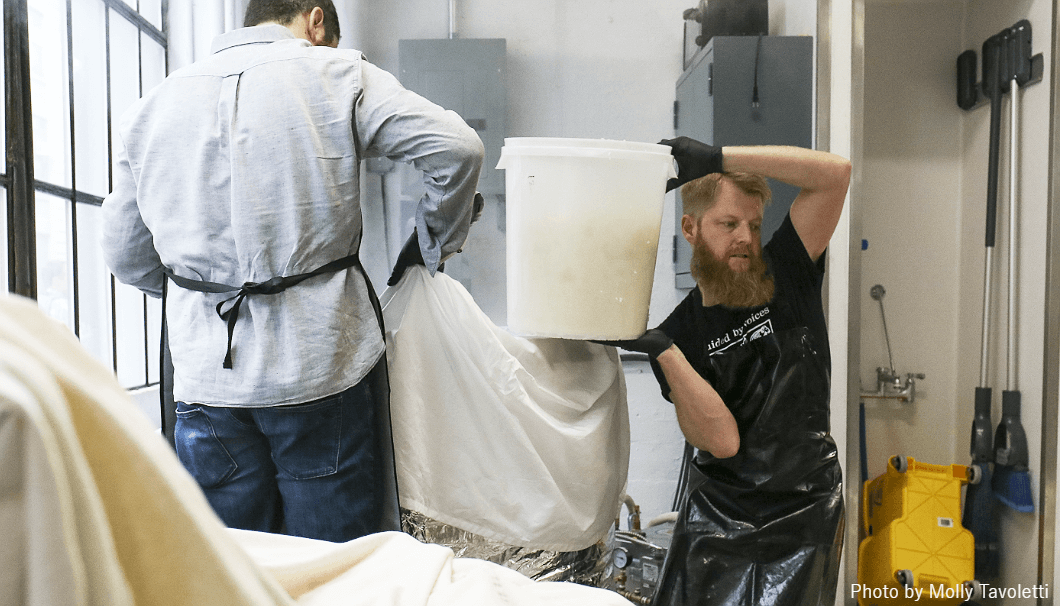 Caption: Mr. Polen assists Mr. Doughan in removing rice from the steamer to be cooled and dusted with living koji mold to begin the fermentation process.
The equipment, like the ingredients, is a combination of Japanese and American technology, including a rice steamer Mr. Doughan designed and built himself.
"We have two pieces of Japanese equipment, a rice washer thanks to our friends at Nihonshu Ouendan, and a device that measures acidity," said Brandon.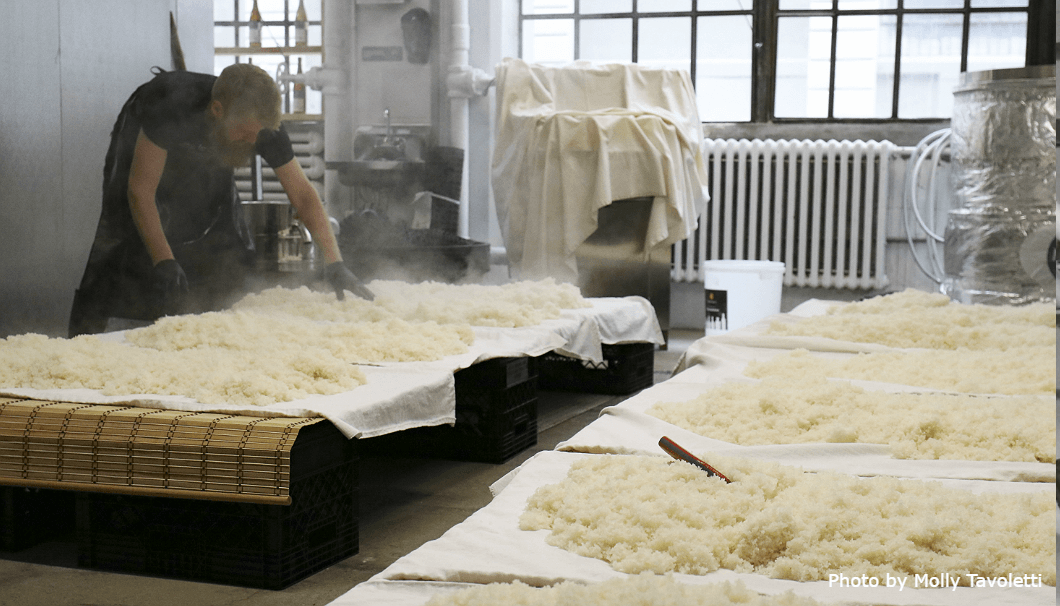 Caption: Mr. Doughan spreads steaming rice to begin cooling before beginning the fermentation process.
For now, Brooklyn Kura is focused on producing traditional sake styles still unfamiliar to Americans. Their #14 Junmai Ginjo Nama (15% abv) is described as balanced, floral and light-bodied and is the only sake they currently bottle for sale. The Blend Junmai Ginjo Nama
(16% abv) is a dry and complex sake with light aromatics and available on tap.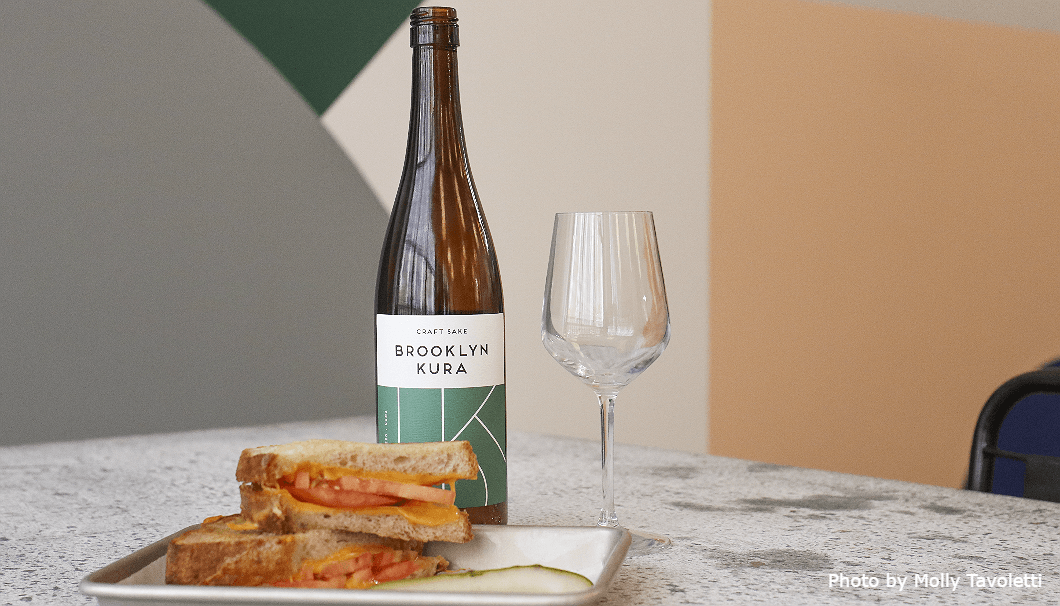 Caption: Their #14 Junmai Ginjo Nama is described as balanced, floral and light-bodied and is the only sake they currently bottle for sale. Vice President at Sake School of America, Toshio Ueno, recently described it on Twitter as one of the best American made sakes he had ever tasted.
The tap room features an ever-evolving menu. In addition to the #14 Junmai Ginjo Nama and the Blend Junmai Ginjo Nama, they have a warm Orizake (17% abv) which is cloudy rich and textured; a Shiboritate (15% abv) fresh from the press; and a thick Moromi (13% abv) with visible rice grains and active fermentation from middle tank.
Selling unpasteurized sake straight from the tank is a rare offering. Serving fresh moromi (fermentation mash) is rarer still, even in Japan, as it can't be legally sold or distributed as sake in most cases.
"There are certainly places in NY like Decibel and Sakagura serving premium sake. But most New Yorkers still experience sake at their local sushi restaurant. We're still trying to correct the misconception that sake can only be served warm and with sushi," said Brian.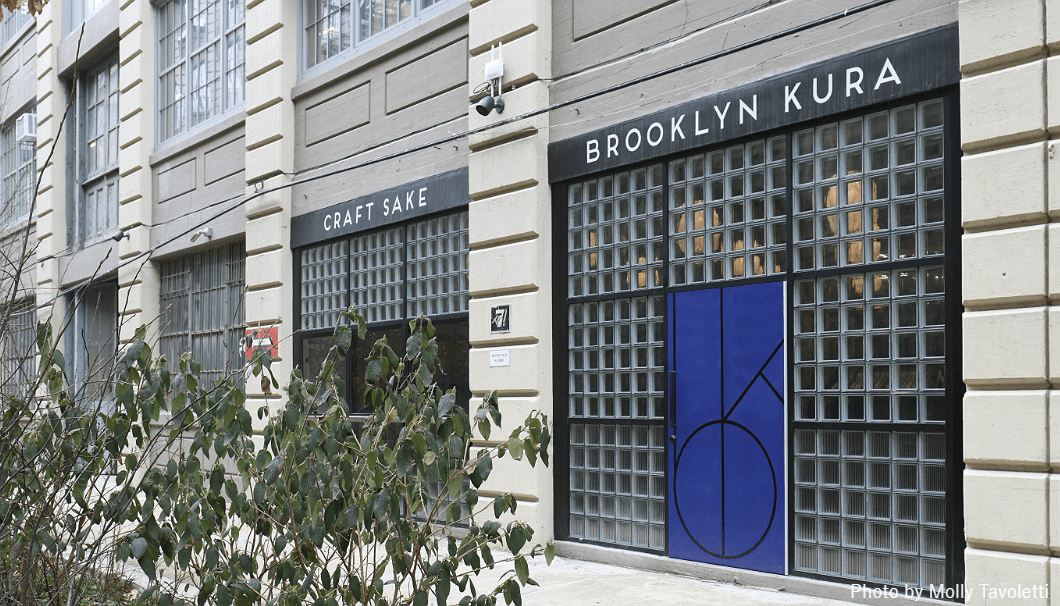 Caption: The entrance to Brooklyn Kura's Industry City location. "We chose to set-up shop in Industry City to join a rich community of makers and retailers. We've felt the support and encouragement from the Industry City team from the start," said Mr. Polen.
Brooklyn Kura is a decidedly local establishment, focused on serving fresh sake to a mostly local crowd. It's a vision that mirrors the small, dedicated breweries nestled in villages and cities all over Japan — each is unique and deeply connected to the community around it.
"Sake in Japan has so much variety and a hyper-local connection to where it's made. We want to bring that same complexity to the way sake is enjoyed in New York and across the U.S.," added Brandon.
It's that commitment to the culture that surrounds enjoying sake, along with the high quality of the sake itself, that is getting Brooklyn Kura noticed in both the U.S. and Japan.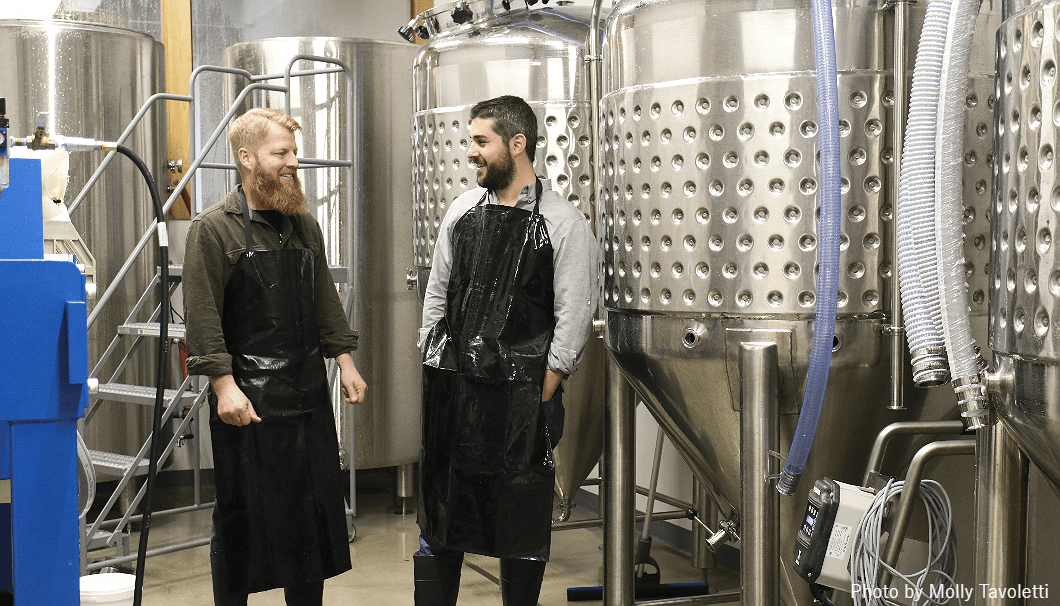 Caption: Like most Americans, Mr. Doughan and Mr.Polen first experienced warm sake at sushi restaurants. Mr. Doughan found it astringent, and that it presented more like a spirit than sake. They're hoping to teach their fellow Americans how deep enjoying sake can go.
"In addition to selling sake, we want to educate people about the many ways sake can be enjoyed. We want to demystify sake and correct any misconceptions. We believe the more opportunities Americans have to experience premium sake, the more they will fall in love with it the way we have," said Brandon.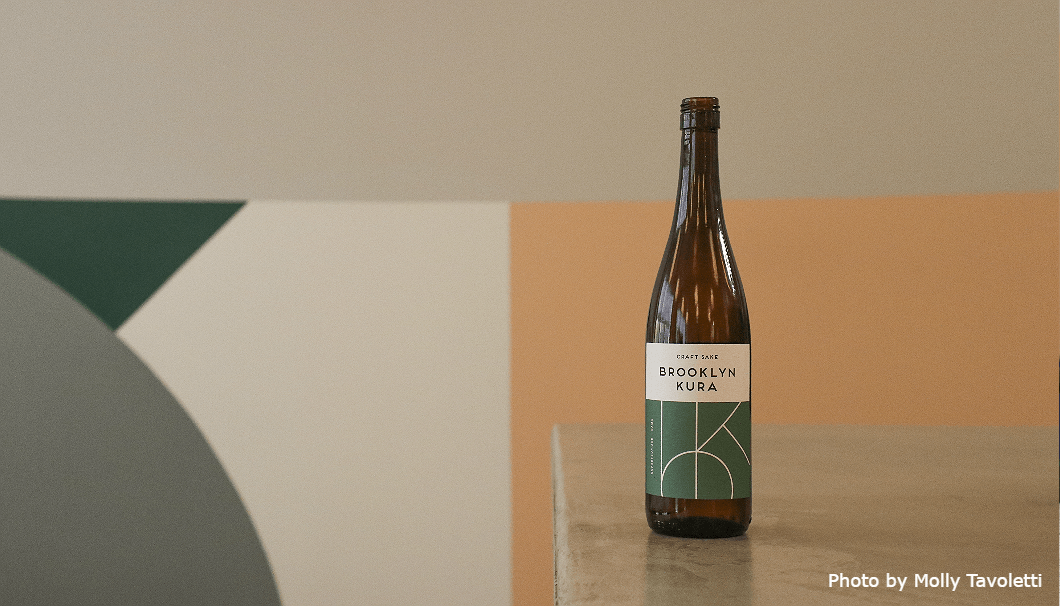 Caption: Brooklyn Kura's #14 Junmai Ginjo Nama is the first sake bottled for sale. New York's first sake brewery plans to venture into bottling more varieties of sake in the near future.