Gekkeikan USA: Est. 1989
In 1989, Japanese sake producer Gekkeikan set out on a new frontier: brewing sake America. At the time, many felt there wasn't enough demand to justify such an expensive leap, but like so many immigrants before them, the historic brewer recognized the potential of the American West and carved out a niche for itself.
Thanks to that foresight, nearly 30 years later, the company is now in prime position to meet America's booming demand for sake. They are producing over 1.6 million gallons (6,160 kl) per year tariff-free and fostering sake appreciation from the ground up.
Finding Folsom
For most Americans, the mention of Folsom immediately conjures up the strains of Johnny Cash's famous folk song "Folsom Prison Blues", but this friendly little town is about as far from that dark vignette as you can get.
About 190 km northeast of San Francisco, Folsom retains a lot of the old-fashioned charm of California's gold rush days, with a main street lined with gracefully porticoed walkways and brightly colored brick-and-wooden storefronts. Water flows down from the nearby Sierra Nevadas into the American River and Folsom Lake, providing the town's 77,000 residents with ample opportunities for recreation and waterfront barbecues.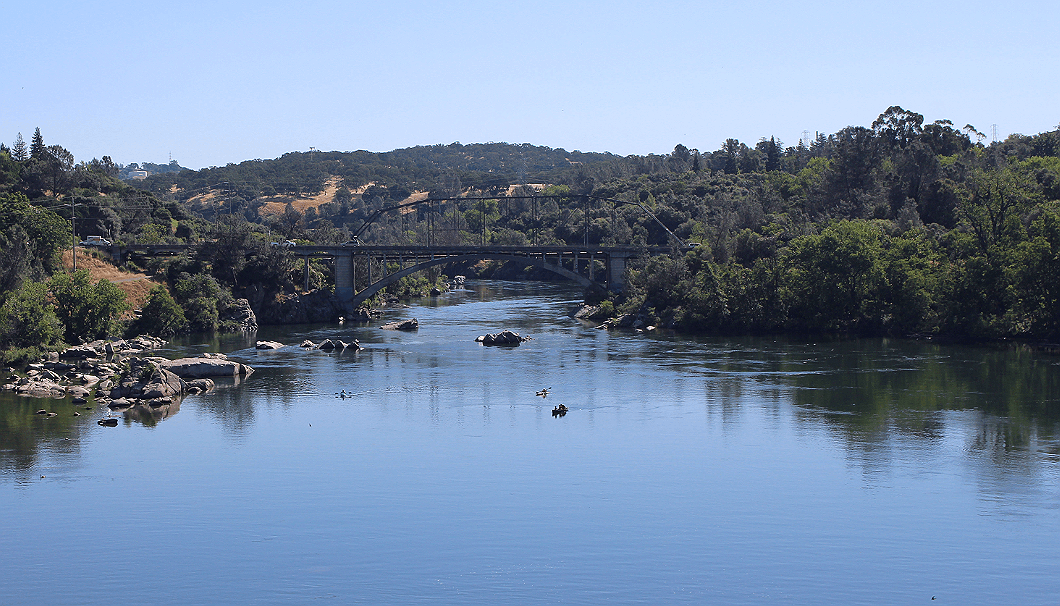 In fact, it was this high-quality water that first attracted Gekkeikan to the area.
"When we were considering sites for the American brewery, the biggest deciding factor was water," explains brewmaster Yousuke Kawase. "We collected and tested water samples from more than 30 different places around the US. The tests showed that the abundant snowmelt water in Folsom was well suited to sake brewing."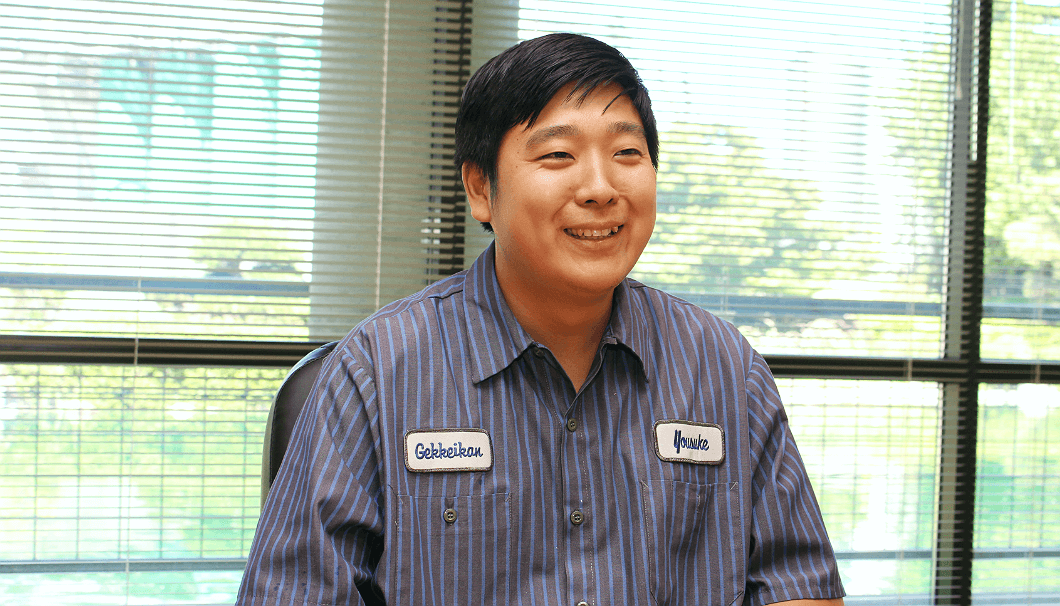 Caption: Brewmaster, Yousuke Kawase
Gekkeikan also discovered a source of rice not far off. Calrose Rice, a variety which is a descendant of the almighty Yamada Nishiki, just happened to be grown in the nearby Sacramento Valley. It's a well-balanced, medium grain rice well-suited to brewing.
Mr. Kawase stresses that locally sourcing these raw materials is key for stable quality and supply. When you rely on imports, strikes at the port or delays in transportation can negatively impact production.
Growing Pains
Despite the favorable conditions in Folsom, Gekkeikan struggled to hit the right notes at first.
"Water, rice, climate, people—we were starting from zero with pretty much everything. It was difficult. We had to bring in new sake brewing technology from Japan and adapt it to the environment of Folsom. This required a lot of trial and error before we were able to produce the flavor we were looking for," says Gekkeikan USA President Masahiro Namise.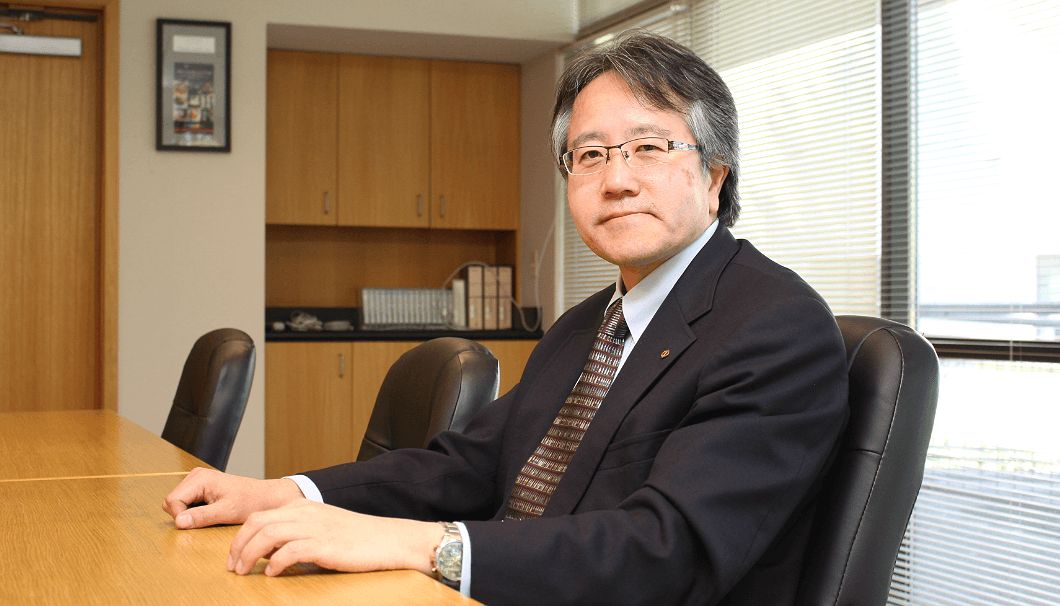 Caption: Gekkeikan USA President, Masahiro Namise
At the time, it was a huge investment and the demand for sake in North America was just a fraction of what it is now. Some in the industry questioned the wisdom of spending so much to establish an American base if the goal was just to reduce transportation spending and avoid tariffs.
Gekkeikan was hoping for more than just a base to distribute existing products. Following the company ethos of "Quality, Creativity and Humanity", Gekkeikan sought to truly understand the American market. It hoped to create what locals would recognize as quality American sake, made by Americans, while appealing to the American palate.
"One of the things we are trying to do here is understand what Americans think makes a delicious sake," says Mr. Namise.
Some things about sake can be quantified, but in the end, taste is something that is beyond measurement – it's subjective. As Japanese, he explained, there are some things that we simply can't judge.
Settling In
As sake brewers always need to be able to adapt to the demands of their environment to create good sake, Gekkeikan approached the new American outpost more as a creative collaboration than as an extension of the Japanese operation for imposing their own ideas. This led to a focus on flexibility, human resources, and community engagement.
Of the 34 staff employed at the Folsom property, 29 are local hires, many of which have been with the company for more than a decade now.
Production Manager Rick Perez, has been with the company for 13 years.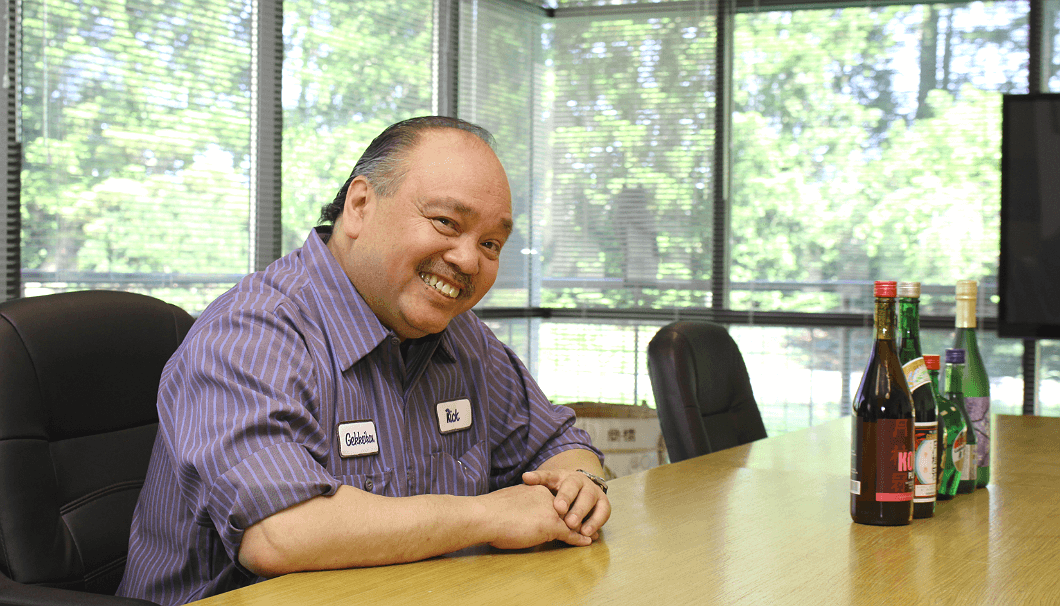 "Of the manufacturers I have been employed by, Gekkeikan is the easiest to work for. We focus not only on efficiently producing high-quality product, but also on our employees and creating a good working environment for everyone."
While Japanese companies have developed a reputation for employing an exhausting and rigid work culture, Gekkeikan USA operates more like an American company, with casual Fridays, monthly birthday parties, family-friendly working hours—factory workers are out by 3:45pm and the office closes up at 5pm!
Gekkeikan also fosters a culture of innovation. Employees are encouraged to develop new products, experiment with processes and to find new ways of connecting with the community.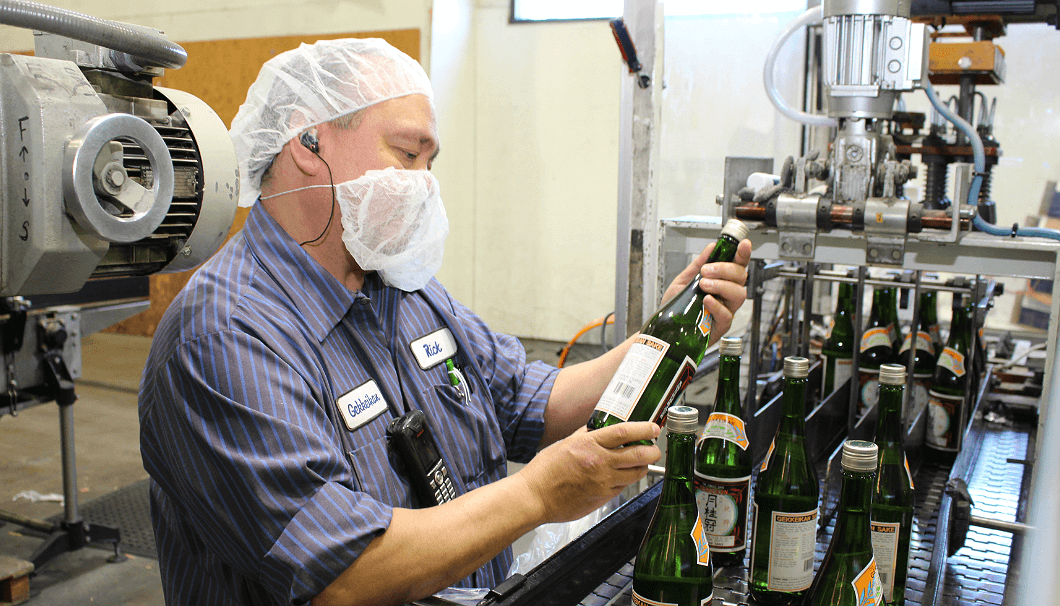 The brewery itself is home to a tasting room, where locals and tourists can come to deepen their understanding of sake and learn a little about Japanese culture. It is spotted with traditional decor and has a beautiful koi pond and Japanese garden.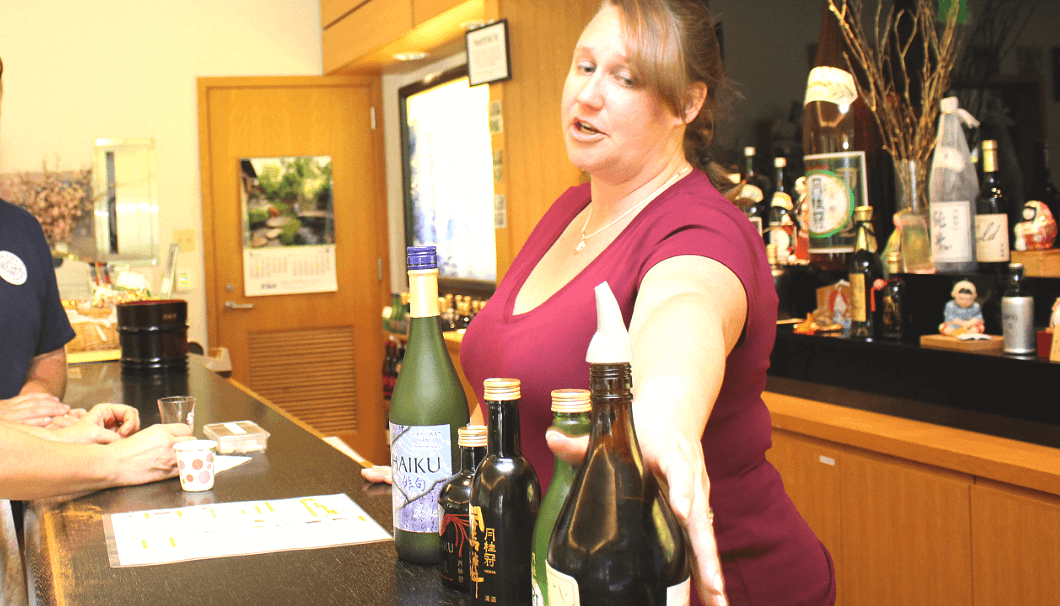 Caption: Often explain Gekkeikan sake to Locals who visit the Gekkeikan tasting room.
Once a month, Gekkeikan also holds a sushi-making seminar in the space, which is popular as a team building exercise for neighboring businesses and as an outing for local senior centers.
It appears this insistence on engagement has borne fruit. Throughout Folsom you'll find the laurel leaf Gekkeikan logo scattered across the shelves, menus, restaurants, and pantries of local homes, supermarkets and dining establishments — an integration into daily life that's often difficult to achieve outside of predominantly Asian communities.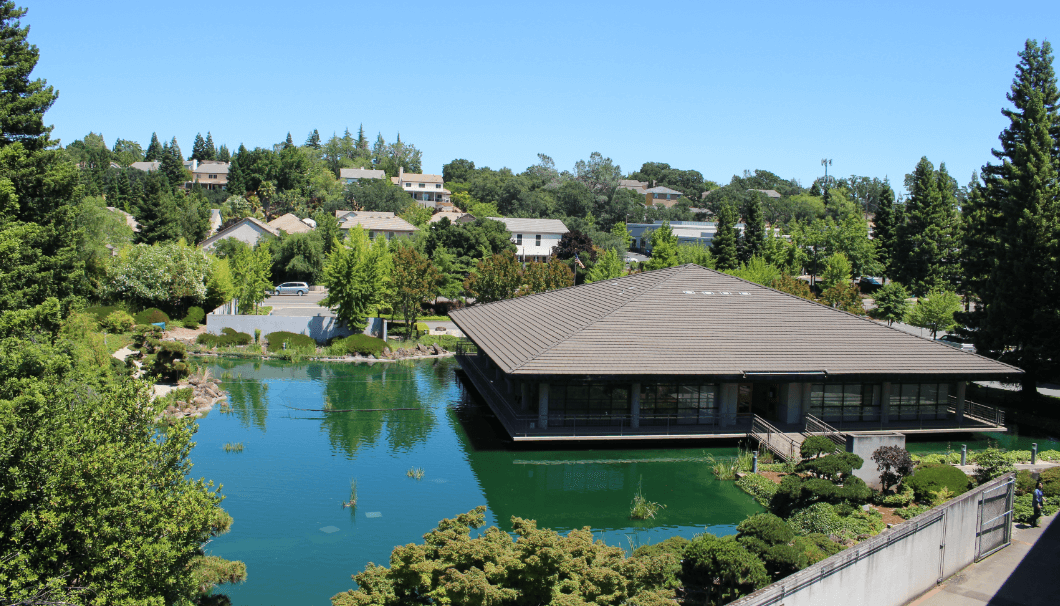 Caption: Gekkeikan USA surrounded by koi pond and Japanese garden
A Good Neighbor
While Gekkeikan has been creating a home for itself, the town of Folsom has been enriched by its presence. The city currently has the highest annual income and lowest unemployment rate in the greater Sacramento area.
"Gekkeikan has made a huge contribution to the city of Folsom through job creation, providing tourist attractions with brewery tours and sake tastings, and stimulating the local economy with sake sales," says Chamber of Commerce President Joe Gagliardi.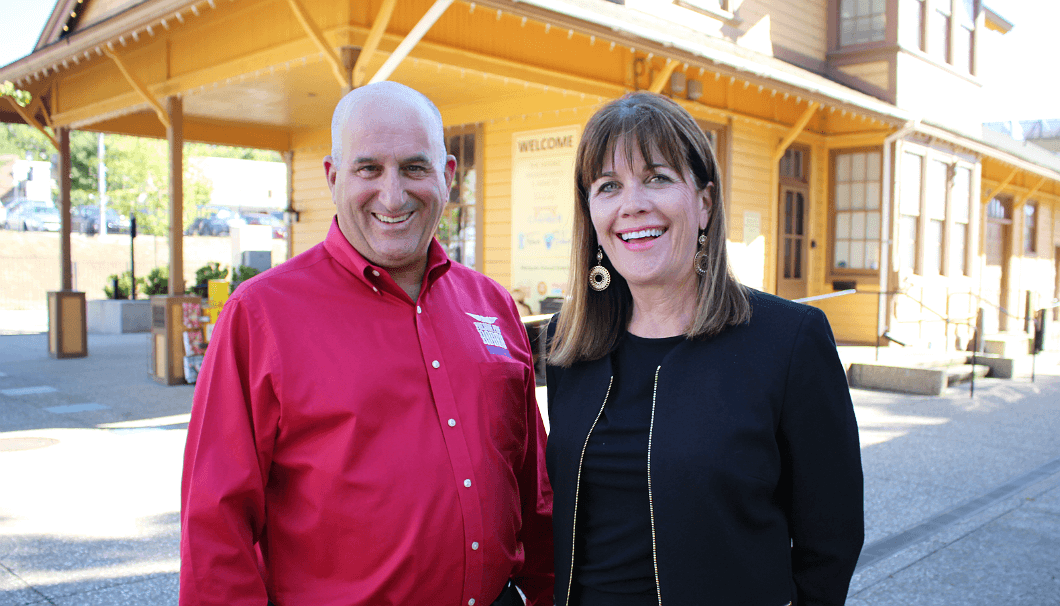 Caption: Chamber of Commerce President Joe Gagliardi (left) and Senior Vice President Mary Ann CacAela (right)
In 2015, the Chamber inducted the company into the Greater Folsom Partnership Hall of Fame in recognition of its economic and cultural contributions to city life.
Local restaurant owner Kotaro Arai agrees.
"Gekkeikan really cares about the community. They value their connections to the area and actively participate in festivals and music events. And [since the sake is produced locally] the quality is stable and I can confidently recommend it to my customers."
When we asked the customers about why they chose Gekkeikan the answers were simple.
"Because I like it," one said. "Because it's delicious," said another.
With reviews like that, Gekkeikan's American dream has transformed into an American success story.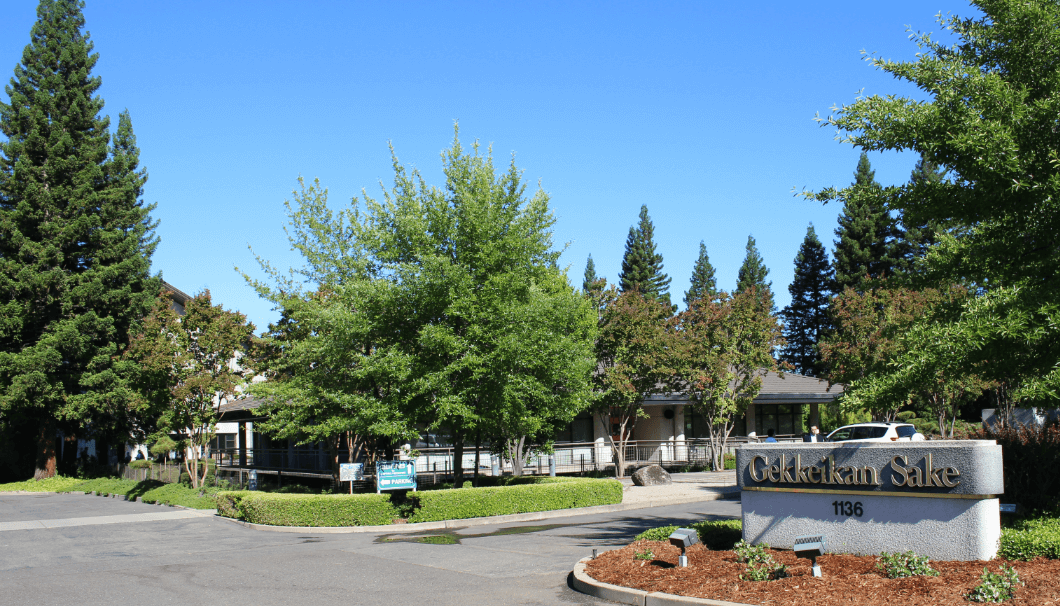 Caption: the entrance of Gekkeikan USA