Ryuichiro Masuda, fifth generational head of Masuda Shuzo, is nearly bouncing on the balls of his feet with excitement. Greeting the microbus of press that has turned up to his brewery on this early morning in Toyama, he ignores the raindrops falling on his dapper blue suit and artfully spiked salt-and-pepper hair to welcome us to historic port town Higashi-Iwasemachi.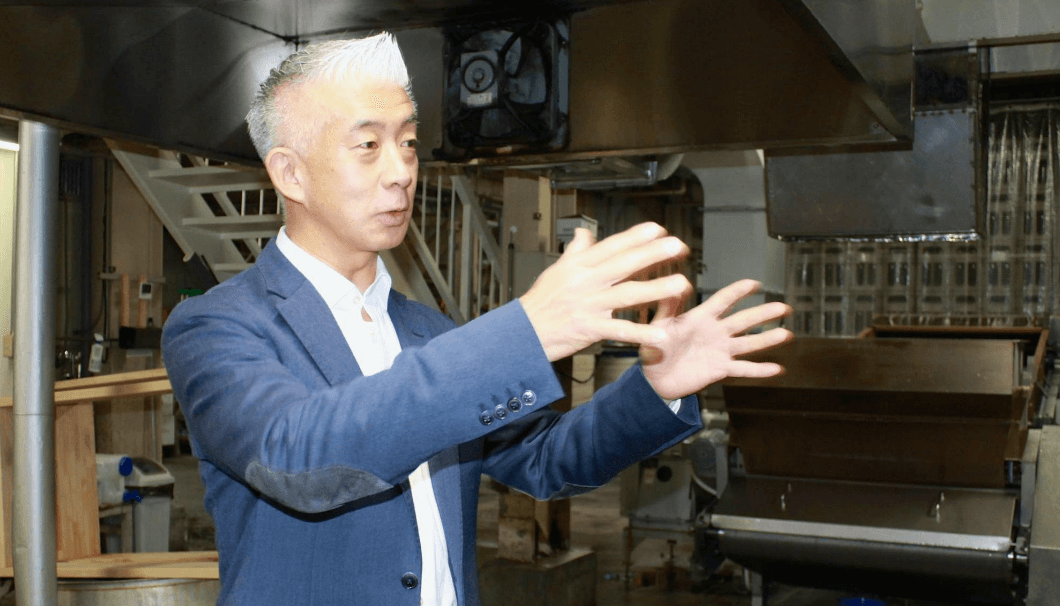 Masuda explains the finer points of sake production
He takes us through Shuzo's brewery, where the popular Masuizumi label is made, explaining the sake-making process with expansive gestures and encouraging us to taste the likes of koji-covered rice, moromi starter mash, and freshly pressed nama genshu.
"Seriously, I have no boundaries. Ask me anything," Masuda says, deadpan.
It may be his lack of boundaries that has made Masuda such an innovator. Already, Masuda Shuzo has engaged in several cross-discipline collaborations to broaden appreciation of sake, including popular sake-flavored KitKats.
We're here today to find out more about his latest boundary-pushing project: Link 8888, a collaboration with high-end Scotch brand Chivas Regal. The name is a reference to the fact that the Masuda brewery and Chivas's Strathisla Distillery in Keith, Scotland, are separated by roughly 8888 kilometers. Eight being a lucky number symbolizing prosperity in Japan, it seemed an auspicious coincidence.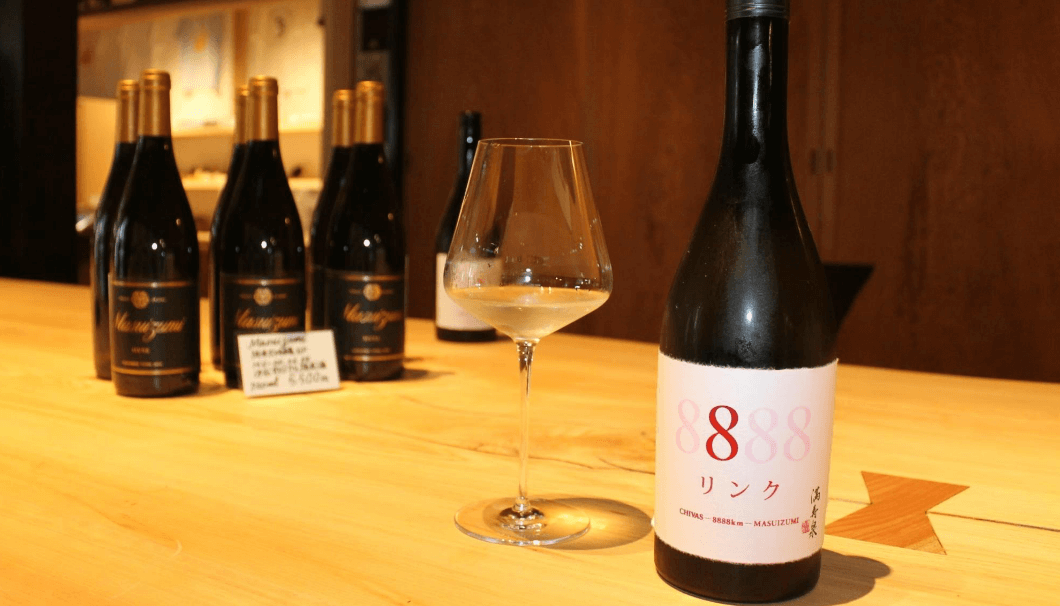 The latest vintage of Link 8888, with attractive washi paper label
The sake born from this collab is produced using a mix of rice varieties, including Yamadaho and its progeny Yamada Nishiki, plus a mix of yeast strains, including varieties used in wine production. These sake are then put in oak barrels that were once employed to age the scotch whiskies used in blending Chivas products. Over six months, the sakes are closely monitored to see how flavors are developing in the casks, before finally being blended together using the know-how of Chivas experts.
The Link 8888 that went on sale this past December is actually the second batch. In 2018, they released a batch of just 250 bottles as a PR event. In truth, reps for Chivas's parent company Pernod Ricard tell me, it was something of an experiment not only to see if there was a demand for this kind of innovative sake, but if the process would produce something drinkable at all.
It was a success on both accounts. The original bottles were snatched up in a blink and saw rave reviews. This year, the collaborators upped the supply to 10,000 bottles, with plans to further expand in the future. They also opted to begin pasteurizing for more shelf-stability in the hopes of maintaining a consistent market presence.
During today's event, Masuda takes us on a quick jaunt through Higashi-Iwasemachi. The redevelopment of the neighborhood has been a pet project of his for some time. He buys up properties around his sake brewery and renovates them in a traditional Japanese style, leasing the beautiful new premises to craftspeople, artists, and restaurants. The result is a high concentration of exquisite products, delicious food, and of course, tasty sake, all playing off each other. We spoke with glass and wood artisans who produce beautiful tableware incorporating the advice of neighboring chefs, who then proudly use those creations in their restaurants, for example.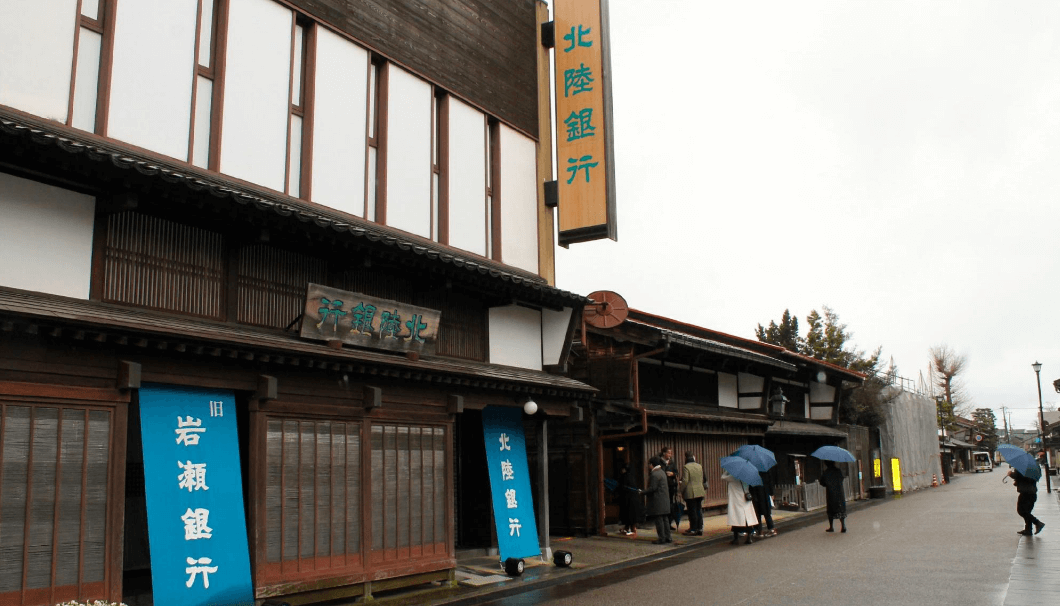 Picturesque Higashi-Iwasemachi, where even the bank looks like something out of a samurai drama
At one such property, sake bar Saseki, we get our first taste of Link 8888. It's full of oak and honey on the nose, but surprisingly creamy on the palate with notes of brown sugar and an acidic finish from the wine yeast. It's more full-bodied than the Masuizumi flagship and has just a whisper of oakiness hinting at its Scotch sibling.
Link 8888 goes down easy by itself, but it's also robust enough to hold up to fairly bold flavors. Masuda takes us to a nearby restaurant specializing in traditional Toyama fare, where we enjoy rich bear-meat udon and freshly caught amberjack from nearby Himi with grated daikon radish and wasabi. Link 8888 doesn't get lost in the fattiness of the meat or the fish and provides a nice counterpoint to the wasabi.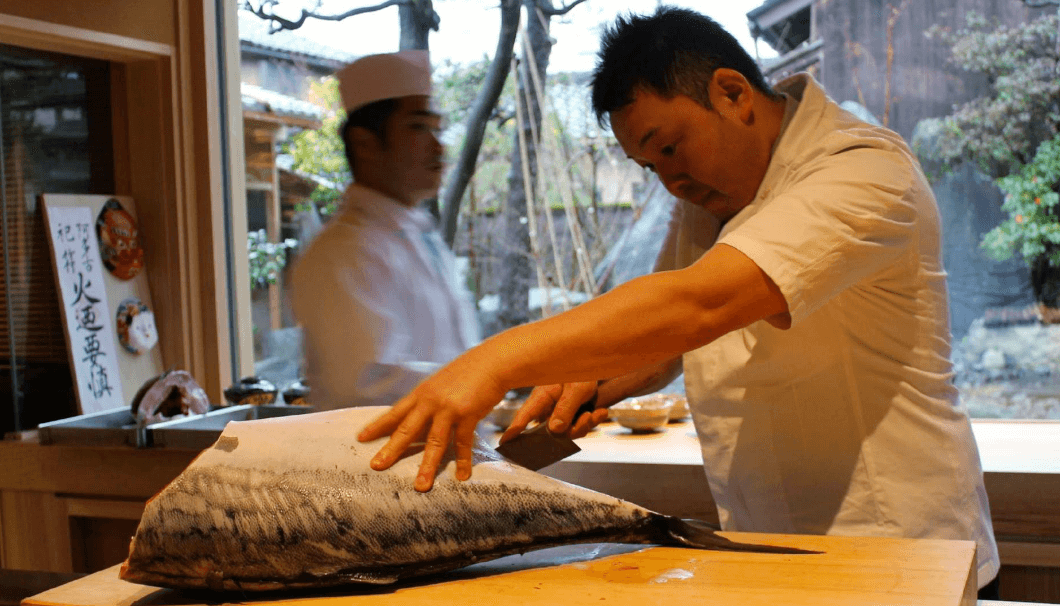 Preparing the Himi amberjack before our eyes
Another unusual point about Link 8888 is that they don't lead with a polishing rate, since the source sake vary in grade. It's predominantly made from rice polished at 35%, although there is some around the 50% daiginjo level as well. I ask Christian Ernst, marketing manager for Pernod Ricard Japan and lead on this project, whether they were concerned about the risk in that approach.
"We are targeting sake connoisseurs," he says. "People who appreciate high-quality sake but who are looking for something innovative or something new, more depth to the story, more details behind it. They're not the kind of people who go for something expensive just because it's expensive or because it's highly polished."
The story behind this collaboration is deep indeed. The two brands were connected through soccer star Hidetoshi Nakata, who has made a post-retirement career promoting sake. After Chivas Regal presented Nakata with a Gold Signature award for business innovation in 2017, he introduced them to Masuda Shuzo, who brew for Nakata's Japan Craft Sake Company.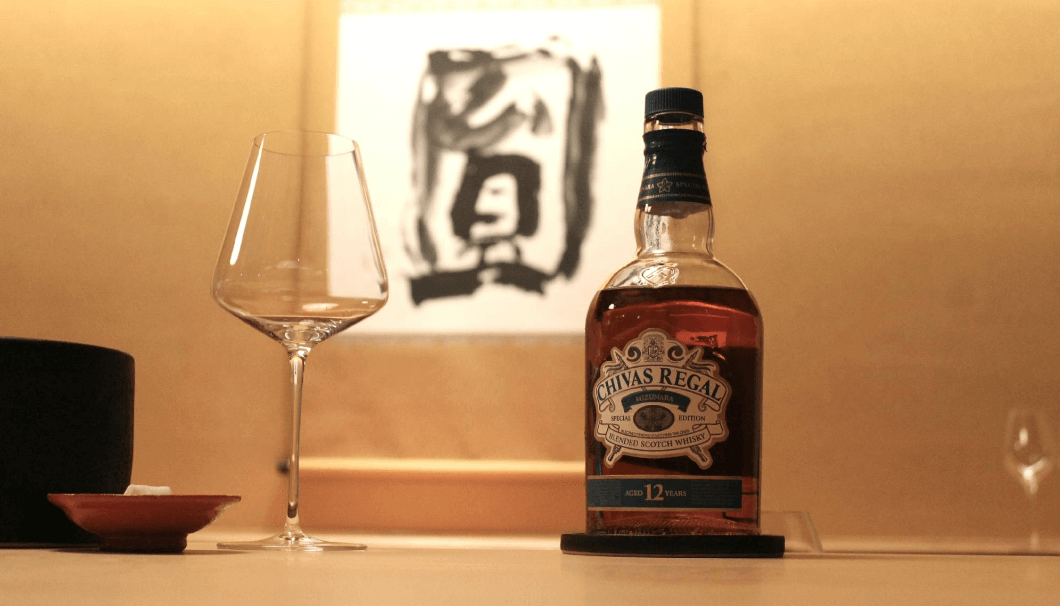 Chivas Regal Mizunara 12, only available in Japan
The eventual team-up brought Chivas's oak barrels and blending expertise to Masuda's sake, but some sake flavor and know-how may be flowing the other way as well. Yann Soenen, marketing director for Pernod Ricard Japan, tells me they've started a new experiment with a reversed process: aging sake in new oak casks and then shipping those casks to Scotland for whisky production.
If the delicate flavor of sake can stand up to such a powerful spirit is anyone's guess, but Soenen is optimistic: "It's still very early, but we can detect some sweetness from the sake already," he says.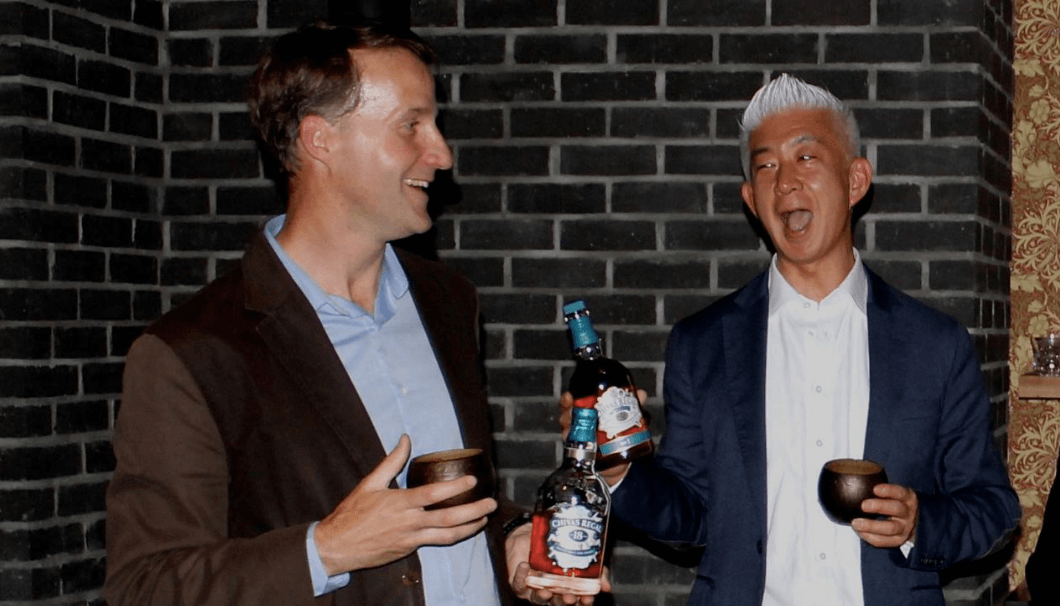 Soenen shakes a merry toast with Masuda
The event wraps up with a glass of Chivas's Japan-only Mizunara 18 Scotch at Masuda's private whisky lounge. With a crackling fire going in the old-fashioned wood stove and those in attendance lounging in comfortable leather sofas reflecting on a day of delicious food and drink, the atmosphere is warm, both figuratively and literally.
"At the end of the day, it's all about friendship," says Soenen, clinking tumblers with Masuda. Indeed, look what they've created with just a little help from their friends.