Godzilla and One Cup Ozeki Team Up in Commemorative Collab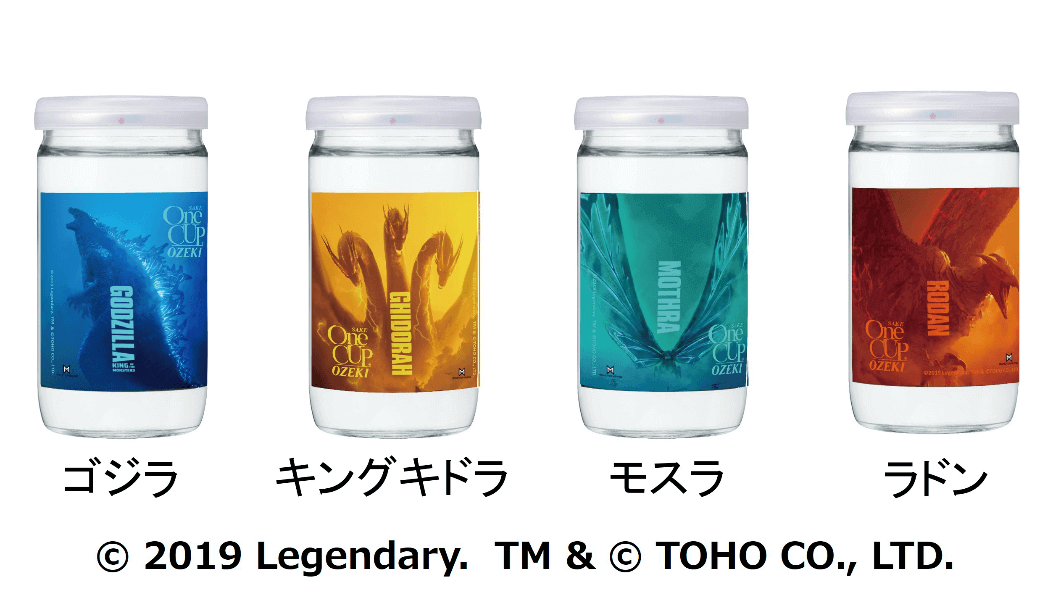 It was 55 years ago that Ozeki began selling their popular One Cup line of small-portion sake servings that can be found just about anywhere in Japan these days. This year also marks the 65th anniversary of one of Japan's most notorious monsters: Godzilla himself, who made his debut in the legendary self-titled 1954 film.
Both One Cup Ozeki and Godzilla have grown to become household names in Japan and it's only right that they should join forces on this auspicious year as the two kings of their respective realms. So, for a limited time, fans of giant monsters and small drinks will be treated to the Select One Cup Godzilla Label 180mL (6oz) bottles, with labels featuring one of four monsters: Godzilla, Mothra, King Ghidorah, and Rodan.
In addition, those who order online can get a special five-pack that includes another "secret" label. Both in store and online sales of these One Cups will begin on May 31 to coincide with the release of King of the Monsters, the latest in a very long line of Godzilla movies that, much like the giant creature and its sake counterpart, shows no signs of stopping.
◎Product Information
Name: Usen One Cup Godzilla Label
Alcohol: 15%
Volume: 180mL
Price: 280 yen
Release Date: May 31st, 2019
LINK: 毎日新聞 | 2019/04/15 | 怪獣王ゴジラとワンカップ大関の衝撃コラボ!数量限定で新発売!!
Sake and Shochu with Fist of North Star Labels Hot Items
On April 13, Mutemuka Brewery in Kochi Prefecture released limited edition bottles of sake and shochu with labels based on the manga and anime classic Fist of the North Star. Even before bottles hit shelves, though, the company was inundated with preorders that consumed roughly half of their supply of 1,000 bottles each.
For what's sure to be a short time, Mutemuka Special Junmai Sake bottles will be colored a cool blue to match its relaxing taste, and will feature the series' main protagonist, Kenshiro. His arguably biggest foe Raou can be seen on bottles of Mutemuka's signature Dabada Hiburi, his red cape foretelling the stiff flavor of this potato shochu.
Each 720mL (24oz) bottle sells for 1,800 yen (US$16), but with such a high demand and limited supply, anyone who wants some should act fast.
◎Product Information
Name: Mutemuka Tokubetsu Junmaishu
Polishing: 60%
Alcohol: 16.5%
Volume: 720mL
Price:1,800 yen
Release Date: Apr 13th, 2019 (Fist of North Star Label)
Name: Kuri Shochu Dabada Hiburi
Alcohol: 25%
Volume: 720mL
Price:1,800 yen
Release Date: Apr 13th, 2019 (Fist of North Star Label)
LINK: 朝日新聞DIGITAL | 2019/04/14 | 高知)北斗の拳ラベルの限定酒発売 四万十町・無手無冠
Hachiko Themed Sake on Sale in Shibuya, Tokyo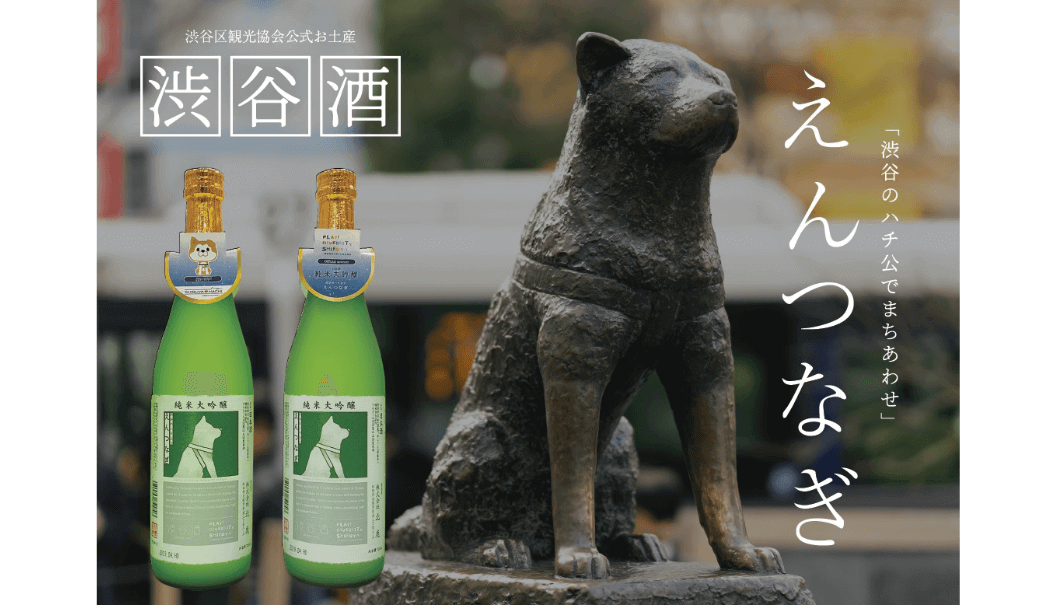 One of the most iconic landmarks of the Shibuya area of Tokyo is the statue of the beloved dog Hachiko, who became famous after waiting for his deceased owner for nine years in front of Shibuya Station. His undying loyalty has become the basis for movies in Japan and abroad, and now he's also being honored with a sake called Shibuya Sake: Connection at Shibuya's Hachiko.
This may be an allusion to the Hachiko statue's fitting role as a popular meeting space in downtown Tokyo. But more importantly it's also a bridge between Shibuya and the remote city of Odate in the northern prefecture of Akita, where the real Hachiko was born. Odate is also the home of Hokushika Brewery, where this sake was created to highlight the bond that keeps these two areas tied together.
This sake is a junmai daiginjo, which features a buoyant, fruity taste with a firm backing of rice. It went on sale at Tokyu Department Stores on April 19 for 1,599 yen (US$14) each.
Shibuya Sake: Connection at Shibuya's Hachiko is just one example of the eternal bond between Shibuya and Odate, both united by a dog whose century-old story has continued to touch people around the world.
◎Product Information
Name: Shibuya Sake: Shibuya No Hachiko De Entsunagi
Rice: Akita Prefecture Sourced Rice
Polishing: 45%
Alcohol: 15% – 16%
Volume: 720mL
Price: 1,599 yen
Release Date: Apr 19th, 2019
LINK: PRTIMES | 2019/04/17 | 【渋谷酒第2弾! ハチ公の故郷大館市に拠点を置く北鹿酒造とのコラボ商品が完成】
◎Three Online Platforms to Showcase Your News
By filling out the form of SAKETIMES PRESS English , your news will be presented on this Weekly News section of the SAKETIMES International website.
◎無料リリース情報配信機能「SAKETIMES PRESS English」
この記事への掲載は、リリース情報配信機能「SAKETIMES PRESS English」から無料でお申し込みいただけます。日本語で申請いただくと、英語の情報に編集し、掲載します。海外に向けた新規リリース情報がございましたら、SAKETIMES PRESS Eglish 申請フォーム より申請ください。