Winners of National Hot Sake Contest Announced
The results are in for the national hot sake contest known as the Kan Sake Award 2019, in which various types of sake are judged at temperatures of 45℃ (113°F) and up. This year, 905 brands from 268 breweries participated.
In the contest, sake is warmed up in a hot water bath in a room away from the panel of 39 expert judges. It's then served blind by a staff of 40 to ensure judges are sampling the sake at the proper temperature. All the sake is scored and the 30% with the highest average scores receive "Gold Awards," while the top 5% of those get the coveted "Saikou Kinsho" (equivalent to something like a platinum award).
The contest is also split into four divisions: "Budget Warm" (sake that sells for under 1,100 yen (US$10) per 720mL and is served at 45℃ (113°F)), "Budget Hot" (sake of a similar price served at 55℃), "Premium Warm" (anything more expensive than budget classes, served at 45℃) and a special category for the likes of nigori, koshu aged sake, taru and certain types of ama-zake (served at 45℃).
The nineteen winners of the Saikou Kinsho platinum award at Premium Warm categoly this year are:
Congratulations to all the winners, and thanks to the hard work of the judges and organizers of Kan Sake Award 2019! Now we know what to stock up on in time for winter.
LINK: SAKETIMES | 2019/08/05 | 「全国燗酒コンテスト2019」の審査結果が発表されました!
Help Quake Damaged Breweries in Yamagata by Drinking at Fabulous Onsen Bath Resorts
On June 18, at 10:22 pm the Magnitude 6.4 Yamagata Earthquake struck parts of Yamagata Prefecture. Luckily, no lives were lost in the quake, but tremors caused significant damage to area sake breweries. These businesses often work out of traditional structures and make a delicate, limited stock intended to last for the year.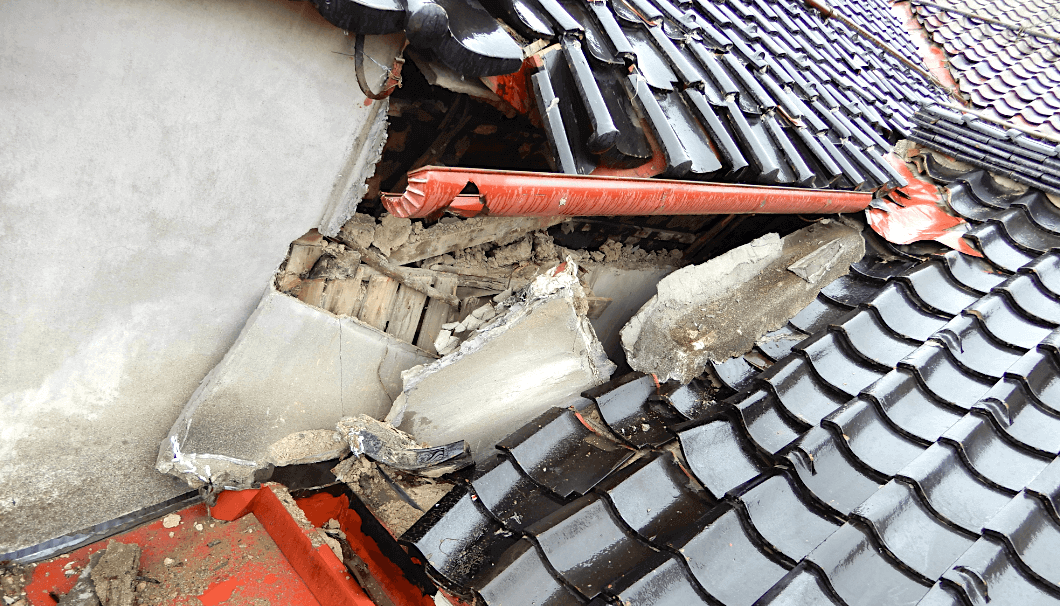 SAKETIMES reached out to breweries in the Oyama district of Tsuruoka City to get a sense of the toll taken by the earthquake. Kato Kahachiro Brewery had about 36,500 bottles of sake topples over, 10,000 of which were damaged. The brewery itself also took heavy damage, with some walls cracking or collapsing. Fuji Brewery was also hit hard, with collapsed walls and fallen ceiling beams. They lost about 500 bottles of sake and suffered spillage amounting to another 1,000 bottles.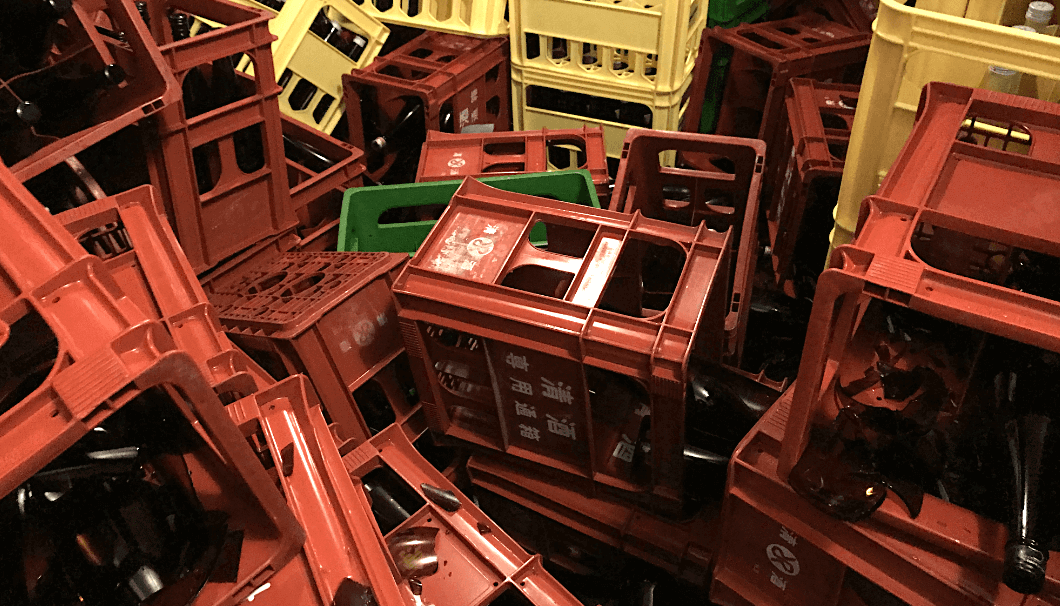 Haneda Brewery suffered cracks and collapses and lost about 500 bottles due to damage. Meanwhile, Watarai Honten also lost about 500 bottles and found cracks in their building and equipment.
Damage like this, requiring costly repairs, and loss of commodities is enough to put small operations like sake breweries on the brink of collapse. This is why a group of concerned residents with the Youth Group of the Yamagata Ryokan, Hotel, and Healthy Living Business Association stepped in to help.
SAKETIMES talked with Takehiko Shoji, tenth-generation owner of the Tsukasaya Ryokan and director of the association's youth group. "I learned from the news that the sake breweries in Oyama, which are a part of our attractions, were damaged," said Shoji. "I went straight over to help clean up bottles. Even when it was finished the breweries were full of the smell of sake and I understood how serious the problem was."
Shoji held a meeting with the youth group to discuss ways they could help the breweries. The solution was both simple and effective: Have local ryokan, hotels, and onsen bathhouses sell the damaged bottles through their own businesses. Since the sake is served in cups there, customers don't need to see the normally unsellable scratched and scuffed glass bottles.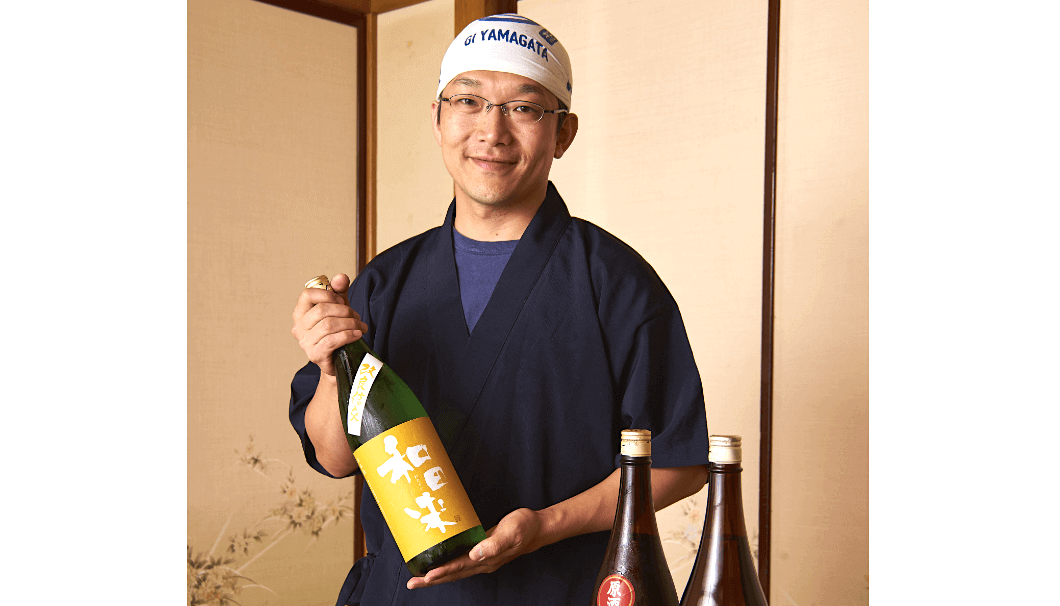 Takehiko Shoji, tenth-generation owner of the Tsukasaya Ryokan and director of the association's youth group
A total of 54 venues in Yamagata have signed on for the plan and will begin offering quake-recovered sake at different points in the near future, as they too have to deal with varying levels of repairs.
Other plans were made as well. Oyama area inns Atsumi Onsen, Yunohama Onsen, Yuna Hot Spring Yaotome, and Yutagawaonsen Shomen Hot Spring are offering special package stays until the end of September that include sake from the afficted breweries.
Special "Mokkedano" (a word that means "thanks" and "lucky" in the regional dialect) sake will also be sold. These are 180 1.8L bottles and 100 720mL bottles of sake whose contents are unidentifiable because of the quake. It's a fun challenge for any sake enthusiast to try and figure out what they are drinking by taste alone.
We asked Shoji if he had any final words to our readers on how they can help and his answer was very simple: "I really want everyone to visit the onsen of Yamagata Prefecture and drink some sake in the Oyama area. I would like you all to enjoy the sake crafted in this environment with its ingredients while relaxing at one of our many ryokan."
Supporting a good cause has probably never been more fun and relaxing than this.
◎Onsen
Agatsuma sou
Kameyamannenkaku
Suzunoyado Toufuyaryokan
Morinoyu Ryokan
Gotenshu
Yamagataza Takinami
Matsushimakan
Nihonnoyado Koyo
Meigetusou
Azumaya
Fujiya
Arimakan
Kurosawa Onsen
Takinoyu
Tsuruya
Tendo Hotel
Hotel Osho
Azumasou
Ichiraku
Sakaeya Hotel
Kosekiya Bekkan
Ginzansou
Shinjo
Tsukasaya Ryokan
Jinnai Ryokan
Masuya Ryokan
Tamaya
Ridayou Ryokan
Yudonoan
Kyubei Ryokan
Hayato Ryokan
Senso Yudagawa
Takeya Hotel
Kameya
Yukaitei Miyajima
Umibenoyado Miyakoya
Yusuitei Isagoya
Umibenoyado Fukuzumi
Umibenoyado Ikkyu
Hotel Kaisan
Hanayuubi Nihonkai
Hotel Tetora Resort Tsuruoka
Hotel Mankoen
Oogiya
Okuyunohama Ryuunoyu
Tachibanaya
Kashiwaya Ryokan
Azumaya Ryokan
Atsumi Hotel Onkaisou
Ryuunoya
Kuon
Mangokuya
LINK: SAKETIMES / 2019/07/25 | 山形県沖地震で被災した蔵を飲んで応援─ 県内の温泉宿54軒が大山地区の日本酒を提供開始しました!
◎Three Online Platforms to Showcase Your News
By filling out the form of SAKETIMES PRESS English , your news will be presented on this Weekly News section of the SAKETIMES International website.
◎無料リリース情報配信機能「SAKETIMES PRESS English」
この記事への掲載は、リリース情報配信機能「SAKETIMES PRESS English」から無料でお申し込みいただけます。日本語で申請いただくと、英語の情報に編集し、掲載します。海外に向けた新規リリース情報がございましたら、SAKETIMES PRESS Eglish 申請フォーム より申請ください。