CONTENTS
1: Fukushima Prefecture Opening Sake Specialty Store in NYC
2: Travel Website Veltra Focuses on Sake to Attract Inbound Tourists
3: Mt. Fuji and Cherry Blossoms Shine in the New "Moonlight Glass"
Fukushima Prefecture Opening Sake Specialty Store in NYC
Fukushima Prefecture is planning to open an antenna shop tentatively called, Fukushima Sake Challenge Shop, featuring goods and sake from the prefecture in New York later this year. The hope is the shop will help to quell rumors of contamination from the Fukushima Daiichi nuclear power plant and encourage exports in the U.S. 

The United States is the largest export destination of prefectural sake, and in the fiscal year 2016, the export volume was 160 thousand liters, 48% of which was for the United States.  
The shop will be located in the center of Manhattan and will feature seasonal sales and the award winning sake made in Fukushima. A possible tasting space will allow customers to enjoy Fukushima sake right in the store before they by.
LINK: 河北新報 | 2018/06/01 |「ふくしまの酒チャレンジショップ」NYに専門店開設へ 輸入拡大目指す
Travel Website Veltra Focuses on Sake to Attract Inbound Tourists
Travel website Veltra is launching a special English language site called "Sake Tours Around Japan" to aid inbound travelers to the island nation.
The site's three primary features include:
1) An emphasis on storytelling in relation to sake and related experiences.
2) Tour options that expand beyond only sake tastings and brewery tours, including an array of unique experiences.
3) VELTRA original tour offerings.
Users can expect the site to expand its services in the near future. Definitely worth a bookmark for those coming to Japan in the near future.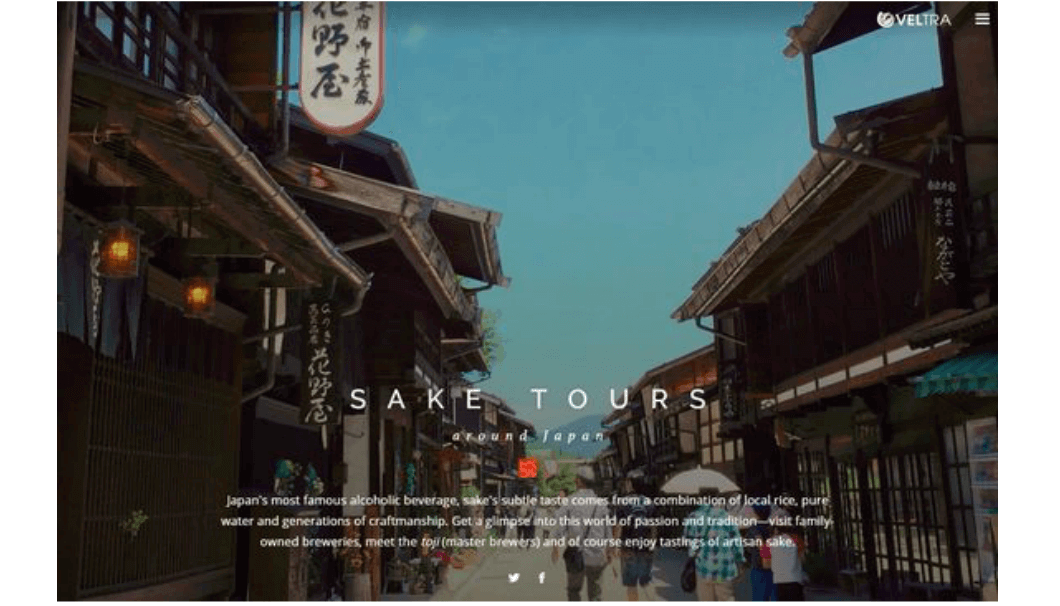 LINK: SAKETIMES | 2018/06/18 | インバウンド訪日旅行客向け VELTRA英語サイトにて「日本のお酒をめぐる旅」の特設サイトが6/4(月)より公開!
Mt. Fuji and Cherry Blossoms Shine in the New "Moonlight Glass"
The Moonlight Glass is the world's first to use a unique "bright-in-the-dark" technology. The shining images of Mt. Fuji and cherry blossoms on the glass do not use electricity or batteries, but they emit light.
So, how is it done?
The luminescent mechanism was developed by fusing phosphorescent and sandblasting technology. The glow changes from day to night and depending on the drink inside. Drinks with a good head of foam are particularly fantastic as the light reflects on the bubbles.
The glass use no electricity or batteries, and only needs to be "charged" by leaving it under a light source for about ten minutes. Even fluorescent light, LED, and of course, sunlight will do. The glow lasts for about an hour after its charged. 

Plenty of time to finish a drink or two.
You can buy the glass in Japan at the popular variety goods store, Village Vanguard, both in-store and online for 3,564 yen (about $35 USD).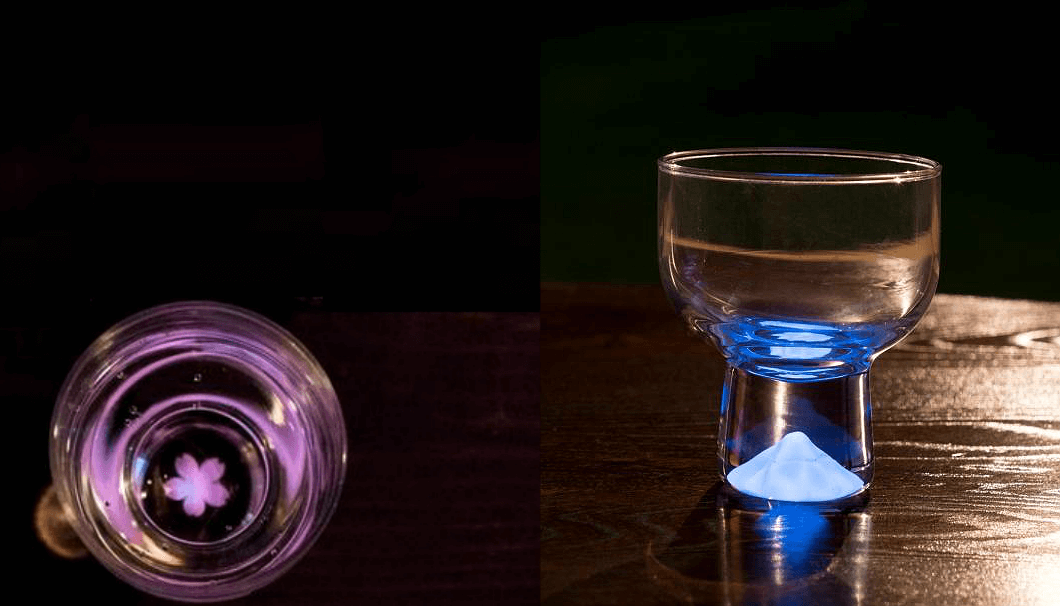 LINK: PRTIMES | 2018/06/07 | 世界初の技術!暗闇で幻想的に光る『月光グラス』完成。サンドブラスト技術と特殊な蓄光技術が融合した日本のモノ作りの結晶。ヴィレッジヴァンガードオンラインで発売!
◎無料リリース情報配信機能「SAKETIMES PRESS English」
この記事への掲載は、リリース情報配信機能「SAKETIMES PRESS English」から無料でお申し込みいただけます。日本語で申請いただくと、英語の情報に編集し、掲載します。海外に向けた新規リリース情報がございましたら、SAKETIMES PRESS Eglish 申請フォーム より申請ください。