Survey Asks France if Sake Pairs Well with French Cuisine
The Japan External Trade Organization (JETRO) held a series of surveys around France asking residents for feedback about sake in general and whether or not they felt it was a good match with French cuisine. The surveys were conducted at gourmet events in Paris, Strasbourg, Dole, and Bordeaux – all areas known for wine production.
In each city, dozens of respondents were asked "Do you think sake pairs well with French food?" A majority of respondents said "yes," although a minority of those surveyed provided the caveat that wine pairs better. Strasbourg was the most accepting of sake with 89.7% answering "yes" and no one saying that sake does not pair well with French dishes. Dole was the relatively least impressed, on the other hand.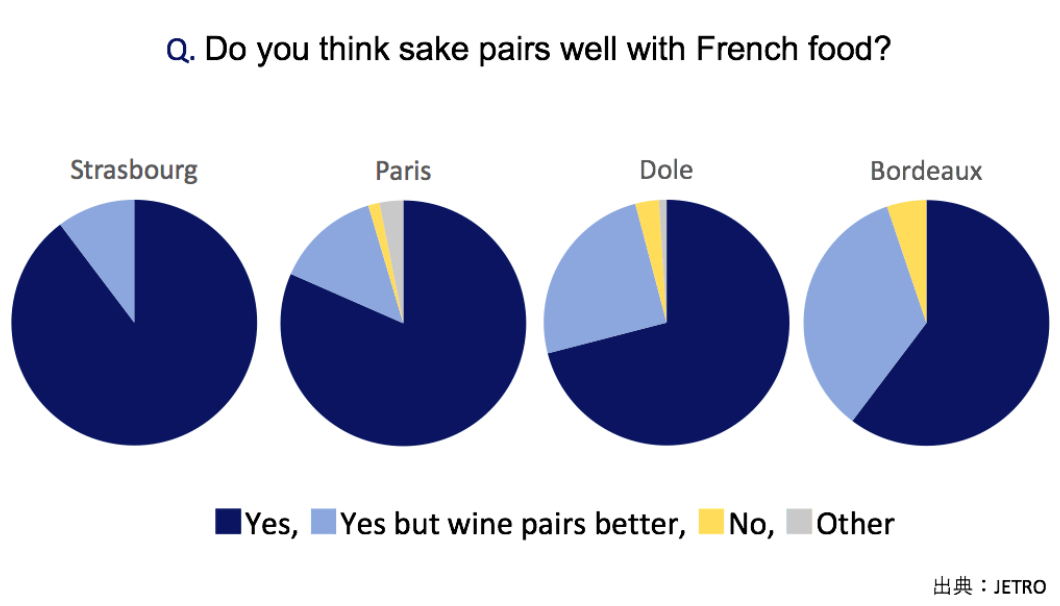 Criticisms included that "the taste of sake is too strong," and French tongues were simply "more accustomed to the depth of wine's taste."
But overall, the response to sake was largely positive with a majority in all cities saying they have tried sake before and would do so again in the future. Some mentioned that it would go especially well with foie gras and French desserts.
It's a big change from attitudes in the not-so-distant past, when a lot of people in France thought of sake as a dry liquor on par with vodka. But thanks to numerous awareness-raising activities, the country has moved to the forefront of sake consumption outside of Japan and, if this survey is any indicator, will continue to lead the way.
LINK: JETRO | 2019/05/21 | 地方都市で日本酒はどの程度浸透しているのか (フランス)
Sake Anime Teams Up with Tokyo's Historic Otsuka Norengai Bar District
Entertainment giant Bandai Namco has begun a project aimed at revitalizing the historic buildings of Tokyo Otsuka Norengai. This small section of the city is packed with a variety of pubs, all with the distinct charm of the Showa era (1926-1989) in Japan and offering a wide range of sake options.
Bandai Namco is the company behind the web-based anime series Miki No Mikoto, set in the fictional pub Matsuyoian in the bustling area of Yayoimachi which, in the series, is inhabited by supernatural creatures from Japanese folklore as well as characters faithfully based on actual sake brands like Sawanoi and Ichinokura. Each character is designed with their brewery's origin, environment and mission statement in mind, resulting in a rich and diverse cast of 27 characters to date.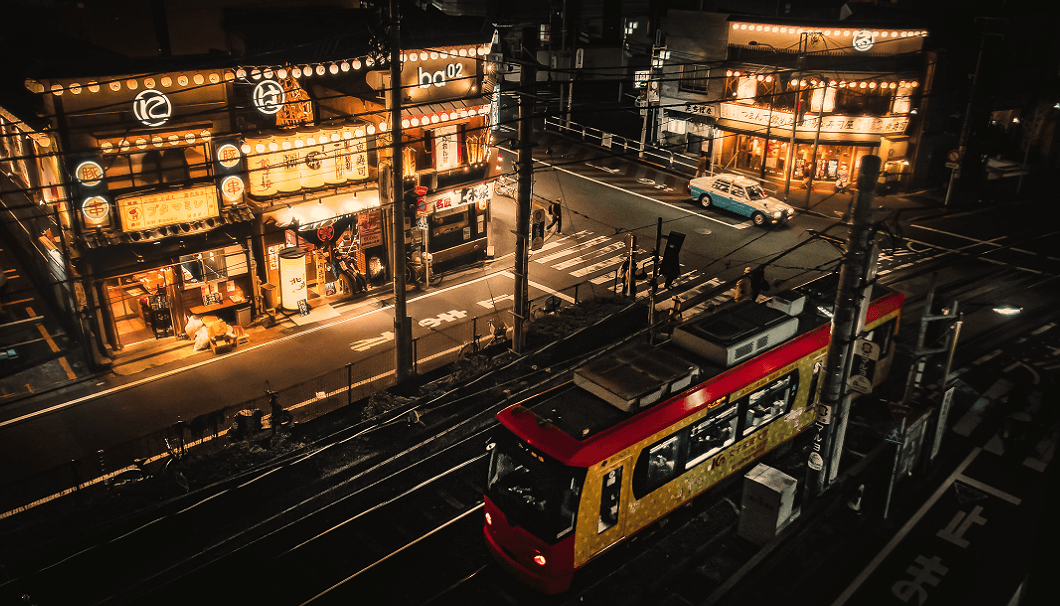 Now, Miki No Mikoto is coming to the real nightlife of Otsuka Norengai in a campaign called "Otome No Sake Tabi." From May 9 to November 30, visitors to any of the 14 participating establishments can receive stickers based on each of the show's characters.
True sticker hunters can try to seek out each one themselves, or maps can be purchased for 463 yen (US$4) to help find them all, and include a special ochoko sake cup. There is also the option to make the most out of a single visit to Otsuka Norengai by taking a Miki No Mikoto "Hashigo Sake Tour" which also includes a map and ochoko.
Whichever way it's done, it's sure to be a fun opportunity to visit a classic part of Tokyo's nightlife and help preserve the character of the area for years to come.
◎Event Information
Name: Otome No Sake Tabi
Date: Thursday, May 9th to Saturday, Nov 30th
Location: Otsuka Norencho
Map: 463 yen (includes souvenir ochoko)
Tour: 1,389 yen (includes map and souvenir ochoko)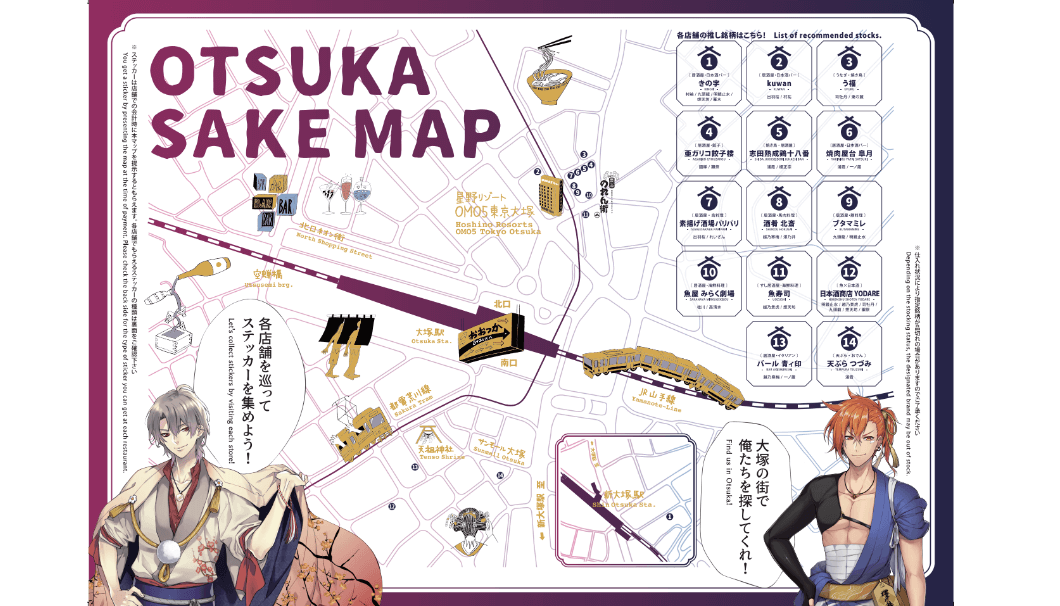 LINK: PRTIMES | 2019/05/16 | "古民家十棟丸ごと"呑み喰い提灯横丁【東京大塚のれん街】で"神酒の尊"コラボレーションイベント「乙女ノ酒旅」開催中!!2019年5月9日〜11月30日
Authentically Made Samurai Helmet Bottle Toppers Sold Online
Tadayasu, a maker of traditional Japanese armor, has begun selling The Samurai Bottle Helmet line through its online store. These are five miniature replicas of helmets worn by key figures of the Warring States period in Japan, designed to fit on top of bottles of sake, shochu, or wine.
Although small, these helmets are all full of intricate detail and faithfully resemble those worn by the first shogun Tokugawa Ieyasu, the ambitious unifier of Japan. Helmet replicas of Oda Nobunaga, the valiant Uesugi Kenshin, Sanda Yukimura, and Date Masamune – the founder of the area now known as Sendai – are also available.
Although symbols of great power, these helmets are all designed to fit gingerly on your favorite bottles of fine sake. Even if any potential owners don't have a bottle worthy of one yet, each helmet comes with an acrylic stand and finely-crafted Paulownia box.
They're a little expensive at 32,400 yen (US$295) each, but pack a lot of traditional craftsmanship into a space-saving product and help to keep the art alive in the modern era.
LINK: ニコニコニュース | 2019/05/20 | 日本酒にかぶせたいぞ!名だたる戦国武将がモチーフの兜型ボトルキャップ「サムライボトル兜」がカッコいい!
◎Three Online Platforms to Showcase Your News
By filling out the form of SAKETIMES PRESS English , your news will be presented on this Weekly News section of the SAKETIMES International website.
◎無料リリース情報配信機能「SAKETIMES PRESS English」
この記事への掲載は、リリース情報配信機能「SAKETIMES PRESS English」から無料でお申し込みいただけます。日本語で申請いただくと、英語の情報に編集し、掲載します。海外に向けた新規リリース情報がございましたら、SAKETIMES PRESS Eglish 申請フォーム より申請ください。