KISS Sake Released by Multiple Breweries Via Tower Records Japan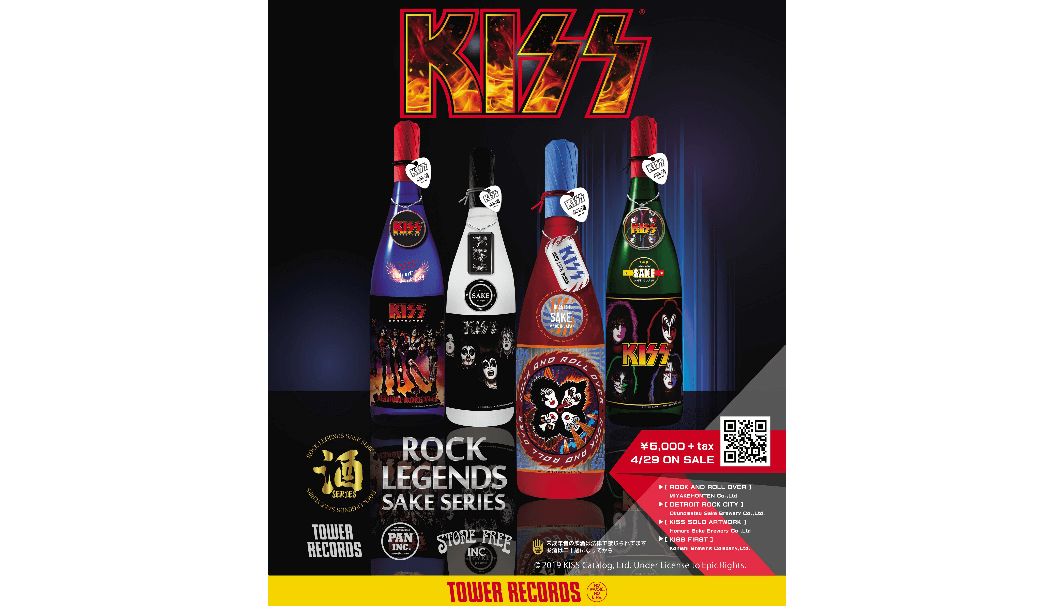 Tower Records Japan is embarking on an ambitious campaign called the Rock Legends Sake Series on April 29. This series will see many sake breweries from across Japan create their own take on a legend of the rock world, which will be released gradually over the next 50 weeks.
The first rock act highlighted in this series is none other than the true maestros of musical merchandising, KISS.
From April 29 the first four bottles of KISS sake will roll out, starting with "Rock and Roll Over" by Miyake Honten; "Detroit Rock City" from Okunomatsu Brewery comes next; then "Kiss Solo Artwork" out of Homare Brewery; and "Kiss First" by Konishi Brewing Company who also happen to be selling an Ed Sheeran Sake at the same time.
Each bottle will have a unique label embodying the spirit of KISS and looking back at highlights of the group's rock career. A special guitar pick will also be tied to the cap of each bottle so you can pluck out the riff to "Black Diamond" while sipping on a cup of Kiss First.
It's unclear who the next rock legend sake sold at Tower Records will be based on, but KISS is certainly a hard act to follow.
LINK: PRTIMES | 2019/04/12 | ROCK LEGENDS SAKE SERIES発売のご案内
Crowdfunding Underway to Get WAKAZE's First Ever Sake Brewed in Paris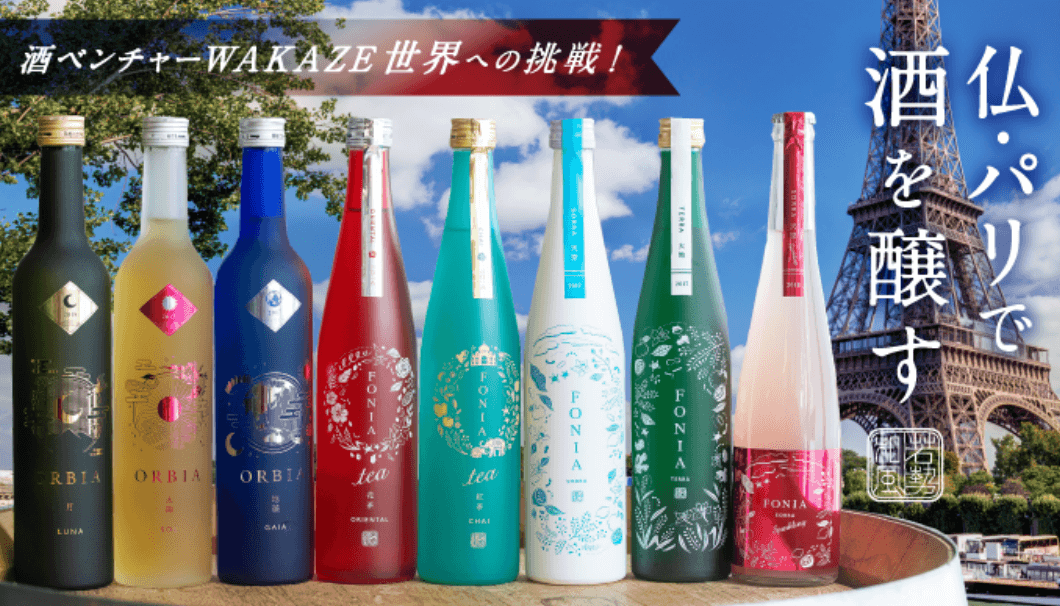 WAKAZE burst into the sake scene back in 2016, helmed by the young CEO Takuma Inagawa, and has quickly gained a reputation for developing both innovative and carefully crafted brands like ORBIA.
Now, the daredevil brand is setting up a sake brewery in the Val-De-Marne area of France, about 20 minutes from the heart of Paris. Construction is already underway and WAKAZE hopes to have their first batch of purely Parisian sake started this summer and with shipping expected later this year.
This sake will use locally sourced ingredients as much as possible and WAKAZE is hoping this'll be a major step in their quest to make sake a global beverage. This is a major project though, and to help it get off the ground a crowdfunding drive has been set up on the Japanese site Makuake.
Those who pledge will be able to get their hands on bottles of WAKAZE'S first ever batch. Gifts start at 750ml (25oz) bottles of junmai and grow with pledge amounts to include bottles of aged sake using local oak barrels, and even a top-secret surprise brew for high-level backers.
It's sure to be a truly unique sake, and securing a bottle also helps support WAKAZE's high-stakes gamble to bring sake deeper into French culture, and ultimately into the world at large.
LINK: Makuake | 2019/04/15 | SAKEベンチャー「WAKAZE」の新たな挑戦!自社酒蔵をパリに立ち上げるプロジェクト
Gekkeikan Enlists Duty Free Shop Staff to Find Ideal Sake for Tourists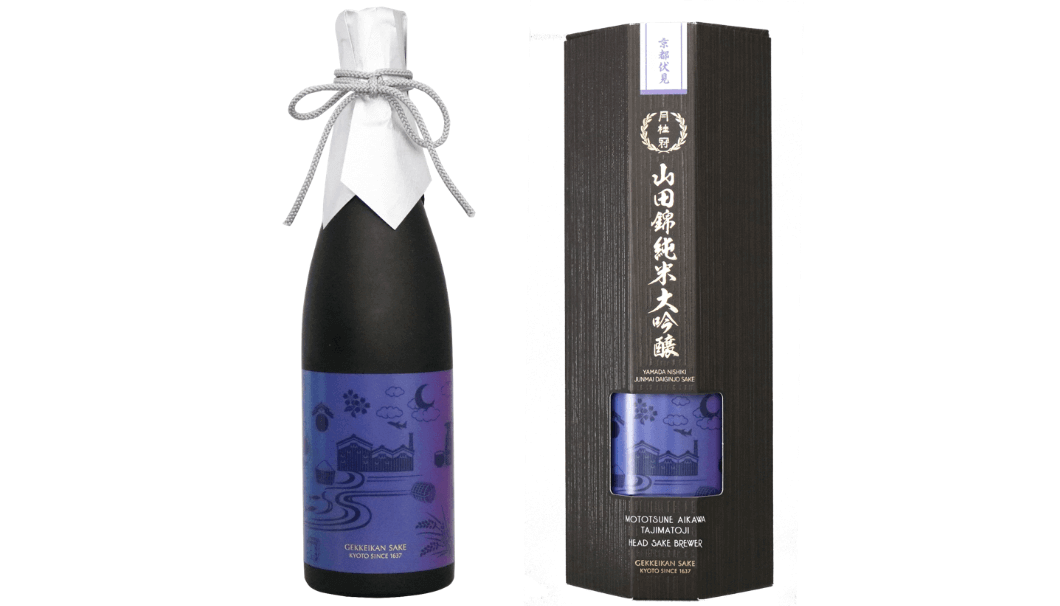 Visitors to Japan come from all walks of life, and tend to towards fleeting stays – making tourists a somewhat difficult demographic to market to. But, major sake producer Gekkeikan has found a novel way to learn more about tourists' tastes and preferences by teaming up with airline ANA.
Since last summer, Gekkeikan has invited clerks from ANA Duty Free Shops in Haneda, Narita, and Kansai airports to their facility in Fushimi, Kyoto to learn more about what customers are looking for in a souvenir sake through tastings and consultations. In the end, they developed an entirely new offering based on shop staff's experiences with these customers: Gekkeikan Yamada Nishiki Junmai Daiginjo.
In addition to the high-grade Yamada Nishiki rice, this specially produced sake uses two types of yeast and is fermented for an extra two days in a century-old facility using traditional techniques. The result is a sake with a very fruity aroma and a rich flavor profile.
This limited edition sake, sold only at Narita, Haneda, and Kansai ANA Duty Free Shops, is a revolutionary attempt at marketing that not only benefits Gekkeikan but the ANA Duty Free staff who now know exactly what to recommend to the more overwhelmed shoppers wanting to try a new sake.
◎Product Information
Name: Gekkeikan Yamada Nishiki Junmai Daiginjo
Rice: 100% Yamada Nishiki Rice
Polishing: 50%
Alcohol: 14%
Volume: 720mL
Price: 8,000 yen
Release Date: Mar 24th, 2019
LINK: SAKETIMES | 2019/04/19 | 空港免税店「ANA DUTY FREE SHOP」は、月桂冠とのコラボ日本酒「月桂冠 山田錦純米大吟醸」を数量限定で発売中
◎Three Online Platforms to Showcase Your News
By filling out the form of SAKETIMES PRESS English , your news will be presented on this Weekly News section of the SAKETIMES International website.
◎無料リリース情報配信機能「SAKETIMES PRESS English」
この記事への掲載は、リリース情報配信機能「SAKETIMES PRESS English」から無料でお申し込みいただけます。日本語で申請いただくと、英語の情報に編集し、掲載します。海外に向けた新規リリース情報がございましたら、SAKETIMES PRESS Eglish 申請フォーム より申請ください。