Happy Sake Day! (October 1st)
October 1 marks Sake Day in Japan, a day in which we celebrate this wonderful beverage steeped in Japanese culture. It's a day full of sake activities, but you may be wondering: What's so special about October 1?
Nowadays, the standard "brewing year," the period in which sake goes from raw materials to bottled product, runs from the end of June to the beginning of July. However, hundreds of years ago, October 1 was the beginning of the new brewing year. This fact helped define what sake is as the kanji character 酒 is a combination of "water" (水) and the Chinese zodiac character that aligns with October (酉), thus making the kanji literally mean "drink of the October season."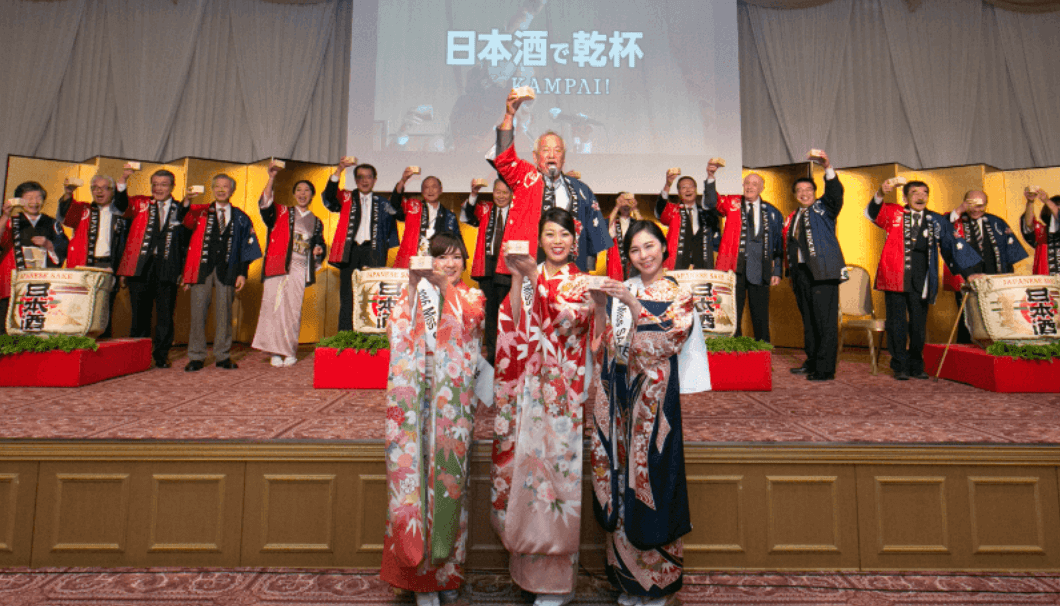 In honor of this tradition, the Japan Sake and Shochu Makers Association is holding the wide-reaching "Let's Kampai With Sake" week of events. All over Japan and abroad, sake-serving establishments will hold Kampai events, with the bulk happening on October 1, and the main event taking place at Act Square in Shibuya, Tokyo.
However, no matter their location, anyone can take part in the festivities via social media. By simply posting a photo of themselves giving a kampai (a Japanese toast similar to "cheers") onto the Kampai with Sake website or Facebook page, or onto Twitter or Instagram, with the hashtag #kampaiwithsake2019, anyone can be eligible to win prizes.
In the end, though, it doesn't really matter how Sake Day is celebrated, but that we all take the occasion to enjoy and appreciate our favorite drink with a hearty "Kampai!"
◎Event Information
Name: Let's Kampai with Sake
Date: Tuesday, Oct 1 (Sake Day)
Time: 6:30 pm – 8:30 pm
Location: 2F Act Square, 4-19-19 Ebisu, Shibuya, Tokyo
Limit: 200 People
Admission: General – 2,000 yen, Students (over 20) – 1,000 yen
URL: https://kampai-sake.jp/ (Other Kampai with Sake events can be found here)
LINK: 日本酒造組合中央会 | 2019/10/01 | 全国一斉日本酒で乾杯!
SAKETech Event in Akihabara to Find New Tech Advances in Sake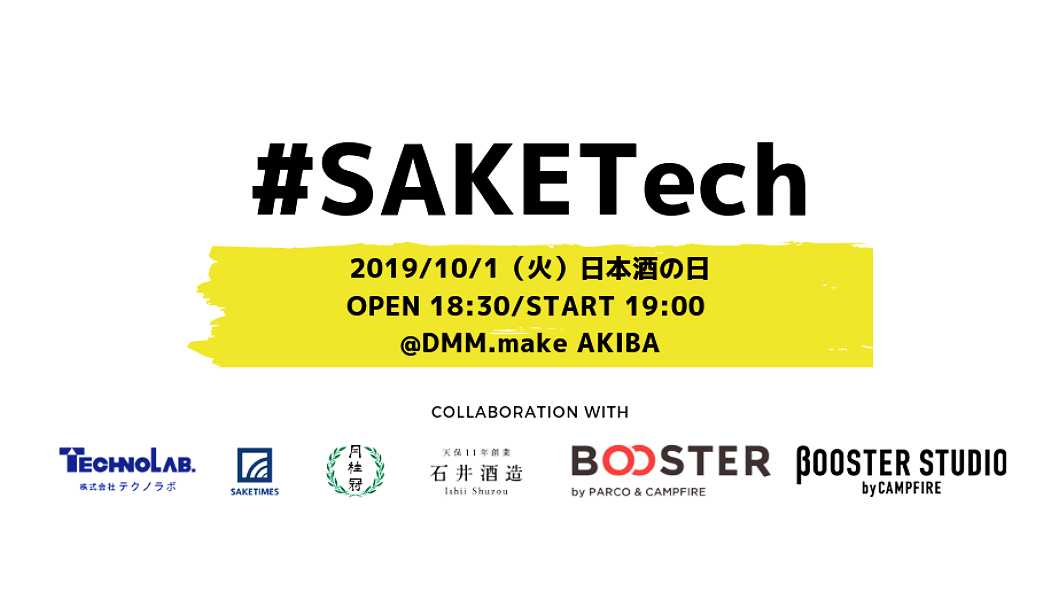 Also in honor of Sake Day, Crowdfunding website Campfire, retailer Parco Co. Ltd., and engineering firm Technolab Co. Ltd. are holding the SAKETech open event in Akihabara on October 1. This event was created to give people the opportunity to brainstorm new and inventive ways to enjoy sake through technology.
There are two themes for attendees to work with: "Ideas to make the sake drinking environment fun" and "Ideas to sell along with sake products." Examples of possible ideas include a tokkuri container that notifies your smartphone about how much sake is left inside, or an ochoko cup that records how many drinks you've had on the social network Line.
Technolab will be on hand to realize the design of ideas that have been preapproved through application, and make prototypes which will then be put on display at Booster, a store jointly run by Campfire and Parco. From there, however, the future of the device will be in the hands of crowdfunding.
It's a fantastic way for people to see how ideas can be made into real viable products, and a dream come true for tech-minded sake fans and sake-loving techies alike.
◎Event Information
Name: SAKETech
Date: Tuesday, Oct 1 (Sake Day)
Time: 7:00 pm – 9:00 pm (Doors open at 6:30)
Location: DMM.make Akiba, 12F Fuji Soft Akihabara Bldg, 3 Kanda Neribei-cho, Chiyoda, Tokyo
Limit 30 People
Application URL: http://campfire-saketech.peatix.com/
LINK: PRTIMES | 2019/09/18 | 日本酒の飲み方や飲むシーンを楽しくするアイデアを形に!CAMPFIREがアイデアソン「SAKETech」を10/1(火)に秋葉原にて開催
Oujiman Sake Brewery's Wine Division to Become Independent Winery in 2021
Hocca Winery, a Japanese wine making branch of the centuries-old sake brewery Oujiman in Yamagata Prefecture, has announced its intentions to become a fully independent winery by 2021.
Oujiman has a long history, dating back to 1724. However, the company fell on hard times over the years as its lineage of owners began to fade. Luckily, Oujiman was saved in 2013 by fellow Yamagata brewery Tatenokawa, and with a second lease on life, they decided to diversify by also trying their hands at making Japanese wine, which is defined as wine using only Japanese grapes.
The result was a brand called Hocca which refers to the Japanese word "hokkamuri," meaning "to wrap a cloth around one's head" much like a farmer might do while working. Three types have been released so far: Hocca Blanc, Hocca Kir, and Hocca Cidre, the last of which received both a two- and three-star rating at the Japan Cidre Awards 2019.
The response has been positive enough that Hocca began growing their own grapes in 2017 and now feel it's time to leave the Oujiman nest to become an independent winery.
To help achieve this, they are currently raising awareness of the brand through a crowdfunding campaign on Japanese site Makuake. Hocca' s current lineup can be purchased this way and those who pledge certain amounts can also get their brand new varieties, Hocca Syrah and Hocca Petillant.
Although wines are obviously not sake, these bottles would be very much worth trying for sake fans to see how wine tastes when crafted with the sensibilities of a 300 year-old sake brewery.
LINK: WINE BAZAAR ニュース | 2019/09/05 | 日本酒蔵が手掛ける日本ワイン「HOCCA」、ワイナリー独立に向けたプロジェクト開始
◎Three Online Platforms to Showcase Your News
By filling out the form of SAKETIMES PRESS English , your news will be presented on this Weekly News section of the SAKETIMES International website.
◎無料リリース情報配信機能「SAKETIMES PRESS English」
この記事への掲載は、リリース情報配信機能「SAKETIMES PRESS English」から無料でお申し込みいただけます。日本語で申請いただくと、英語の情報に編集し、掲載します。海外に向けた新規リリース情報がございましたら、SAKETIMES PRESS Eglish 申請フォーム より申請ください。