Japan is in the midst of a tourism boom. The nation welcomed in more than 31 million visitors in 2018 alone, setting new tourism records year over year since 2011. Narita International Airport is many of these visitors' first taste of Japan, one of the two airports serving the greater Tokyo area, and the predominant international airport accounting for approximately half of international traffic nationwide. With nearly a dozen new routes opening in the past two years, the airport is making Japan's booming tourism industry possible.
Tens of thousands of people pass through Narita each day, heading off to hundreds of different destinations. The pre-departure scramble is one thing most of these travelers share in common; with packed itineraries and awkwardly-timed layovers, many a harried visitor find themselves at a loss for time to squeeze in the obligatory preflight gift and souvenir shopping. Frequently find yourself in the same boat? This article is for you! We've got a Narita sake shopping tip to make your last-minute gift load-up a breeze! .
Tasting Bar Offers Elevated Shopping Experience
Next time you're leaving from Narita and find yourself in a pinch for some sake to take home, look no further than Fa-So-La DUTY FREE Liquor & Tobacco Main Bldg. in Terminal 2. The store is compact and unassuming, but reveals its unique charm on close inspection. It houses a refined and spacious tasting bar offering a quiet and intimate tasting experience away from the bustle of the terminals. Here, shoppers can sample from a wide range of options including sake, whisky, and shochu, Japanese liquor. Being able to taste and assess a product for yourself allows you to purchase with confidence — and it's free!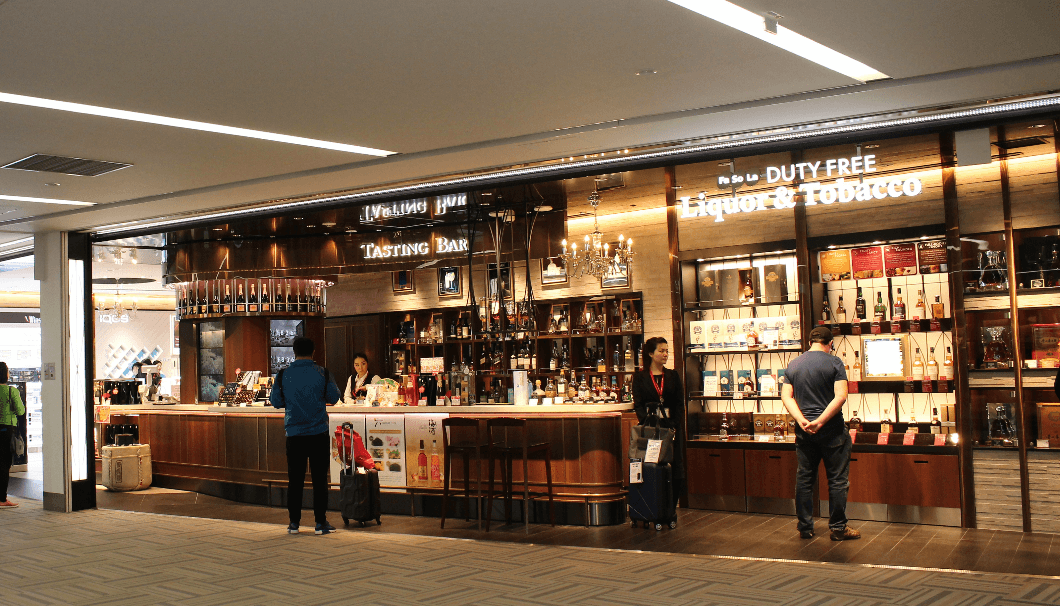 Although sake is sold at multiple duty free stores in the airport, the tasting bar is unique to Fa-So-La and certainly a destination worthy of a power walk down the terminal. It serves as a point of differentiation as well, offering shoppers an entirely new browsing experience. Speaking with the team behind the ingenuous duty-free tasting bar concept at the Fa-So-La store, it quickly became apparent that the duty-free industry is a unique economic microcosm. Dozens of stores line a relatively short stretch of the terminal hallway, each packed with a variety of items that seem to cater to every travel and shopping need imaginable. But they are also uniform — each mostly selling a handful of the same ubiquitous brands. Despite each storefront offering attractive promotions, the general "sameness" is apparent, even as the competition for travelers' hearts and minds is as hot as ever. To this end, Fa-So-La is eager to gain leverage by investing in ensuring customer satisfaction.
In Pursuit of Customer Satisfaction
It would be easy to write off Fa-So-La's tasting bar as a cynical attempt to win over customers with free stuff. But it's quite the contrary; the tasting bar was designed with customer satisfaction at the forefront. See, Fa-So-La's location in one of the world's busiest airports presents a problem: How do you inform your customers to make the best purchase when dealing with language barriers and strict time constraints? The elegant solution is to let customers try before they buy, rather than present a wordy sales pitch to distracted customers who may not even understand the language anyway.
Fa-So-La staff are sympathetic to gift and souvenir shoppers. For international travelers, purchasing a bottle of sake can mean much more than just the drink; whether you're sharing travel stories over sake or gifting at a special occasion, it's natural that you want to make sure the sake is something you enjoy and can recommend with confidence. The comprehensive selection available for tasting enables shoppers to discover their own favorite products, and helps take the guessing game out of the equation.
There are other measures in place to ensure an elevated shopping experience at Fa-So-La. On a given day their team of sales staff is comprised of Japanese, Chinese, and Korean speakers who have undergone company-wide English training. In response to the acute spike in travellers from China and other Chinese-speaking nations over the past several years, the company also offers complimentary Chinese classes to its employees who seek more practical conversation skills with this growing customer base. Shoppers can feel at ease – even at home – browsing and sampling with this dedicated and multilingual staff on hand.
While the majority of shoppers speak English or Chinese, speakers of other languages — namely other Asian languages such as Vietnamese or Thai — are growing in number, too. Many of them are also showing more interest in sake than ever before. "We even have a 'point-and-speak' list of phrases available in many other languages like Indonesian and Russian. I don't recall us being caught short on the language variety — except for Burmese one time. Perhaps that could be our next project," chuckled Fa-So-La store staff Nozomi Ito.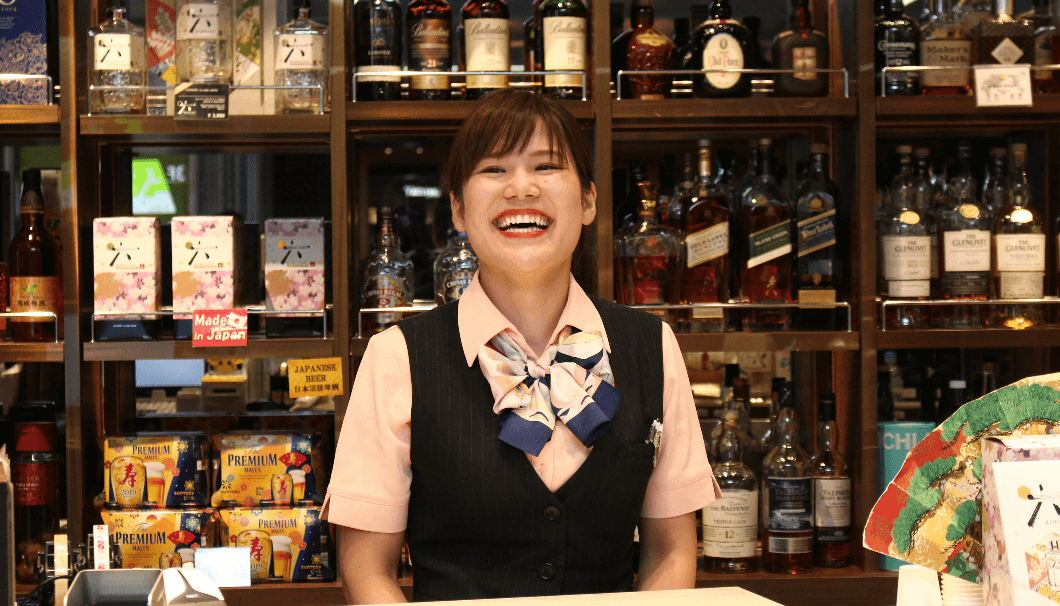 Sake Crash Course
Being a specialized liquor retailer also has its advantages. Doubly so if you're a specialist premium alcohol retailer with a focused product range that recruits staff who have a personal interest in alcoholic beverages, and trains them to become experts rather than mere shop attendants.
Education about sake is no exception at Fa-So-La. In a collaborative effort with KIKUSUI Brewery in Niigata, volunteer Fa-So-La employees participate in a 2-days long brewing internship each year, where they receive a crash course in sake history, production, and tasting. Ito, herself an alumnus of the internship, says the impact of this training is as profound as it is practical. Through the internship, employees are not only equipped with accurate information about KIKUSUI products available at the store, but develop a deep understanding and appreciation of the craftsmanship that goes into brewing sake — imparting them with a genuine passion that, in turn, drives sales.
A training opportunity of this scale is unheard of in the industry. Usually, product training for sales staff consists of reading through tasting notes or a brief visit by the sales rep of the manufacturer. Having a group of staff travel to a production site to participate in an internship is an expensive undertaking for all parties involved. Nevertheless, KIKUSUI's dedication in empowering all those associated with their brand made this partnership possible, which, over the past several years, has proven to have a positive impact for the customers, employees, and the business.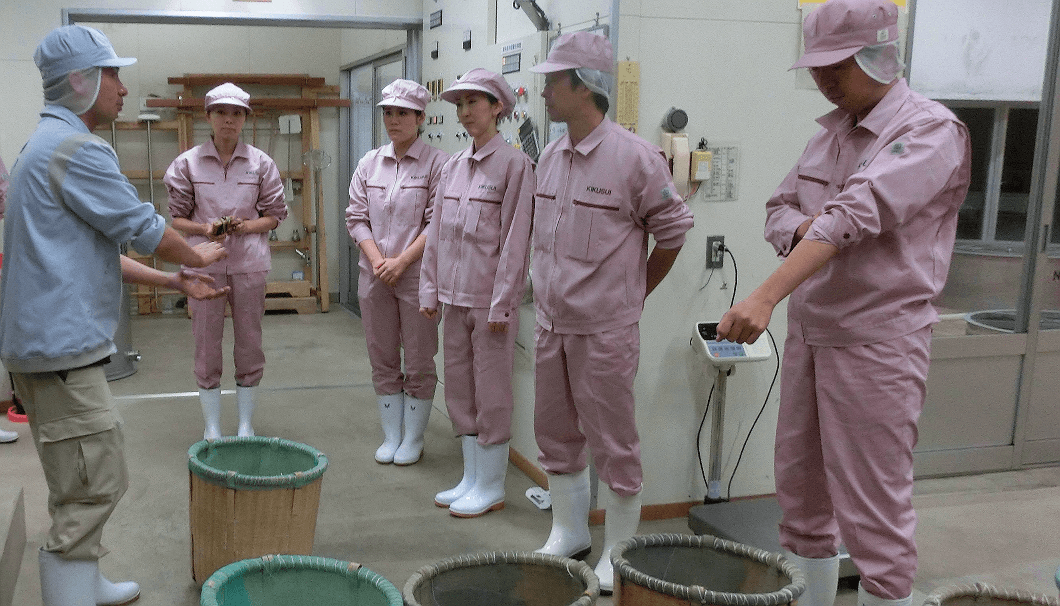 Ito reveals she often suggests KIKUSUI sake when asked for a recommendation. "KIKUSUI's sake is unique in its bright, fruity aroma. All it takes is one whiff — even those who haven't had much sake find it appealing. I can let the sake speak for itself. It's a crowd pleaser," she remarks.
On how her perception of KIKUSUI sake changed after having participated in the internship, she replies enthusiastically, "I can now recommend their sake with 100% confidence." Her passion is genuine and contagious. Looking at her, one wonders if she is a testament to the organizational philosophy, "take care of your employees, and your employees will take care of your clients." By choosing to invest in education, KIKUSUI is turning sales associates into brand advocates, and their efforts are paying off.
Specially Curated Selection
As with most airport selections, Fa-So-La sake lineup isn't particularly expansive. But the handful of products that do make the cut are there for a reason; products come bearing logos of some of the most trusted breweries, and are strategically selected with international travelers' interests in mind.
The sake serveware on offer is carefully selected, too. While serving sake in a wine glass is becoming increasingly common, with even a competition dedicated to sake most suitable for enjoying out of a wine glass making headway recently, the traditional serveware of tokkuri and ochoko, a set of small carafes and cups used specially for sake, are still not household items in the Western cupboard. Brands like KIKUSUI and Gekkeikan have responded to increasing global demand for these vessels by offering bundled sake starter packages that include cups, and sometimes carafes, along with the sake. These bundles make authentic sake drinking easy back home, even for sake newcomers. Similarly, some sake on offer at Fa-So-La come in decorative bottles that serve the same purpose and, once emptied, can be recycled as tokkuri. These starter kits are a clever concept although, understandably, are hardly seen in regular liquor stores outside of the confines of airports. Subtle but effective adjustments like this help seal the deal at the airport by making sake internationally approachable.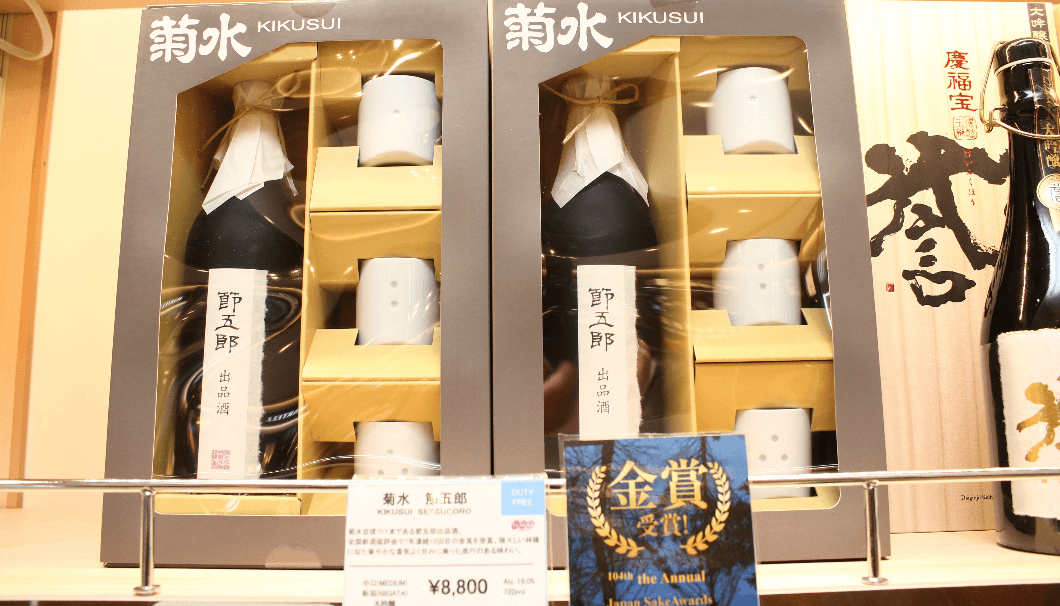 If you're after a beverage that doubles as a flashy souvenir, why not take home a sumo or kabuki figurine filled with daiginjo? While a rather unconventional design for a bottle, this dual purpose concept is a perfectly efficient way to keep your carry-on luggage from quickly multiplying. There's reason to believe we could be expecting more of this kind of thing, as well: Nikka Whisky's ingeniously-styled whisky bottle featuring samurai armor became such a hit, Fa-So-La eventually had to limit the purchase to one bottle per person.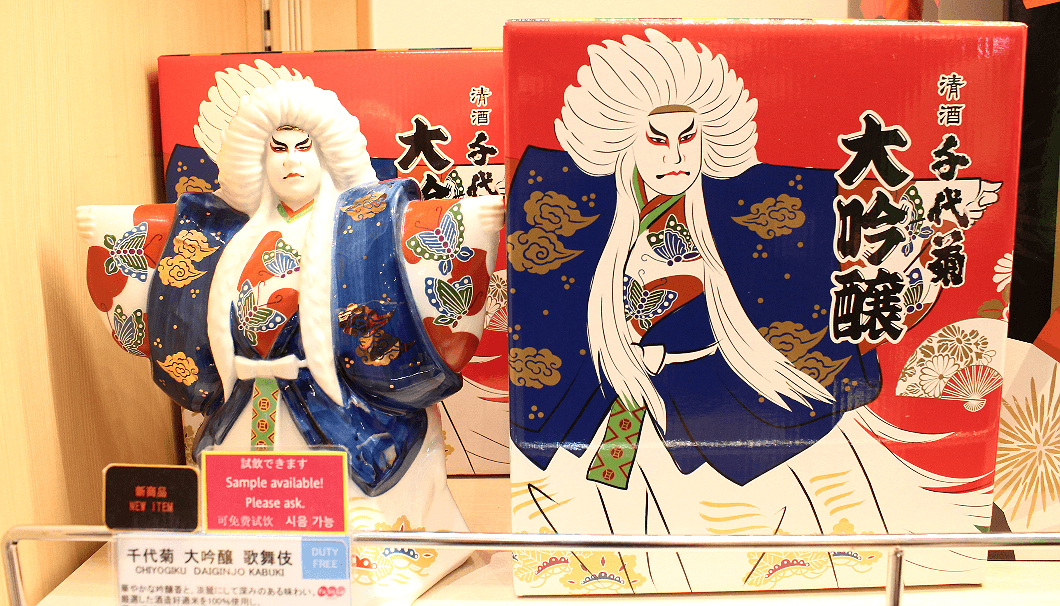 Last but not least, what makes some souvenirs cherishable for years after the trip is their sentimental value. Visitors often want to buy a sake from an area they've been to, hoping to share a story about their time there after returning home. The store makes easily identifiable signs for people who want to spot geographic information on the sake being sold and offers a range of products from popular tourist destinations like Hokkaido and Kyoto. It's a simple measure that has proven helpful for many visitors, who have a hard time recalling the names of the sake they tried in their travels, let alone find a picture of it in their phone's full-to-bursting travel photo archive.
New Sake Converts
While at the store, we met a lovely couple from the UK who were returning home after two weeks touring Japan. Of the amazing memories they've made on the trip, they specifically mentioned enjoying local sake as an eye-opening experience. While the London-based couple say they'd had Japanese food and even sake back on their home turf, the drink they experienced in Japan was much more sophisticated and enjoyable than they'd come to expect from their encounters in the UK.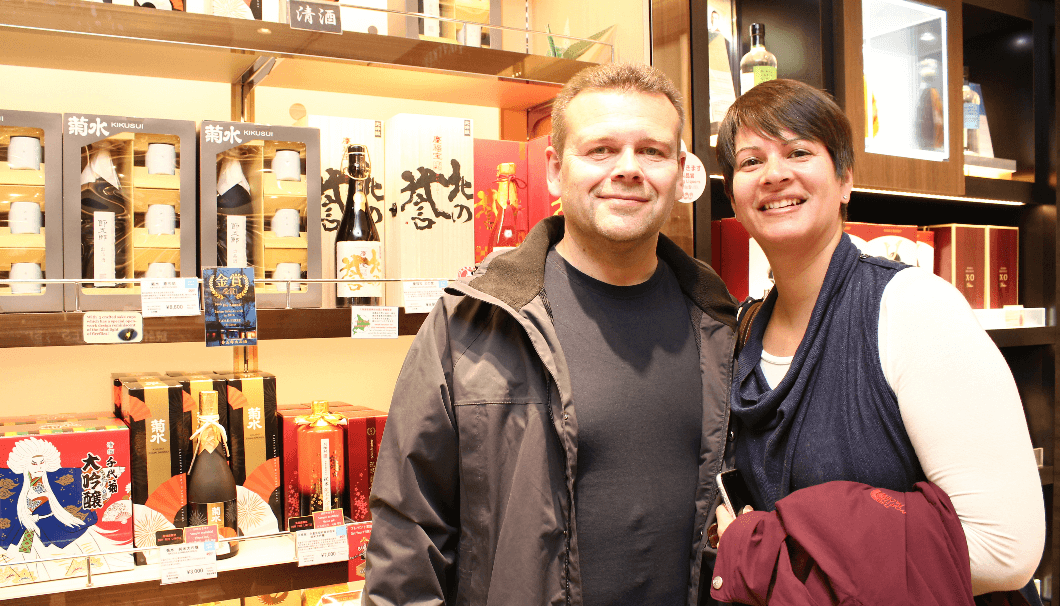 Their perception of sake, they say, took a fateful turn when they visited Kyoto and Kanazawa, regions known for their rich history in sake. Now smitten with the drink, the couple say they paid a visit to the Sake and Shochu Information Center in Toranomon upon arriving in Tokyo. There, they took advantage of educational information available at the center explaining things like rice polishing rate and Sake Meter Value (nihonshu do), which equipped them with the knowledge to make more educated decisions when selecting sake.
With breweries in Japan on a continuous decline, the rise of sake's popularity among foreign visitors is a promising phenomenon. And brands like KIKUSUI are spearheading the movement by investing in education, and by making sake more approachable. Sake is no longer a mystical Japanese elixir, but rather an accessible drink in many international markets. Ito says the tide is definitely changing. While in previous years shoppers asked for "dry" sake to take home without much knowledge of brands and flavors available, more people are now approaching the store staff with deeper questions about sake, often taking advantage of the complimentary tasting experience. The future is bright for sake at Narita Airport; it may not be long before the airport has its own standalone duty-free sake shop.
featured image is provided by NARITA INTERNATIONAL AIRPORT CORPORATION