What is "Cool Japan"?
As the name suggests, it's a promotional initiative spearheaded by Japan's Ministry of Economy, Trade and Industry to promote what are interpreted to be the "cool" aspects of Japanese culture that are increasingly idolized overseas, such as Manga, Anime, gaming, fashion, food, design, robots, environmental technology, and the traditional arts. While popular in their own right, the government agency has been proactively setting out to form partnerships with global leaders and enterprises in attempt to discover and develop more effective ways to channel that love of Japanese "cool" back into the economy through sales, services, and ultimately, domestic tourism.
Previous initiatives have included film festivals, travel convention exhibits, export forums, fashion exhibitions, and an array of PR events, both domestically and abroad. This time around, sake took center stage.
The Tour
The tour played host to 6 influential guests from the U.S. and Hong Kong, inviting them into the world of sake for a 5-day exploration bridging several regions, producers and styles. Traveling together with Japanese industry leaders, the goal was to piece together a dream team in hopes of cultivating a strategy for carving out a niche overseas for specific markets. The focus on the U.S. and Hong Kong was determined primarily based upon current and potential market size, as well as potential stage for growth, expansion, and experimentation thanks to proximity, infrastructure, demand and other market factors.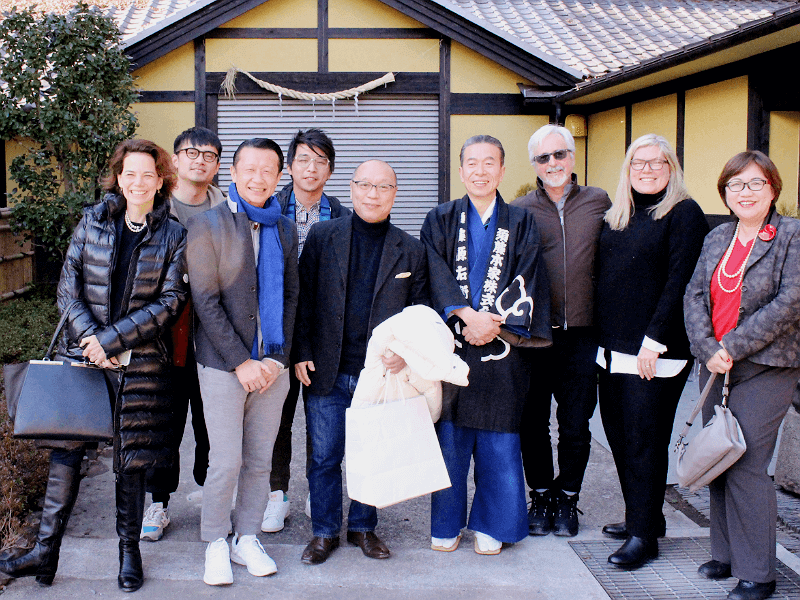 The guests were — the owner of the prestigious Robert Sinskey Vineyards in California's Napa Valley, Mr.Robert Sinskey (Photo: 3rd from right) and his wife, chef and food researcher Mrs. Maria Sinskey (photo: 2nd from right); former editor of Food & Wine Magazine currently working as creative director at NY Chefs Club, Dana Cowin (Photo: left); general manager at Japanese Restaurant Imasa located in Hong Kong's luxurious, Grand Peninsula Hotel, Jack Tse (photo: 2nd from left); writer for Hong Kong's foodie bible, Eat & Travel Weekly , Mr.Fung (photo: back row left) and photographer Mr.Chan (Photo: back row right) completed the star-studded lineup.
Uncovering Stories
The tour took guests to Nagano and Ibaraki prefectures, spanning 3 breweries and an array of meetings and experiences.
Examining production at Masuichi-ichimura Brewery (Obuse City, Nagano), the group witnessed the rice steaming process, before moving on to samples of said rice, as well as the moromi(fermenting mash). Even with the year-on-year proliferation of sake throughout international markets and increasing information surrounding the intoxicating beverage, guests were still surprised to taste first-hand just how much creamier sake is in its infancy.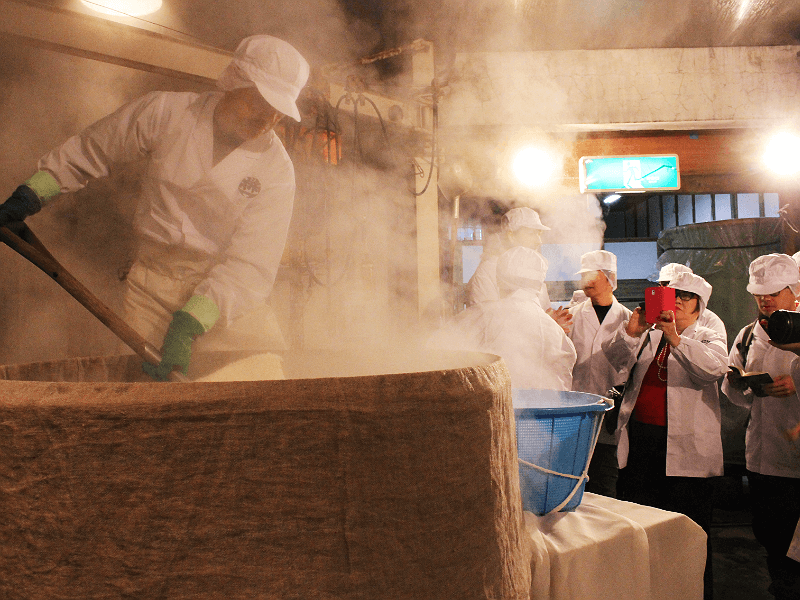 Next, the tour took guests to Okazaki Shuzo (Ueda City, Nagano) to meet female toji (head brewmaster) Midori Okazaki. While increasing, the number female toji – or brewers in general, for that matter – is still something of a rarity in the traditionally male dominated industry, where at one time women were banned from entering the brewery altogether. When she's not brewing, in the summer, she's making a further break from tradition by growing her own sake rice; a practice still in its infancy as an industry, as most breweries still procure a majority of their rice from large-scale farming cooperatives.
Jack's keen eye for uniqueness immediately spotted potential in their signature brand, "Kirei", and was soon in talks with the owners about the possibility of getting it on his restaurant's menu.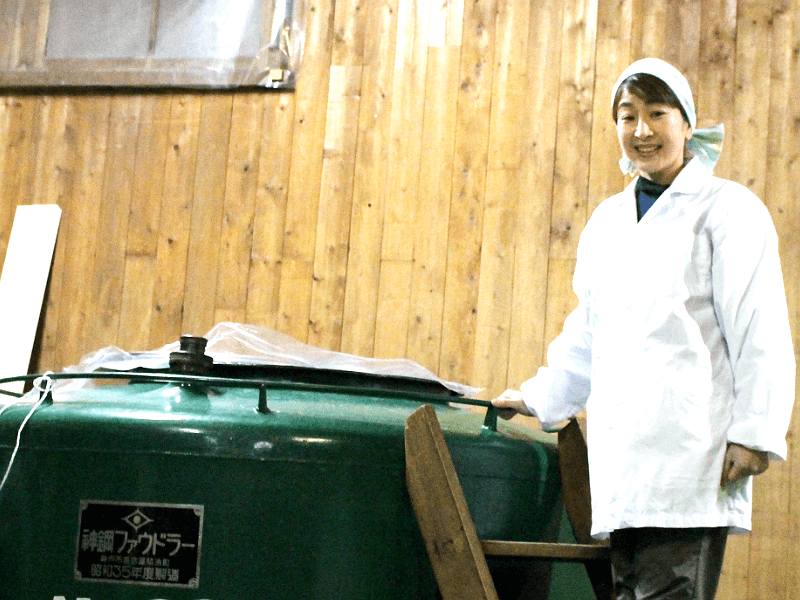 Continuing along to Ibaraki Prefecture sent the travelers back in time to what is currently considered to be the oldest surviving brewery in Japan, Sudo Honke (Kasama City, Ibaraki), where a tasting of nearly the entire lineup awaited. Alternating wine glasses for each sake offered, CEO Genuemon Sudo explained that he had pured each sake into the glass that best represented it. Boasting a nearly 900-year history, as noted by Robert Sinskey during the visit, Mr. Sudo's parlance in relation to his sake and process was evocative of the vernacular associated with many renowned natural wine producers that are currently captivating the minds (and palates) of wine enthusiasts across the U.S. and Europe.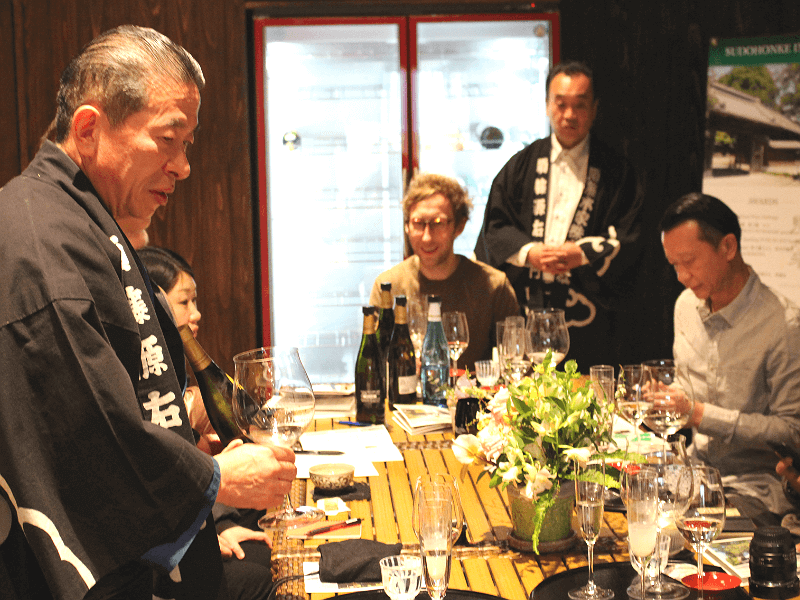 Following the brewery visits, a selection of over 30 different sakes from breweries throughout Nagano was split up across two additional tasting sessions.
From careful maturation in snow-covered cellars to different interpretations of "locally grown" ingredients, each brewery had a story to tell. With a bit of coaxing and prodding, each producer gradually exposed details and stories that, at first, took a backseat to details on sake-specifics. While the taste buds certainly spoke for themselves, it was largely an emphasis on "message" and "stories" that the visitors urged for and applauded.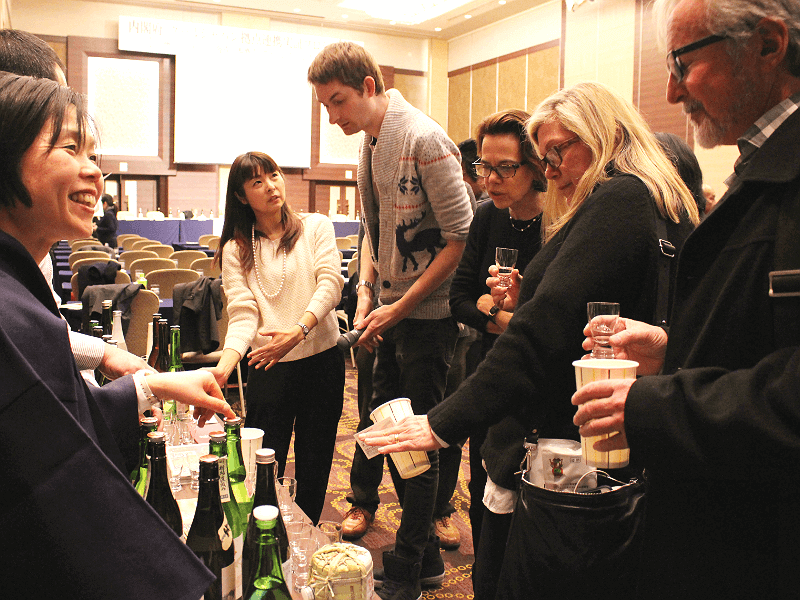 Searching for Answers
Following the tour, what advice would the guests give to the breweries to help them succeed on a global level? That was the burning question for the symposium on the final day.
It was a revelation for many of the brewers in Nagano to learn that being smaller in size was, in many cases, one of their greatest strengths. What they lack in size, they can more than make up for with originality; a concept that has generally been erased from sake evaluation and production in Japan for generations. Capitalizing on and communicating that unique value, whether it be through boutique tours, carefully orchestrated communication and use of popular media tools, and reexamining the current standards for logo and label design, helping key words and brands stick in the minds of sake-curious and potential clients internationally, made up just some of the repeated suggestions.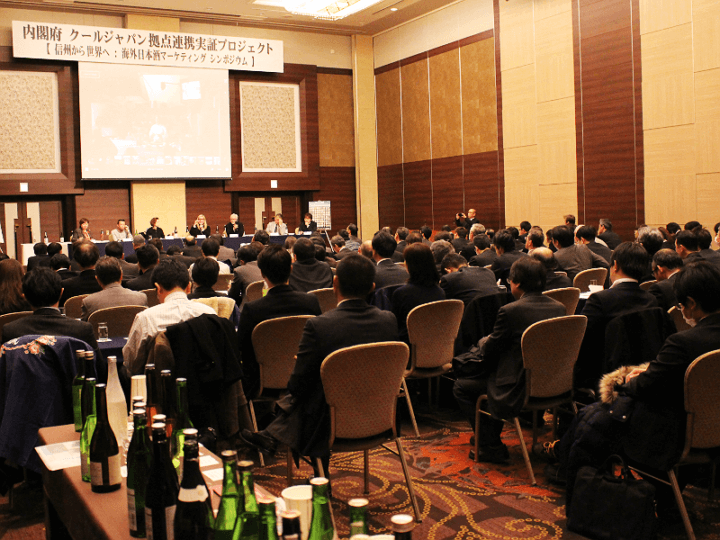 For the guests, despite their unique positions in the industry, which often comes with access to some of the most inspiring food, beverage, products, and people in the gastronomic world, to experience sake flavors that they never knew existed, as well as be gifted with multiple inside looks into the nature of the brewing process, the exploration was both eye-opening and educational. How to translate this experience into communicating something new – while respecting the old – becomes the next mission.
Maria (Sinskey) was particularly inspired to support the breweries' break into the overseas market, likening the brewers of Nagano to the wineries of Napa Valley 30 years ago. "Our breakthrough was learning how to brand our products for the international market, experience that I think we can lend to Japan. Call us any time", she reassured them, with a smile.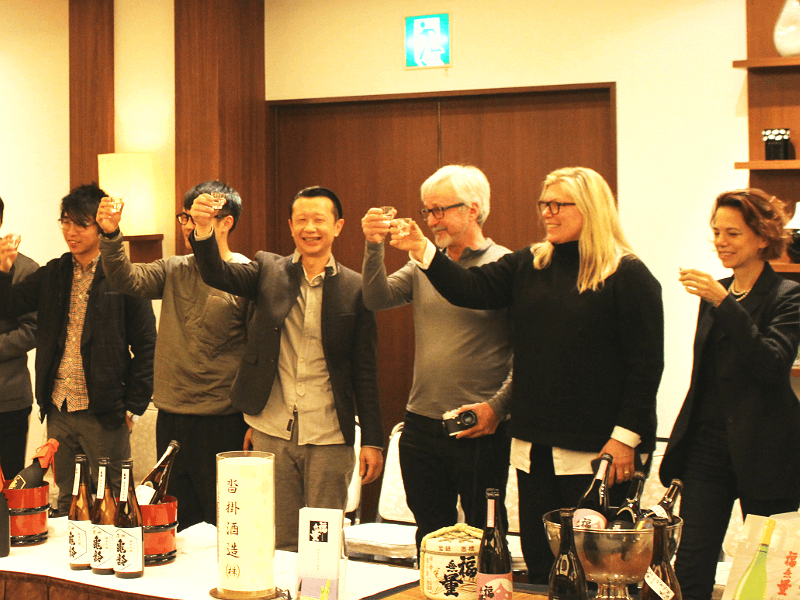 Editor's Insight
The comments offered by the guests following their experience were composed primarily of suggestions about how to best facilitate overseas expansion of sake and spread the word to new consumers through more effective tools and means of communication.
Reexamining the backgrounds and stories that many Japanese producers (and consumers) often take for granted – such as the rural landscapes surrounding breweries, the importance of water sources, the fragrance of the steamed rice, the activities of a new generation of female brewers, the reasoning behind the selection of particular glassware – many of these seemingly simple things, through well-thought-out communication, are likely going to prove to be key elements that speak to the universality of sake, stirring the interests of people from other nations and cultures.
While there are no shortage of things to do, for now, a good place to start may be to make sure that, when someone encounters a bottle of sake that speaks to them, that they can read what's on the bottle.