The COVID-19 pandemic has imposed dramatic lifestyle changes on people across the globe and left the food and drink industry in dire straits. This includes sake brewers.
But forward-thinking businesses are exploring new approaches for the age of social distancing: dine-in establishments offering expansive takeout options, bottle shops offering free shipping for sake, and breweries even conducting online tours. Crowdfunding has also surged, with sake aficionados eager to contribute funds toward securing a stable future for their drink of choice. Shiga Prefecture's Fukui Yahei Shoten, best known for their sake brand Haginotsuyu, is no exception, with their effort being particularly notable for the creative manner in which it manages to bring together and share the benefits of crowdfunding across the entire sake industry.

Spreading Smiles Across the Sake World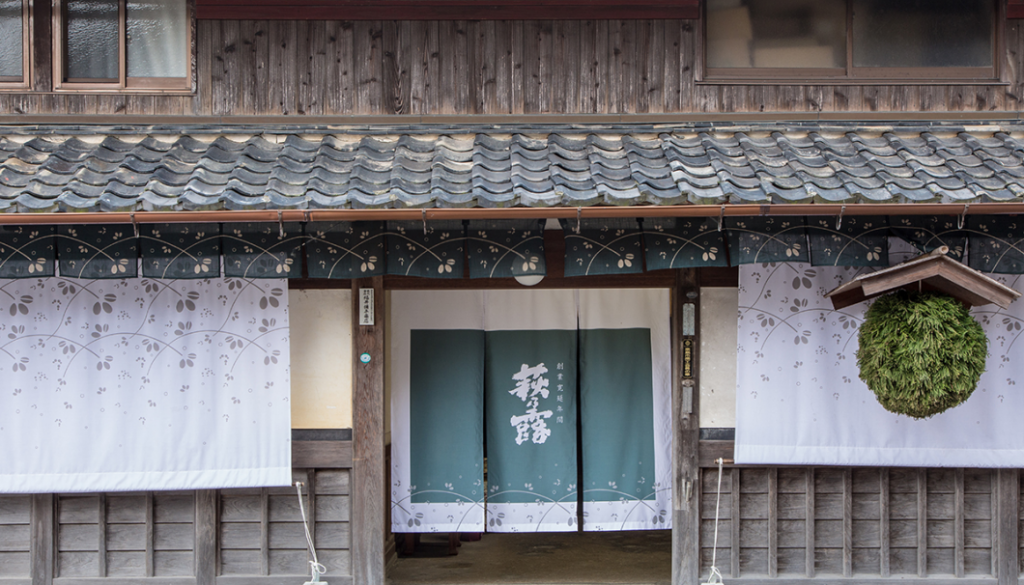 Based in Shiga Prefecture on the western shore of Lake Biwa, this venerable brewery founded in 1751 launched a project whose Japanese name roughly translates to "Let's Smile Together Again." The idea of togetherness is key to the project. While crowdfunding efforts that allow backers to donate funds in exchange for rewards are a dime a dozen, Haginotsuyu has gone above and beyond, adopting an ambitious approach to ensure the benefits will be spread among numerous parties in the sake world who have been hit hard by COVID-19.
Home to more than thirty active sake breweries, Shiga Prefecture is also known as the ancestral birthplace of the Ohmi merchants, goods traders who made their mark in Japan from as early as the twelfth century. The Ohmi merchants were famous for their philosophy of "three-way good," or the belief that business should be good for the maker, seller, and buyer simultaneously. Listening to Takeshi Fukui, the brewery owner, explain his motivation behind the project, one can see that the spirit of his forebears is alive and well today: "This might be a bit of an unusual approach," Fukui says. "But in our industry, there's always the brewery, the liquor store, the restaurant, and then the consumer. There's a certain framework in place, and each party along the way brings something that only they can offer. I thought that involving everyone would allow us to generate the most power, so to speak."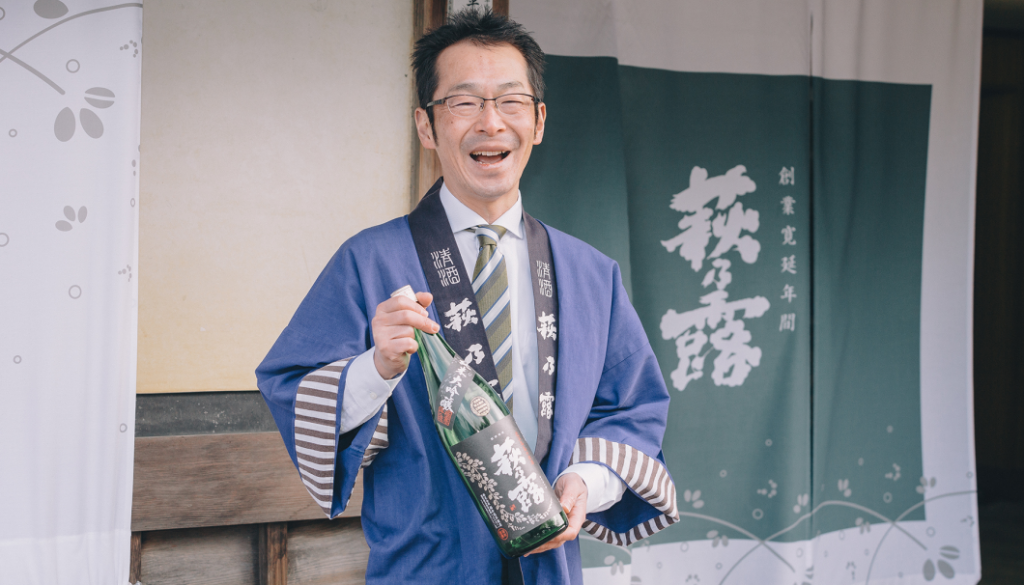 The underlying framework by which the project works is at once ingenious and simple: For each backer, the brewery will produce one specially labeled 1.8-liter bottle of their Haginotsuyu Tokubetsu Junmai: Amadare Ishi wo Ugatsu (a phrase that means "the falling rain smooths the stone"), a sake brewed via the traditional tomizu-jikomi method that's garnered awards at the International Wine Challenge and Kura Master sake contests. 
These bottles would then be distributed through a network of liquor shops who regularly stock Haginotsuyu to restaurants and sake bars across Japan. Backers looking to support their favorite watering hole were given the option to specify a local establishment as the recipient of their bottle, or simply leave the choice to the distributor. Contributors also would receive a host of attractive rewards depending on their donation level, from a limited-edition Haginotsuyu tote bag, certificate and letter of thanks at the entry 6,000 yen level, to twelve months' worth of seasonal Haginotsuyu sake delivered to their home for a donation of 50,000 yen.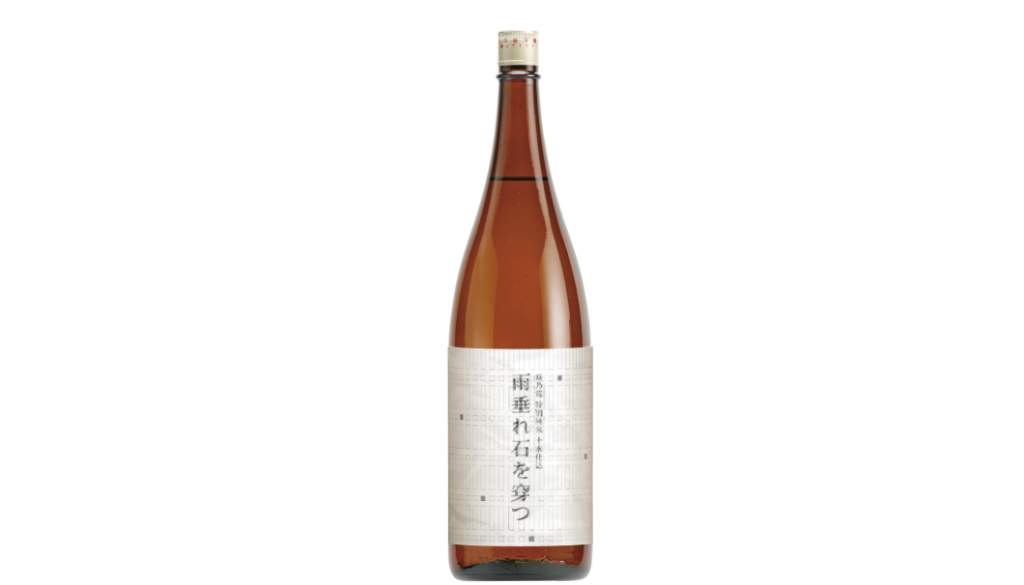 The ambitious aims of the brewery and attractive rewards clearly found a receptive audience—the project, which closed on October 20, 2020, dramatically outperformed its original stated goal of 300,000 yen to amass a whopping 2,682,000 yen from a total of 158 contributors. In mid-March 2021, delivery of the crowdfunded sake to the restaurants and sake bars chosen by project backers and distributors commenced. While the extension of the state of emergency declaration for Tokyo and surrounding areas means that last call at many establishments is still a far-too-early 7 pm (extended to 8 pm as of the recent lifting of the emergency), there's no doubting that Haginotsuyu fans all over Japan will have huge smiles on their faces when they take a sip of the sake their donations helped make a reality.

Sharing the Joy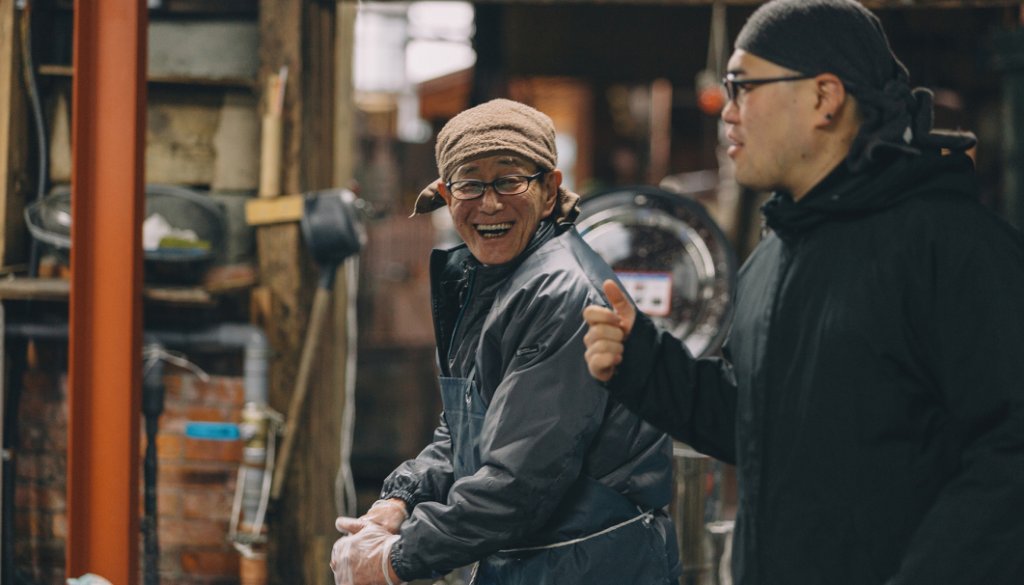 In organizing the project, Haginotsuyu has gone to great lengths to ensure that its benefits, as well as the joy of sake itself, would reach as many people as possible. All backers received a certificate marking their support of the project, along with a list of all participating restaurants, bars, and liquor shops, allowing them to seek out and discover new sake destinations in addition to their preferred haunts. In an official letter of thanks, the brewery also encourages fans to snap photos of them enjoying their sake and post them to social media with the project hashtag, in the hopes that even more people might be reached.
"I think sake is something that heals, that makes you happy," explains Fukui. "So when we decided to launch a crowdfunding project, we knew we wanted to do it in such a way so that everyone—consumers, restaurants, as many people as possible—could share in the joy." By any measure, Fukui Yahei Shoten and Haginotsuyu have done exactly that.