Sake aging is an unpredictable process that, without considerable care, can yield strange and off-putting results. This makes the aged sake category daunting for both breweries and drinkers, but when it works, it can work extremely well!
While vintage wines are certainly more mainstream, aged sake does have its advantages despite the volatile process of making it. For one, aged sake brewers only sell their best results at peak maturity, taking a lot of the guesswork out for sake shoppers when compared to vintage wine.
The unique (and delicious!) characteristics of aged sake brews have recently piqued the interests of sake drinkers and the breweries brave or skilled enough to rise to the challenge of making them. For the curious but uninitiated, here's a primer comparing and contrasting aged sake with their more well-trod cousins in the vintage wine space.


What Makes an Aged Sake?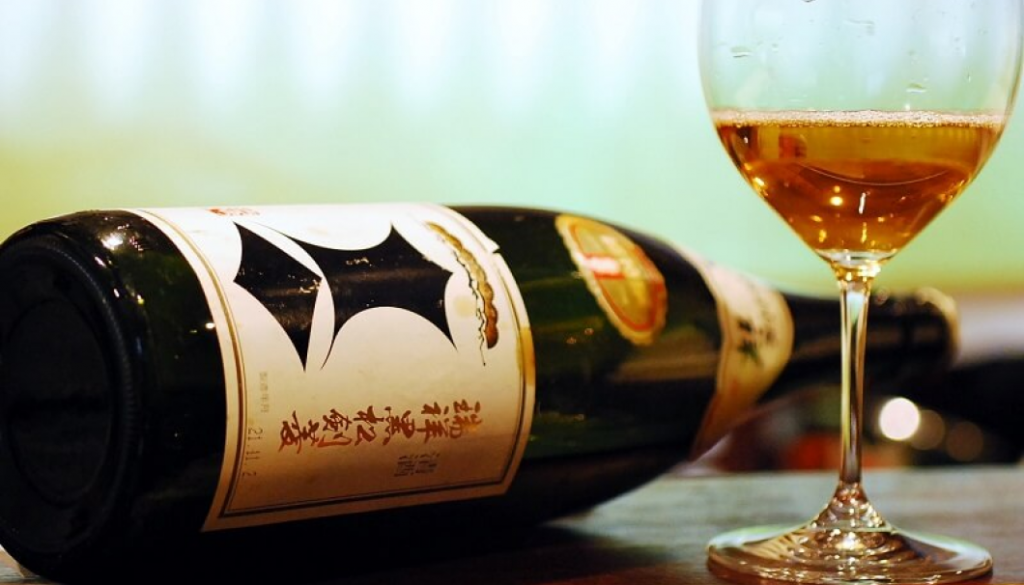 There's a misconception that sake is a beverage intended for immediate consumption, but that's actually never really been the case. The sake industry takes pride in a long history of koshu, also known as jukusei-shu or "matured sake." This style can vary in flavor depending on the rice polishing ratio, the type of koji used, as well as the overall acidity and sugar content of the sake itself.  
There are no legal guidelines dictating an exact timeframe for how long a sake must be aged to be considered koshu. According to the Long Term Matured Sake Research Group's informal rules, koshu should be aged at least three years before sale. Vintage sake is also aged in different kinds of vessels and at different ambient temperatures, with some even being refrigerated throughout the aging process.


Similarities and Differences between Matured Sake and Wine
Many sake are well-known for delivering a big hit of savory umami. Unlike wine, sake is much higher in amino acids, bringing stronger umami character, especially in koshu. Although wine is low in amino acids, there are some aging processes in Champagne production that create ample amounts of umami character. 
Champagne goes through a process called autolysis, where the yeast cells are destroyed by their own enzymes, creating amino acids. This is what gives aged Champagne its quintessential brioche aroma. 
The Maillard reaction — the same one well-known in foodie circles for creating the delicious brown crust on seared meats — can also occur in Champagne aging and in some aged sake. This happens when a chemical reaction occurs between reducing sugars and amino acids. It will only happen if the Champagne has received a "dosage" (additional sugar after the second fermentation) and creates caramelized and toasty aromas.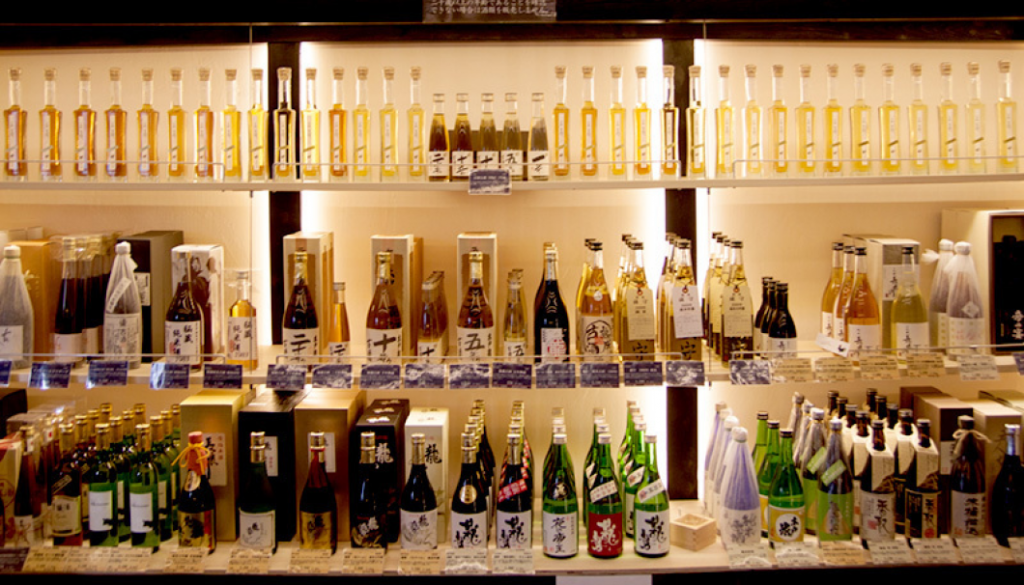 Not all wine and sake go through such dramatic changes during aging. Some develop in a much more subtle fashion. For example, vintage premier cru Chablis develops texture and mellowed acidity over time with enhanced aromatic qualities recalling yellow apple, honey and nougat, while still maintaining crisp minerality. A similar example in the sake world would be Kirin Hizoshu Daiginjo Koshu by Kaetsu Sake Brewery Co. Ltd. from Niigata Prefecture. Aged for five years in cold storage, this elegant brew features subdued aromas of orchard fruit, macadamia nuts and melon.
When it comes to cellaring, breweries producing koshu will age the sake to perfection and then release it when it's ready for the customer. All drinkers need to do is purchase and enjoy at their earliest convenience. Certain wines, on the other hand, go through required aging for their appellation, but any aging needed afterward to reach peak character is up to the customer. Figuring out when that might be requires some level of research and know-how, making aged sake shopping comparatively low frills and beginner-friendly.


Wine Vintage vs. Brewing Year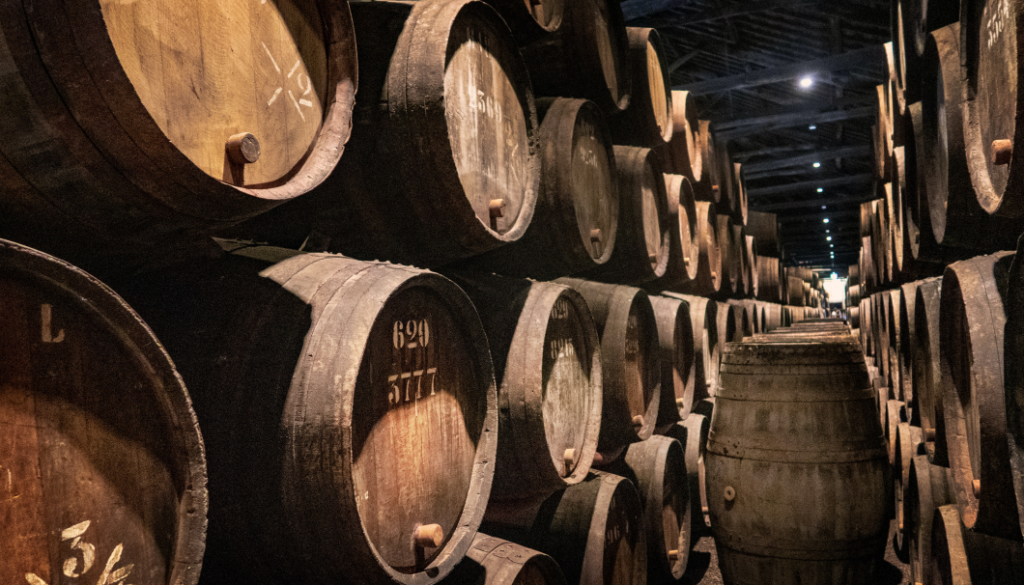 Vintages in wine and Brewing Year (BY) in sake are two similar, but distinct concepts. Vintages in wine refer to the year the grapes were harvested, whereas the brewing year refers to the year the sake was produced. Every sake has a brewing year. Most are found in small print hidden discreetly on the bottle, rather than on the front label like wine. BY can be printed in western calendar dates, but a Japanese date, counting the years of a given Emperor's reign, is often used instead.


Substituting Vintage Wine with Aged Sake
Incredible diversity exists in the realm of aged sake, meaning a fitting sake substitute for just about any vintage wine is most likely out there.
For Madeira lovers, replacing the burnt caramel and walnut notes of Bual bottlings with Daruma Masamune Old Daruma Junmai Koshu works wonders. Old Daruma mimics Bual's powerful expression with a semi-sweet character and notes of figs, black tea and cigar box. Another fortified wine swap that works perfectly is to replace 20 Year Old Tawny Port with Kaetsu Shuzo's Kanbara 'Ancient Treasure' Yamahai Junmai Genshu Koshu from Niigata Prefecture. The Port's smooth texture with aromas of roasted nuts and butterscotch is very similar to Kanbara's savory profile of buttered toast, brown sugar and an opulent mouthfeel.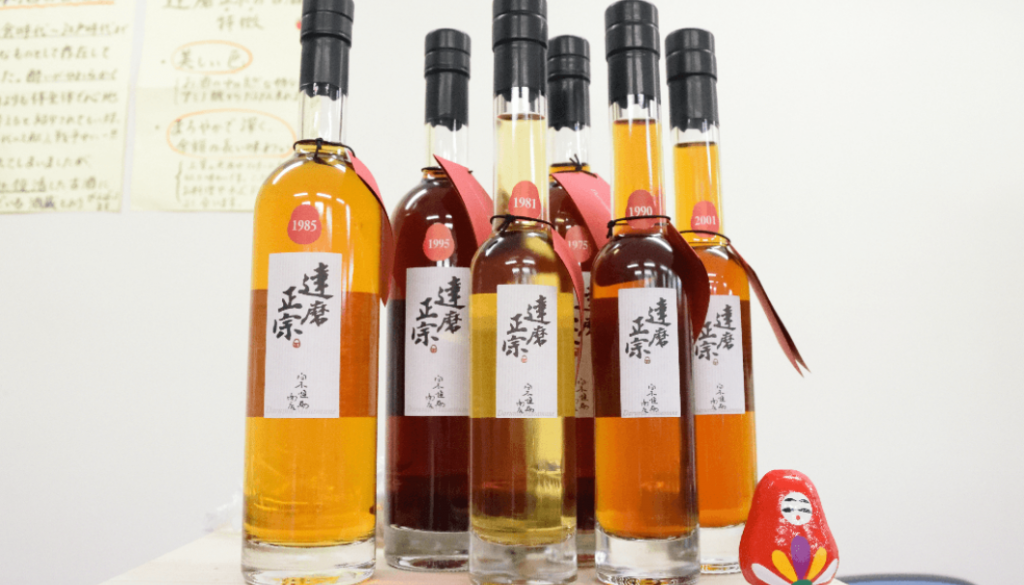 For a white wine swap, Takeda Shuzoten of Niigata Prefecture brews a superb vintage sake with their Katafune brand called Lagoon Boat. This very rare Daiginjo Genshu with brewing year 2004 has a deep golden color and, as an aged sake with a higher polishing ratio, is more reminiscent of a wine such as a Meursault 1er Cru. This sake has a silky richness with aromas of baked apple, grilled lemon and a pudding-like finish. 
Enjoying an aged sake instead of a classy red with dinner is also a no-brainer and there's nothing better than Kikuhime Brewery's Kurogin for the occasion. This three year aged Daiginjo is an exemplary swap for a food pairing suited to classic old world reds like Pomerol from Bordeaux, France or Barbaresco from Piemonte, Italy. Normally, these wines need at least eight years of aging after release, but the three year old Kurogin gets the job done in less than half the time. Kurogin showcases a plethora of aromas, but most obviously coffee beans, wheat malt and dried orchard fruit. This koshu that drinks like wine costs a pretty penny, but is worth every cent!


Aged Sake for Every Occasion
It's important to remember that great quality sake and wine come in both aged and unaged styles and are all worth exploring. The variety of flavor profiles can suit every food pairing, festivity and season of the year. Rather than opening a fancy vintage wine, take beverage experiences up a notch by making a daring sake choice. Choosing a koshu sake that is historic, extraordinary and properly paired with appropriate dishes will impress guests and win over even the toughest wine snobs!