Harima Region Sake Granted Geographical Indication Status
On March 16, the Harima region of Hyogo Prefecture was designated as a regional brand through geographical indication (GI) for the sake produced there.
Harima is located in the midwest of Hyogo and covers 22 municipalities including Himeji and Akashi Cities. A sake can only be called "Harima" if it's made from Yamada Nishiki rice and within this region.
This is the fifth regional in Japan to get its own geographical indication and the second in Hyogo Prefecture. The new GI was the result of efforts by the Harima Sake Study Group, composed of four local breweries, in the hopes it will improve Harima's brand power both at home and abroad.
Alongside the famous sake region of Nada, this is another step cementing Hyogo's already strong position as a leading sake region.
LINK: 日本経済新聞 | 2020/3/16 |兵庫「はりま」ブランド 日本酒の地理的表示に
Producers of Hiroshima Sake Join Burgundy Wine Coalition
The Hiroshima Sake Branding Council and Burgundy/Jura Regional Federation have signed a basic agreement to share knowledge and strategies.
The 11 sake breweries in the council are reportedly excited to take advantage of new sales channels in the lucrative French market and learn strategies such as branding and production techniques from the highly successful wineries of Burgundy.
Likewise, the 330 producers in the Burgundy/Jura association will gain insight to the Japanese market, using Hiroshima as an entry point. Federation organizer Virginia Petit said at the signing ceremony that Hiroshima sake "has a long history of family business and has a lot in common with Burgundy wines in its pursuit of quality."
With a shared sense of quality and tradition, this long-distance partnership between two distinct beverages is a sure to be a great opportunity for both sake and wine.
LINK: 産経新聞 | 2020/3/23 |広島の日本酒販路拡大へ 県と仏ワイン生産者組合が連携
Cups Designed Exclusively for Aomori's Denshu Sake Released
Nishida Sake Brewery and Hokuyo Glass have teamed up to produce a line of five ochoko sake cups designed to highlight the flavors of Nishida's Denshu sake.
The series of cups is called "Taste the Five Colors" ("Goshoku wo Ajiwau") and includes one cup each for Denshu Yamahai, Denshu Sakura Label, Denshu Tokubetsu Junmai, Denshu Tobindori, and Denshu 45%. In addition to complementing the flavor and aroma of each sake, the cups are designed to accentuate the drinks by sight and touch as well.
The collaboration is in honor of both companies' home prefecture of Aomori where Nishida has been based for over 100 years and Hokuyo has been providing glass floats for the area's fisheries.
Each cup can be purchased for 1,300 yen (US$12), while a special gift set containing all five costs 6,800 yen ($62). They have already become available within Aomori as of March 15 and hopefully will become available elsewhere at a later date.
It's a well-known fact that cups can greatly affect the taste of sake, which would make these exquisitely unique vessels a welcome addition to any glassware collection.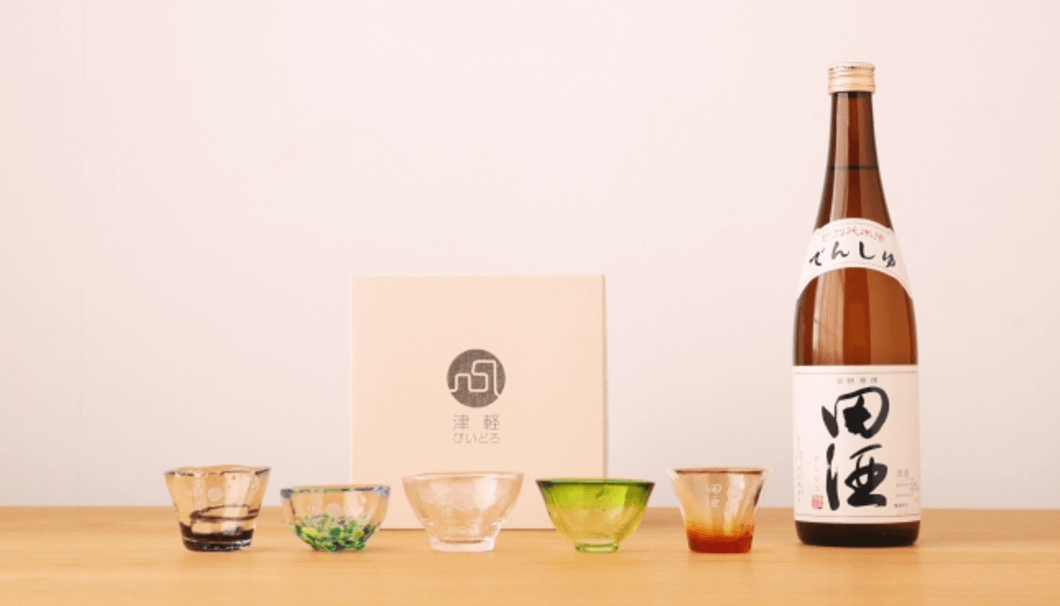 LINK: PRTIMES | 2020/3/17 |青森の銘酒「田酒」専用おちょこのメインビジュアルが出来ました!
◎Three Online Platforms to Showcase Your News
By filling out the form of SAKETIMES PRESS English , your news will be presented on this Weekly News section of the SAKETIMES International website.
◎無料リリース情報配信機能「SAKETIMES PRESS English」
この記事への掲載は、リリース情報配信機能「SAKETIMES PRESS English」から無料でお申し込みいただけます。日本語で申請いただくと、英語の情報に編集し、掲載します。海外に向けた新規リリース情報がございましたら、SAKETIMES PRESS Eglish 申請フォーム より申請ください。