Cool Japan Invests in US Wine Subscription Service to Include Sales of Sake
Los Angeles-based startup Winc held a joint press conference with the Japanese government's cultural investment fund Cool Japan to announce a substantial new partnership.
Cool Japan has invested US$10 million in the subscription service, who not only delivers custom selected wine to its members but also creates its own wines. With the help of not only Cool Japan's money, but their knowledge and connections with Japanese producers, Winc hopes to expand their offerings to include sake as well.
Winc currently has about 80,000 members, most of whom are millennials with a thirst for original and exciting experiences. It's a demand that the wide spectrum of offerings in the world of sake has a high potential to fill.
Using the same on-site bottling facilities to sell their wine, it is hoped that Winc can distribute sake while retaining a reasonable price point for its customers.
Cool Japan will also engage in awareness-raising for sake in the US, including a tasting room in Los Angeles and promotion of the beverage through social media.
This is the second major sake-related venture by Cool Japan in as many months following a 2.2 billion yen (US$20.5M) investment in East Meets West Fine Wines (EMW), a Chinese wine distributor servicing mainland China as well as Hong Kong and Macau.
LINK: THE BRIDGE | 2019/07/03 | クールジャパン機構、ワインのサブスクD2Cや卸売を展開するWincに1,000万米ドルを出資——米国で日本酒流通の拡大を狙う
Asahi Shuzo Holds Rice Growing Contest, Will Buy 25M Yen of Winner's Rice
Asahi Shuzo, maker of the popular Dassai brand of sake, says it hopes to invigorate regional sake rice agriculture with a call to arms of sorts of farmers.
The challenge is taking the form of a rice growing contest among 165 of Asahi's contract farmers who grow the famous Yamada Nishiki sake rice. Of course, all farmers' rice will be purchased as usual, but the ones who create the best quality Yamada Nishiki rice harvest this year will be paid up to 25 times the usual price.
For example, 60 kg of Yamada Nishiki rice usually sells for around 20,000 yen (US$186). The first place winner of this contest, however, will be able to sell up to 50 of these units for 500,000 yen ($4,660) each. The second place winner can sell theirs for 200,000 yen ($1,860) per unit, and the farmers in third place may sell theirs for 100,000 yen ($930) each.
The rice harvested this fall will be judged by machines and expert reviewers early next year. Asahi also plans to continue this contest from next year onwards, not only to improve the quality of its own sake, but to remind us all of the important bond sake has with the rice that it comes from.
LINK: 日本経済新聞 | 2019/07/26 | 旭酒造が酒米コンテスト、1位は2500万円で購入
Tokyo Events Explores Importance of Rice Cultivation in Sake Making
On July 29 the No! To Ieru Sakagura No Kai (roughly, "The Organization of Sake Brewers Focused on Cultivation") was held in Tokyo. The purpose of the event was to examine the important connection sake has with the rice that goes into making it.
The main focus of the gathering was on breweries who not only produce sake, but grow their own rice as well. It's rare for sake breweries to engage in both activities, but those who do have shown a strong commitment agriculture.
Some examples include Sekiya Brewery which only entered the farming side of the business recently, in 2006. Sekiya broke into farming themselves to remedy a regional labor shortage as local farmers have aged out of the labor force.
Other examples include Ichinokura in Miyagi Prefecture and Gensaka Brewery in Mie Prefecture, who have been cultivating their own rice for decades. There is also Yamatogawa Brewery in Fukushima Prefecture, which has been running its own Yamatogawa Farm business for 229 years and secures 70% of its rice from their own fields.
Not as much weight is placed on ingredient origin in sake as it is in the world of wine, but rice is nonetheless crucial in sake making and substantially impacts final product. The July event posits that as traditional sake rice farmers age out, now is the perfect time for breweries to take their sake rice providence into their own hands.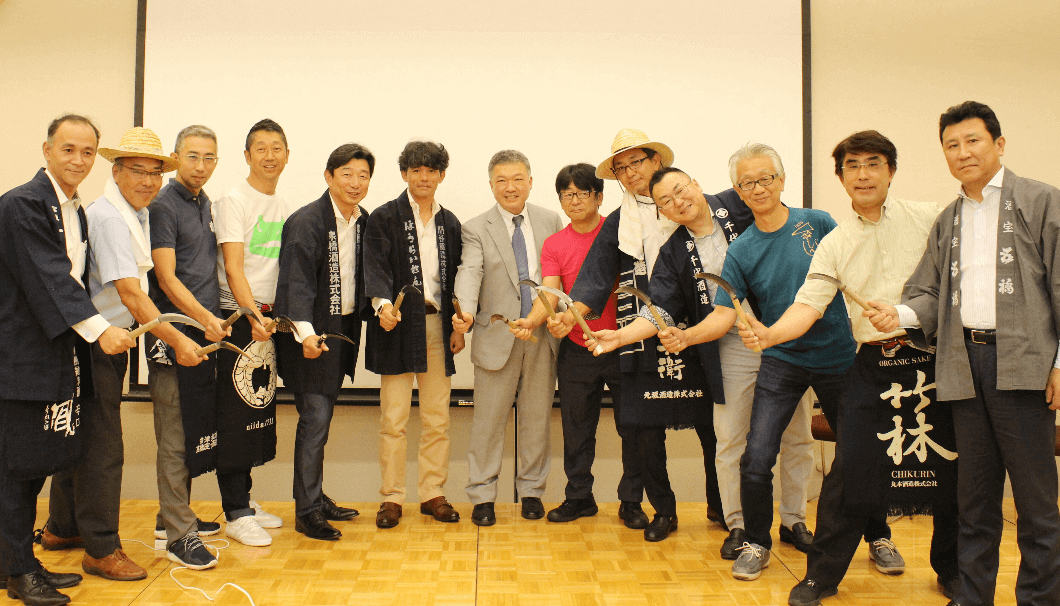 ◎Three Online Platforms to Showcase Your News
By filling out the form of SAKETIMES PRESS English , your news will be presented on this Weekly News section of the SAKETIMES International website.
◎無料リリース情報配信機能「SAKETIMES PRESS English」
この記事への掲載は、リリース情報配信機能「SAKETIMES PRESS English」から無料でお申し込みいただけます。日本語で申請いただくと、英語の情報に編集し、掲載します。海外に向けた新規リリース情報がございましたら、SAKETIMES PRESS Eglish 申請フォーム より申請ください。