In the news this week: A Toyama brewery's aged sake takes home the gold from a panel of women judges in the UK. Meanwhile, Hong Kong's love affair with sake continues to build at this year's gigantic International Wine and Spirits Fair trade show. Finally, an answer to the question: What do you get when you cross sake with beer?
Aged Sake Ichigaimon BY2013 Earns Gold at Women's Wine and Spirits Awards 2018
Narimasa Sake Brewery in Toyama Prefecture earned an important distinction at this year's Women's Wine and Spirits Awards held at the Royal Yacht Club in London. At this competition, a women-only panel of buyers judged over 1,000 samples from 38 countries around the world. Submissions have come from prominent alcoholic beverage producers such as The Macallan Distillery and Taylors (Wakefield) Wines.
Among the many fine drinks to make a showing, Narimasa's Ichigaimon BY2013 earned a gold medal at the event. Ichigaimon BY2013 is a junmai ginjo sake aged for four years and made with locally sourced rice.
The purpose of the Women's Wine and Spirits Awards is to help bring the under-appreciated purchasing power and expertise of women to the forefront of the alcohol industry. Currently, about 80% of all wine is purchased by women, making them an important demographic for sellers.
Perhaps this should be a wake-up call to sake producers, as well, that the palates of women drinkers are not to be undersold.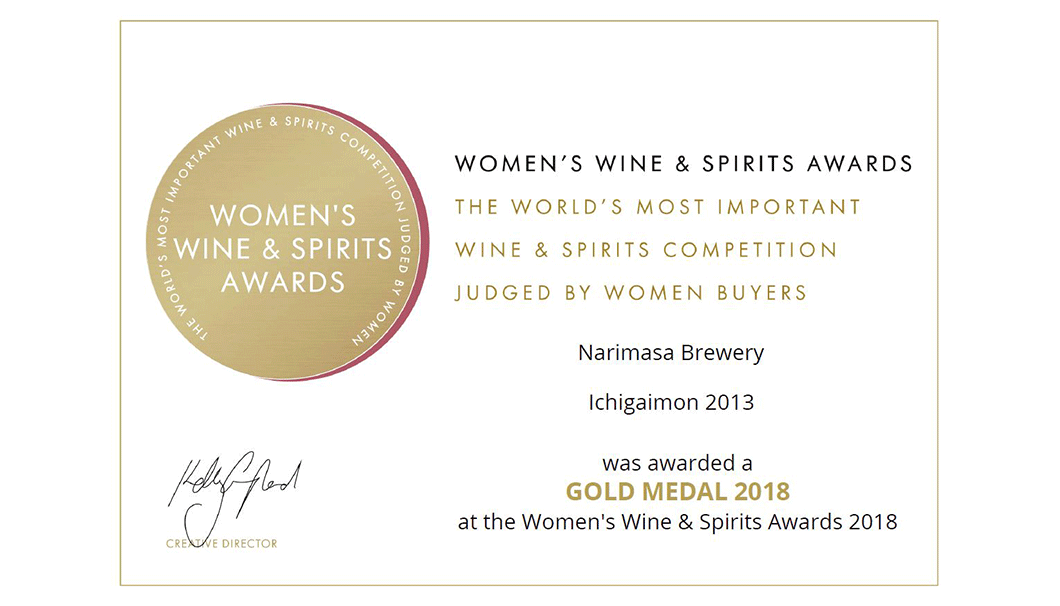 LINK: PRTIMES | 2018/10/23 | 成政酒造「Ichigaimon BY2013」が英Women's Wine and Spirits Awards 2018金賞受賞
Sake Returns to Hong Kong International Wine and Spirits Fair
The Hong Kong Wine and Spirits Fair 2018 is coming November 8 and promises three days of the best alcohol from 27 countries, all in Asia's largest liquor trade show. Here the Japan Pavilion will be at the heart of the festivities, showcasing Japanese beverages from 11 companies.
This is a big opportunity for Japanese breweries, distilleries and other producers as Hong Kong has established itself as a major market second only to the US. A rise in tourism to Japan among locals and the spread of Japanese cuisine have fueled a boom in popularity for sake in particular in Hong Kong, driving an annual increase in exports to the region for five years running.
The Japan External Trade Organization (JETRO), who is organizing the pavilion, hopes to take advantage of this upward momentum and will also be holding educational seminars to help give the people of Hong Kong – and the world – a better sense of sake trends and customs.
These seminars will be held each day until the end of the Hong Kong International Wine and Spirits Fair 2018 on November 10. If the culture of sake can take hold here, then it's only a matter of time before it enters the massive market that is mainland China, which would be a major boost for the entire sake industry.
◎Event Information
Date: Thursday, Nov 8th – Saturday, Nov 10th
Time: 10:30 a.m. – 7:30 p.m.
Location: Hong Kong Convention and Exhibition Centre
Admission: General Public: HK$200, Buyers: HK$100
LINK: JETRO | 2018/10/24 | アジア最大級の酒類専門見本市「香港International Wine & Spirits Fair 2018」に ジャパンパビリオンを設置
British Craft Sake Brewery and Craft Beer Brewery Join Forces for Craft Sake Beer
The UK's first ever licensed sake brewery, Kanpai, has announced a totally new fusion between the worlds of sake and beer. The brewer recently teamed with fellow British craftsmen and beer makers By The Horns for the new Sake Pale Ale.
The brew is made with a light malt and Citra hops but takes on a whole new flavor with the addition of sake kasu. Kasu is the sediment that builds up during the fermentation of sake and has valuable uses for adding flavors to food or other beverages. In this case it breathes new life into a pale ale for an unprecedented taste.
This is a lighter alternative for sake lovers as well, with an alcohol content of just 4.5%. This means you won't have to feel guilty guzzling one of their large 440 mL (15 oz) cans when you're particularly thirsty.
Cans will go on sale in a few weeks and Kanpai will open a taproom in November. Check out both company's social media accounts for more information and maybe even future fusion innovations:
Kanpai: https://www.instagram.com/kanpailondon/
By the Horns: https://www.instagram.com/bythehornsbrew/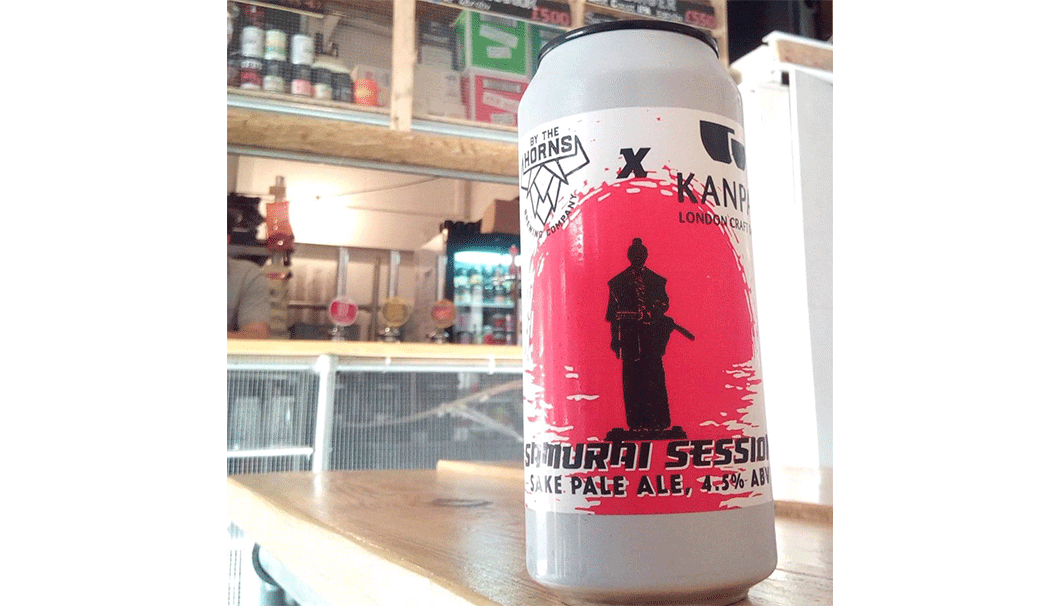 News from SAKETIMES PRESS English>>
◎Three Online Platforms to Showcase Your News
By filling out the form of SAKETIMES PRESS English , your news will be presented on this Weekly News section of the SAKETIMES International website.
◎無料リリース情報配信機能「SAKETIMES PRESS English」
この記事への掲載は、リリース情報配信機能「SAKETIMES PRESS English」から無料でお申し込みいただけます。日本語で申請いただくと、英語の情報に編集し、掲載します。海外に向けた新規リリース情報がございましたら、SAKETIMES PRESS Eglish 申請フォーム より申請ください。