KIKUSUI may be known for their iconic "bullet" cans in the US, but their big-hearted commitment to educating sake experts stateside is paying off in this fast-growing market.
A business' willingness to invest in its employees is a measure of its organizational health, and a promising marker of potential growth. For many small- to mid-sized businesses, though, asking employees to improve their skills by investing their own off time is a tall order; there's too much to do to spend time training people up on the job, but employees who may already be stretched thin might well mutiny in the face of having to spend weekends gaining additional work skills.
Sake brewer KIKUSUI has found a happy middle ground: Make it worth workers' while by making the training fun and immersive. An all-inclusive trip to Japan doesn't hurt either.
KIKUSUI's approach to investing in training and education comes at a time when it's more important than ever for the sake industry, as it faces a steady market decline in its native Japan. KIKUSUI is disrupting the industry by taking an unmatched level of commitment into training not only its own employees, but all of its stakeholders from those in production, to sales and marketing. To get a taste for what KIKUSUI is doing to educate its people, they cordially invited SAKETIMES to visit them at their annual week-long KIKUSUI brewery experience in Niigata.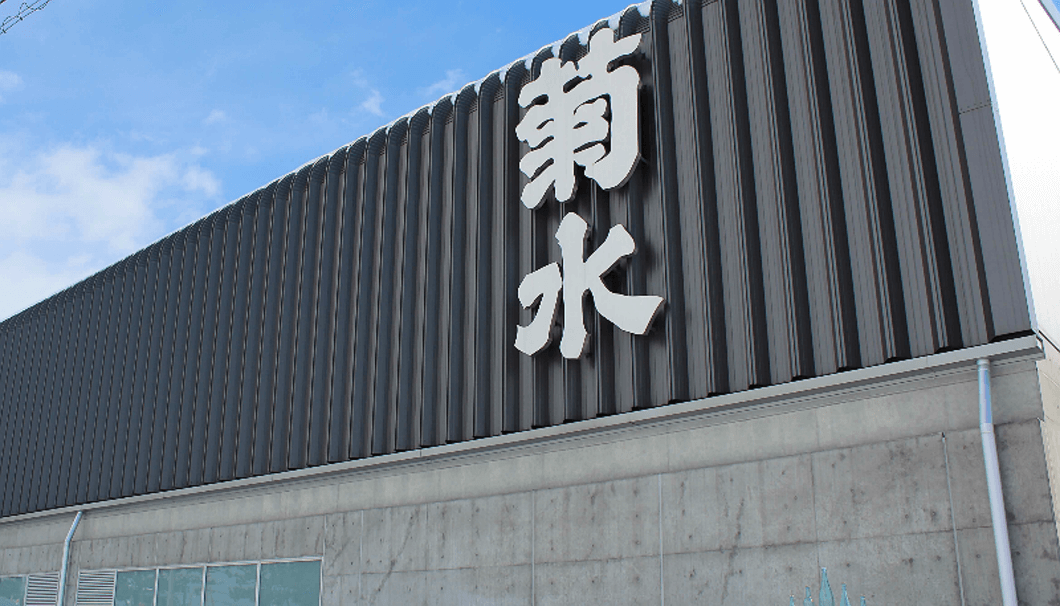 Sake in the US
Sake consumption has been on the rise in the US for years. Craft sake, in particular, has seen double digit growth in recent years, while grassroots local sake breweries are popping up left and right – now counting around 30 in total across the country. Sake continues to gain visibility on carefully curated drink menus at high profile restaurants and in wine competitions like the International Wine Challenge (IWC) and TEXSOM. Behind this unprecedented spike in popularity are the efforts of local sake ambassadors, with their boots-on-the-ground approach to promoting sake stateside.
Here's where Mutual Trading Company (Mutual Trading) comes in.
Mutual Trading has been a trailblazer in establishing craft sake in the American market for decades. The nearly century-old company was founded in 1926 to service the Japanese immigrant community in Los Angeles, and were the first to import junmai sake in the 70s. Following the craft sake boom in Japan in the '80s, Mutual Trading shifted gears in step to focus on specializing in premium and craft sake.
Finding Chemistry with KIKUSUI
Kosei Yamamoto, current Chairman of Mutual Trading, recalls the early days of craft sake in an interview with SAKETIMES. Nomenclature like daiginjo – nowadays a regularly-uttered buzzword – were new even to Yamamoto's own staff members at the time and many craft sake concepts hadn't been introduced to foreign markets at all, let alone translated into languages they'd understand.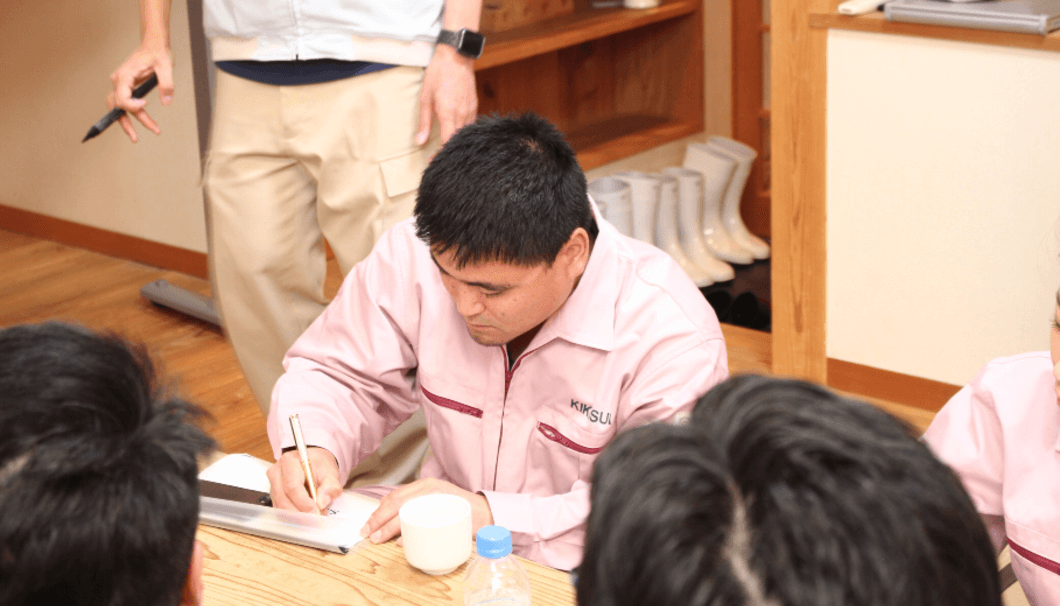 With virtually no information on craft sake available in English, much of the educational material collected, translated, and formulated in those wild west days were jerry-rigged together by curious and dedicated members of Mutual Trading's sales team. That is, until a chance visit by the president of KIKUSUI Brewery, Daisuke Takasawa, in the early 2000's led to a novel experiment: Send some of Mutual Trading's sales reps for a shadowing program at KIKUSUI's brewery. Takasawa was empathetic to the challenges sake sales reps faced in the US and wanted to lend a helping hand by offering Mutual Trading staff the opportunity "to work, eat, and even share sleeping quarters with KIKUSUI brewers" during the brewing season. The idea was even to let the invited reps brew sake themselves. Mutual Trading's then-president Noritoshi Kanai had already been harboring similar feelings, and the idea quickly got the greenlight.
After giving the radical idea a little time to foment into a full-fledged plan, the first Mutual Trading brewery excursion happened in October of 2006.
The chemistry between these two companies was clear from the start; Both shared a belief that empowering employees through education would benefit not only their respective businesses but help expand international sake markets on the whole. "Cooperative efforts, shared responsibilities, and mutual prosperity are at the core of Mutual Trading's philosophy," says Yamamoto. For a business that prospers on serving as an intermediary in trade, collective advancement – from the growers of raw ingredients, to producers, to restaurants and retail businesses – is an essential part of sustainable growth.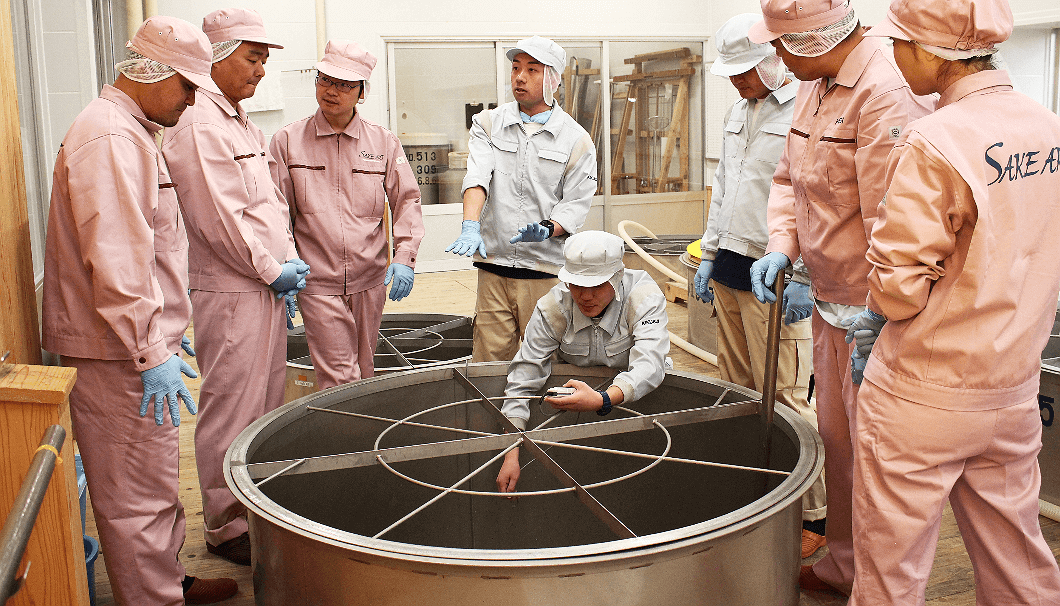 Many sake businesses and professionals share this vision in international markets, of course. What's good for the market in general is good for all of those in the business, after all. KIKUSUI's Takasawa recognized this and, along with an earnest desire to see sake succeed abroad, personally saw to it that Mutual Trading's immersive training opportunity at the brewery went well.
Hands-on Learning
Inside KIKUSUI's Setsugoro Microbrewery, four eager participants from the 2019 round of the brewery internship get ready for an early start. They're about to get their hands on real sake brewing experience for the first time — and there's no better way to get stuck in than by making koji. Koji-making, the process of spreading koji mold spores onto a bed of freshly steamed rice, is arguably the most essential part of sake brewing. This transformative process takes place in the koji muro, a small wooden room that is kept at a high temperature and humidity level, thus creating a sauna-like environment to facilitate koji propagation. The resulting quality of koji after 48 hours in the koji muro determines the overall quality and character of the batch.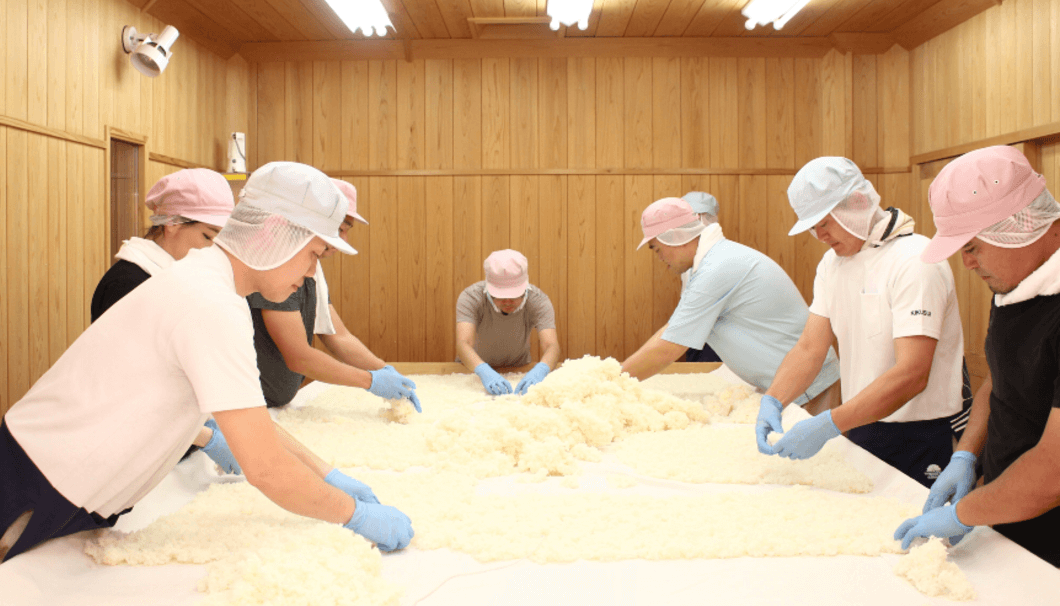 Suffice to say, dealing with such a critical element can be an emotionally fraught experience for any brewer. But working in such a confined space, purpose-built to be hot and humid, is physically taxing as well.
Following seasoned KIKUSUI veterans, the four trainees anxiously walk into a waft of warm, thick air with a faint scent of cedar. There, they're instructed on the delicate art of sprinkling microscopic dust, which bears a faint greenish color, onto the rice. It has to be even throughout, and is exacting in the amount required and the manner in which the koji is spread over the rice. From the heat and humidity, and perhaps partly from nervousness, the trainees' cheeks turn rosy and their foreheads glisten with sweat. One of the sales reps tells us as he catches his breath, "This gives a whole new meaning to the word 'hand-made.' I didn't know sake brewing was this tough."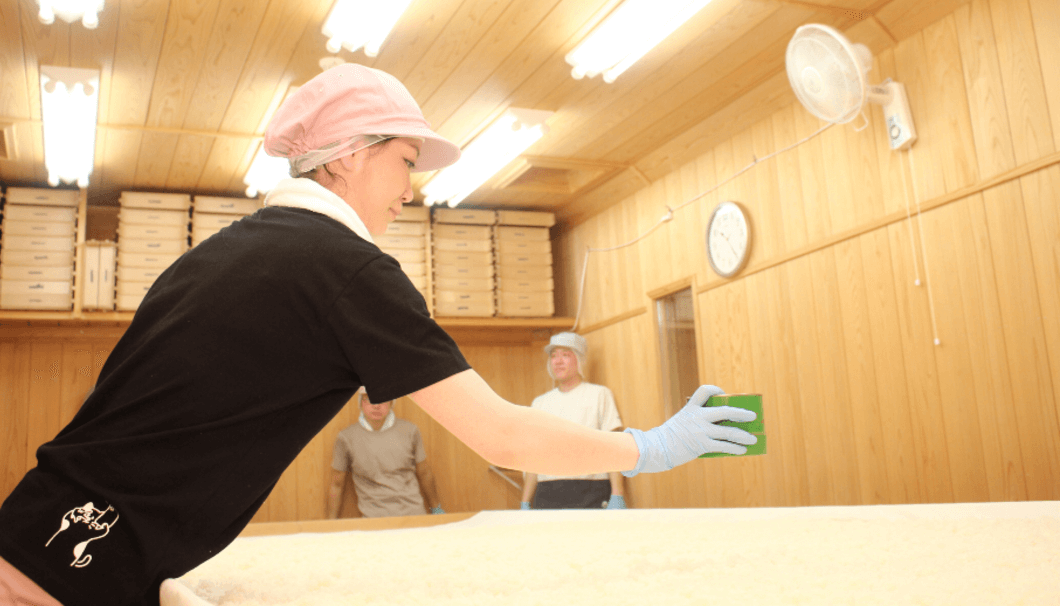 Practice is followed by theory; following the koji-making session, the trainees sit down for a crash course on sake aroma, followed by blind tasting training. Executive Research & Development Officer at KIKUSUI, Shunsuke Miyao, leads the science-heavy lecture, introducing not only pleasantly aromatic compounds found in sake but also elements that contribute to off-flavors. Miyao, naturally, accompanies this with an explanation on how to avoid them finding their way into your sake. Mutual Trading staff all seem to agree that bigger, bolder ginjo profiles are preferred in the US. This highlights a little bit of the give and take of the program – the trainees get boundless sake knowledge at their fingertips, while KIKUSUI learns firsthand from those on the frontlines what consumers in the states are looking for. Miyao, delighted by the feedback, explains that some breweries "engineer" their export batches slightly differently to cater to those region-specific demands.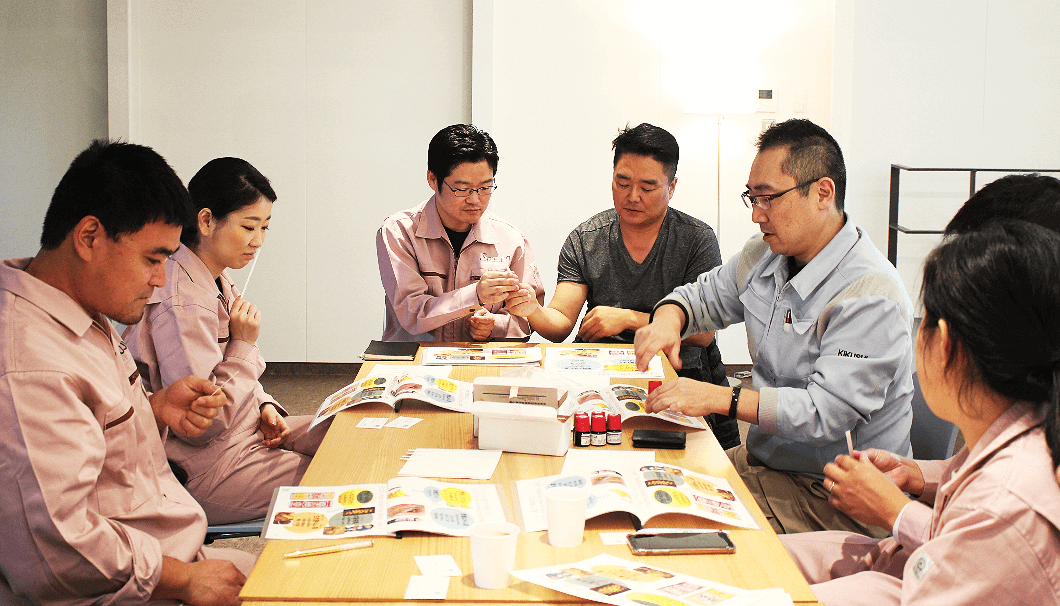 This lecture session also includes a blind tasting of some of KIKUSUI's most popular items, with tips on how to talk about different products. Over in the US — what is likely the largest market for Japanese restaurants worldwide — Mutual Trading appoints sales reps with similar linguistic and cultural background to those of restaurant owners, especially those of Korean and Chinese descent. At the bootcamp, Assistant Manager Jimmy Kim comments on the effectiveness of the product training, emphasizing the importance of having both a systematic understanding of sake, and the vocabulary to communicate about it. This knowledge now gives him confidence in speaking to his customers about sake in a more meaningful manner, whether in English or in Korean, instead of throwing in buzzwords like daiginjo and hoping that's enough to entice people to spend. As demand for Japanese food and sake diversifies in markets like the US, investing in non-Japanese staff to promote sake is, increasingly, just good business.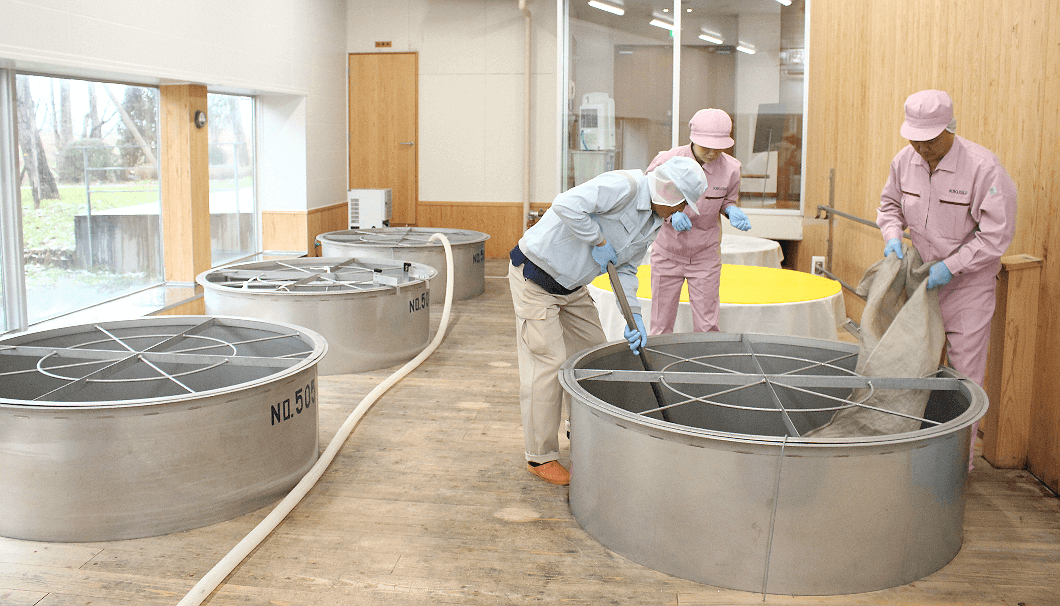 Spending a day with the four trainees, it's clear this isn't just a sake-fueled field trip for Mutual Trading staff, nor is it entirely just feel-good CSR for KIKUSUI. The immersion program has proven highly effective in boosting sales performance for Mutual Trading, resulting in a win-win relationship between the two entities. The program imparts a sense of ownership and familiarity with the KIKUSUI brand in its alumni, enabling them "to put the newly acquired knowledge into perspective. It's not uncommon for reps to come out of the program expressing excitement in finding solutions to obstacles they'd been facing in their routine sales duties," says Yamamoto.
KIKUSUI Brewery and Mutual Trading Company may be in two different parts of the world, but one mission brings them together: their commitment to growing the sake industry through employee education and empowerment. As two powerful agents in the declining sake industry, their dedication is as necessary as it is admirable – it's only through collective prosperity that the sake industry will be able to thrive in Japan and abroad. In Yamamoto's eyes, the goal is clear. He sums it up: "Our goal is not just to increase business – it's bigger than that."