Once you see it, you can't unsee it: KIKUSUI's President and CEO Daisuke Takasawa dancing around dressed head-to-toe in a costume that transforms him into a Funaguchi sake can. Grinning goofily and seemingly having the time of his life, Takasawa looks so comfortable in the costume that you have to wonder if he occasionally sports it outside of business events, too.
Deal with KIKUSUI long enough and you're almost guaranteed to see Takasawa donning the sake can suit. Regularly gracing grand openings and other big events worldwide in sake cosplay – his head comically poking up above the lip of the can – participants often can't help but crack a smile at the slightly comical, yet endearing form of the president.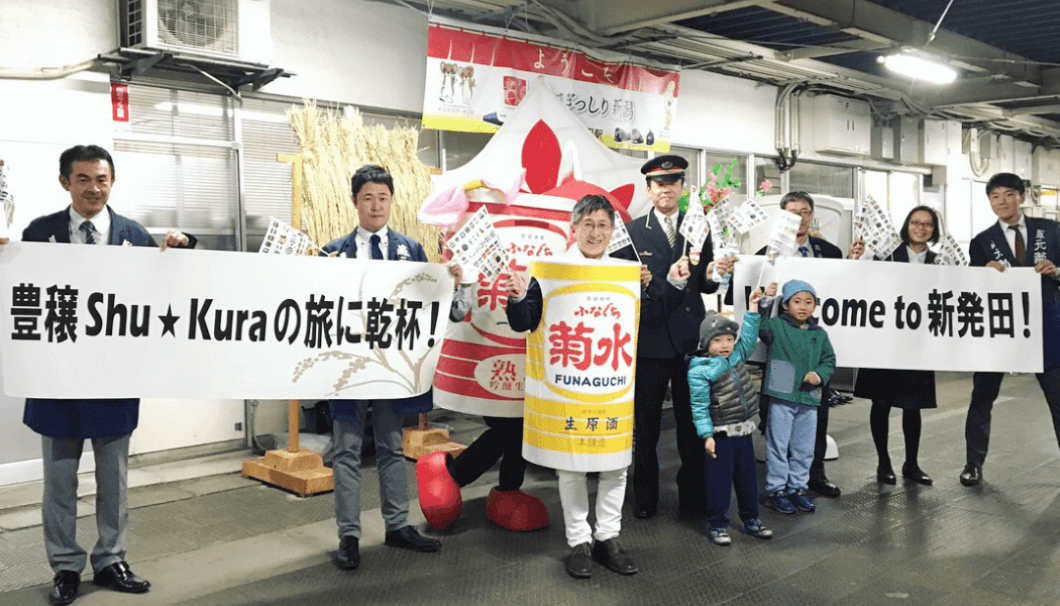 But that's sort of the point for Takasawa: bringing fun to the world of sake and new experiences to drinkers and connoisseurs the world over. Yet behind the silly getup and Takasawa's infectious smile, there's a businessman who genuinely cares about, not only his customers and his sake, but his employees and business partners, as well.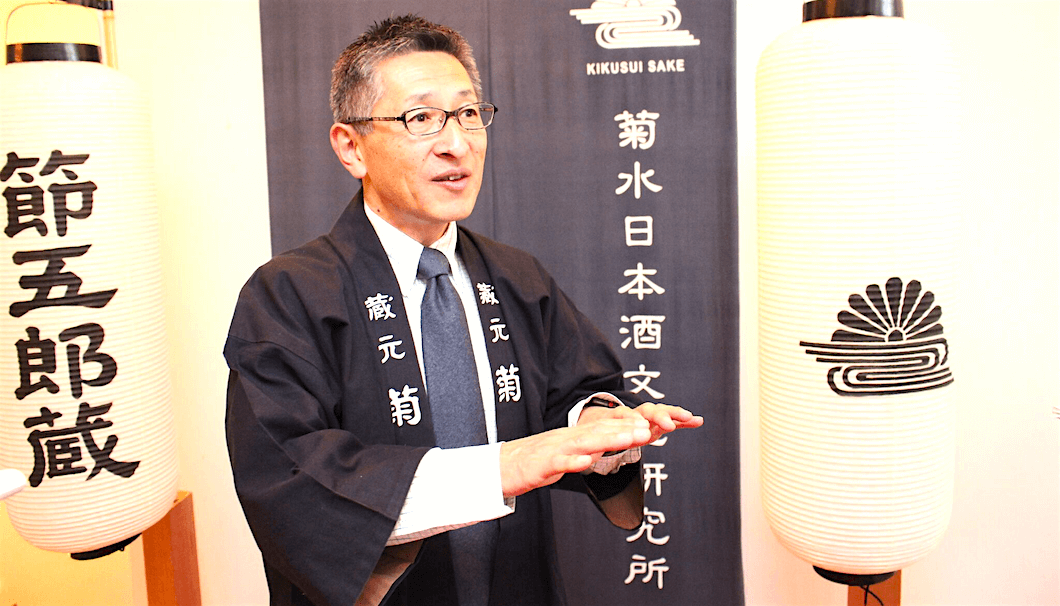 "Company presidents like myself love to say they 'put their customer first,' and that's a good stance to take. But if you don't put your employees first, they won't have the bandwidth needed to find ways of putting customers first."
While not an altogether original ethos, managing to implement it in real ways puts KIKUSUI lightyears ahead of a majority of Japanese corporations, where its still often taken for granted that employees are expected to devote themselves to the company above all else; often at the expense of health and happiness.
Employee wellbeing, that in turn equates to more satisfied customers, is just one example of Takasawa's strategy to make sake a positive influence on the world. Takasawa envisions a world infused with sake that's fun, interesting and always bringing something new and exciting to the table.
"I know exactly what customers want," he tells us. "It's exactly what I want, too! They want delicious, fun and relaxing experiences to delight in. If we can deliver all of this through sake, then I know there's a place in this world for KIKUSUI for a long time to come."
Yet, when talking about sake's potential for positive influence, Takasawa is adamant that the conversation isn't limited to providing people with a good time or a pleasant buzz.
"You can communicate a lot through sake. If you're talking about a sake that's 100% natural, for example, you're now talking about sake's relationship to larger environmental issues… The conversation isn't just about whether or not a particular sake tastes good. It gets you thinking: 'If this organic product is good for the environment, then why do we need to have products that aren't?' Sake can get you thinking about these larger topics – it can be interesting and enlightening."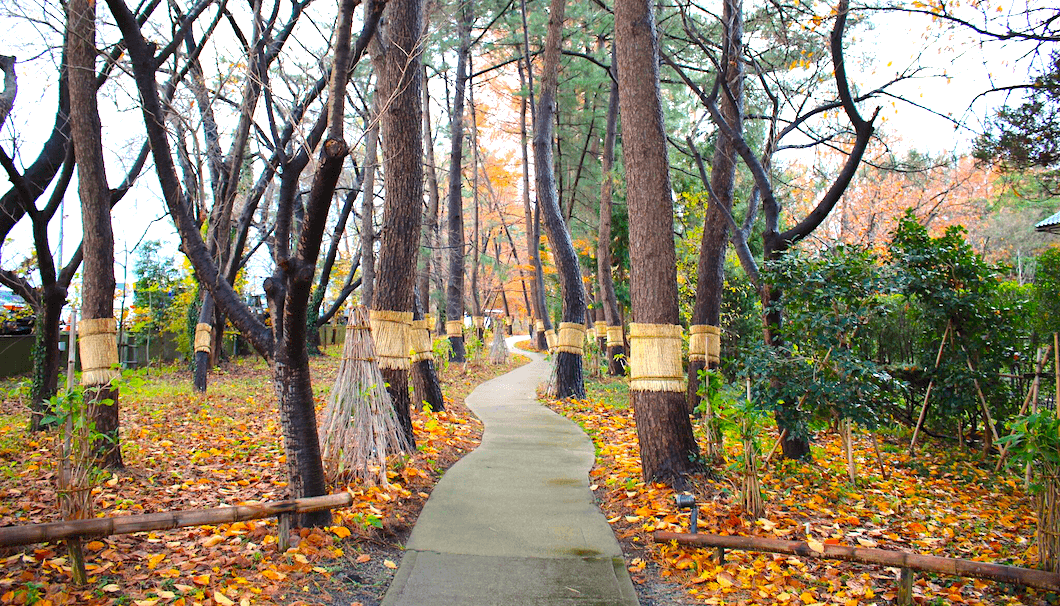 The yeasty aroma of brewing pervades the air along this idyllic pedestrian path to the KIKUSUI Sake Culture Institute
For as thought-provoking as sake can be, and for as good as it feels to talk in whimsical terms about changing the world one bottle at a time, the current chapter in the story of sake is a bit of a downer.
"If you look at the data," Takasawa says, "It's a tough story. Japan's largest demographic of sake drinkers are even older than me. The 20-30-somethings of today are simply never going to consume sake on the same level as their grandparents did. "But," he says, "I don't have time to dwell on sad stories."
"The role my father filled here and the role I fill are totally different," Takasawa says of his dad, who preceded him as the fourth generation KIKUSUI president. "He had the fortune of running the place when business was booming. But that's not my role. I'm actually quite happy to be serving at a time when we can really put our all into this business and sweat it out."
"And," he adds, "I'm not concerned about the competition. Frankly, now isn't the time to be pulling each other down. We all [in this industry] need to work hand-in-hand in order to raise the ship. Collectively, if we've got time to be complaining about sales figures, then we've got time to be thinking up and implementing new and exciting ways to make consumers happy."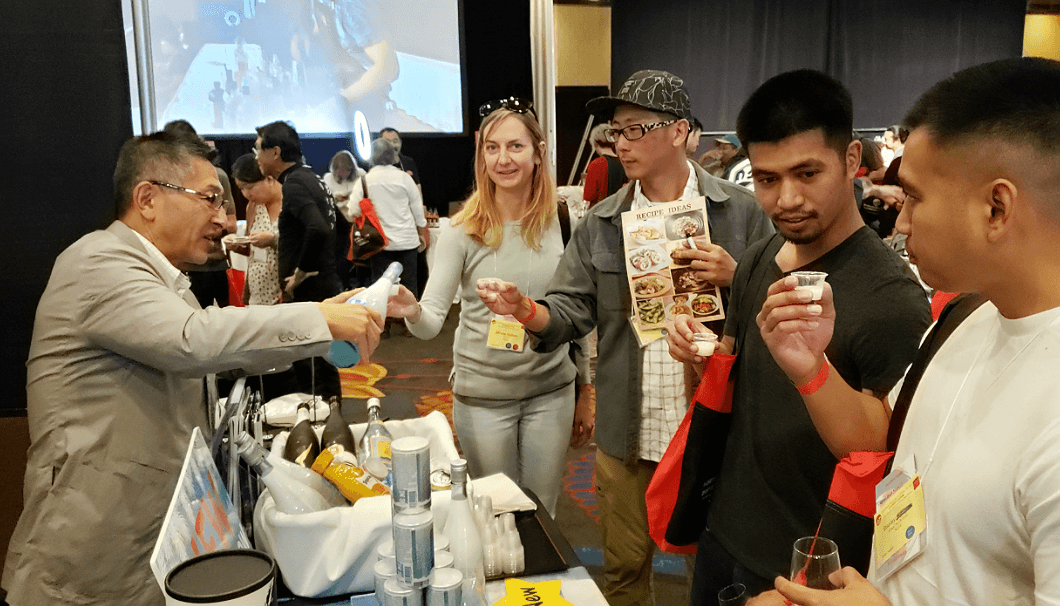 A focus on making customers happy and bringing more fun to sake has birthed some interesting concepts that have been good for both KIKUSUI's bottom line and sake fans the world over. KIKUSUI's Funaguchi canned sake has taken off in the US, where drinking sake directly from the can is still novel. The company occasionally hosts events worldwide that feature unexpected hooks, manyless dominated by sake than they are simply fueled by it.At these often smaller-scale parties, KIKUSUI is served, but hardly advertised. The goal of the events is for guests to mingle and have fun – KIKUSUI just happens to be on hand.
For KIKUSUI, it's all about positive proliferation. "People who are always saying, 'That's difficult,' or 'We can't do that,' end up changing nothing," Takasawa says. "Making a decision and sticking to it is key. If you decide you're going to [make sake] fun and interesting, that's all you need in order to go full throttle to see it through. If you believe in it, you'll see the possibilities, and then you can make anything interesting and worthwhile."