With the popularity of sake growing around the globe, you might find yourself wanting to pick up a bottle or two during your next trip to Tokyo. But, the city's eye-bulging glut of options can make even sake pros' heads spin.
It's helpful to have a working knowledge of a few proven winners beforehand to make the quest for great sake a little less intimidating.
We here at SAKETIMES recommend the following six shops, not only because they have expert guidance available but also an excellent range of sake on hand. All but one provide customers with tasting experiences to try before you buy and each store also has its own distinct charm in addition to a convenient location.
1 – The Sake Vending Machines of Tokyo Shoten
Tokyo Shoten's sake vending machines offer both tasting cups and full bottle purchases, helping sake newbies explore the many options available without having to engage in intimidating high-level discussions with staff.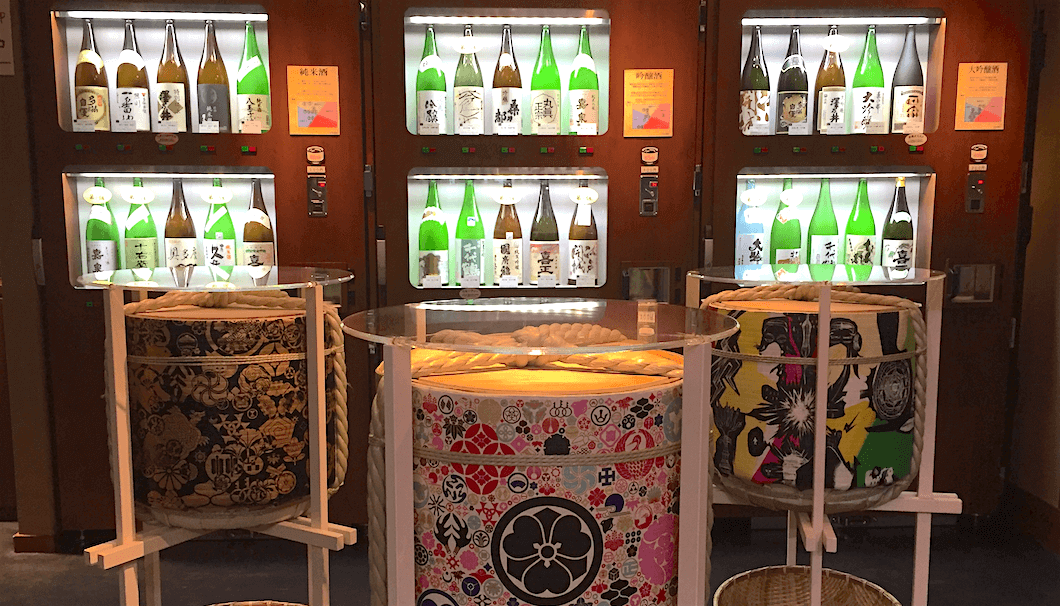 The Store
As the name implies, Tokyo Shoten focuses on Tokyo-area sake breweries only. Customers can easily find their favorite from among the 30 brands offered by nine local breweries, such as Kinkon Junmai Muroka Genshu, Junmai Ginjo Genshu Edo Kaijo, or Sawanoi Daiginjo for 200, 300, and 400 yen (US$1.80, $2.70, $3.60) a cup.
If those long Japanese names look daunting, the store also has plenty of explanations about what they mean and what kind of sake they represent, all in plain English. So it's easy even for the uninitiated to get the hang of choosing the right sake here.
The Location
Tokyo Shoten is located right outside the entrance to JR Ryogoku Station, named after the nearby Ryogoku Kokugikan (National Sumo Stadium). Even when matches aren't being held the stadium offers many exhibits and insights into the traditional sport.
There are also lots of other Japanese restaurants and souvenir shops in the area and the Sumida Ward location is convenient to major attractions like the Sky Tree and the Edo-Tokyo Museum.
Brands to Try
• Tamajiman (Ishikawa Brewery)
• Sawanoi (Ozawa Brewery)
• Kuwanomiyako (Ozawa Brewery)
• Kasen (Tamura Brewery)
• Kikon (Toshimaya Brewery)
• Chiyotsuru (Nakmura Brewery)
• Kotsuru (Noguchi Brewery)
• Kishio (Nozaki Brewery)
• Edo Kaijo (Tokyo Port Brewery)
◎Shop Information
2 – Akihabara Isn't Just for Anime! There's Sake Too at Suzuki Sake Store
Suzuki Sake Shop and its impressive collection of brands surprisingly resides right in the Tokyo geek mecca known as Akihabara.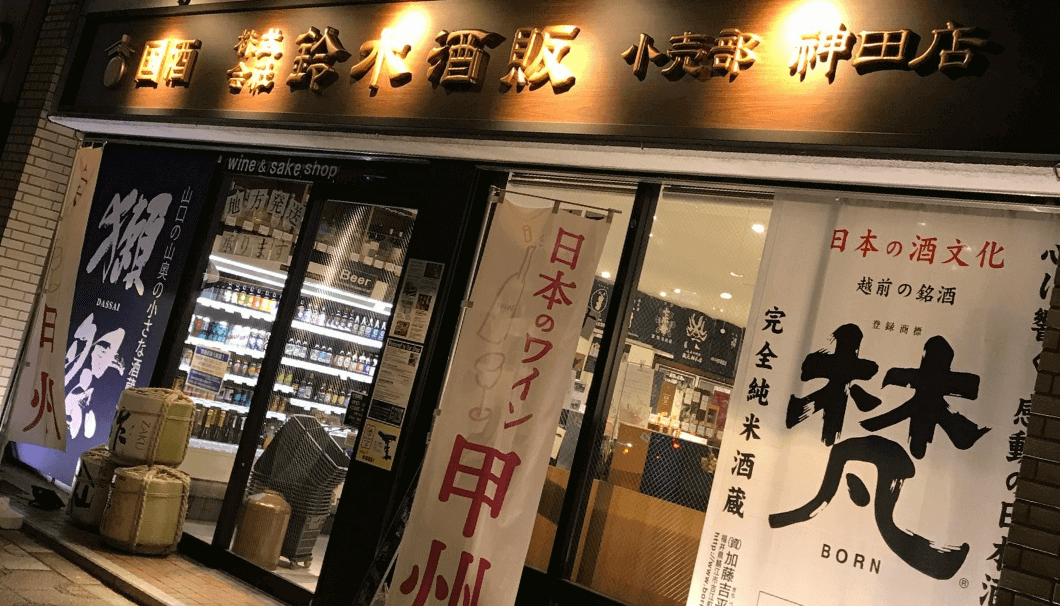 The Store
True to the neighborhood's high-tech reputation, Suzuki uses science to preserve its sake's flavors to the fullest. In order to prevent the deterioration caused by UV rays, all 300 brands of sake are kept in a specially designed storage area equipped with LED lighting. The temperature of this room is also strictly controlled at near 0℃ (32℉) temperatures.
Although the staff here aren't fluent in English, they are more than happy to assist people from other countries the best they can.
The Location
Akihabara's geek-centric reputation aside, it also has a down-to-earth and diverse array of shops and restaurants offering something for everyone.
It's also very conveniently located near the heart of Tokyo and not too far from other landmarks such as the Ueno Zoo and Imperial Palace.
Brands to Try
• Mutsuhassen (Hachinohe Brewery)
• Kudoki Jozu (Kamenoi Brewery)
• Tatenokawa (Tatenokawa Brewery)
• Jokigen (Sakata Brewery)
• Yamagata Masamune (Mitobe Brewery)
◎Shop Information
3 – Service in Several Languages at Imadeya Ginza
While shopping in swanky Ginza, one would expect to be pampered with top-rate service. Imadeya Ginza is no different, offering convenient tastings, knowledgeable staff, and, best of all, multilingual service.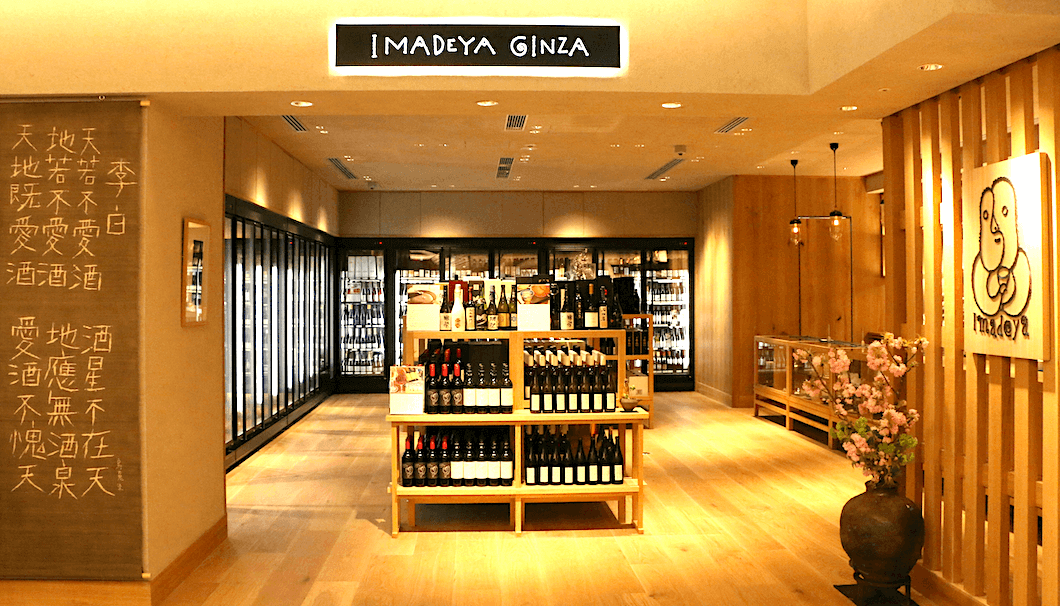 The Shop
Imadeya Ginza houses a vast selection of about 400 brands of sake, including many high-end names like Komyo, Niizawa, and Dassai Migaki Sonosakie. Such an assortment of sake can be overwhelming for new drinkers, but luckily the staff at Imadeya are renowned for their expertise and will help you find your perfect match with the help of a tasting counter offering up to 10 samples at a time.
If all that weren't enough, they can also accommodate your needs in one of several languages, including English, Chinese, Korean, and Spanish. The service here is so good, it'd take a conscious effort not to walk away with the best sake to suit your tastes.
The Location
Ginza is another of Tokyo's most famous areas with high-end boutiques and exclusive restaurants scattered around it. The latest fashions, most exquisite cuisine, and state-of-the-art electronics can all be found here, but even if spending a fortune isn't on the agenda, the area boasts a great atmosphere for just walking around in.
Brands to Try
• Densyu (Nishita Brewery)
• Aramasa (Aramasa Brewery)
• Sharaku (Miyaizumi Meijo)
• Hiroki (Hiroki Brewery)
• Masuizumi (Masuda Brewery)
• Shichihonyari (Tomita Brewery)
• Toyobijin (Sumikawa Brewery)
• Yokoyama 50 (Omoya Brewery)
◎Shop Information
4 – Enjoy Sake at 300km/h from Hasegawa Sake Shop in Tokyo Station
For those on a whirlwind tour of Japan and in need of some sake on-the-go. Hasegawa Sake Shop, located within the ticket gate of Tokyo Station, will help you on your way.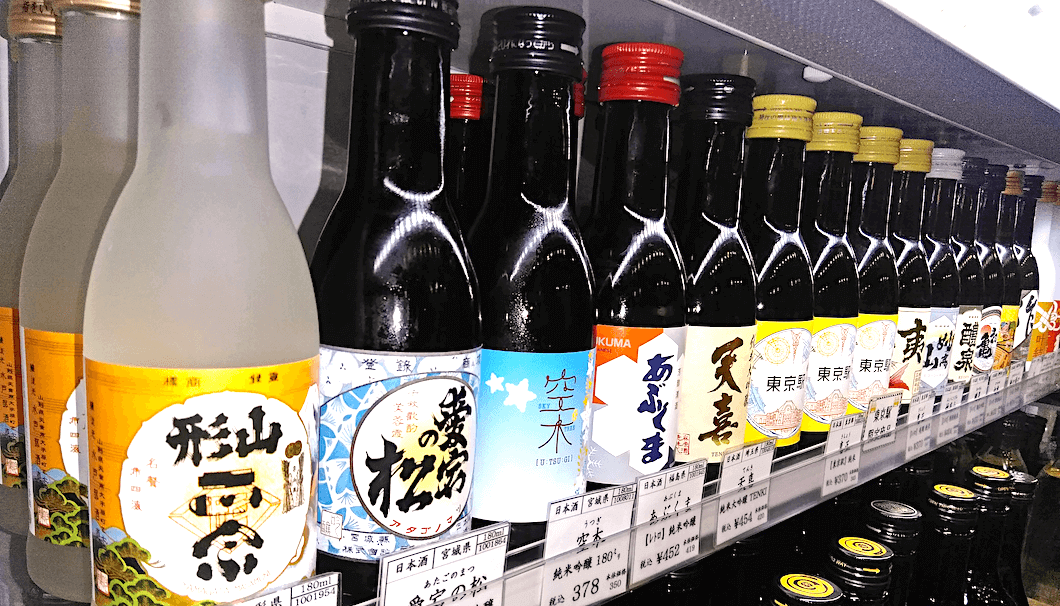 The Shop
Located right inside Tokyo's most versatile hub station, Hasegawa specializes in sake that can be enjoyed while riding the rails. They have a large collection of approximately 400 brands, many of which are for sale in portable 180mL or 300mL (6oz or 10oz) bottles. They'll even supply a little plastic sipping cup on request.
Unfortunately, because they focus on a customer base that comes and goes quickly, tastings aren't offered at Hasegawa. On the other hand, they do sell snacks, making it a convenient one-stop-shop for great sake and something to nibble on while flying across Japan on a Shinkansen bullet train.
The Location
Whether you're coming or going from Tokyo, there's a very good chance you'll be passing through Tokyo Station. It connects about two dozen different train lines including all Shinkansen lines and is said to be able to get you to 33 of Japan's 47 Prefectures without even having to change trains.
But even for those not planning to go anywhere, Tokyo Station has lots of great shopping and restaurants to keep busy with. The building's century-old brick facade is also gorgeous when lit up at night.
Brands to Try
• Hakurakusei (Niisawa Brewery)
• Sharaku (Miyaizumi Brewery)
• Raifuku (Raifuku Brewery)
• Ho-Oh Biden (Kobayashi Brewery)
• Isojiman (Isojiman Brewery)
• Kamoshibito Kuheiji (Banjou Brewery)
• Kiddo (Heiwa Brewery)
• Toyobijin (Sumikawa Brewery)
• Ugonotsuki (Aihara Brewery)
◎Shop Information
5 – Inishie Sake Store Sheds Light on Aged Sake
Even for those well-versed in sake, the concepts surrounding aged sake can be hard to understand. Inishie Sake Store cuts through the confusing terminology and even lets you sample some finely-aged brands.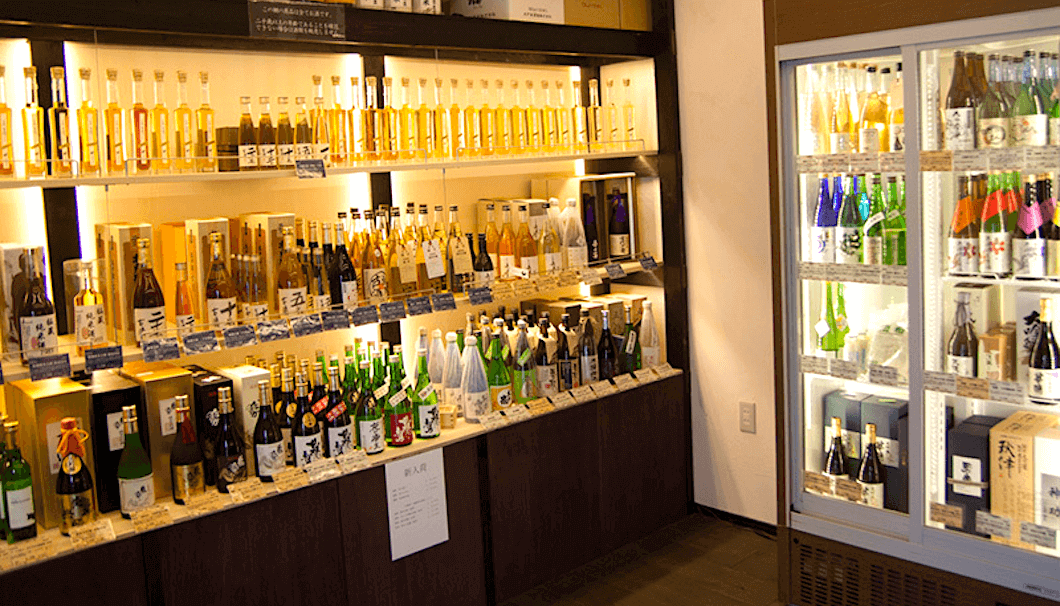 The Store
While you'd normally expect aged sake to be more expensive, Inishie offers lots of reasonably-priced brands ranging from 1,000 to 4,000 yen ($9 to $36) per bottle. They also offer tastings which can range from free to between 200 and 900 yen ($1.80 and $8.10), giving you a good sense of what aged sake has to offer.
The concept of "aged sake" is rather ambiguous though, with different kinds being labeled as "koshu" (aged sake) and "jukusei sake" (matured sake). There isn't a clearly universal distinction between the two, but Inishie went ahead and made one themselves: Koshu is sake that has been aged to the point where its taste has completely changed from its original flavor. Jukusei sake maintains much of the sake's original flavor, with quality accentuated by the aging process.
It's a nice little tidbit of info that can be used to impress others at any sake-serving function, and goes to show that souvenirs don't always have to be throwaway trinkets.
The Location
Inishie is located in Suginami Ward a little to the west of the downtown area of Shinjuku, so it might appear a little more residential with a bit more green space. It's a good place to visit during the traditional Japanese holiday of Tanabata, in July, when scores of large and colorful decorations adorn the Pearl Center shopping street in the Asagaya neighborhood.
Suginami is also home to many animation studios and the Suginami Animation Museum where visitors can learn about the history of Japanese anime with screenings and English language information.
Brands to Try
• Kidoizumi (Kidoizumi Brewery)
• Azumanada (Azumanada Brewery)
• Ryukan (Naeba Brewery)
• Minogawa (Naeba Brewery)
• Sakaemasu (Shimizuya Brewery)
• Sawanoi (Ozawa Brewery)
• Nagaragawa (Komachi Brewery)
• Hanatomoe (Miyoshino Brewery)
• Kurumazaka (Yoshimura Hideo Shoten)
• Tatsuriki (Honda Shoten)
• Ryusei (Fujii Brewery)
◎Shop Information
6 – The Brewery of the Famous Edo Kaijo Sake, Right In the Heart of Tokyo
Tokyo Port Brewery lies in Minato Ward, not too far from Tokyo Tower. A brewery that initially quit the sake business in 1909, it was resurrected over a century later in 2016 by the founders' descendants.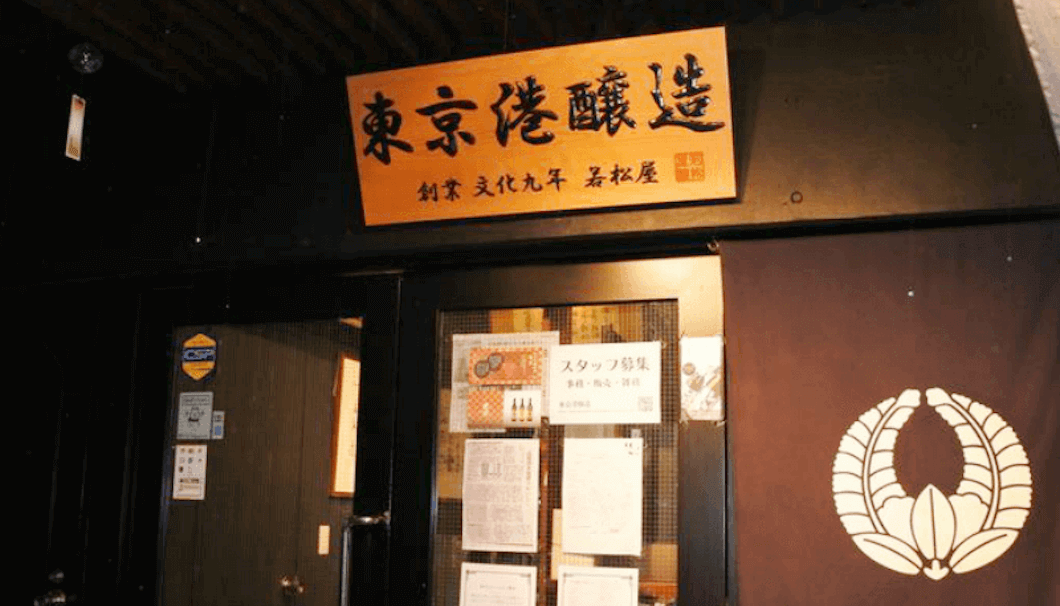 The Store
Although it's a brewery, Tokyo Port has a dedicated shop right across the street from it. Here you can find their popular drinks like Junmai Daiginjo Genshu Edo Kaijo as well as other products like sake's cloudy cousin nigorizake and the plum-based umeshu.
You can also sample sake from the Tasting Car, located on the first floor of the brewery. In addition to Tokyo Port Brewery's offerings you can also find brands from other producers among the 10 kinds offered for 350 yen ($3.20) a cup.
Also, since it's deep inside Tokyo, the shop is no stranger to tourists from abroad and can help you in English.
The Location
Tokyo Port Brewery is the only sake brewery located inside the Yamanote train line, making it a very convenient spot to visit for those on a tight schedule. Unfortunately, they don't run tours as of this writing, but even by just walking around the areas open to the public, you can get a sense of that sake brewery atmosphere.
Brands to Try
• Edo Kaijo (Tokyo Port Brewery)
• Palla-Casey (Tokyo Port Brewery)
• Roppongi No Sake (Tokyo Port Brewery)
• Ginza No Sake (Tokyo Port Brewery)
• Doburoku Edo Kaijo (Tokyo Port Brewery)
• Blueberry (Tokyo Port Brewery)
• Plum (Tokyo Port Brewery)
• Tokyo Mead (Tokyo Port Brewery)
• Tokyo Amazake (Tokyo Port Brewery)
◎Shop Information
Of course, these six shops are only a small sampling of the many great sake vendors that Tokyo has to offer. Our other favorites include, Kimijimaya, Stylish "Kaku-uchi" Space in Ginza and Ebisu, and Meishu Center, where native English-speaking staff are available. And you can almost always find a well-curated liquor section (usually on the basement floors, near deli and groceries) at big department stores like Mitsukoshi, Isetan, Takashimaya, and Daimaru. These are great examples if you don't know where to start, we also encourage everyone to go out and explore this huge city for even more interesting and exciting sake discoveries.