Savvy sake fans know Kyoto's Fushimi district is a hot spot for sake tourism, with one of the highest concentrations of brewers in Japan and enlightening tours and tastings available at powerhouses like Gekkeikan and Kizakura. But the fun doesn't stop at the brewhouse door. Sake enjoyment is steeped into every aspect of culinary life in Fushimi, making it the kind of town a foodie can explore from sun up to sun down.
We at SAKETIMES have tapped our network of local contacts to find out what spots have something extra to offer sake drinkers and we've gathered our favorites into a full-day itinerary for your next trip.
Fushimi Springs
Now, it goes without saying that there's a lot of sake to be had in this itinerary, so be sure to pace yourself and stay hydrated. Luckily, Fushimi makes sticking to this advice super easy. Communal wells are scattered throughout town, where anyone can get a taste of the sweet, soft water that bubbles up from the area's massive underground reservoirs and forms the base of Fushimi sake. All are welcome to use them; Just bring an empty water bottle and top it off as you go!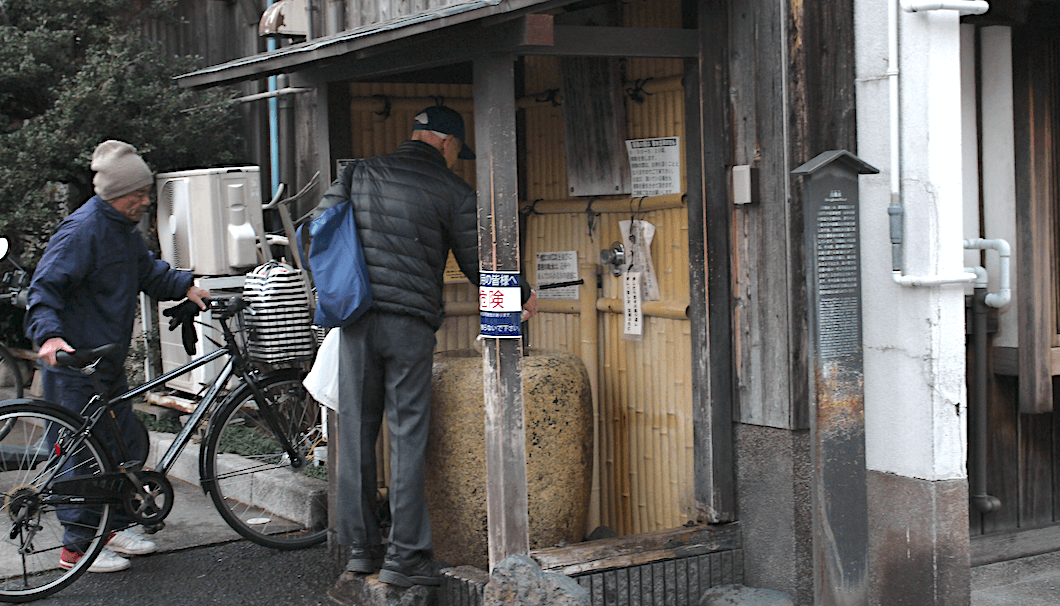 Genya
You should never drink on an empty stomach, so our first stop is a popular little noodle shop that serves sake lees ramen. They add lees from local brewer Gekkeikan to their signature pork and chicken broth, then top with homemade chashu pork belly, thin slices of aburaage fried tofu, green onions, bean sprouts and slivers of daikon. The sake lees give the broth a tangy umami not unlike miso, but with sweeter undertones. The noren curtains featuring the owner's bold calligraphic paintings and a retro cash register decorated like an old sake brewery add an artistic touch.
Recommended: The karami sake kasu ramen adds a spicy kick that perfectly balances the lees' sweetness.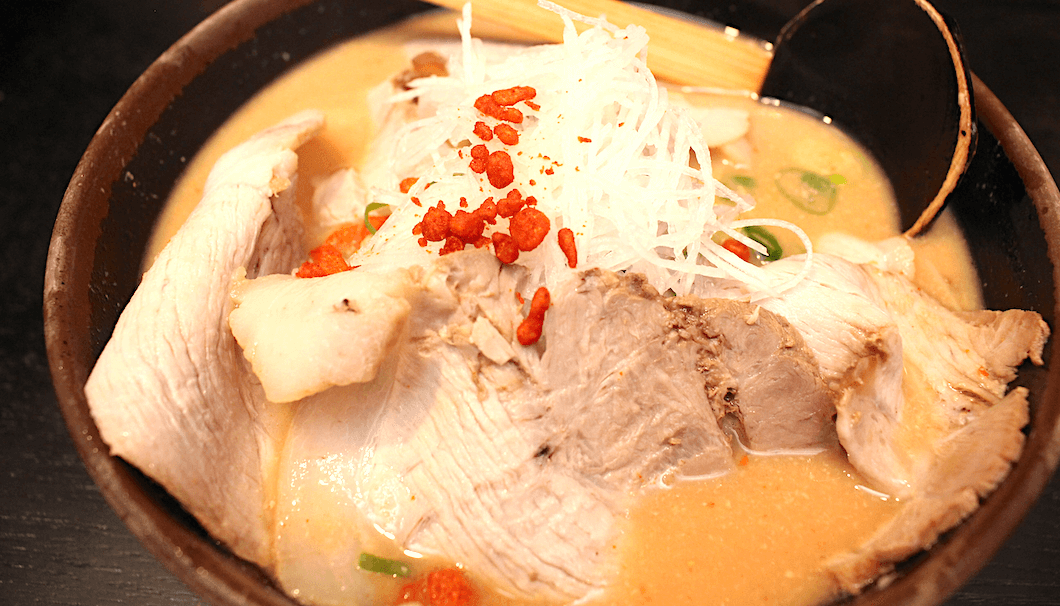 The karami sake kasu ramen adds a spicy kick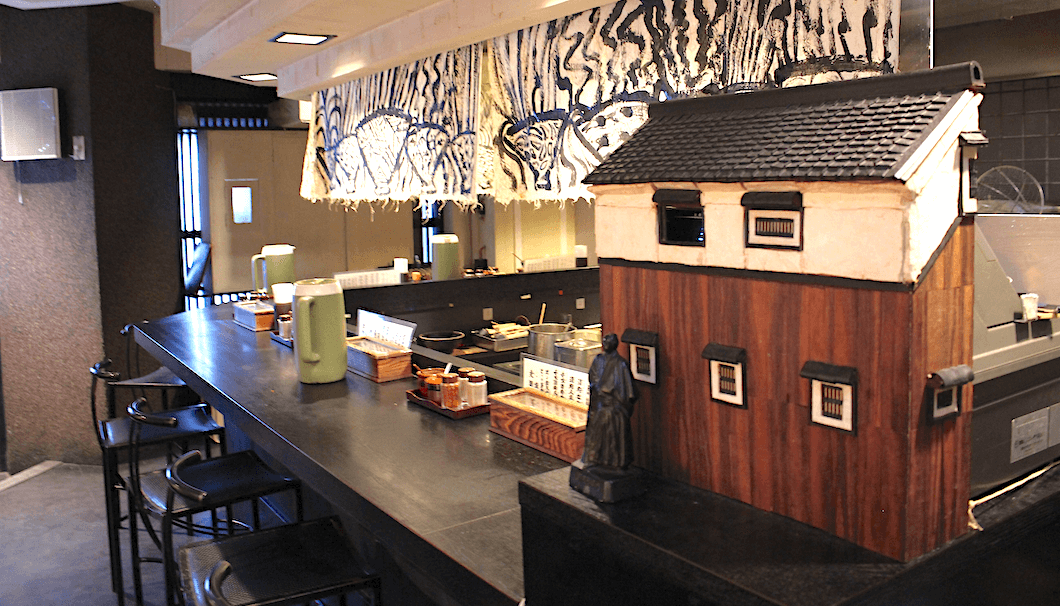 A retro cash register decorated like an old sake brewery add an artistic touch
◎Shop information
Name: Genya
Venue: 698 Higashikumicho Fushimi-ku
Hours: 11:30 am – 7:30 pm
Close: Thursdays
Contact: +81-75-602-1492
Sakagura Bar En
This stylish bar is run by Fujioka Shuzo, a local microbrewer that's gained international fame as part of the ENTER.Sake project. The newly built tatami drinking room uses wood from the original brewery as a bar and zabuton
floor cushions made from the cloth of old pressing bags in a nod to the company's century-long history. A large window behind the bar looks into the brewery floor so you can watch the staff at work. The weekday tasting set includes the flagship Sookuu (read "so cool") brews and seasonal offerings, and there's also a small menu of tapas dishes, many made with lees.
Recommended: The sake lees raisin butter is divine.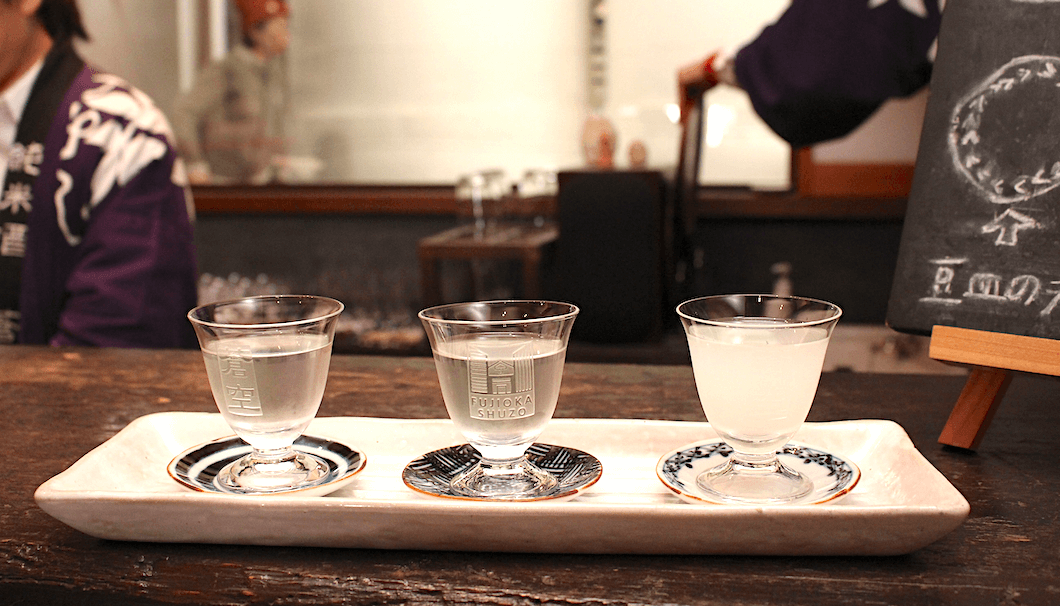 The Sookuu tasting flight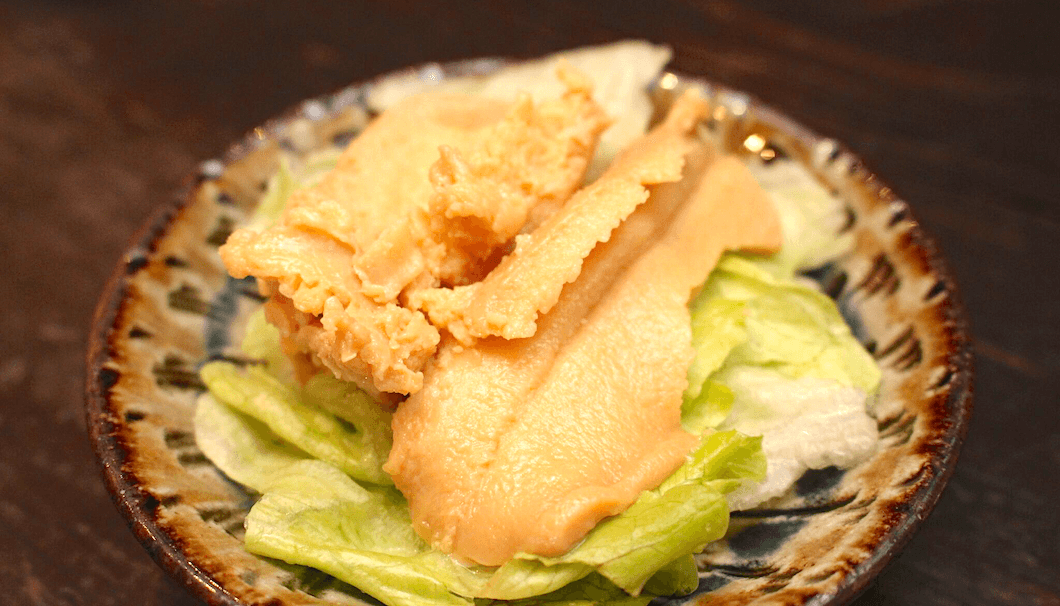 Melt-in-your-mouth tofu marinated in miso
◎Shop information
Name: Sakagura Bar En
Venue: 672-1 Imachou, Fushimi-ku
Hours: 11:30 am – 6:00 pm
Close: Wednesday
Contact: +81-75-611-4666
Aburacho
In the bustling Otesuji Shopping Arcade, you'll find this liquor shop with a comfortable tasting counter in the back where you can try sake offerings before you buy, including about 80 local labels at any given time. Order by the full glass or in small tasting sizes, which come with nibbles as well. There's no English menu, but there is a translation of a flavor profile chart you can use to ask for recommendations.
Recommended: Whatever the knowledgeable staff recommends! Put yourself in their hands with the handy phrase "omakase" or "please choose for me."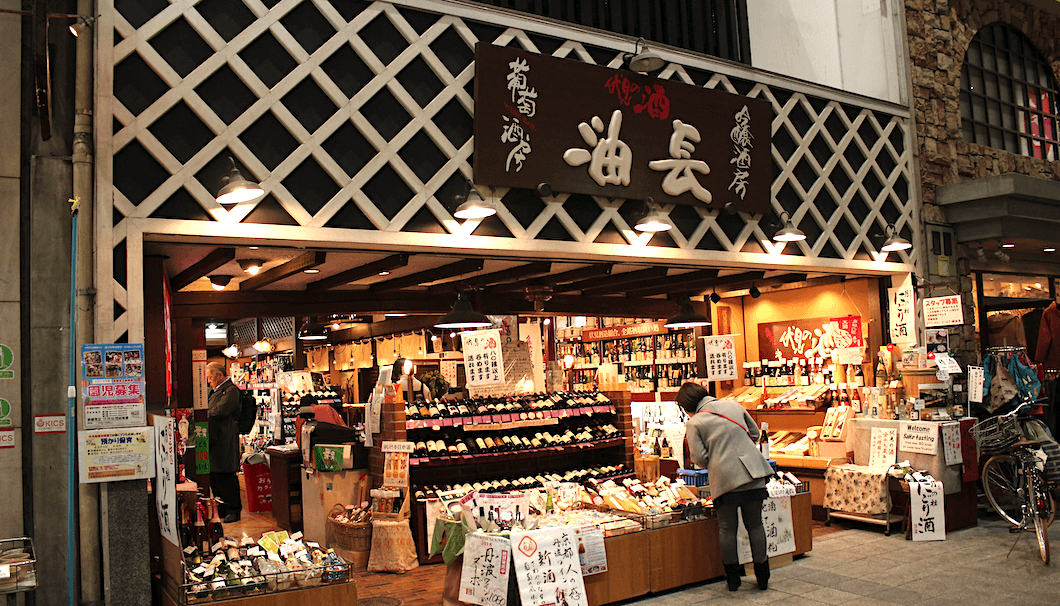 A regular old liquor shop from the outside, but head to the back for the cozy tasting counter!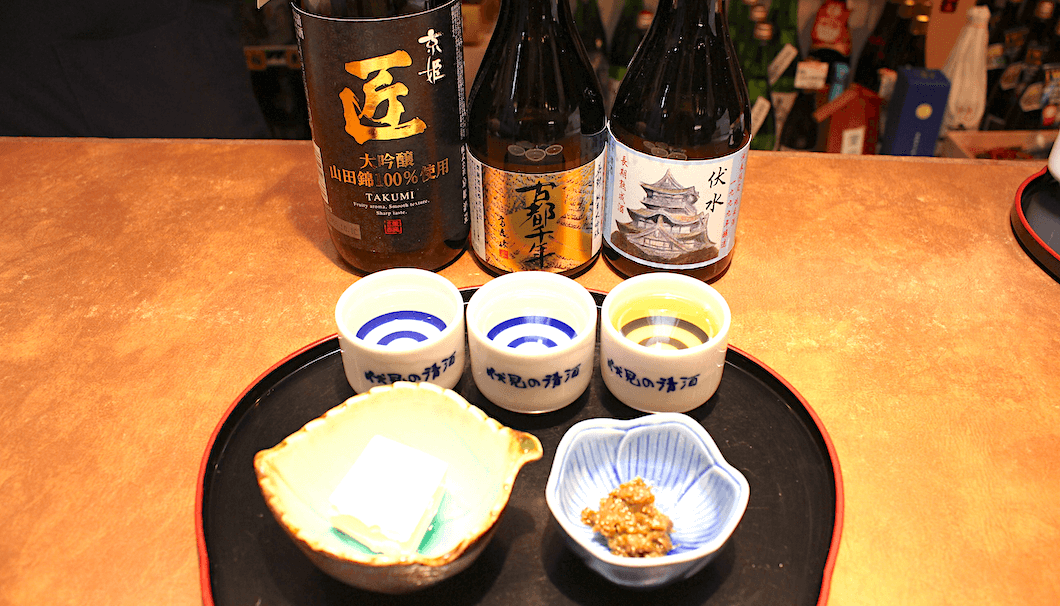 A tasting flight, complete with light snack pairing
◎Shop information
Name: Aburacho
Venue: 780 Higashiotecho, Fushimi-ku
Hours: 10:00 am – 9:00 pm
Close: Tuesday
Contact: +81-75-601-0147
Sake Manju
Snack time! Sake manju, a traditional Japanese steamed bun made with a wheat flour and sake dough stuffed with sweet red bean paste, is ubiquitous in Fushimi, with two shops in particular coming highly recommended. Interestingly, the shops are just a few doors down from each other, so you can easily compare them.
The classic example can be found at Tomieido, a wagashi Japanese sweets shop housed in a beautiful old building and lined with hundreds of the wood molds used to press Japanese sweets into delicately beautiful shapes. This family business has been churning out sweets since 1895 and it shows.
Meanwhile, the chicly modern Fushimikagura Honten down the road beckons a steady stream of customers with bright modern packaging, a well-lit showroom and an open kitchen. Their sake manju are boxed up and ready to go, but ask for one mushitate, or freshly steamed, for the best flavor.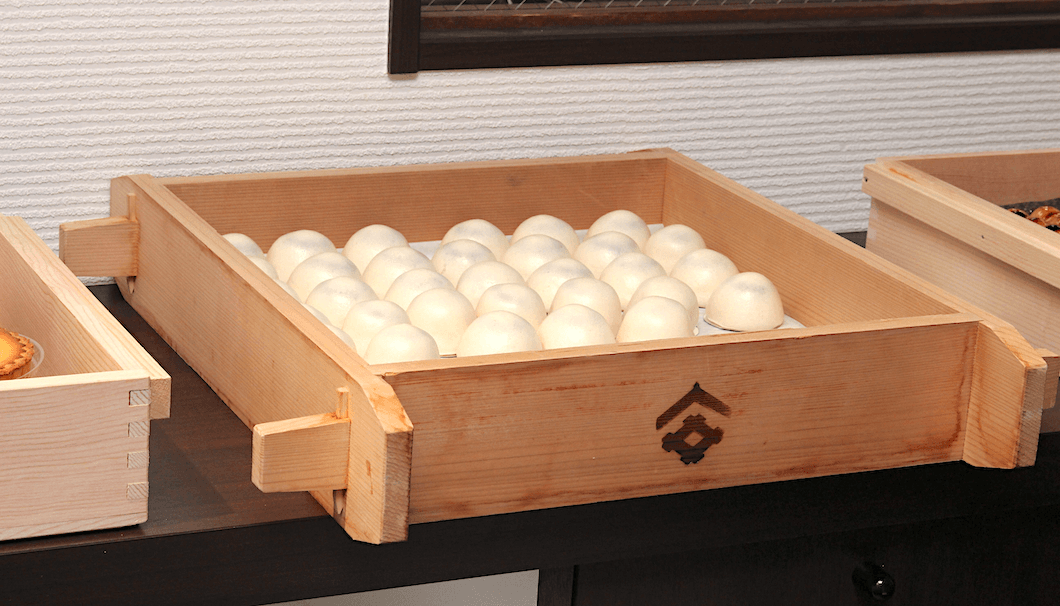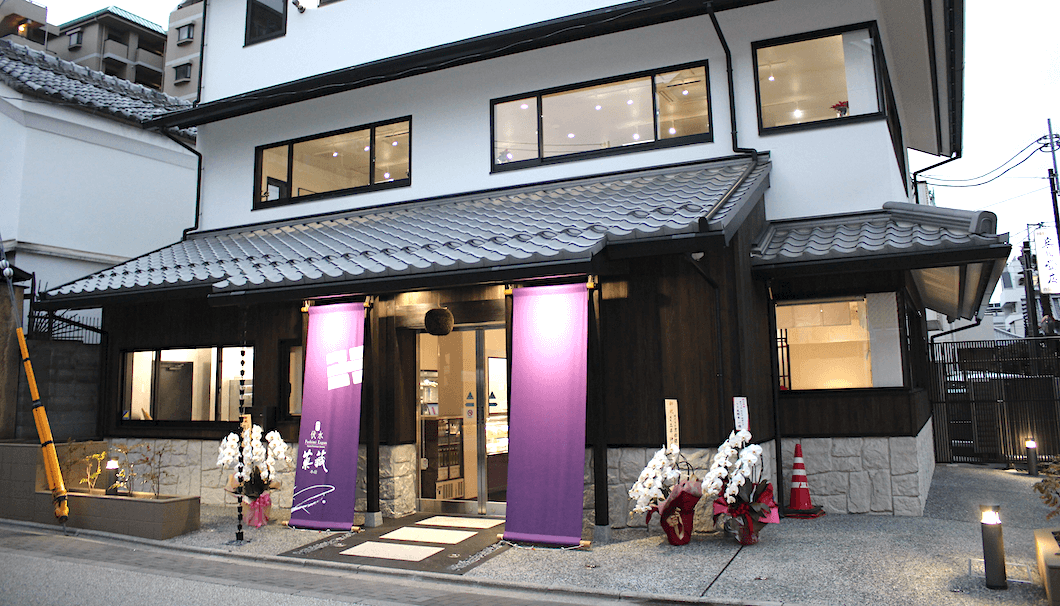 Fushimikagura Honten opened in October, 2018 and features a slick old-meets-new design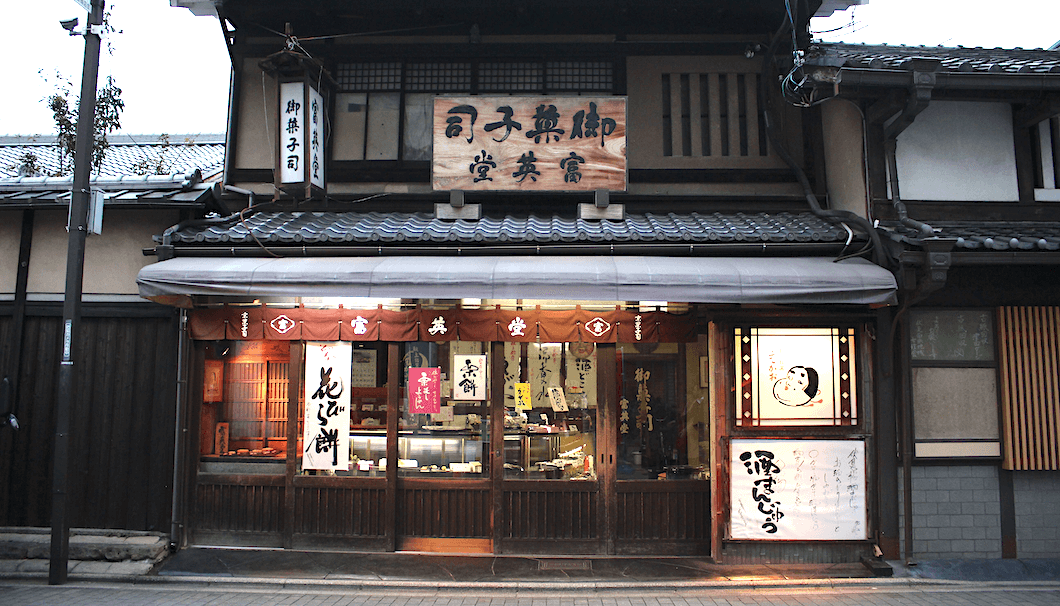 Tomieido, opened 1895, have had over a hundred years to hone their craft
◎Shop information
Name: Tomieido
Venue: 93 Nakaaburakakecho, Fushimi-ku
Hours: 9:00 am – 7:00 pm
Close: Thursday
Contact: +81-75-601-1366
◎Shop information
Name: Fushimikagura Honten
Venue: 33 Nakaaburakakecho, Fushimi-ku
Hours: 10:00 am – 6:00 pm
Close: None
Contact: +81-75-604-2237
Fushimi Sakagura Kouji
The chic bar counter at the center of this popular hangout is just for drinking sake, but it's surrounded by eight small restaurants styled after yatai food stands. Grab a table seat and you can order from any or all of them. We especially love Kitsuya, which offers Kyoto homecooking known as obanzai. Seasonal Kyoto vegetables are center stage in these simple, satisfying dishes that naturally pair well with sake.
Recommended: The Kissui set includes 18 sake tasters from 18 different Fushimi brewers, served in a slotted tray in the appropriate drinking order. Easy peasy.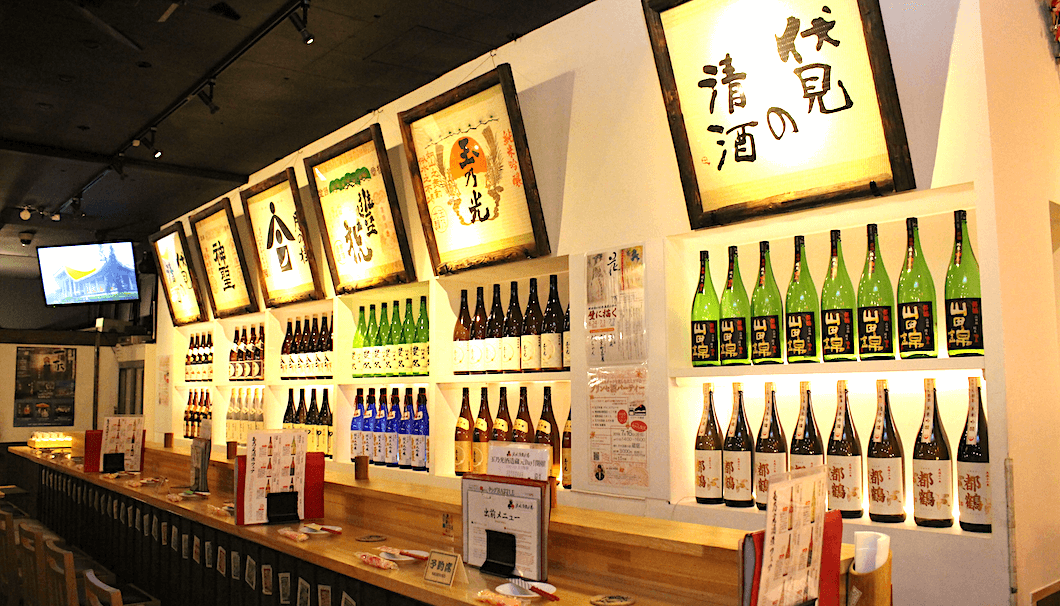 The Fushimi Sakagura Kouji sake bar counter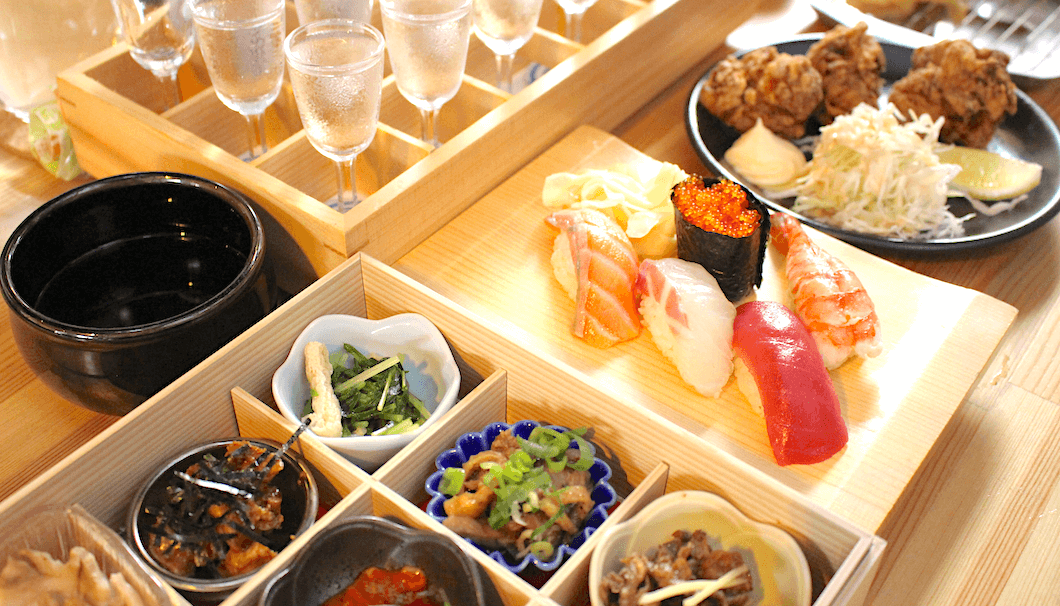 Obanzai traditional Kyoto cooking pairs wonderfully with just about any sake
◎Shop information
Name: Fushimi Sakagura Kouji
Venue: 82-2 Hiranochou, Fushimi-ku
Hours: 11:30 am – 11:00 pm
Close: Tuesday
Contact: +81-75-601-2430
Torisei
Torisei is a yakitori chicken skewer specialty restaurant run by brewer Yamamoto Honke and housed in their former brewery building. It's popular with locals and has the warm, lively atmosphere that distinguishes Fushimi from the typical reserve of Kyoto proper. Along with yakitori, they have standard izakaya Japanese pub fare and kamameshi rice dishes steamed in a traditional iron pot. The happy hour set of a drink and selection of 6 yakitori skewers is an opportunity to experience the popular local tradition of senbero: getting drunk on 1000 yen!
Recommended: Go for the kuradashi nama genshu, fresh-pressed sake served from a giant tank in the middle of the restaurant into a cup that looks closer in size to a beer stein than a sake glass.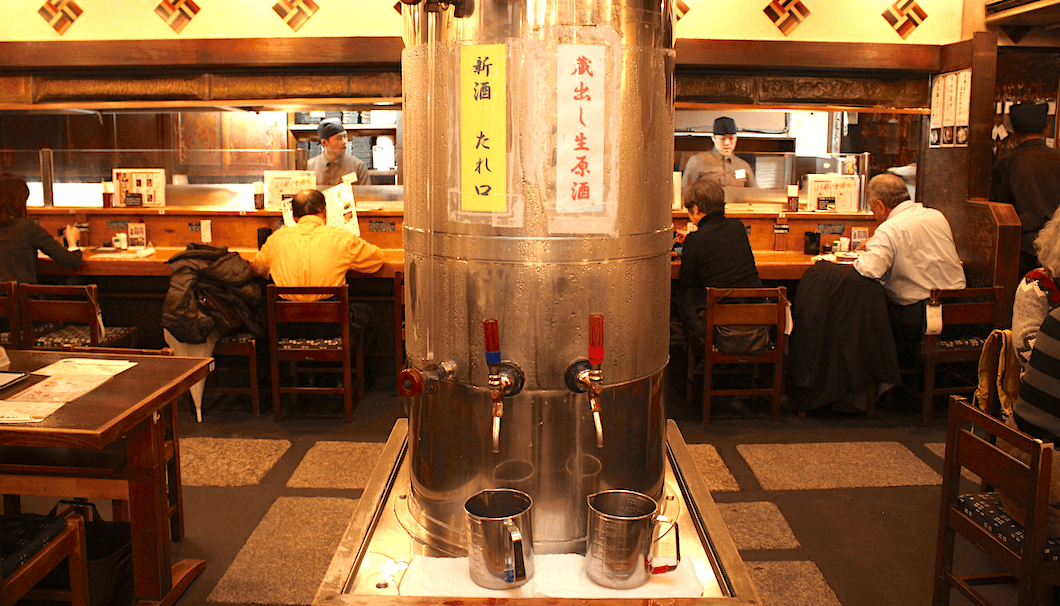 The kuradashi nama genshu tank serves up a heaping helping of fresh sake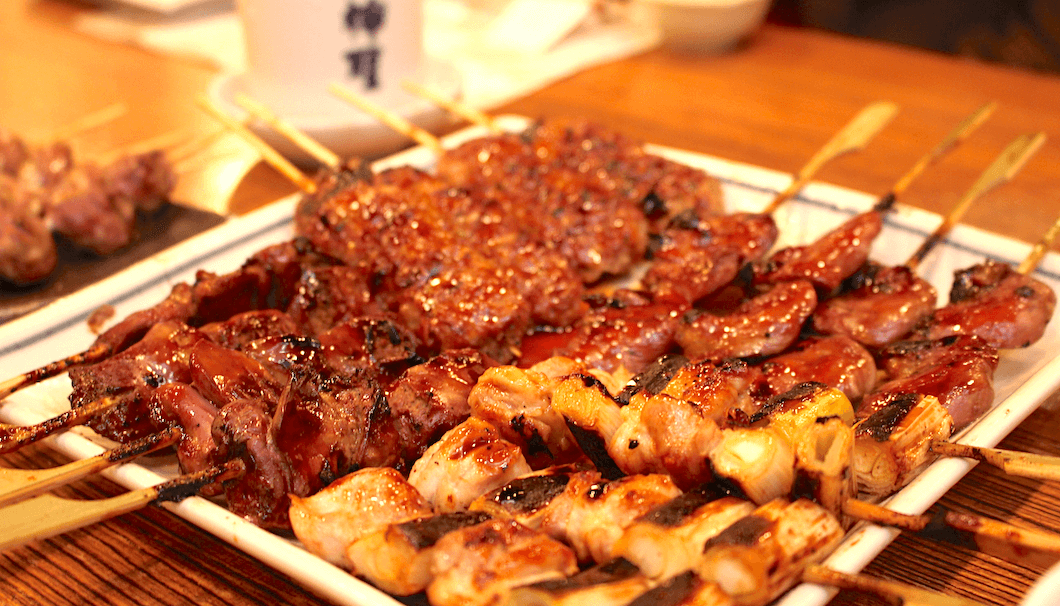 ◎Shop information
Name: Torisei
Venue: 186 Kamiaburakake-cho, Fushimi-ku
Hours: Tuesday – Friday 11:30 am – 11:00 pm, Ssturday – Sunday 11:00 am – 11:00 pm
Close: Monday
Contact: +81-75-622-5533
Okobu Kitase
This nighttime hangout in Fushimi's former red light district exudes cool with an industrial-chic front bar counter and a cozy tatami room full of odd bric-a-brac and a terrarium lamp. It's run by a historic konbu maker as an effort to promote the culinary culture of konbu to a younger generation. Your experience will start with a simple cup of dashi broth, warm and welcoming, before you're offered a menu including full entrees, bar snacks and drinks, which include several local sake. Unusually for Japan, vegan options are available.
Recommended: The shio konbu (salted konbu seaweed) with cream cheese and crackers is an unlikely international marriage of flavors, but unforgettably good.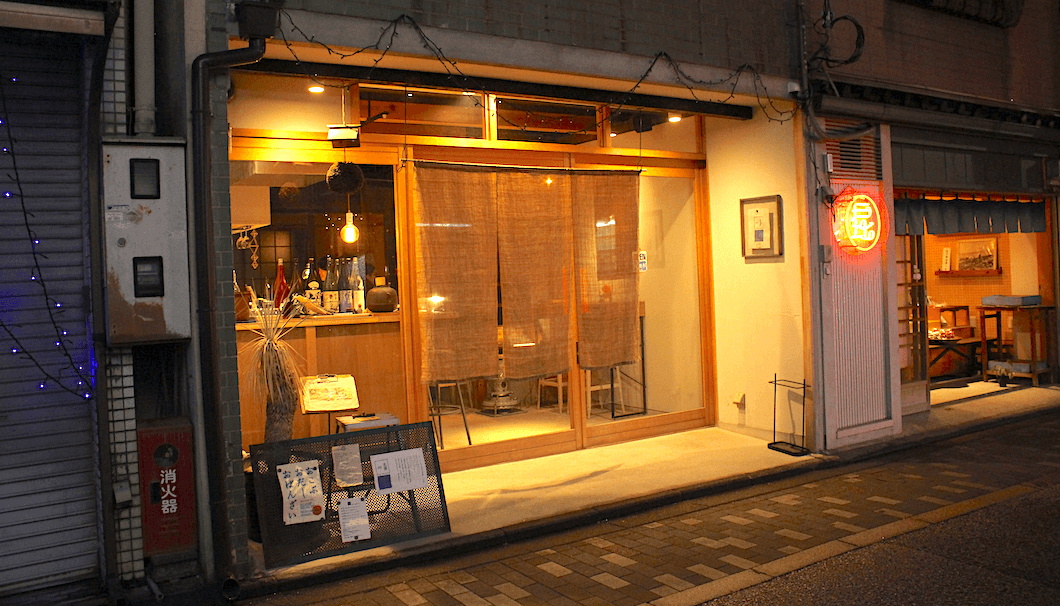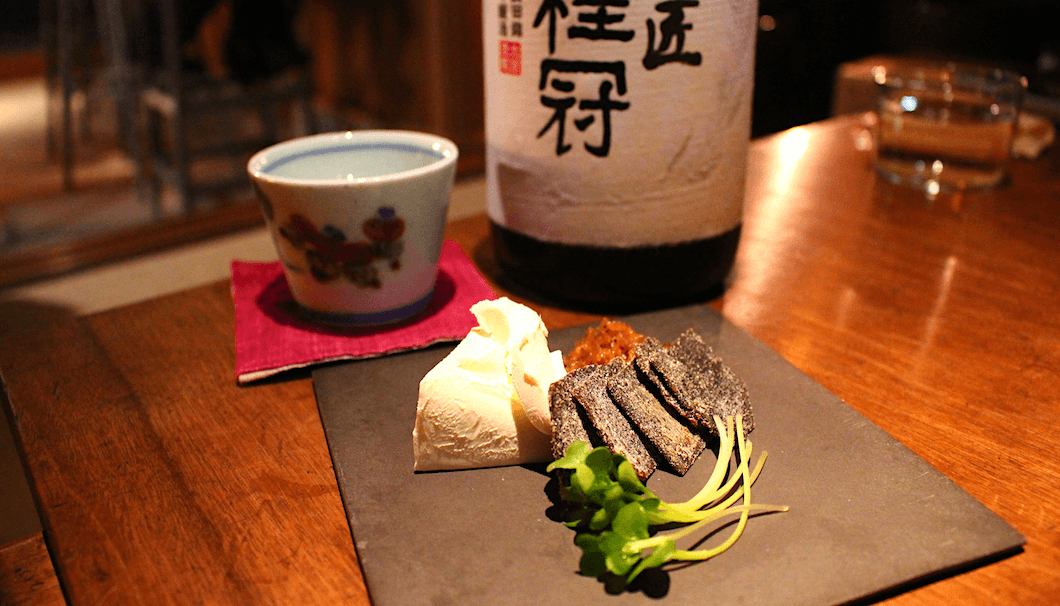 The shio konbu plate perfectly pair with Gekkeikan sake, Densho
◎Shop information
Name: Okobu Kitase
Venue: 4-52 Minamishinchi Fushimi-ku
Hours: Tuesday – Friday 12:00 pm – 2:00 pm, 6:00 pm – 10:00 pm, Saturday – Sunday 12:00 pm – 10:00 pm
Close: Monday
Contact: +81-75-601-4528
Sake Cafe Fu
Also in the former red light district is Sake Cafe Fu, housed in a building from the 1930s personally renovated by the husband and wife owners. They've turned it into a sake bar with a laidback, bistro vibe, where single ladies can also feel comfortable popping in for an ochoko or two. As Tohoku transplants, the owners serve not only Fushimi sake, but also standouts from further north. Note the original tile wall behind the bar, as well as the view on a historic sento bath across the road.
Recommended item: Don't miss the creamy homemade yuba tofu skin, the perfect compliment to a tasting set of Miyagi sake.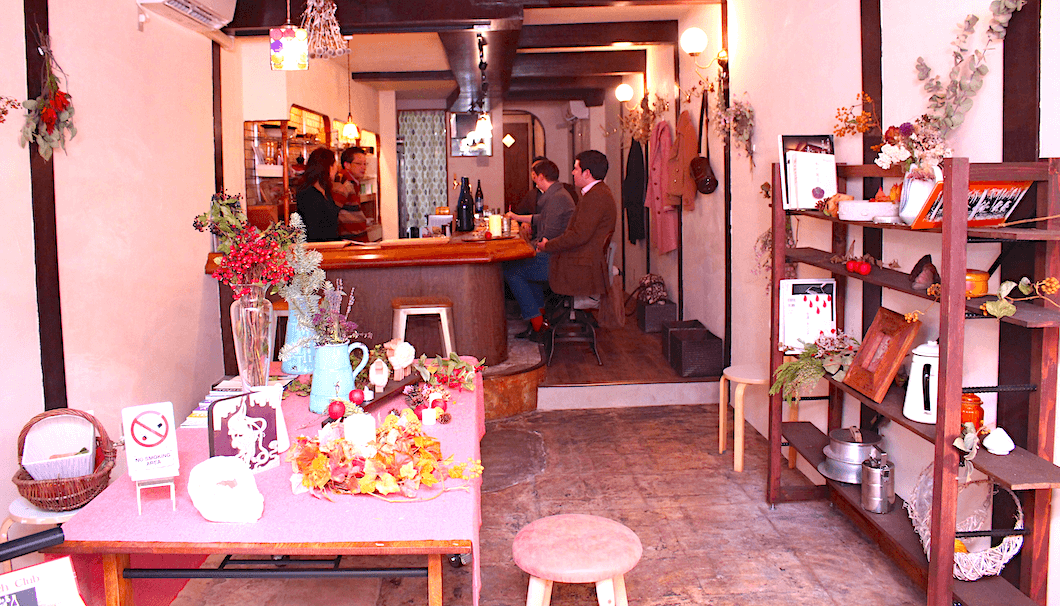 The cozy atmosphere and traditional trinkets of Sake Cafe Fu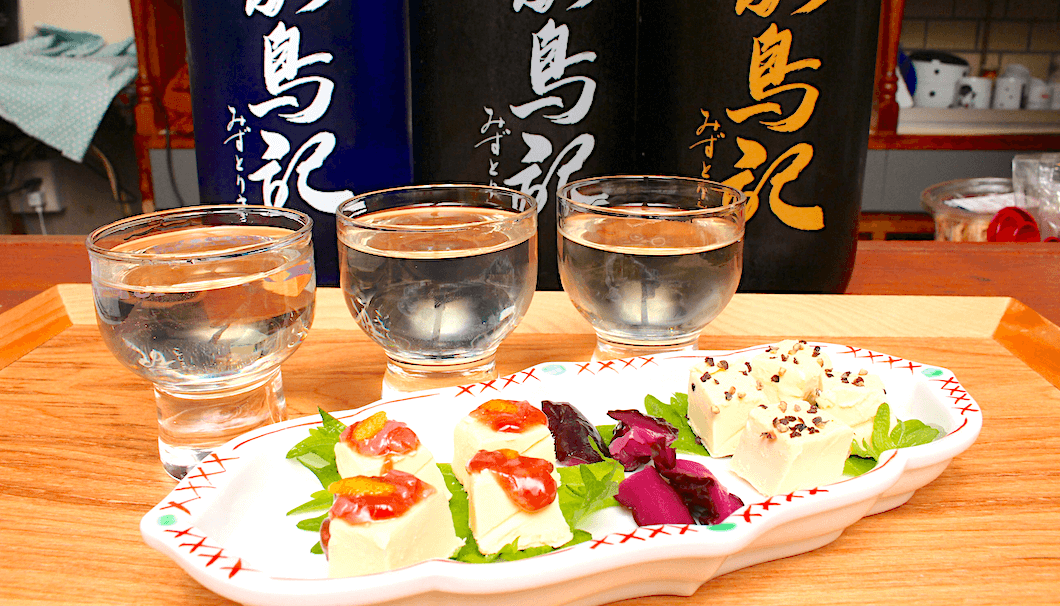 A tasting flight of Miyagi sake paired with a cream cheese plate that leaves you wanting more of both!
◎Shop information
Name: Sake Cafe Fu
Venue: 4-1 Minami-shinchi Fushimi-ku
Hours: Wednesday – Friday 5:00 pm – 9:00 pm, Saturday – Sunday 3:00 pm – 9:00 pm
Close: Monday – Tuesday
Contact: +81-75-748-8733
Bar Sakamoto
Last but not least, we head to Bar Sakamoto, a swanky cocktail joint with a penchant for sake-based concoctions. The long wood counter and backlit rows of fine liquors create a sophisticated ambiance, and owner/bartender Sakamoto-san is as skilled at mixing a time-honored classic as whipping up something unique and original to fit your mood. Open until 3 am, it's the perfect stop for a leisurely nightcap and a close to a perfect day in Fushimi.
Recommended: Exploring unusual combinations. On our visit, Sakamoto-san presented us with a mixture of mezcal and sake that was unexpectedly delicious, if predictably strong.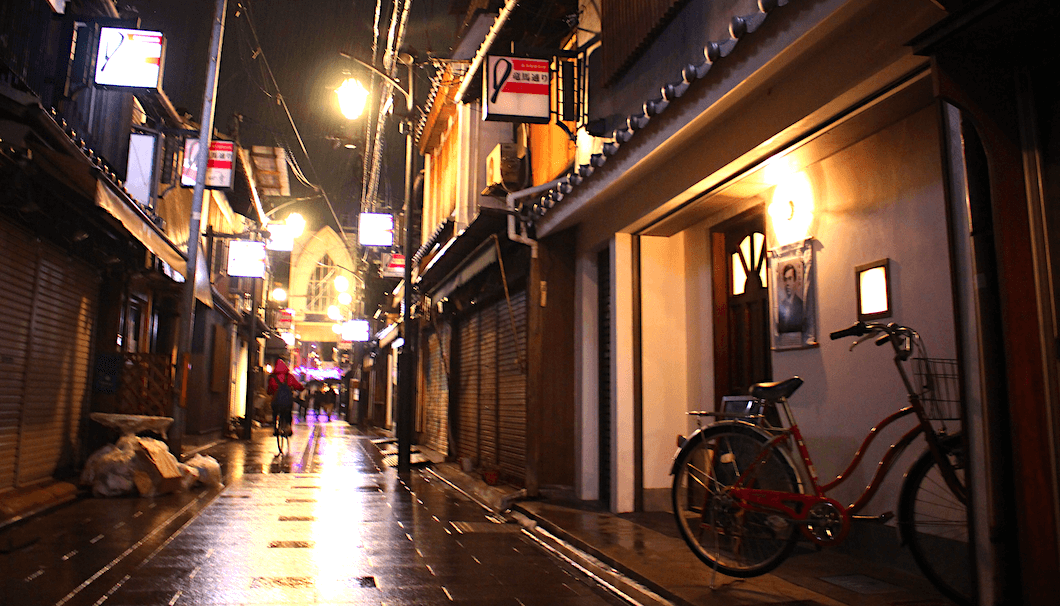 Bar Sakamoto, nestled amongst the historic facades of Ryoma Street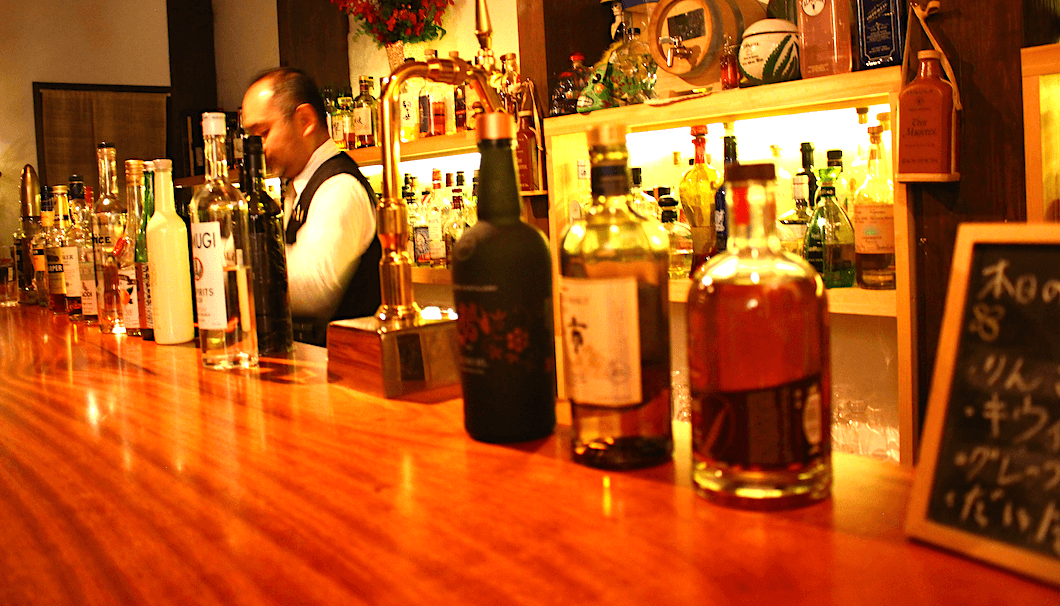 Sakamoto-san serving up authentic cocktails, many made with sake for a one-of-a-kind flavor
◎Shop information
Name: Bar Sakamoto
Venue: 238-2 Shioyamachi Fushimi-ku
Hours: 7:00 pm – 3:00 am
Close: Monday
Contact: +81-75-204-2051