Since opening in 2016, luxury ryokan HOSHINOYA Tokyo has gained a reputation among foreign tourists as a place to experience the charm of traditional Japanese culture. This naturally includes the attentive service and Zen aesthetic of a Japanese inn, but also more unusual offerings such as traditional 'Daikagura' art performances and exercise classes based on the practice of sword fighting.
Of course, you can't talk about traditional Japanese culture without sake, so we went to investigate how the popular hotel is inducting guests into the world of nihonshu.
A World Apart
Generally, you have to leave the city far behind to get a good ryokan experience. Most of these cozy, traditional inns are located in scenic areas far up in the mountains or along striking stretches of coastline, where observing the beauty of the passing seasons in nature is part of the appeal.
HOSHINOYA Tokyo, however, occupies a tower building just steps from Tokyo Station. It relies on an innovative design from architect Rie Azuma to combine state-of-the-art comforts with traditional elegance and interior design to capture the same feeling of serene escape.
The experience begins at the dedicated first-floor entrance, where guests pass from the noisy bustle of Tokyo Station into a long, ascetic entrance hall redolent of incense. A wall of bamboo latticework shoeboxes immediately blocks out the external cacophony, drawing the eye towards a large seasonal display. A staff member, wearing the hotel's uniforms which is made with the image of the traditional "Kamishino" the formal attire of samurais , guides guests out of their shoes and into the tatami-clad world of the ryokan.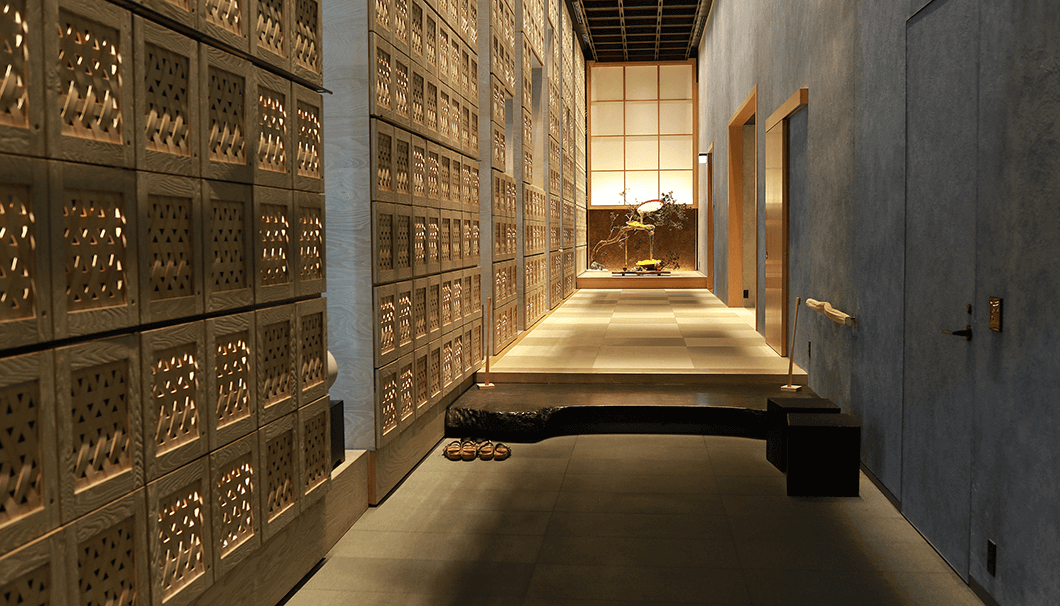 "HOSHINOYA's overarching concept is to provide an escape from the modern world," explains public relations manager Fumi Arai. "When guests step inside, we want them to forget the busyness of daily life and enter an extraordinary world where they can relax. As part of that, guests take off their shoes at the entrance, and of course that's also an aspect of Japanese culture, but taking off your shoes and stepping up onto the tatami is also a kind of switch that indicates a transition from the ordinary to the out of the ordinary."
Moving further into the hotel only solidifies this feeling. The rooms are furnished in a simple and elegant modern Japanese decor using traditional materials like washi paper and bamboo while incorporating subtle touches aimed at guest comfort. Futon beds and other furniture are raised, for example, instead of being flat on the tatami floor panels, which can be uncomfortable for elderly or non-Japanese guests.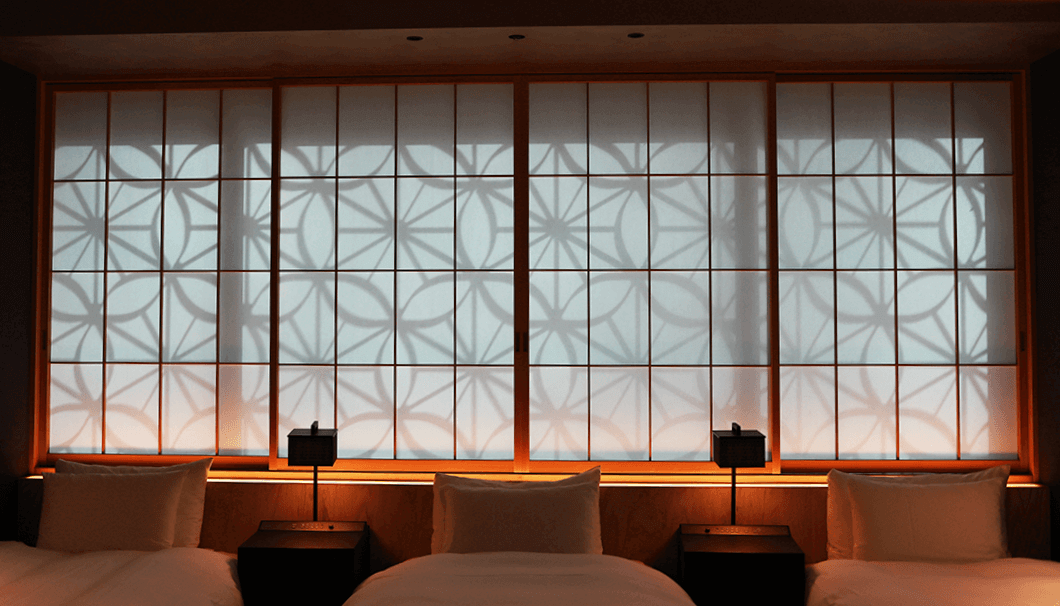 While the large rooms provide plenty of space for private relaxation, each floor also has a dedicated common lounge called an "Ochanoma Lounge". Guests can slip into the original comfortably stretchy Kimono provided and pad over to drink teas and other beverages, or have some seasonal sweets. In the morning time, staff are always on hand to brew a fresh cup of coffee or explain the provenance of the exquisite Japanese ceramics and glassware on display.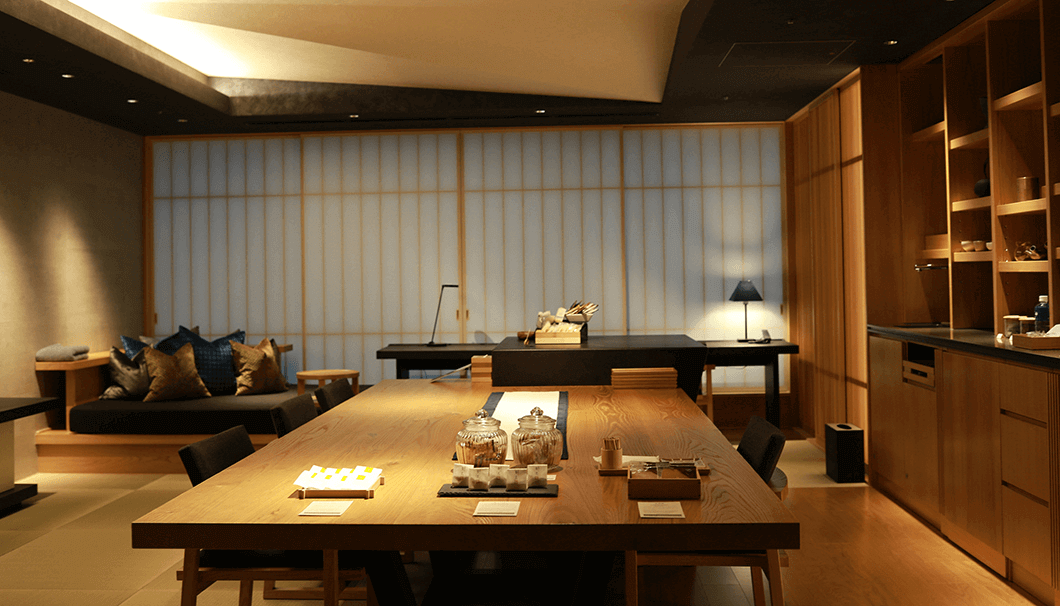 And of course, no ryokan would be complete without a natural hot spring. HOSHINOYA Tokyo's hot spring occupy the top floor, for outside baths cleverly shielded from the surrounding buildings but open to the sky.
The Sake Lounge
The key sake-related event during a stay at HOSHINOYA Tokyo is the nightly sake lounge, held from 5 to 7 pm on the 2nd floor lobby. While watching live traditional performing arts, guests can enjoy light snacks paired with free-flowing sake and a local Japanese wine or sometimes also other Japanese-made liquor.
The hotel serves three sake at the event, selecting new offerings every six weeks or so to best match the season. The three sake labels on hand always include different varieties and flavor profiles to allow guests to compare and to demonstrate how varied sake can be.
The lounge also provides a chance to really communicate with guests, talking about their likes and dislikes and answering any questions they might have about sake. All of the staff in the hotel are taught about the characteristics of each new batch of sake to ensure they will always be ready to engage on the topic.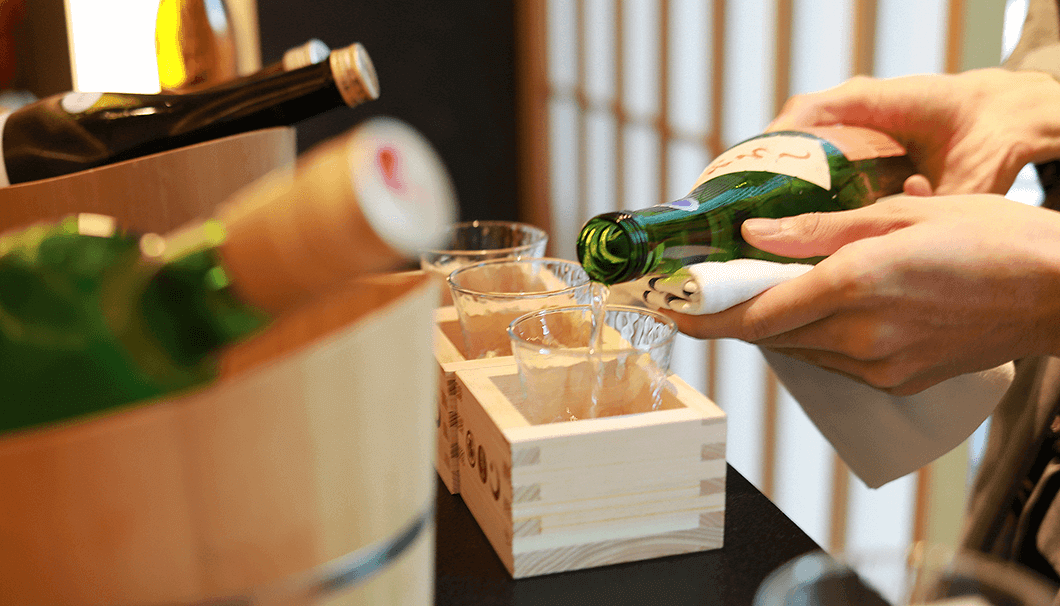 "One of the original purposes for creating the sake lounge was to help guests feel at home in the building after checking in," says front office manager Satomi Komai, who came up with the idea. "We don't want them to just stay here. We want them to feel a connection, a relationship with the staff. Something more than the usual conversations at check in or helping with something related to their stay."
"We thought we could appeal the culture of sake to both Japanese and international guests by having them drink and compare sakes in the hotel while enjoying acrobats," she continues. "So, with the sake lounge, through the sake talks, guests can naturally communicate with the staff and they are more open to chatting with each other as well."
Dinner Time
HOSHINOYA Tokyo's presents another exciting opportunity to enjoy sake as an integral part of Japanese culture.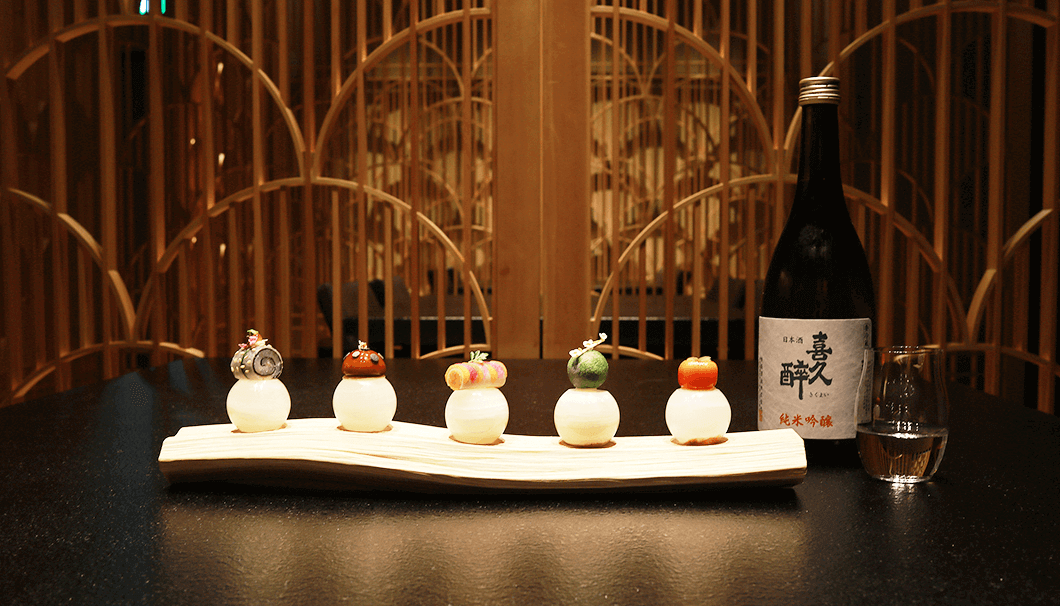 "Five flavor of delight" An amuse-bouche evoking the five flavors of sour, salty, bitter, spice and sweet.The Kikuyoi Junmaiginjo paired with these bite-sized treasures is sweet and milky, with a bright and fresh aroma and just a hint of bitter on the tail. The sake itself hits all five flavor notes for a harmonious match to the dish.
Located in the basement floor and only open to hotel guests, the rough plaster walls and large stone centerpiece suggest worlds of hidden treasures under Tokyo's urban topography. And indeed, chef Noriyuki Hamada's "Nippon Cuisine" which combines Japanese seasonal ingredients with traditional French techniques and dishes for an entirely cuisine with thoughtful presentation.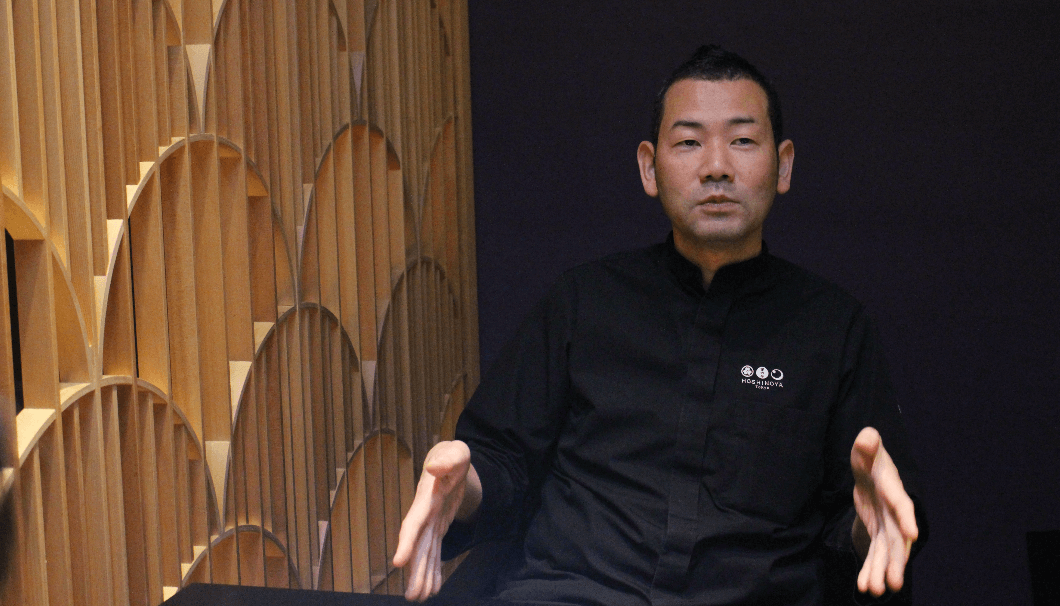 "I wanted to create a restaurant serving a version of French cuisine that could only be possible in Japan," says Hamada. Since the country's abundant and diverse seafood is well known throughout the world, he decided to focus his menus there and create courses flavors and presentations that would pleasantly surprise both Japanese and foreign guests.
For example, one of the main dishes during our visit was a grilled filet of shark-skin flounder. The fish was arranged on the left side of the plate atop kombu and sautéed vegetables, while the right was taken up by a Japanese character, painted calligraphy-style in a seasoned kombu seaweed sauce. The presentation creates a visual pun by reading the filet as fish (魚) and adding the sauce character to get flounder (鰈). Even for non-Japanese readers, the unusual presentation provides a clear sense of place. It's not just for show either. The subtle mineral flavors of the sauce nicely complemented the saltiness of the fish and kombu.
Previously, guests could opt for a wine pairing that included one or two sake options, but Hamada and sommelier Naoto Murase recently decided to develop an all-sake pairing option as well.
"With French dining, wine is the norm, so we thought doing a sake pairing that can only be done in Japan would be more interesting," says Hamada. "We wanted to show that sake goes well with this kind of food too, not just with Japanese food. And by the same token, there's more to enjoy in Japan than just Japanese food."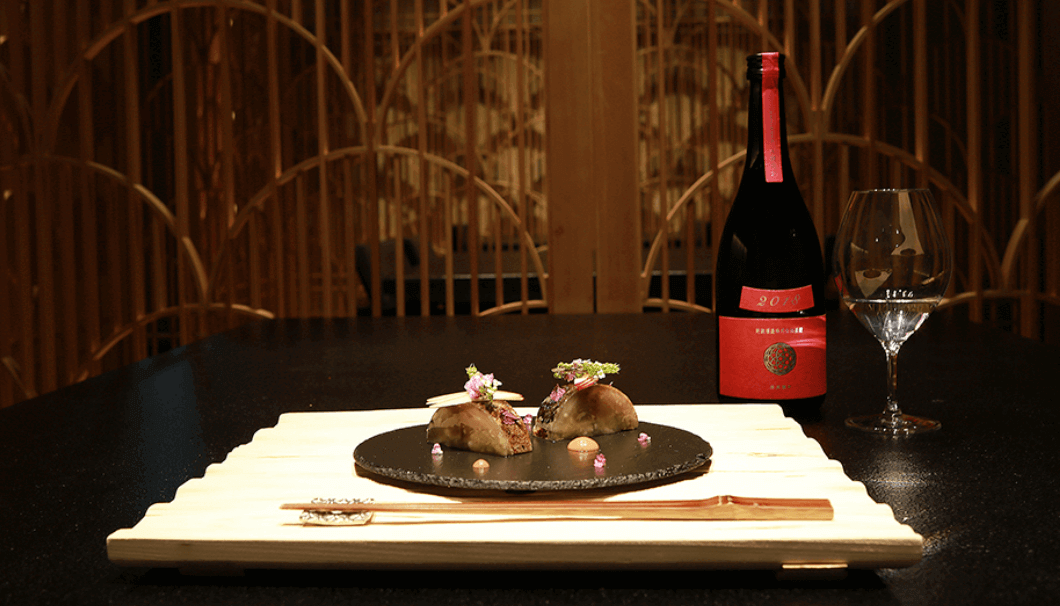 Pickled mackerel resembles pieces of oshizushi box-pressed sushi. This dish combines the natural juices of the fish with a vinegar-based sauce and a mild crunch from apple slices. Paired with Aramasa Cosmos sake, boasting a gentle mouthfeel and a yogurt-y tartness – truly a perfect match for the dish at hand.
At overseas events, Hamada almost always sees sake paired with traditional Japanese dishes, but he hopes the pairing course will encourage foreign visitors to experiment with sake and other types of food. There are so many combinations to explore, and that's even before you expand the possibilities by heating or chilling the sake or trying the bolder flavors of aged sake.
The sake pairing includes five different sake varieties and one shochu served with dessert, all regularly changing along with the seasonal ingredients of the dinner course.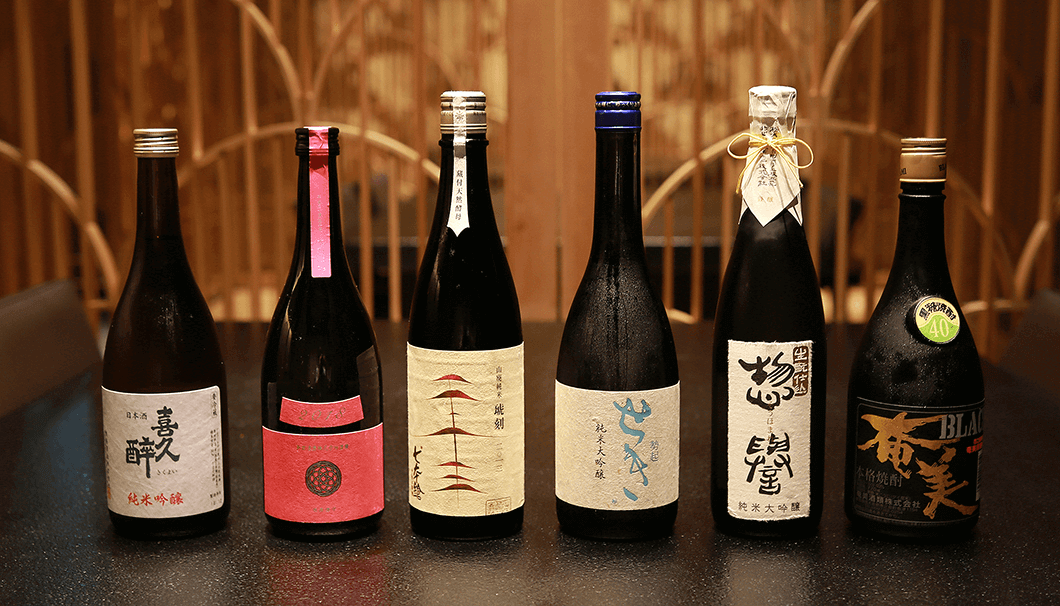 For sake fans visiting the capital, a night at HOSHINOYA Tokyo is a rare chance for an immersive sake experience. Don't make sightseeing plans, don't even bother going outside. Just stay in and soak up a truly unique and authentic cultural adventure, ochoko cup in hand.
Rooms start at 83,000 yen per night.