Award-winning brewery selling limited number of luxury sampler sets
On December 12, Sendai-based Katsuyama Sake Brewery, winner of the highest awards at the International Wine Challenge, Sake Competition, and Kura Master, began selling a limited run of five-bottle sampler sets containing some of their most sophisticated creations to date.
Sake Collection Luxe is limited to just 100 sets, featuring a bold and innovative design that reflects the brewery's concept of sake equating with "stylish and tasty."
Unlike traditional sake bottles, Luxe uses specially designed 100mL (3oz) glass cylinders from France. Also, the names of each variety were chosen to reflect the taste, aroma, and texture of the sake rather than technical details like the rice polishing rate.
Each set contains five different bottles: Aki, a plump and fruity sake made through a unique centrifugal squeezing process; Hikari, a traditional bag-squeezed sake with a mellow aroma and refined taste; Asahi, an elegantly fragrant sake with a complex balance of flavors; Meguru, a low-alcohol melon-like sake with delightfully surprising umami notes; and Daichi, a locally sourced sake that is said to capture the taste of freshly cooked rice.
At 14,900 yen (US$131) it is not intended for casual drinking, but instead reflects the Luxe concept of "one bottle, one experience" allowing people to discover the craftsmanship from centuries of tradition and innovation. Sake Collection Luxe is sold through Katsuyama Sake Brewery's online store while supplies last.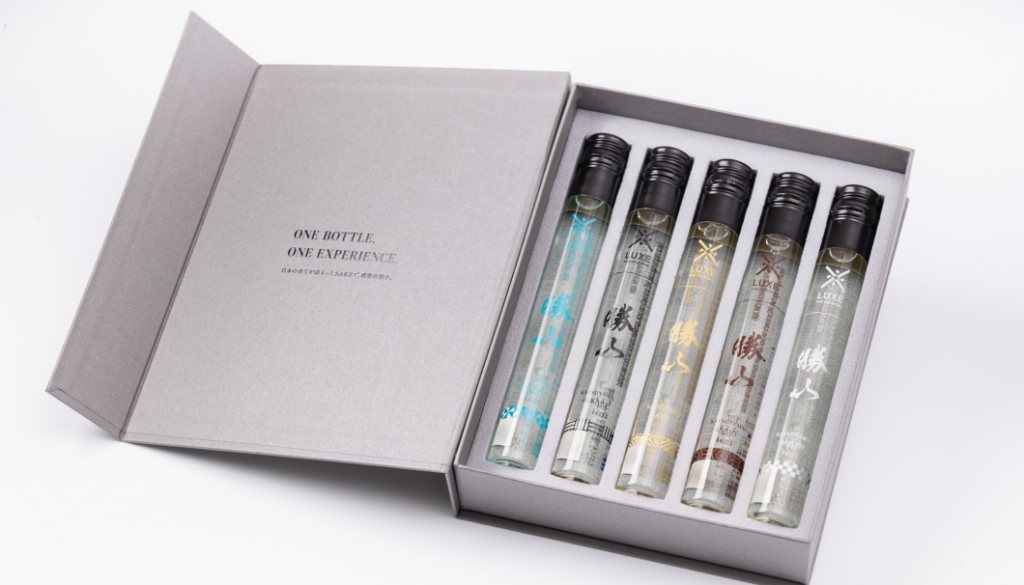 LINK: PR TIMES|2021/12/12 SAKE COLLECTION LUXE 12/12(日)100セット限定販売開始┃第一弾はIWC/Kura Master最高位受賞の勝山酒造と商品展開
Joint Japanese-French sake aged in Cognac barrels
Wakaze, a sake producer that brews in both Japan and France, sold two limited runs of sake aged in Cognac barrels on December 8 and 20.
Since Cognac is only produced in the Cognac region of France, The Barrel Limited: Chronos is a very rare opportunity to try this unique blend of flavors. Wakaze started with kijoshu, which replaces half of the water content with finished sake during brewing for a much stronger taste. This allows the sake flavor to compete with the powerful influence of the oak cognac barrels during the 150-day aging period.
The result is a deeply golden brew that Wakaze likens to the color of rice growing in the fields just before harvest. The sake reportedly has a remarkably complex flavor that can vary widely depending on the serving temperature. 
At 6°C to 8°C (43°F to 46°F) it is said to have a sweet and almost mint-like flavor with a refreshing aftertaste, suitable for pairing with a small glass of white wine, vegetable tempura, and grilled eel. At room temperature, it combines a richly complex aroma of nuts and spices with smooth mouthfeel, fruitiness and umami. This goes well with a glass of red wine and a meal of savory meats or mushrooms. When warmed up to about 40°C (104°F), a cinnamon-like spiciness emerges that pairs well with desserts such as ice cream.
The Barrel Limited: Chronos sold in 720mL (24oz) for 13,200 yen ($116) on two separate release dates through their online retail site. The first run on December 8 sold out so quickly that a second run of bottles went on sale on December 20. At the time of writing, some were still available but it may only be a matter of time before they are snapped up too.
LINK: PR TIMES|2021/12/8 300本限定輸入!フランスでしか造れない清酒【コニャック樽熟成SAKE「THE BARREL LIMITED -CRONOS-」】WAKAZEから12月8日発売
Nanbu Bijin employs image processing to ensure accurate shipments
Century-old brewery Nanbu Bijin in Iwate Prefecture has begun using an image processing system in their state-of-the-art Basenkyo Gorge factory in Ninohe City.
The nVision system was created by computer systems developer Igunoss, also of Iwate Prefecture, and is made up of a camera, tablet, and dedicated image processing app. While filling the standard-sized plastic cases used for transport, known as "P-Boxes," a camera positioned overhead identifies the number of bottles and their sizes by their caps. If the number of bottles inside the P-Box is insufficient, a red alert will be displayed on the screen, providing an easy-to-understand safeguard against incorrect counts.
In some small and mid-sized breweries, bottles are loaded into boxes three or four at a time by hand, and occasionally human error will result in missing bottles. Due to strict liquor laws, if such a mistake occurs, the entire pallet that the case was a part of will need to be recounted, which is a substantial labor cost. However, nVision has reduced such errors to zero, and has even made the overall loading process more efficient. 
Igunoss hopes to offer the system to more breweries and beverage companies in the future, and also has plans to improve it to recognize other potential problems, such as chipped mouthpieces and foreign matter inside bottles.
LINK: 日経新聞|2021/12/16 日本酒、出荷時の詰め忘れ防止 南部美人など開発
*If you would like us to send you monthly updates and information, register here.