Kubota Improvements Continue, New Editions for 35th Anniversary
Asahi Shuzo is celebrating 35 years of its widely popular Kubota brand sake, which was created as a reasonably-priced, high-quality alternative to low-end sake during the price wars of the 80s.
In keeping with Kubota's spirit of adapting to popular tastes and trends, Asahi announced that it will be making several improvements throughout the year and releasing some new takes on their classic brands. Already, we have seen the release of Kubota Senju Junmai Ginjo last October and Kubota Senju Ginjo Nama Genshu this January.
They are hardly stopping there though, with a new Kubota Manju Muroka Nama Genshu, which is unfiltered, unpasteurized. It's on sale this month. Also, starting in April, standard Kubota Senju and Kubota Manju sake will be given updated flavor profiles.
The new Senju ginjo sake will have a lighter taste with an underlying sharpness to evenly complement common food pairings, while the update of the premium Manju junmai daiginjo sake boasts a complex new flavor and aroma with a rich texture. The improvements are largely gained through updates to rice making and storage.
Other changes are in the works, like additional changes to the labels and the inclusion of English explanations.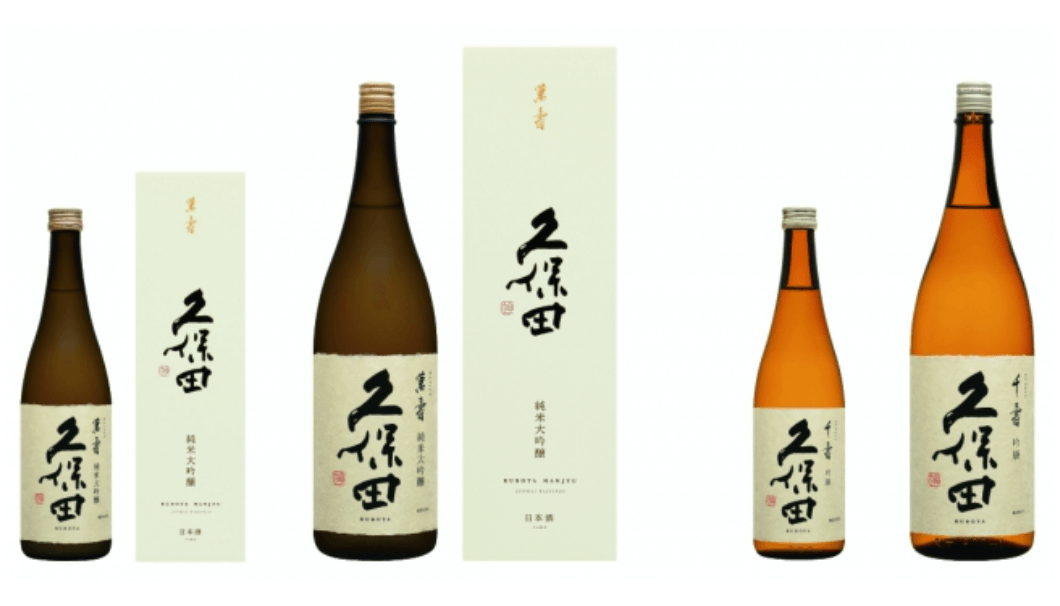 LINK: PRTIMES | 2020/2/3 |常に進化する美味しさを目指してクオリティアップ『久保田 萬寿』『久保田 千寿』

ANA Announces 46 Brands of Sake Served In-Flight and at Lounges
On February 10, major airline ANA announced the 46 brands of sake that it will service on board its aircraft and in airport lounges starting this March.
Rather than relying solely on the opinion of experts, ANA is considering customer feedback form the previous year's offerings to gauge this year's selection. They are also focusing on a seasonal theme, offering different brands to complement seasonal food offerings, and are putting special emphasis on Tokyo area breweries.
In addition, they want to appeal to Japanese passengers through famous brands and intrigue foreign customers through unique takes on sake, like sparkling and aged varieties. Some notable brands chosen include Kokuryu, Nabeshima, Jikon, and Kuheiji.
In general, fruity and aromatic sake is best suited for air-travel because it makes the biggest impact during the short time of a flight. However, ANA has noticed a slight change in preference from a straight sweetness of a sake made with highly milled rice to a more well-rounded flavor achieved through fine craftsmanship.
With an expected influx of foreign travellers for the Olympics, both ANA and participating breweries are excited for this opportunity to expose a whole new wave of potential sake fans to its many delights.
LINK: トラベルWatch | 2020/2/10 |ANA、3月から機内/ラウンジで提供する日本酒46銘柄。「季節感」や「旨み甘み」重視の選定
Nickname Chosen for New Variety of Sake Rice from Ishikawa
A new nickname was announced on January 22 for Ishikawa Sake No. 68, a brand new variety of sake rice created in Ishikawa Prefecture. From now on, we can call it "Hyakumangoku no Shiro."
The name, which was selected from 3,000 entries submitted since last summer, is based on the Kaga Hyakumangoku or "Kaga One Million Koku Domain," referring to the incredible rice production of this once powerful feudal region located in modern-day Ishikawa. "Shiro" is the Japanese word for "white" alluding to the pure color of the rice itself as well as the snowy weather in which sake brewing takes place.
Hyakumangoku no Shiro had been in development by the Ishikawa Prefectural Agriculture and Forestry Research Center for the past 11 years. Its arrival has been highly anticipated by breweries, with the rice itself being referred to as a "diamond in the rough." Full-scale sale of sake made with Hyakumangoku no Shiro will start this spring.
With a blend of traditional feeling and progressive development, Hyakumangoku no Shiro is a well-suited name for a rice that may usher in a new world of tastes. Keep an eye out for it in sake sold starting this year.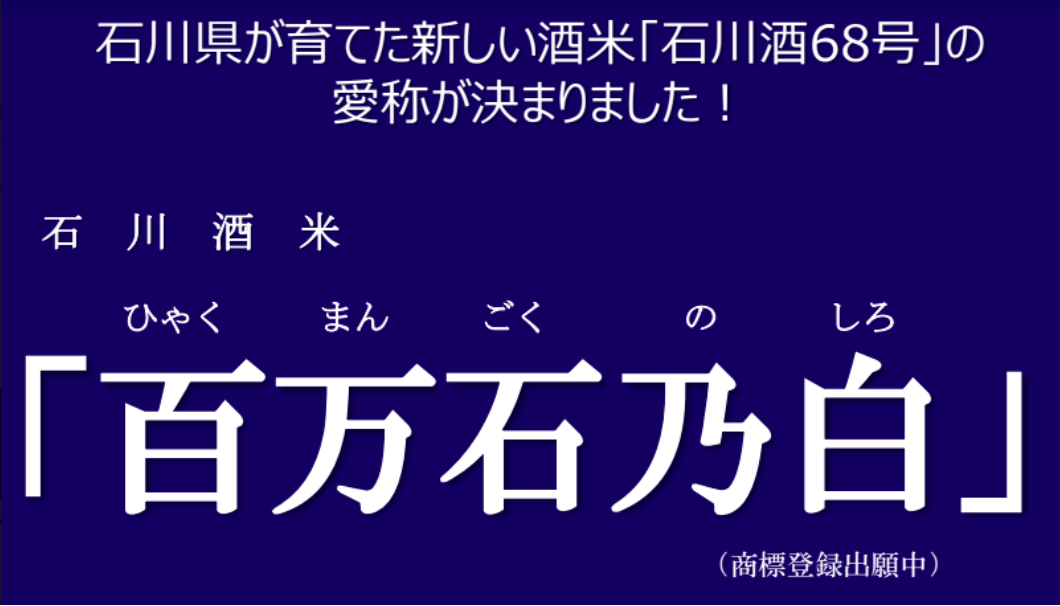 LINK: SAKETIMES | 2020/2/3 |石川県の酒米新品種「石川酒68号」の愛称が「百万石乃白」に1/22(水)に決定!
◎Three Online Platforms to Showcase Your News
By filling out the form of SAKETIMES PRESS English , your news will be presented on this Weekly News section of the SAKETIMES International website.
◎無料リリース情報配信機能「SAKETIMES PRESS English」
この記事への掲載は、リリース情報配信機能「SAKETIMES PRESS English」から無料でお申し込みいただけます。日本語で申請いただくと、英語の情報に編集し、掲載します。海外に向けた新規リリース情報がございましたら、SAKETIMES PRESS Eglish 申請フォーム より申請ください。