Sake & Soap sets sold by Mizubasho's Brewery
Nagai Sake in Gunma Prefecture is selling a unique set of dessert sake and body soap called "Save Me: Kirei wa Meguru."
The set consists of one 300mL (10oz) bottle of Nagai's Mizubasho Dessert Sake and one 300mL (10oz) pouch of Save Me body soap, produced by NMT Japan. The aim is to reduce waste by either using the soap pouch to refill an existing bottle or even to reuse the empty Nagai sake bottle as a container.
The bottles should make for some stylish containers, too,, since they're produced as a part of Nagai's Mizubasho Artist Series, which sees collaborations with various artists to design its labels. The series was created to aid in reaching Sustainable Development Goals set forth by the UN, focusing specifically on the Oze Wetlands Mizubasho Restoration Project. "Mizubasho" is the Japanese name for a flower known as the Japanese swamp lantern, which served as the motif for these bottles.
Mizubasho Dessert Sake is said to have a fruity but elegant sweetness that can be enjoyed on its own or with snacks like cheese and sweet confections. Save Me body soap uses naturally derived moisturizing ingredients and has a refreshing scent the manufacturer refers to as "naked green."
Only 100 of these sets are on sale through the Nagai Sake Brewery Mizubasho Artist Series Official Online Shop for 4,700 yen ($39). The sets will only be available while supplies last, but Mizubasho Dessert Sake is also sold individually through the same website.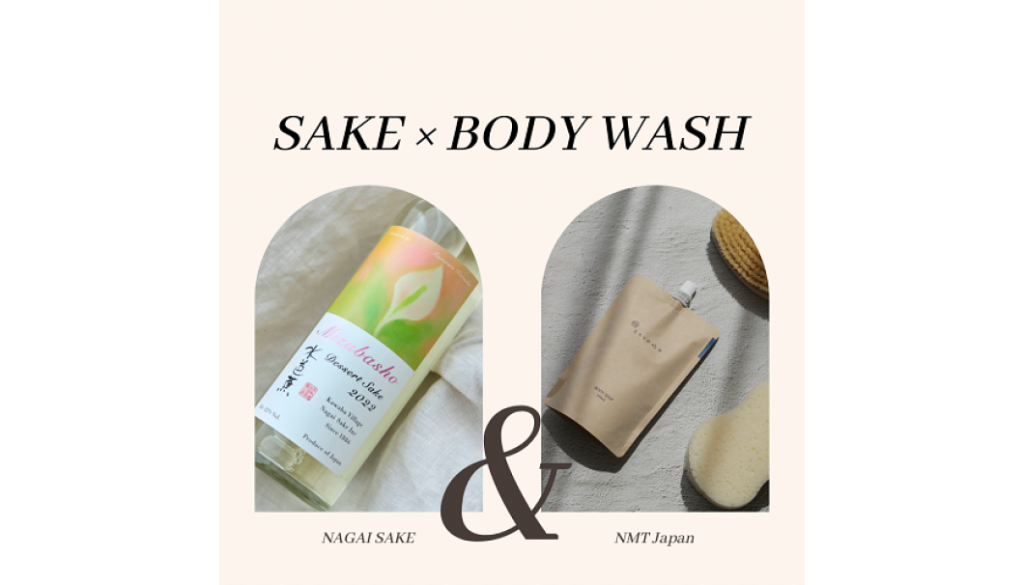 LINK:PR TIMES|2022/3/17 日本酒を軸に環境保全と女性のエンパワーメントに取り組む永井酒造が、SDGsスキンケア・ヘアケアブランドと初コラボレーション
"No War" sake goes on sale to support Ukraine
Tochigi Prefecture's Daiichi Sake Brewery, known for Kaika, released the sake label "No War Ukraine Totomoni" on March 14.
Each bottle has the blue and yellow design of the Ukrainian flag as a show of support for the country and opposition to its invasion. They are also filled with Daiichi's specialty, junmai ginjo sake.
Daiichi President Yoshinori Shimada told media that he was motivated to help by the support his brewery received two years ago, when the brewery was seriously damaged by a typhoon. Shimada noted he wants to "pay forward" the kindness the brewery received through similar charitable acts.
No War Ukraine Totomoni comes in 720mL (24oz) bottles and sells for 1,500 yen ($13) each. All sales will be donated to causes supporting Ukraine. Purchasers have the option of paying more than the retail price, with the entire amount to be donated.
LINK: 日本食糧新聞社 | 2022/3/14 反戦日本酒の売上をウクライナ支援に寄付へ
International sake delivery service "Japanpage:Delivery" launches
Japanpage:Sake, a business-to-customer delivery service, has launched "Japanpage:Delivery," a service aimed at allowing small-scale Japanese sake and shochu producers to ship their products worldwide.
In a test run that began in 2019, Japanpage:Sake delivered sake from selected breweries to 50 countries around the globe. Now, Japanpage:Delivery is expanding this service to any brewery or distillery that qualifies, and says it will provide them with the tools to manage online ordering and delivery from around the world.
Sake can be especially difficult to ship with strict temperature and light concerns at play. However, Japanpage says that the biggest hurdle is often the legal red tape of sending alcohol across so many different borders, and failure to fill out a single document correctly can lead to big delays.
Japanpage:Delivery boasts it can overcome all of these hurdles for small brewery owners and allow them to ship internationally with confidence, both to customers and as entries to sake tasting events overseas. 
The company is currently accepting applications from breweries who would like to take advantage of their services.
LINK: PR TIMES | 2022/3/14 日本酒・焼酎の海外小口空輸配送サービス「Japanpage:Deliveryサービス」をEU市場から開始
*If you would like us to send you monthly updates and information, register here.