Brewer and snack maker team for potato chip and Yamashiroya pairing
Koshimeijo, a 174 year-old sake brewery in Niigata Prefecture, has teamed up with major snack maker Koikeya to produce an ideal pairing of sake and potato chips.
The basis of the pairing is Koshimeijo's Yamashiroya Special Class sake. This is made using traditional techniques that lower the sweetness and aroma compared with other sake. As a result, Yamashiroya Special Class is well suited to pairing meals and has been adopted by Michelin-starred restaurants for its ability to complement dishes.
To pair with this sake, Koikeya conducted multiple trial-and-error tests and consulted with Koshimeijo regularly to find the right flavors to season a brand new potato chip recipe with. In the end, the companies settled on a blend of shrimp, oyster, and olive to create a deep seafood flavor that's neither too strong nor too easily overshadowed.
The resulting chip brand is called Mikansei, meaning "incomplete" in Japanese. Yamashiroya Special Class sake is also said to be "incomplete" unless enjoyed with a pairing dish, making this an ideal combination for enjoying sake with snacks.
Sets of both chips and sake are now on sale and include one 350 mL (12 oz) bottle of Yamashiroya Special Class and three 50 g (1.8 oz) bags of Mikansei chips. They will be sold for 2,178 yen (US$19) in a specially-designed package to commemorate the partnership and are being rolled out throughout October at both companies' online shops as well as liquor stores in Japan that carry Yamashiroya.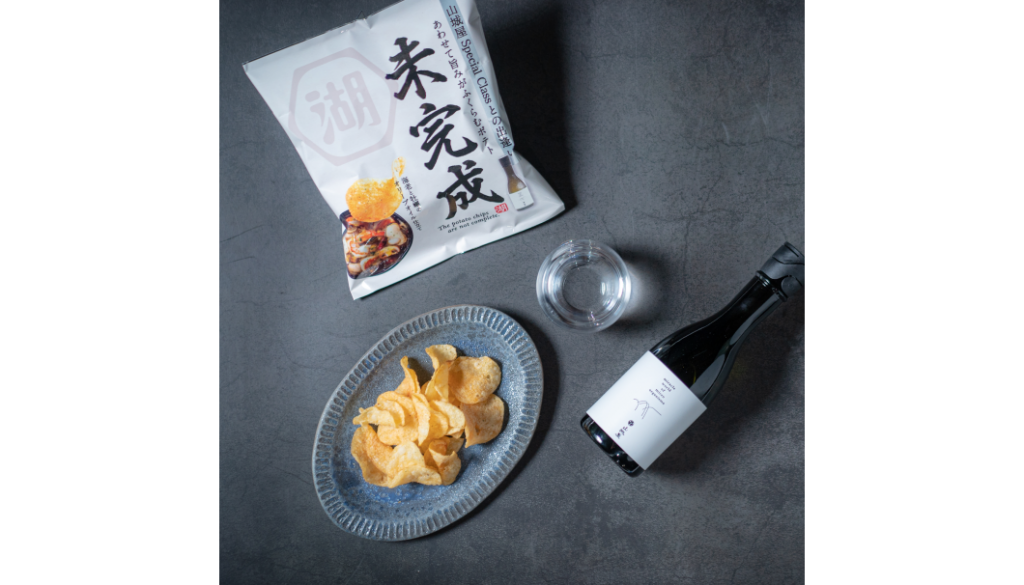 LINK: PR TIMES | 2021/10/1 「日本酒」×「ポテトチップス」の究極系。日本酒との相性に極限までこだわった本気のポテト開発。湖池屋と越銘醸が至高のペアリングセットを数量限定で発売。10/1より予約受付開始


New AI sake sommelier defines abstract tastes and scents to help consumers make better choices
Scentmatic, a business that specializes in "scent design," has developed an AI system that builds a constantly evolving vocabulary to describe the subtle flavors of sake. It accomplishes this using Internet data, responses from over 10,000 users and expert input from sake sommelier Keita Akaboshi.
On October 1, the AI Kaorium for Sake system debuted at the izakaya Kyoto Sakagurakan and makes selections among its range of sake from 42 breweries in Kyoto. 
The touchscreen interface of Kyoto Sakagurankan's bar-mounted tablets is based on the three elements of "cool," "full-bodied," and "warm" and offers selections based on branching keywords as well as color gradients to help users visualize the flavors they prefer.
Kyoto Sakagurakan got involved in the project because they found that human communication was limited when it came to expressing subjective concepts of taste. AI Kaorium, on the other hand, can both teach and learn the most commonly used terms for different elements of flavor and aroma, based on its interaction with users.
Scentmatic says that by associating these keywords to flavors, drinkers can also develop a more sophisticated sense of taste and gradually detect the subtle differences that exist between sake labels.
LINK: TechCrunch | 2021/10/11 風味と言語の総合変換を行う日本酒ソムリエAI「KAORIUM for Sake」を京都酒蔵館が導入


Former Hermès executive appointed director for luxury brand SAKE HUNDRED
On October 1, Mineaki Saito became an outside director for Clear Inc., the company behind the global luxury brand SAKE HUNDRED and bilingual sake news and information website SAKETIMES.
Saito has an extensive history with the world-famous luxury brand Hermès, dating back to 1992. In 1998 he became the president of Hermès Japan and worked as the vice president of the company's headquarters in Paris.
For over a year he had been a brand advisor for SAKE HUNDRED.
In regards to the new position Saito said, "it's exciting to be working with a young group who are thinking about creating something from scratch rather than patterned on other luxury brand models."
Clear Inc. CEO Ryushi Ikoma is also optimistic about the new partnership, saying, "Mr. Saito is a person who enjoys problem-solving and creating as a team… and I value his humanity even more than his experience and abilities."
The SAKE HUNDRED brand began in 2018 and has amassed international awards and accolades. In the coming years they hope to expand even further, especially in new markets around the world.
LINK: PR Times | 2021/10/11 日本酒事業を運営するClear、元エルメスパリ本社副社長 齋藤峰明氏が社外取締役に就任
*If you would like us to send you monthly updates and information, register here.