In the news this week: Dassai moves to New York and hopes if sake can make it there, it can make it anywhere. Meanwhile, it's the Avengers of Sake as a band of five breweries in Niigata City assemble to tackle a tree-killing parasite. Then, Fukui hopes to shake up the sake world with a whole new variety of rice poised to hit the market.
Dassai to Open New York Brewery in 2020
Asahishuzo, makers of the famed Dassai sake, held a groundbreaking ceremony for a new brewery in the upstate New-York town of Hyde Park. The event, held on November 12, included introductions of key members, prayers for an incident-free construction, and a sake tasting. If all goes to plan, the new Asahishuzo brewery will be completed in 2020.
The sprawling 62,000 square-meter complex – to include a rice polishing facility – will stand on the site of an old supermarket, and will have the privilege of facing the prestigious Culinary Institute of America's main campus.
The proximity to the world's finest chefs in training, and some of the planet's greatest restaurants, puts the brewery in a unique position to raise awareness of sake's appeal in international cuisine.
It was a sentiment made clear a few days later at the Dassai Annual Sake Party 2018 in New York City by Asahi Shuzo president Kazuhiro Sakurai, who said, "I would like to make New York the base from which to spread Japanese sake culture throughout the world."
LINK: ニューヨーク経済新聞 | 2018/11/17 | 「獺祭」の旭酒造がニューヨークで地鎮祭 酒蔵建設、2020年完成予定
Five Niigata Sake Breweries Join Forces to Save Forests
In a shared love for their homeland, five sake breweries from the Nishikan Ward of Niigata City announced plans to work together in a special forest conservation project.
The "Nishikan Five-Brewery Association Forest Conservation Project" involves Echigo Tsurukame, Takarayama Brewery, Sasaiwai Brewery, Minenohakubai Brewery, and Yahiko Brewery, with each company to contribute a portion of their profits to cover the project's expenses.
Pine wilt, a disease caused by a type of microscopic worm, continues to kill trees in Nishikan and Japan at large. This conservation effort aims to strengthen pine trees' resistance to these parasites naturally by altering the microbial environment of the soil. This involves scattering beneficial microorganisms by helicopter over forested areas.
It's a great example of companies working together for a common good, and you can help too by simply buying and enjoying a brand of sake from one of these fine Nishikan breweries.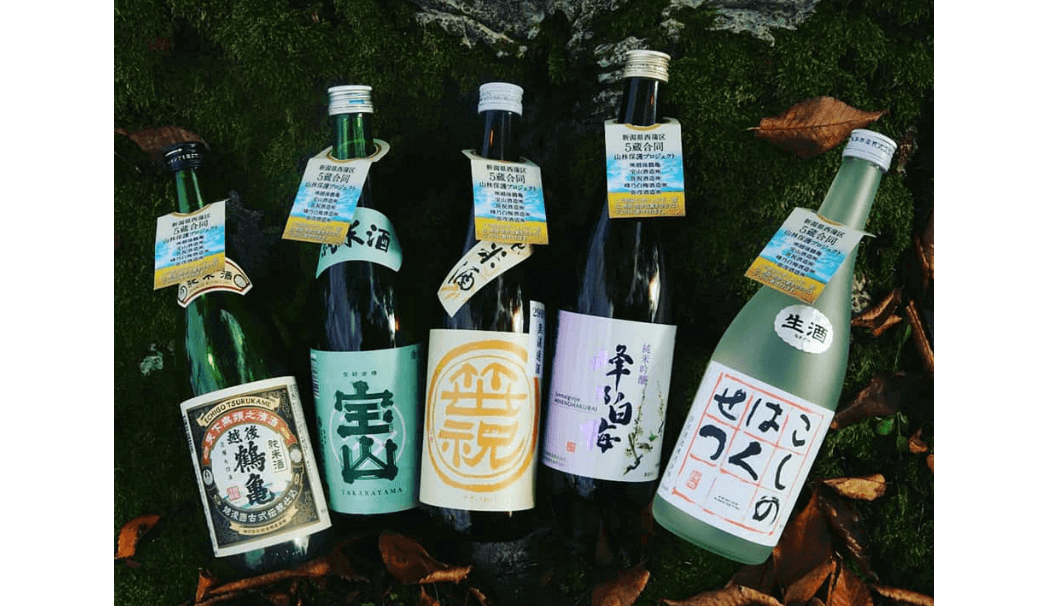 LINK: SAKETIMES | 2018/11/22 | 新潟県新潟市・西蒲にある5つの酒造会社が地元の山林保護活動を実施!
Fukui Prefecture Unveils New Sake Rice: Sakahomare
On November 21, Fukui Prefecture announced that it was ready to begin cultivation of a new rice variety called Sakahomare. Fukui governor Issei Nishikawa declared, "I think that people who make sake with Sakahomare will thrive, and make it the most delicious sake rice in Japan."
Fukui worked with table rice brand Ichihomare to conceive the new strain. Sakahomare's producers hope it will transcend brand names and gain a reputation as a sort of category all its own, like Hyogo Prefecture's Yamada Nishiki rice.
This may explain the prefectural government's vested interest in promoting Sakahomare. Such a must-have product would elevate the whole region's reputation as a sake power player with a specific terroir not found anywhere else.
Whether this rice will deliver as promised remains to be seen, but local breweries are optimistic. Kokuryu Brewery president and chair of the Fukui Breweries Association, Naoto Mizuno, told press, "It makes a refreshingly fragrant sake. I think it will become a good rice for making daiginjo."
It will take a little longer for brands made with Sakahomare to hit the market, but keep an eye out for the name. It might just be the next big thing in sake!
LINK: 日本経済新聞 | 2018/11/21 | 福井県新酒米 「さかほまれ」に決定 19年秋仕込みから
◎Three Online Platforms to Showcase Your News
By filling out the form of SAKETIMES PRESS English , your news will be presented on this Weekly News section of the SAKETIMES International website.
◎無料リリース情報配信機能「SAKETIMES PRESS English」
この記事への掲載は、リリース情報配信機能「SAKETIMES PRESS English」から無料でお申し込みいただけます。日本語で申請いただくと、英語の情報に編集し、掲載します。海外に向けた新規リリース情報がございましたら、SAKETIMES PRESS Eglish 申請フォーム より申請ください。