Train station in northern Japan converted to sake brewery
Once a central transport hub for the people of Oga City, the former main building of JR Oga Station has transformed into a fully functioning sake brewery that opened on November 3.
Ine to Agave Brewery is the brainchild of 33-year-old Shuhei Okazumi, who after working for years at other breweries wanted to create a different kind of business. Thanks to recently relaxed restrictions, Okazumi was finally able to get a license to produce his own sake for export. In addition, he obtained a license to brew sake variants, like the archaic doburoku, for sale in Japan.
Okazumi chose Oga City as the site of Ine to Agave because the local government and banks there were very supportive of his vision, ultimately allowing him use of the former Oga Station building that had been replaced in 2018. The building facade largely remains the same but the inside is now home to brewing vats and other equipment for Okazumi's eight-member staff to work with.
One way Okazumi plans to brew differently is by paying his staff above-average salaries as well as paying rice farmers higher than market value for their product, and allowing shops to sell at wider profit margins. Okazumi believes he can sustain this business model by pricing his brews at about 3,000 yen ($26) per 720 mL bottle (24 oz). His other revolutionary idea is to buck the trend of high polish ratio sake. Instead he will focus on unpolished ginjo, feeling that it has more depth and character.
The brewery will also open a restaurant in December that focuses on sake pairings in the evenings and take-out foods during the day. The first batch of Ine to Agave sake will be completed in late November.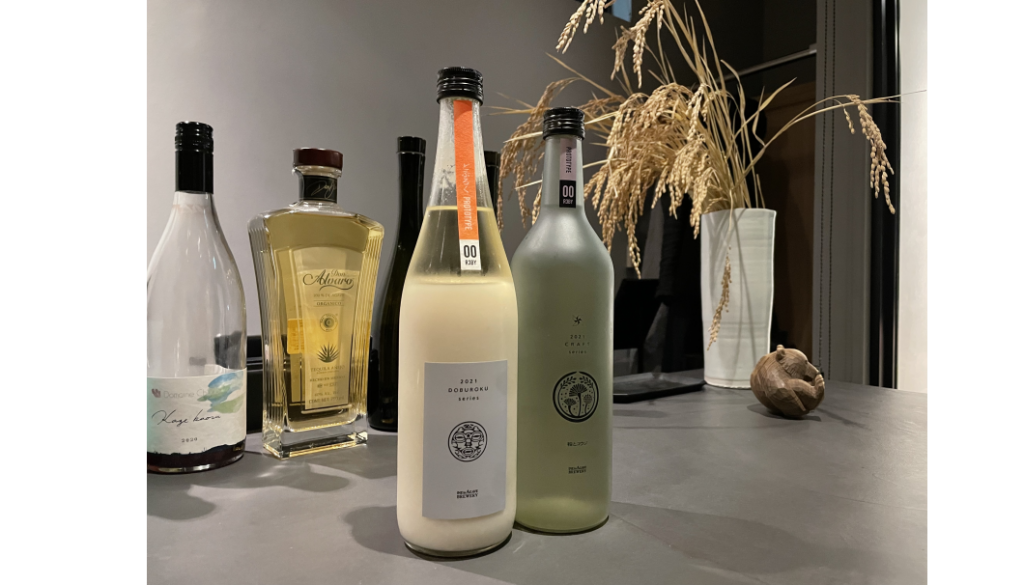 LINK: なびたび北東北 | 2021/11/3 旧男鹿駅が酒造りの拠点に 輸出用清酒とどぶろく製造
Miyagi breweries blend their sake into one
Hit by theCOVID-19 pandemic downturn, Abekan Shuzo and Katsuyama Shuzo, both in Miyazaki Prefecture, have decided to join forces for a unique blended sake in the hopes of making a splash.
The new creation is being touted as "the first blended sake of its kind in the prefecture" and the brewers hope it will renew interest in the region's breweries. It was crafted in a six-month trial-and-error method that resulted in the ideal mixture of five different types of undiluted genshu, resulting in a beverage that boasts the best of both of the brewery's signature flavor profiles.
The sake is named Yamakan, not because it's a combination of the two companies' names but because it's the Japanese word for "a hunch," referring to the fact that the brewers had no idea how the venture would turn out. A limited run of 3,000 bottles for 2,795 yen ($24) each went on sale November 12.
LINK: Yahoo!ニュース | 2021/11/10 宮城の2つの酒蔵がブレンド日本酒を販売 阿部勘・勝山「ヤマカン」
Japanese pub chain offers free sake to voters
On October 31, Japan held a nationwide general election to decide its next Prime Minister. In an effort to bring more people out to the polls, izakaya Japanese pub chain Nihonshu Genka Sakagura offered free drinks to voters.
Anyone who voted in the election simply needed to show a certificate from the polling station for one free 100 mL (3.4 oz) bottle of sake. This so-called "Election Discount" was good at all Nihonshu Genka Sakagura locations in and around Tokyo.
The program was organized by the Senkyo Wari Association who offer discounts to voters through a wide range of restaurants and retailers. Nihonshu Genka Sakagura became involved through students employed there, the company disclosed.
Even voters who had not received certificates could still redeem a drink by presenting a photo of themselves at a polling station. Unfortunately, this offer was only open until November 3, 2021, but may return for future elections.
LINK: PR TIMES | 2021/10/30 衆院選投票で日本酒1本(100ml)を無料で飲める。「センキョ割」で日本酒と投票を楽しもう!┃10月31日~11月3日に日本酒原価酒蔵全店舗で開催
*If you would like us to send you monthly updates and information, register here.