When living or visiting the US, there's nothing better than exploring the multitude of drinks and cuisines available to one's palate. Visiting high end restaurants is great, but even the humble fast food takeout menu can provide for a world of unique and interesting pairings. Sake is one-fifth as acidic as wine, features lots of umami and a variety of textures that can pair amazingly with greasy, decadent foods of American youths.
Not every pairing experience has to break the bank, after all, and even a decent sake can add a little class to a lazy night of Uber Eats and a movie. Sake may seem like an unusual option for pairing, but believe it or not, there is nothing better than a tasty, reliable meal paired with some of the best premium sake on the market. Here is a list of five perfectly curated sake pairings for the fast food aficionado!


Burger King
Burger King Whopper Jr. & Fries – Fuku Chitose 'Happy Owl' Yamahai Junmai ' Happy Owl' served at 60-65°F/15-18°C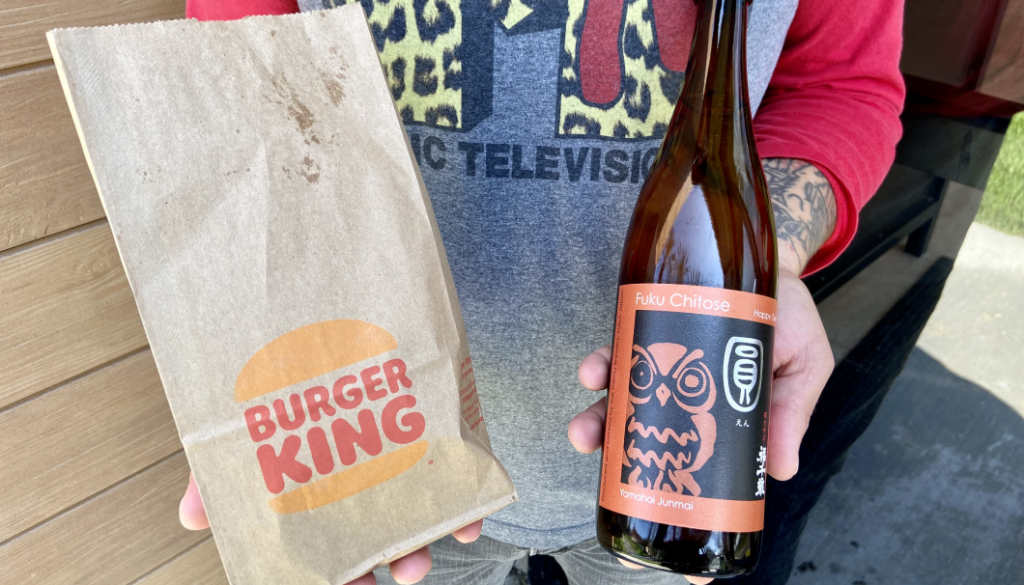 Creating a complementary pairing with an earthy, umami-driven Junmai Yamahai and various cuts of beef is second nature to a sake enthusiast. Tajima Brewery's Fuku Chitose 'Happy Owl' from Fukui is a delicious brew that reigns supreme with a Whopper Jr.'s flame-grilled burger patty. At 60-65 Fahrenheit, this savory sake is in its sweet spot, temperature-wise. It's cool enough to brighten the palate after each bite, but is also warm enough to bring out the complex funky aromas of porcini mushroom, cedar and bitter cocoa. Additional ingredients on the burger include pickles, ketchup and a tasty sesame seed bun. These elements bring out notes of cantaloupe and plantain in the Happy Owl, showing another dimension of this complex sake. Burger King french fries are known to be thick, crisp and not too oily; enhancing the mellowness of the sake and influencing a smoother texture on the palate. This is a well-rounded complementary pairing, with some contrasting elements coming from the extra toppings and french fries on the side.


KFC
KFC Extra Crispy Fried Chicken – Tamagawa 'Ice Breaker' Junmai Ginjo Muroka Nama Genshu served at around 59°F/15°C 'Suzu-hie'


An unusual complementary pairing can be made with Kinoshita Brewery's Tamagawa 'Ice Breaker' from Kyoto. This luscious, unpasteurized and undiluted Junmai Ginjo Muroka furnishes an opulent textural base for KFC's extra crispy fried chicken. The skin of the chicken with its crunchy, toothsome character and a touch of spice bring out aromas of baby corn, miso and chicory in the sake. The succulent chicken below the skin enhances notes of strawberry and grape-flavored licorice, revealing layers upon layers of this sake's expression. With a turquoise blue bottle and winter-themed branding, this sake is a delightful choice for a KFC Christmas extravaganza!


Taco Bell
Taco Bell Cheesy Gordita – Tatenokawa Phoenix Junmai Daiginjo served at 55°F/12.7°C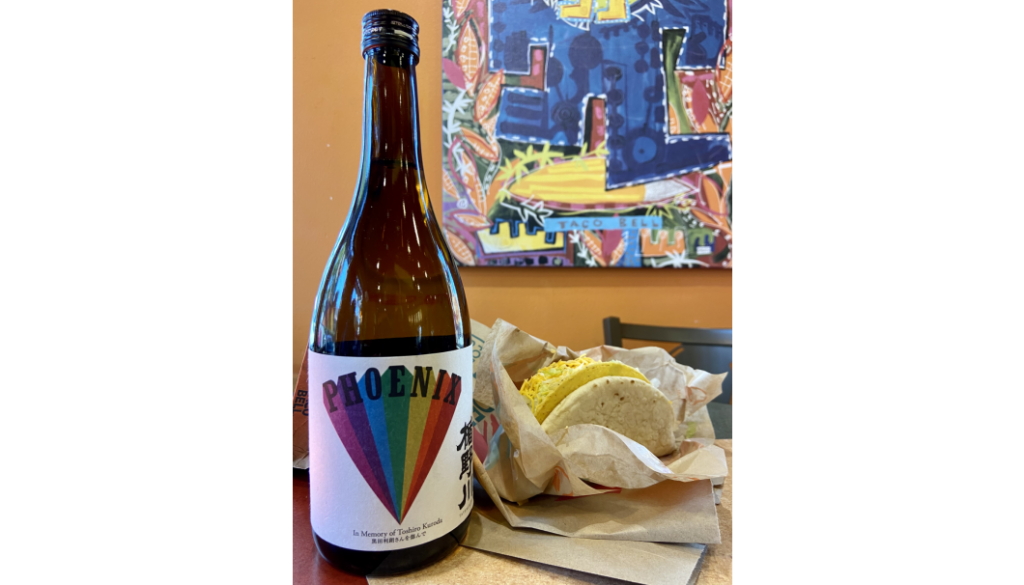 To invent an original contrast pairing, nothing could be more daring than bringing a Junmai Daiginjo, the king of sake categories, together with a cheesy gordita crunch from Taco Bell. While one may not want to open their cellared $100+ premium Shizuku Daiginjo for this purpose, there are some fantastic affordable Junmai Daiginjo on the market and Tatenokawa's Phoenix from Yamagata does just the trick. While finishing dry, this sake is brimming with complex confectionary and fruit aromas, including marshmallow, banana, nutmeg and cola. Although the sake is only 14% abv, when paired with this juicy beef taco and its subtle cheese and tortilla, the sensation of alcohol is heightened and a delicate honeydew melon note is enhanced. Drink at cellar temperature for the best results.


Domino's Pizza
Domino's Pizza – Ichinokura Himezen 'Princess Food' served at 51°F/10°C 'Hana-hie'

Inspired by drinking fountain lemonade and pizza as a kid, Ichinokura's Himezen 'Princess Food' from Miyagi is on a similar wavelength with Domino's hand tossed cheese pizza. Himezen comes in with loads of ume Japanese plum, fresh lemon and buttercream notes. The sake's pretty flavor profile, semi-sweet character and thirst-quenching acidity identifies strongly with the pizza's tart tomato sauce and toasted cheese. When served slightly chilled, Princess Food's light body refreshes the palate and prepares it for another bite. This pairing brings us back to the good ol' days of taking a break at the roller skating rink.


McDonald's
McDonald's Apple Pie & Vanilla Soft Serve Ice Cream – Kamoizumi Aged Nama 'Red Maple' served at 68°F/20°C 'Jo-on'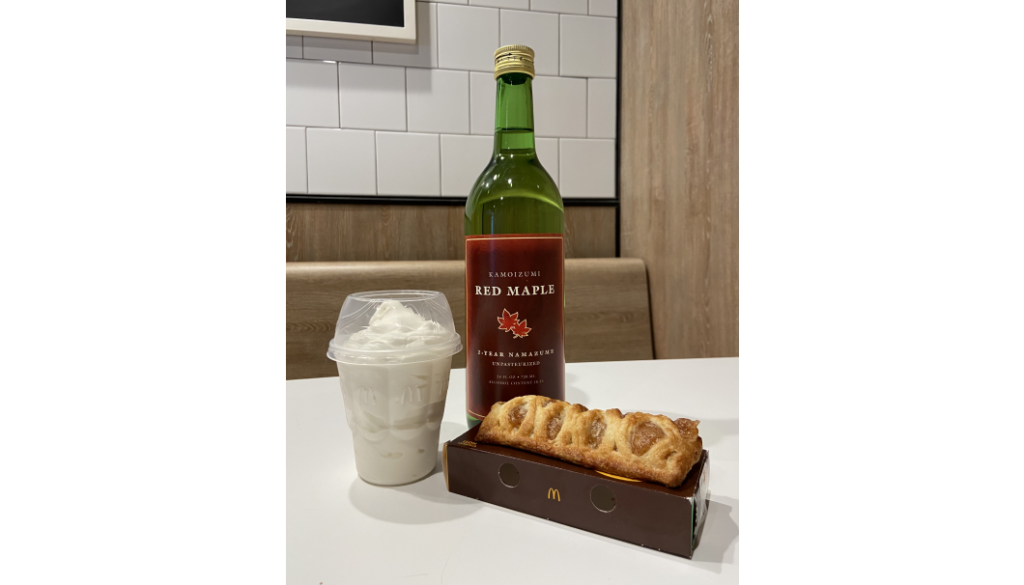 Saving the best for last, here is Kamoizumi Shuzo's 'Red Maple,' a 2-year aged nama from Hiroshima paired with apple pie à la mode from McDonald's. This complementary pairing starts with Red Maple's eclectic flavors that include salted butter, cinnamon, mirin and cacao nib. When paired with McDonald's classic apple pie, the sake takes a back seat to the powerful candied apple and baking spice flavors of the pie itself. The high alcohol content of 18.5% cuts right through the pie's sugar content and helps reset the palate. The pairing was almost too complementary, where one component completely cancels out the other. Although the pie pairing isn't flawless, the sake meshes seamlessly with Mickey D's vanilla soft serve. The custard's prominent vanilla bean flavor and smooth texture create a canvas for the aged nama to express itself in all its glory. Resounding flavors of root beer, candied cherries and chocolate frosting abound. Aged nama and ice cream may be the next big thing in the world of beverage pairing!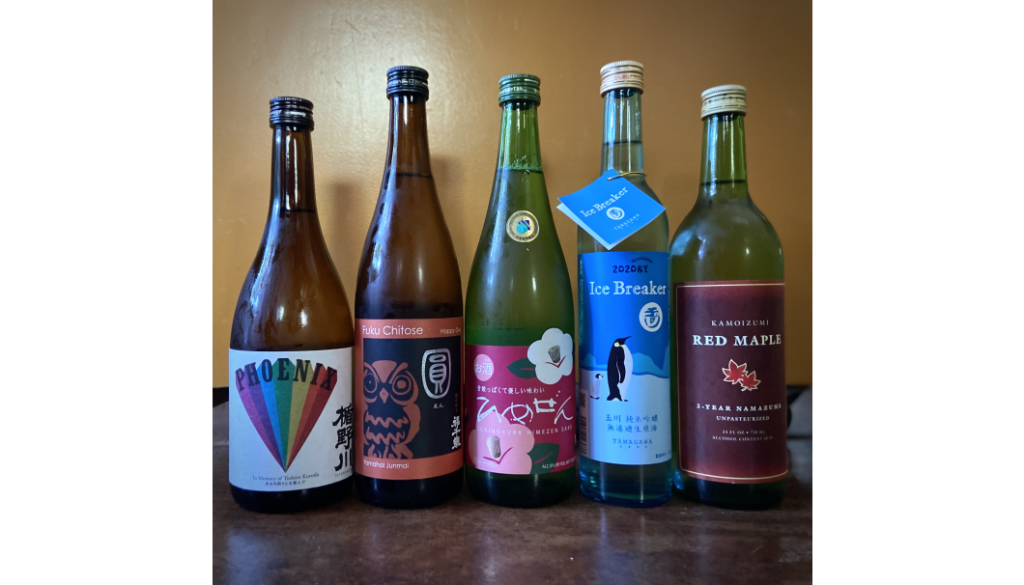 We know that sake can work wonders with high end fare, but it's enlightening with fast food as well. All of these dishes are bold and intense, making sake a great pairing partner that can achieve revelatory taste experiences with foods we grew up loving. Sake has a multitude of flavors ranging from savory to sweet, with lower acidity than wine and a range of light to rich viscosity options. Sake is that in-between beverage that can master nearly impossible combinations. 
To read more about the chemistry and nuances that create successful sake pairings, click here. 
*Top Image is by

 

K8

 on

 

Unsplash

, the other photos by author

*If you would like us to send you monthly updates and information, register here.