Sake, it's safe to say, has left the nest and is on its way to global stardom. With exports on the rise and overseas breweries increasing, sake awareness is growing across the globe.
But things weren't always this way, and the story of how sake first traveled outside of Japan, and how the position of sake abroad has changed throughout the years, can be a murky subject.
To help understand sake's global past, the Hakushika Memorial Museum of Sake in Hyogo Prefecture, established by Tatsuuma Honke Brewing, is holding an exhibition from December 2021 to March 2022 exploring how sake went from local tipple to global beverage. SAKETIMES paid a visit to learn more about the historical background to sake's current success.


Sake's "bitter" overseas debut
Sake's initial forays overseas can be traced back to the world fairs held in Europe during the 19th century. Sake made its international debut at the Third Paris International Exposition — or Exposition Universelle — in 1878. Alas, the world was not yet ready, with visitors none too impressed with the sake samples. One contemporary account even claiming the drink induced gags from samplers.
In those days, Europeans considered Far East cultures inferior and viewed sake with suspicion as a peculiar drink from an unknown foreign land. But in the view of Kazuya Oura, curator of the Hakushika Memorial Museum of Sake, there may have been another reason behind the drink's negative reception.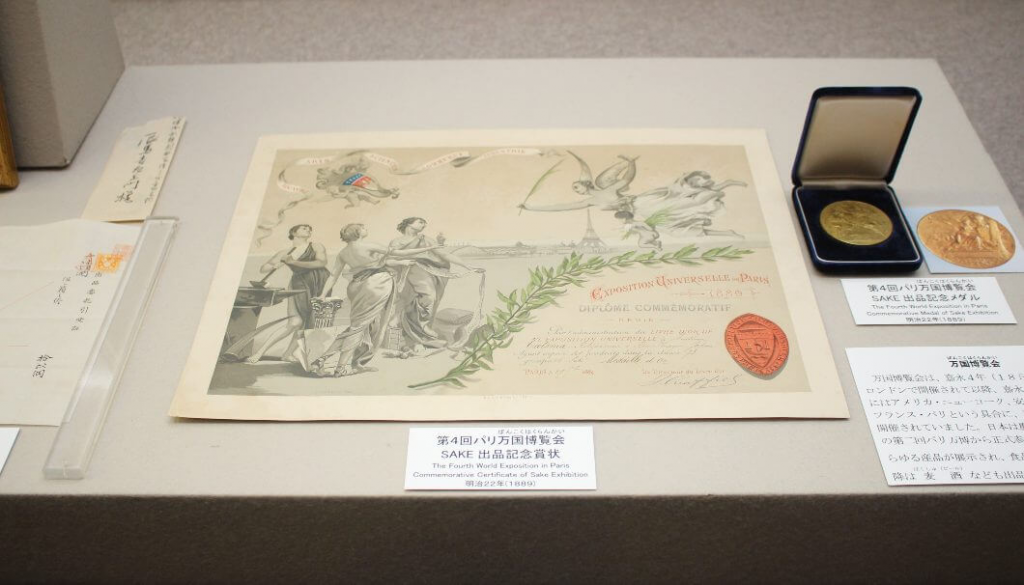 According to Oura, a clue can be found in a proviso on a consignment certificate issued to Tatsuuma Honke Brewing at the Fourth Paris International Exposition in 1889.
"The certificate states, 'Twelve cases of boxed sake,'" explains Oura. "Bottling was not yet widespread at this time, so the sake would have been shipped in 1.8L wooden casks packed in crates. People did not have modern-day knowledge of how to preserve food and drink in those days, and during the long sea journey to Europe, the sake is likely to have absorbed the scent of the wood, degrading its aroma."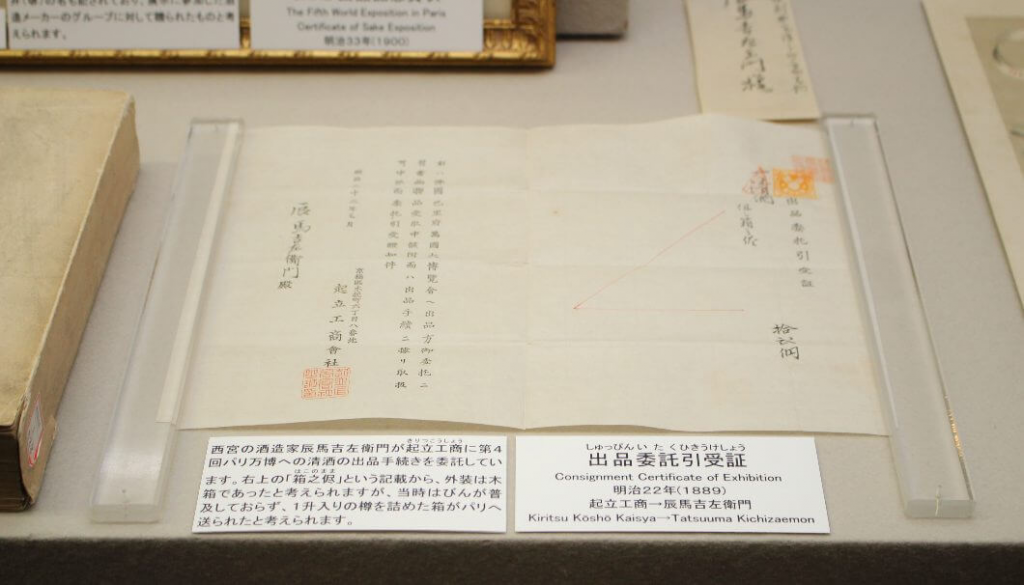 At the Forth Paris International Exposition, several breweries including Ozeki from Hyogo Prefecture exhibited together.
"The breweries erected a storefront to sell sake at the exposition, but it seems they were met with a frosty reception. From a budgetary document, we know that they closed their stall some days earlier than anticipated. The exhibit was then converted to a display of chrysanthemums," says Oura.
These initial attempts to promote sake at overseas expositions encountered stubborn indifference, if not outright hostility. Oura describes this as a "bitter debut," when sake brewers first experienced the harsh realities of the overseas marketplace.


Sake gains a foothold abroad
Japan began exporting sake to other parts of Asia at around the same time as these exhibitions in Europe. With the onset of the Meiji Period in the mid-19th century, following 300 years of isolation, the country was once again looking to trade. This shift in policy meant goods were now pouring into Japan from all over the world.
At the same time, few Japanese goods were suitable for export, which meant that sake, brewed from rice — Japan's number one crop — must have seemed an attractive potential export.
In 1887, Tatsuuma Honke Brewing, Japan's largest sake producer by volume at the time, became the first brewery to venture into the Asian market. Contemporary records show that the brewery shipped samples to Singapore, Vladivostok, Bangkok, Tianjin and other nearby major cities, eventually establishing a foothold in Taiwan.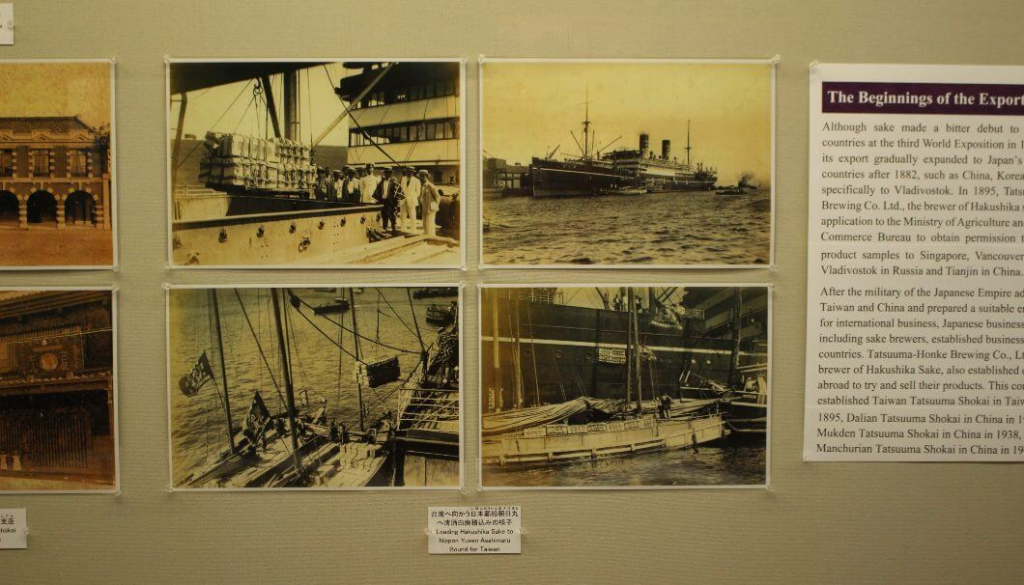 Following the First Sino-Japanese War, Japan and Taiwan found themselves in a complicated and not always friendly relationship. Nevertheless, Japanese entering Taiwan at the time brought with them their taste for sake. Tatsuuma Honke Brewing expanded into Taiwan at the time with the creation of four local sales bases.
The brewery also ventured further afield, creating sales points in mainland China and the Korean Peninsula. There is also evidence that the brewery exported to the former French territory of New Caledonia, although this demand seems to have stemmed from Japanese miners working in the area.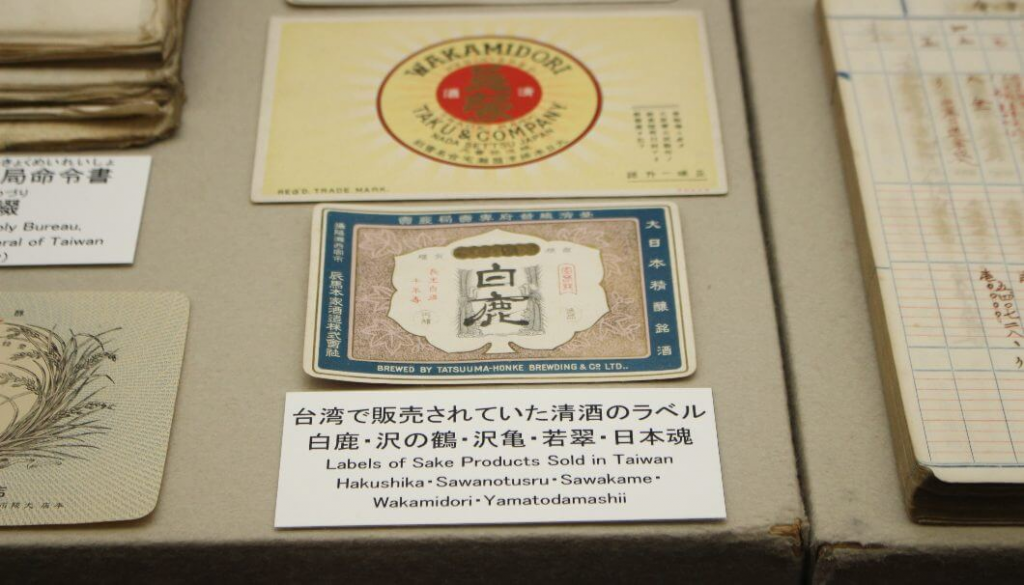 International demand for sake at this point was essentially limited to Japanese people living overseas, and sake was not generally consumed outside of these communities.
The expansion of sake in Asia was ended by the Pacific War, which raged from 1941 to 1945.
At the end of the war, all foreign assets held by Japan were seized, putting overseas sake distribution back to square one. There were also problems within Japan, where damage from air raids and government-enforced mergers significantly reduced the number of operational breweries.


Exports to America aimed at Japanese emigrants
Japanese emigrants also made their way to America before the outbreak of WWII, but prohibition laws made it impossible to export sake to the country between 1920 and 1933.
The end of prohibition meant that sake exports to the US could finally get underway. In those early days, the focal point for Japanese sake imports was M. Furuya Co., a trading company based in Seattle. The company imported a wide variety of products aimed at Japanese immigrants, including sake from Tatsuuma Honke and numerous other breweries.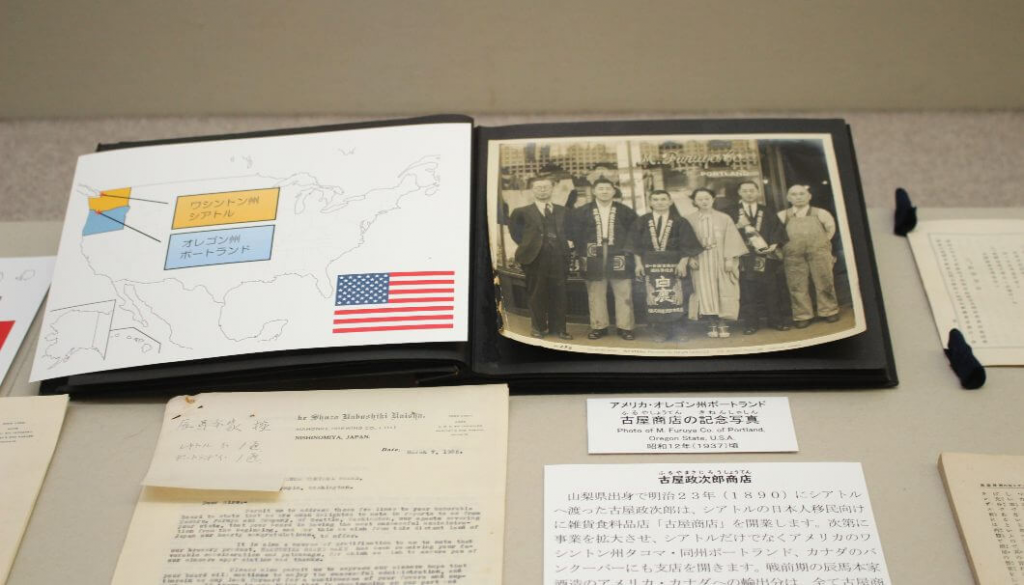 "M. Furuya Co. was a profitable business. They even received an award from the Liquor Control Board in recognition of the significant tax revenue they were generating. We have a letter [here at the museum] from Tatsuuma Honke Brewing to the Liquor Control Board, thanking them for the award given to M. Furuya Co.," says Oura.
M. Furuya Co. played a pivotal role as both the focal point and facilitator of sake exports to America and Canada. However, the outbreak of the Pacific War put the company's future in jeopardy.
"Japan and America became adversaries due to the Pacific War, and Japanese people living in America were sent to internment camps. It is highly likely that the owners and staff of M. Furuya Co. were also sent to these camps. We do not know if they were able to continue with their business."
Other items on display at the Hakushika Memorial Museum of Sake exhibition include photos depicting American exports of Konishi Brewing's Shirayuki label, sake from Sawanotsuru packed in a tin can for overseas shipping, a navigational map used by the shipping company Nippon Yusen, and the schematics for a steamship used to transport sake.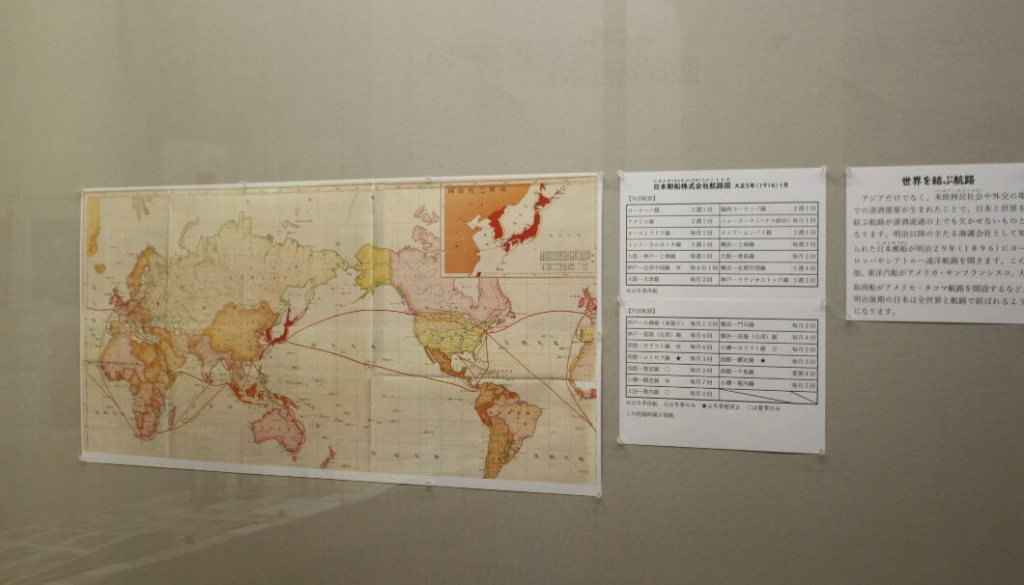 "In 1916, Nippon Yusen maintained sea routes from ports such as Kobe and Yokohama to Seattle, New York and Europe. These ships would have taken Japanese cargo all over the world," Oura notes of the Nippon Yusen ephemera at the museum.


Rising demand and overseas breweries
Despite Japan's surrender at the end of World War II, records show that sake exports resumed just three years later in 1948.
"The difference between the pre-war and post-war eras was that Japanese people were no longer simply traveling overseas; people in foreign countries were also beginning to drink sake and eat Japanese food," says Oura. To meet this increasing demand, Japanese sake producers started opening their own breweries overseas.
The first company to do so was Ozeki Sake Brewing. Quick off the mark, the brewery built its first overseas facility in Hollister, California, in 1979. The Hakushika Memorial Museum of Sake's displays contain many images provided by Ozeki, as well as first-hand accounts from contemporary observers.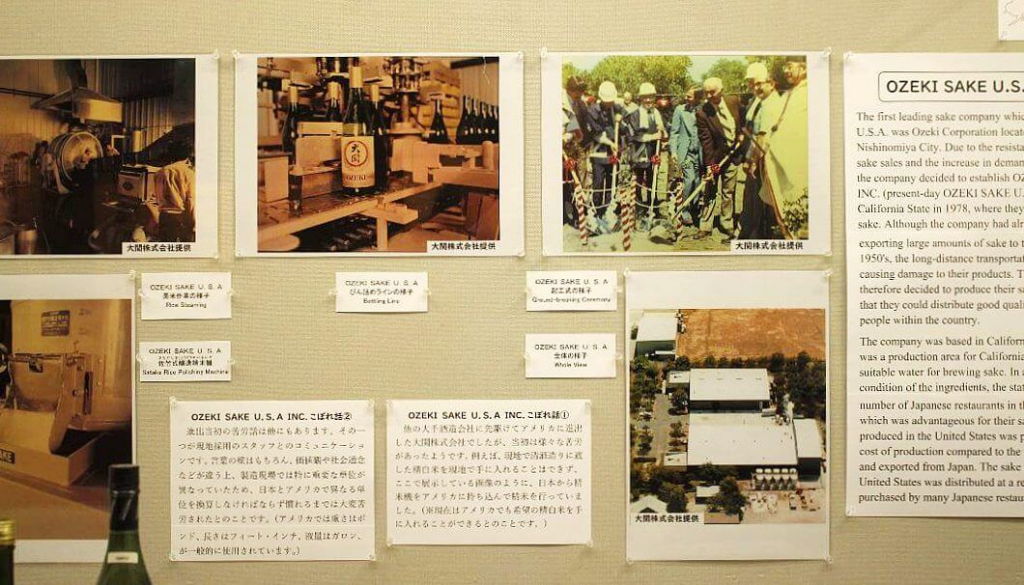 California is known for the quality of its rice, and following Ozeki's lead, Takara Shuzo, Yaegaki Sake & Spirits and Gekkeikan Sake all established ventures in the Golden State. Tatsuuma Honke Brewing set up their own American brewery in 1992, but opted for Colorado instead of California.
"Tatsuuma Honke Brewing wanted to distinguish itself from the other breweries. All the others went to California, so Tatsuuma went to Colorado. The base of the Rocky Mountains is famed for the quality of its water, which they thought would make a good selling point. However, the brewery was situated at an altitude of 1,500m, where the boiling point of water is low, and there were concerns that this would make it difficult to steam rice. When the brewers went to scout the location, they brought a portable stove and steamed some rice outdoors, much to the suspicion of the locals," laughs Oura.
Pamphlets from that time contain cocktail suggestions as well as product information, illustrating the techniques savvy sake marketers used to introduce their product to the overseas market.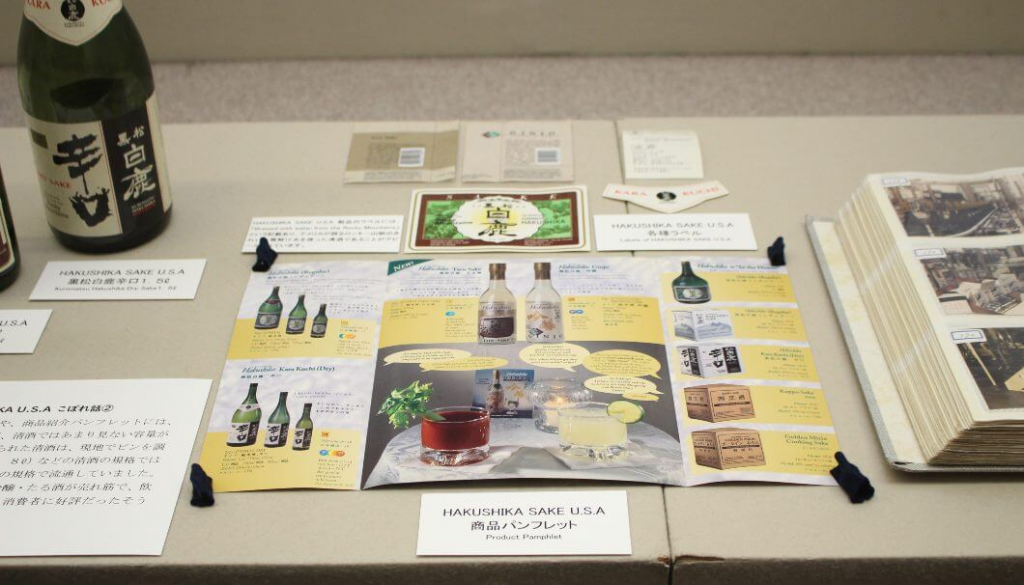 Unfortunately, Tatsuuma Honke's Colorado brewery closed in 2000, just eight years after opening. The main culprit was the Great Hanshin Earthquake, which occurred five years previously in 1995.
"Tatsuuma Honke ran into difficulties in Japan, which led them to abandon their overseas operation, but this didn't mean a complete reset like the one caused by World War II. The brewery still uses the systems and knowhow they developed at their American facility, and their US customers still buy Hakushika imported from Japan. For this reason, their American project proved very important for the company in the long run."
The push to export sake is currently gathering momentum as the beverage grows in popularity around the world. But it was the pioneers of days past that laid the  foundations for the sake boom of today.
*Translated by D. W. Lanark
*If you would like us to send you monthly updates and information, register here.