Sake is a beverage with a unique relationship to all four seasons; a position achieved through hundreds of years of production, history and traditions. Winter, in fact, is sake's forte and there are an abundance of ways to enjoy this comforting and even festive beverage this holiday season.


History of Winter Sake Production
In the Edo period, sake brewed during the coldest part of the year fetched the highest prices. The brewers could maintain lower fermentation temperatures before new age refrigeration existed. The colder temperatures allowed more stable brewing conditions, and thus higher quality sake. Nowadays, great quality sake can be made all year, but the strong tradition of brewing during the winter still exists. Some breweries still hire farmers or fishermen to bulk up staff during the winter off season. Snow-aged sake and other wintery sake traditions are still practiced at many breweries across Japan.


Culture Created by Cold Brewing
Kanshu, a sake brewed at the coldest part of the year with brewing beginning around the winter solstice, used to command the highest prices due to its pristine nature and high quality. Now, ginjo sake have taken over as the popular style among sake fans, but while the production of ginjo styles developed much later in the early 1900s, they benefit greatly from cold weather brewing techniques. These techniques keep fermentation slower and agitate the yeast, which then emit ginjo-ka ester aromas.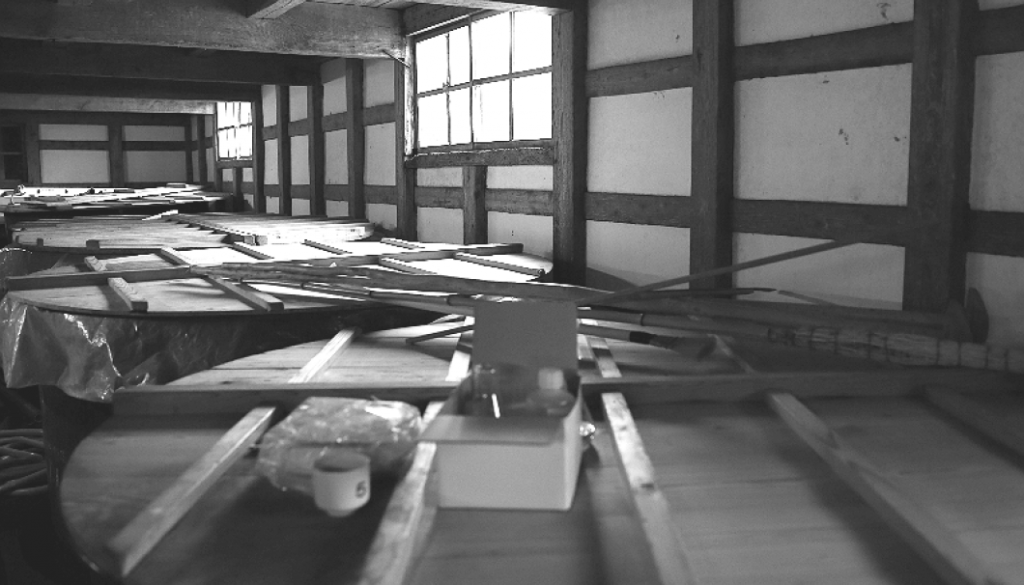 Before the days of refrigerated distribution, winter namazake was only consumed locally. These sake are less flavorful than many other seasonal brews since they emulate the season they are brewed for aromatically. Spring namazake tend to have ample fruit and floral aromas, while fall hiyaoroshi sake have more autumnal essences and earthiness. With harvests complete, bare trees galore and a chill in the air, winter namazake tend to be very stark, dry and mineral in character. The subdued flavor profile is a nice change in a category known for powerful flavor. Believe it or not, summer namazake are the most similar to winter styles in that they are mineral, refreshing and made to beat the heat.
Prior to ginjo styles, the best sake made in the winter months featured lower polish ratios, making them stylistically closer to junmai and honjozo. With more of the rice grain incorporated and more fats and protein in the brews, these sake lend themselves well to being heated. The combination of cold weather festivities and high quality sake at the time gave way to the golden age of heated sake. Many people assume hot sake is bad sake, but the heating of sake is, in fact, a well-practiced tradition with a history of hundreds of years of success.


Winter Branding: A Unique Sake Phenomenon
While breweries have long benefitted from sake's winter connection, some go to the next level and include it as part of their identity and branding. Hakkaisan Yukimuro Snow-Aged 3 Year Junmai Daiginjo from Niigata Prefecture is aged in an insulated room or 'yukimuro' next to a mound of snow that accumulates yearly. Even though it's aged 3 years, it contains no developed aroma characteristics. Instead, it attains a super smooth texture with very mellow notes of taffy, stone fruit and unripe pear. This sophisticated sake pairs amazingly with local red snow crab and is one example of a brew that takes its winter heritage very seriously.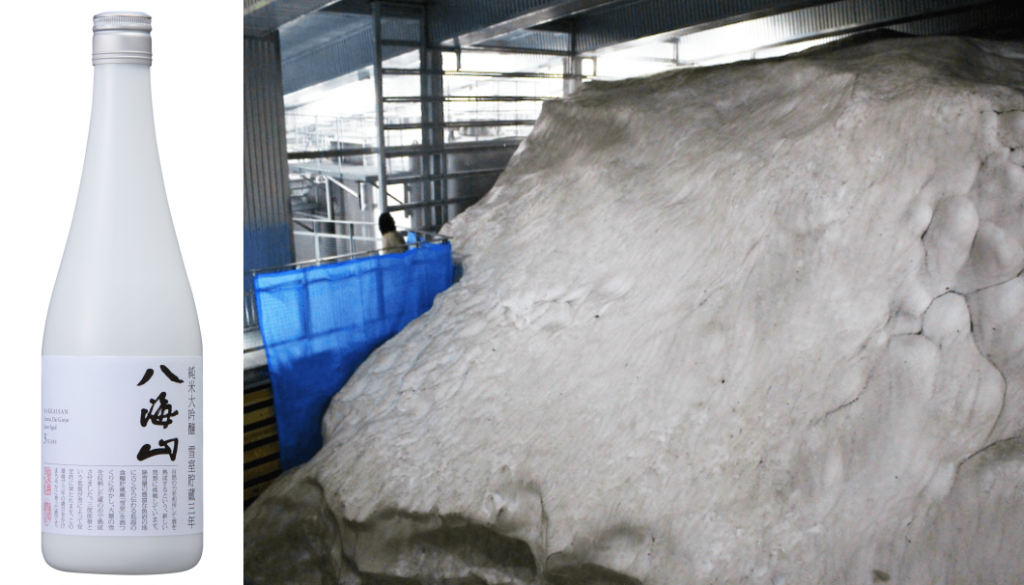 Sake Pairing with Winter Favorites
With the history out of the way, it's time to focus on the good stuff: Winter sake pairings! Here are just a few examples to consider for the holidays and beyond this winter.
Takenotsuyu Hakuro Suishu Junmai Daiginjo 'Winter Water' from Yamagata (served 51°F) with Hokkaido Uni
While not considered a tried and true holiday dish, many consider uni sea urchin to be a delicacy best served in the winter months of the year. Sourced from various places on earth, including Chile, Santa Barbara and Maine; each region's uni expresses subtle flavor differences. But the most well-rounded, highly regarded and classic style comes from Hokkaido, Japan. Where California uni can be sweeter and funkier, Hokkaido uni has pristine subtlety and a fresh, ocean quality. The texture is soft, yet delicate and melts in the mouth. This palate profile calls for a crisp junmai daiginjo. Light and dry styles, also known as tanrei karakuchi, can work very well, but a sake that makes a perfectly complex match is Takenotsuyu's Hakuro Suishu 'Winter Water' Junmai Daiginjo from Yamagata Prefecture. The texture of this sake is brisk like running river water, yet brings intense aromas of green melon and fennel with long lasting minerality on the finish. This combination is a match made in winter pairing heaven.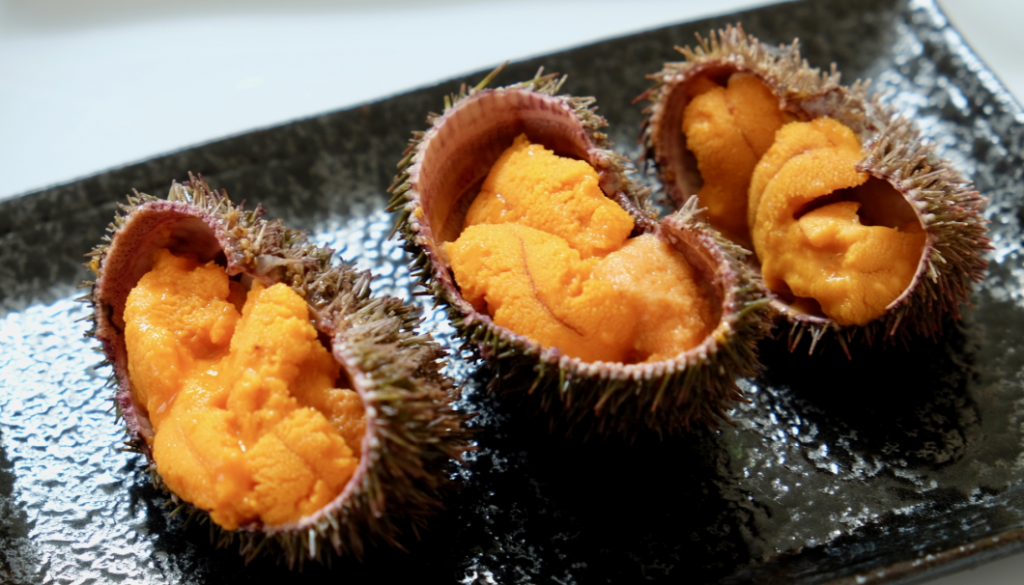 Nishida Denshu Tokubetsu Junmai 'Country Squire' from Aomori (served 104°F) with Roasted Goose
When getting deep into traditional Christmas, one can conjure 19th century vibes with Charles Dickens-inspired fare. While sugar plums and mince pies are easily created, it shows a true commitment to the festivities to slow roast a proper goose. If up to the task, be ready for hours of labor and delectable goose drippings for reuse in a scalloped potato side dish. Goose is entirely made of dark meat, but varies greatly from turkey. Once the fat drips out, it's leaner and more sinewy, with a powerful gamey flavor. It is truly an acquired taste, which can catch guests off guard, but is certainly worth getting to know. One of the best sake to handle such a powerful wild bird is Nishida Shuzo's 'Country Squire' Tokubetsu Junmai from northern Japan in Aomori Prefecture. Its smooth, supple texture is a great contrast to the chewy meat, with aromas of toffee and earth. The sake has a great mouthfeel and sweet-like aromas without excess residual sugar. Give this pairing a try while preparing a Victorian Christmas dinner with a modern approach.
Daishichi Kimoto Umeshu from Fukushima (served 41°F) with Strawberry Shortcake 
Depending on what country a person is from, strawberry shortcake is a celebratory dessert in different parts of the year. While shortcake is popular during the summer in the states, in Japan this fruity layered cake is a popular Christmas treat. Daishichi Shuzo's Kimoto Umeshu from Fukushima Prefecture is a beautiful accompaniment to the powdery sweet, vanilla-based cake with vibrant strawberry topping. This award-winning brew is technically a liqueur made by infusing Nanko plums from Wakayama with Junmai Kimoto sake. This combination evokes bright ume plum notes softened by umami derived from kimoto, the ancient pole-ramming technique where lactic acid is allowed to occur naturally. Unlike most super sweet umeshu on the market, this off-dry delight represents the interplay of sweet strawberry with savory shortcakes. The airy whipped cream is a complement to the lactic acidity present in the sake. Try Daishichi's prestigious bottling with this humble dessert to bring guests to their knees. 


To enjoy a historical product of high quality and esteem this winter, skip the typical mulled wine and hot buttered rum. Instead choose sake, a beverage category that has a special affinity with the winter season. The coolest part about sake is the plethora of ways it can be consumed, branded, produced and appreciated. From chilled premium styles and winter namazake to hot sake warmed by a fire, sake creates an experience that no other beverage can rival for the coldest months of the year. 
*If you would like us to send you monthly updates and information, register here.