Gaming sake hits the market
A brand of sake aimed at gamers called Gaming Rainbow is set to be released this spring by the Tokyo-based startup SakeBottlers.
Gaming Rainbow comes in 180mL (6oz) cans with label illustrations by Kinu Nishimura and Mika Pikazo. Nishimura is a former Capcom illustrator who created promotional material for classic gaming series like Street Fighter. Pikazo, on the other hand, is the designer of "VTuber" Kaguya Luna and also worked on costumes for Hatsune Miku's Magical Mirai 2018 exhibit. SakeBottlers chose the artists to appeal to different generations of gamers.
The new can designs were unveiled on February 23, during an event livestreamed on SakeBottlers' YouTube channel from the eXeField e-sports center in Akihabara.
The sake for Gaming Rainbow will be provided by Tsuchida Sake Brewery in Gunma Prefecture. The brewery's president Yuji Tsuchida also has experience in the gaming industry and is using his experience to provide flavors fit for gaming.
Gaming Rainbow represents the second phase of the Hito Maku series by SakeBottlers, which is aimed at marketing sake to younger generations with the help of cans vibrantly designed by select artists. Gaming Rainbow drops sometime after April 2022 and a suggested retail price has yet to be determined.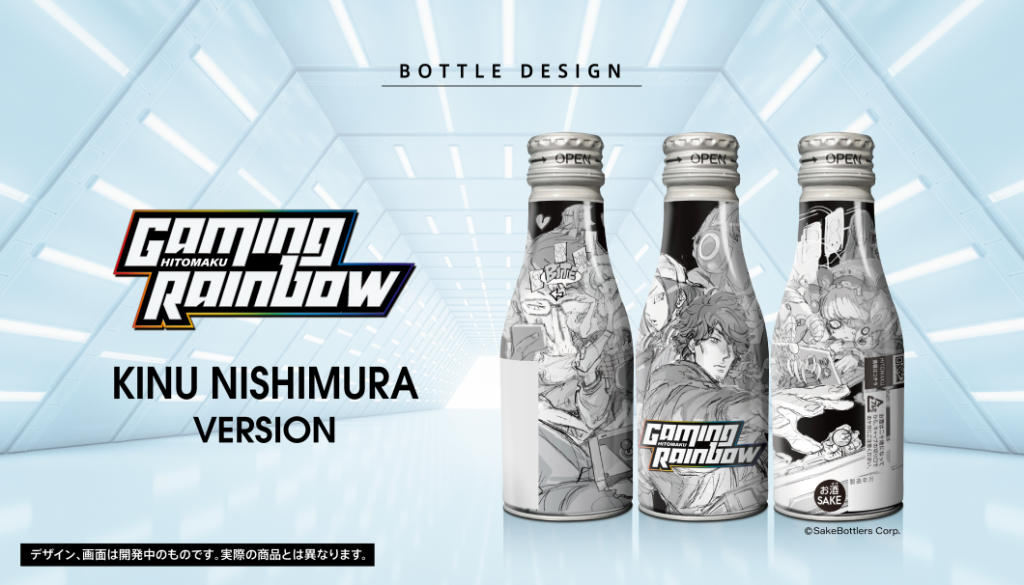 LINK: GAME Watch | 2022/2/18 ゲーミング日本酒ボトル缶「GAMING RAINBOW」が発売決定
New sake brand aims to give aruten its proper respect
Kikunotsukasa Sake Brewery in Morioka City, Iwate Prefecture and startup Sake Street in Tokyo have teamed up to create a unique drinking experience in its Sugoi Aruten.
Aruten refers to sake that has brewer's alcohol added during fermentation, but this practice is often seen as undesirable and is often disparaged as a way for breweries to stretch out their product at the expense of purity. This is a myth that the makers of Sugoi Aruten are setting out to dispel by teaching the public the benefits of blending distilled alcohol with sake. For example, it can enhance the sweetness of ginjo sake when added during fermentation.
Sugoi Aruten is a set of three bottles with aruten sake, pure junmai sake, and shochu. A measuring shot glass and pipette dropper are also included, so consumers can experiment with mixing the junmai and shochu to see firsthand what the benefits of adding distilled alcohol to sake are.
Mixing instructions come with the set and were written by Ayumu Yamaguchi, an expert in sake involved in eccentric sake ventures like Wakaze Tokyo and The Ethical Spirits Co. Yamaguchi also oversaw the production of the aruten sake included in Sugoi Aruten.
The makers of Sugoi Aruten say their position on aruten isn't just their opinion. They point out that roughly 91% of winning sake in the Annual Japan Sake Awards are actually aruten. Those interested in tasting for themselves can purchase Sugoi Aruten from the Sake Street online shop for 6,480 yen (US$56) while supplies last.
LINK: PR TIMES|2022/2/12 老舗酒蔵×日本酒ベンチャー×若手蒸留家が共同開発 楽しく、美味しく、学べる酒「すごい!!アル添」を2月12日販売開始
Sake bar opens in Kobe, serves drinks from all 26 Nada-Gogo breweries
Nadagogo Sakedokoro is an eating and drinking establishment set to open at the end of April by Kenbishi Sake Brewery in Kobe City, Hyogo Prefecture.
Kenbishi Sake Brewery is one of the 26 breweries of the the Nada-Gogo region on the outskirts of Kobe. Nada-Gogo is a group of five areas famous for their sake production with a centuries-old legacy, making it a great tourist attraction for fans of sake and history.
But, it can be difficult for visitors to take it all in, so Nadagogo Sakedokoro was created to bring everything the region has to offer under one roof. This bar and eatery occupies an old brewery, now madeover in the image of a Shinto shrine. It serves food pairings locally sourced from Kobe like fish, tofu, and of course, beef. Also, Kenbishi will be serving their special Sake-Steamed Inari Sushi, made with their own Kuromatsu brand.
For 2,500 yen (US$22) guests can purchase the Nadagogo Sakedokoro Set that includes a drink of one brand from each of the 26 breweries. The set is also served in a large wooden frame called a kojibuta, which is used in the brewing process, and it comes with three pairings.
Prior to Nadagogo Sakedokoro's grand opening on April 29, the venue will be used for sake seminars and workshops. Afterwards it will be open to the general public on weekends and holidays from noon to 10 pm.
LINK: Yahoo!ニュース | 2022/2/19 神戸に新たな酒どころが誕生、26蔵の日本酒「飲み比べ」も
*If you would like us to send you monthly updates and information, register here.