Online sake shop catering to international residents of Japan opens
In November the English language website Kurashu was launched by Benjamin Knopp and Philipp Maas, two German residents of Japan with an aim to help non-Japanese residents, and even younger Japanese people, develop a deeper understanding of sake.
Kurashu is an online retailer that emphasizes demystifying the complex world of sake by breaking down the wide range of flavors in language that everyone can understand. In addition to detailed descriptions of each item, the site features interviews with brewers who reveal more intimate details about sake and the history of the business.
Visitors to the site can take a fast and free quiz to determine their individual sake preferences and look at recommendations from Kurashu's curated list of artisanal breweries. For those who do make an account there, leaving reviews can result in discounts on future purchases and the website also uses its own algorithm to fine tune recommendations for each user.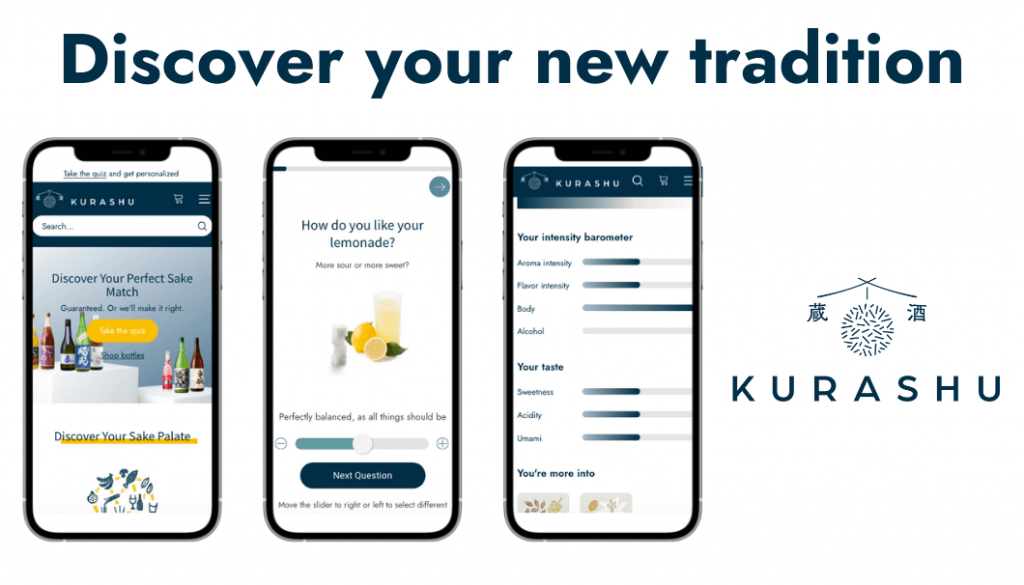 Gekkeikan sells prototype sake direct to customers
Kyoto-based sake giant Gekkeikan has embarked on a revolutionary new project called Gekkeikan Studio, in which it will sell sake that is still in an experimental prototype stage. The company intends to use the project as a test bed to gauge consumer reactions.
The company recently released the first sake of the project, called simply Gekkeikan Studio No. 1. . Fruity and sweet, this sake is blended with nigori sake for a silky mouthfeel.
Gekkeikan made this first foray available for pre-order through the Japanese crowdfunding site Makuake, where the initial stock of 300 bottles sold out immediately. In response to the surprisingly strong demand, Gekkeikan are considering selling future Studio releases directly through their own online shop.
Gekkeikan Director Taiji Okura told SAKETIMES that the desire to do something like Gekkeikan Studio had been gestating for a long time as the company sought ways to bridge the gap between R&D and their customer base. 
Although the initial 300 bottles of Gekkeikan Studio No. 1 had sold out, the company kept a reserve supply of another 100 720mL (24oz) bottles, which have been added to the Makuake page for 3,500 yen ($31) each.
LINK: 日本酒を進化させる実験的プロジェクト「Gekkeikan Studio」がスタート—月桂冠の取締役に聞く今後の展望
Home sake brewing kit MiCURA teams up with major sake breweries
The popular  sake homebrewing kit MiCURA launched the MiCURA X PRO series, made in collaborate with real Japanese sake breweries. 
The first edition of this series will team up with the award-winning Katsuyama Sake Brewery from Sendai City, Miyagi Prefecture. The kit, which began shipping on December 6, contains the ingredients used in Katsuyama's "Ken" Junmai Ginjo, including the same koji starter and 50% polish Yamadanishiki rice.
The rest of the set is similar to MiCURA's regular homebrewing kits and contains pre-measured individually wrapped ingredients, a filtering bag made of the same fabric that breweries use, and a see-through container so users can watch the fermentation process as it happens.
Also like all of MiCURA's kits, it can ship to countries all over the world within days and support is offered in Japanese, English, and Chinese. However, residents of Japan should be warned that sake homebrewing is technically against the law so these kits cannot be used inside the country.
The MiCURA X PRO Katsuyama Starter Kit sells for US$92 and the complete set costs $172. They can ship in two to three days to Hong Kong and Taiwan, and three to five days to North America and Europe, making it a great idea for last-minute gifts during the holiday season.
LINK: 日本酒自家醸造キットMiCURAより酒蔵とのコラボーレーション新シリーズ MiCURA X PROリリース
*If you would like us to send you monthly updates and information, register here.