Justin LeVaughn, Brandon Floan, and Joe Rice make up the entire Void Sake team. Their new brewery in Lexington, Kentucky is bringing junmai and nigori (cloudy) sake to bourbon country, and the brewing pair of LeVaughn and Floan talked to SAKETIMES about using their craft beer experience and affection for weird fiction in the sake world.


Growing A Network
Justin LeVaughn and Brandon Floan were beer brewers first, and their path to sake began in the brewery. There's a diverse population in the area, particularly with the nearby Toyota plant importing Japanese workers and the local university bringing in students from different walks of life.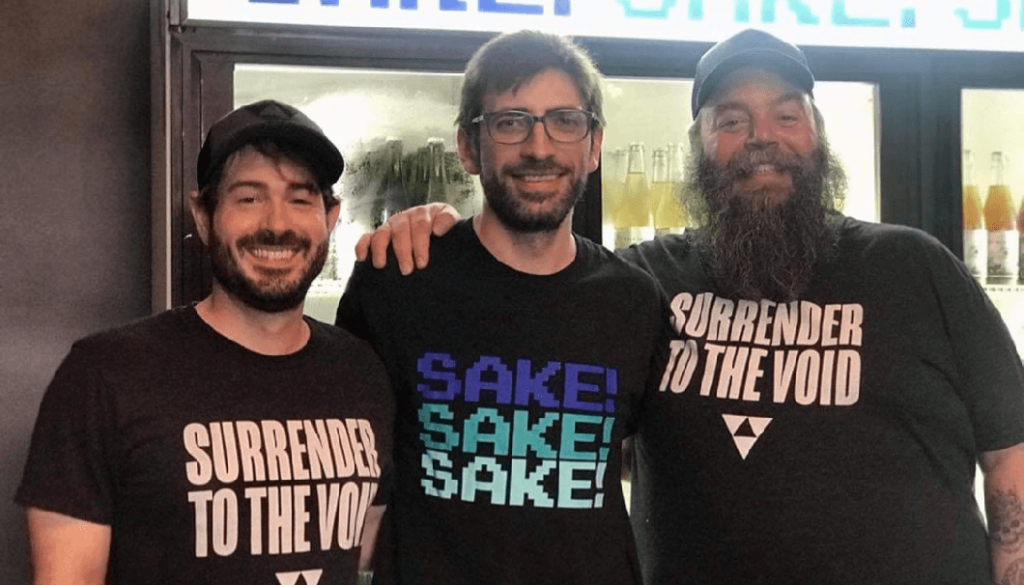 "There's a lot of culinary fusion here, so we decided to try a fusion of beers with different Japanese ingredients. That's where we discovered koji, and we were kind of blown away by it," LeVaughn remembers.
LeVaughn is referring to a koji beer the duo brewed that, Floan says, ended up being so delicious the two pondered what else they could do with this exciting new ingredient. The answer they found was making sake. Despite being utterly new to the drink, LeVaughn says that the team began filling in their knowledge gap at first by just drinking. "We didn't really know a lot of sake. So, we tried to basically drink as much as we could," he recalls.
The pair also began to study in earnest, taking courses from sake evangelist John Gauntner and investigating primary sources. "There is a textbook on brewing from the Brewing Society of Japan that got translated, and that was a huge help," says LeVaughn.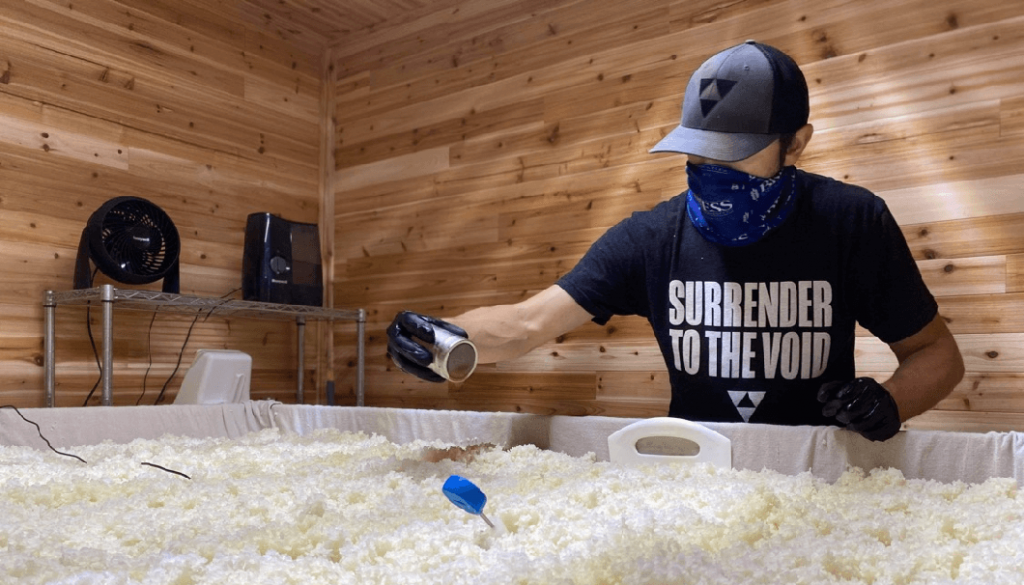 They also turned to other brewers in the US for help.
"A lot of other brewers, like Andrew [Centofante, of North American Sake Brewery], have been huge influences, and have pointed us in the right direction," Floan says. The community has been generous with time, information, and especially connections, he goes on, explaining, "They answered our questions, and shared their connections with us, and then it just spread. The growth has been very organic."
Since the brewers-to-be began their sake studies, the casual network of American sake brewers has grown into an official entity with the Sake Brewers Association of North America. Most of all, though, LeVaughn and Floan have depended on their natural scientific curiosity and experience with beer to guide their way.


Brewing Science
According to LeVaughn, "The biggest overlap between beer and sake brewing is in the manufacturing practices."
He points out techniques in manufacturing optimization that the pair learned in beer brewing, and the brewery where they work their day jobs has even helped supply tanks and other equipment for their sake.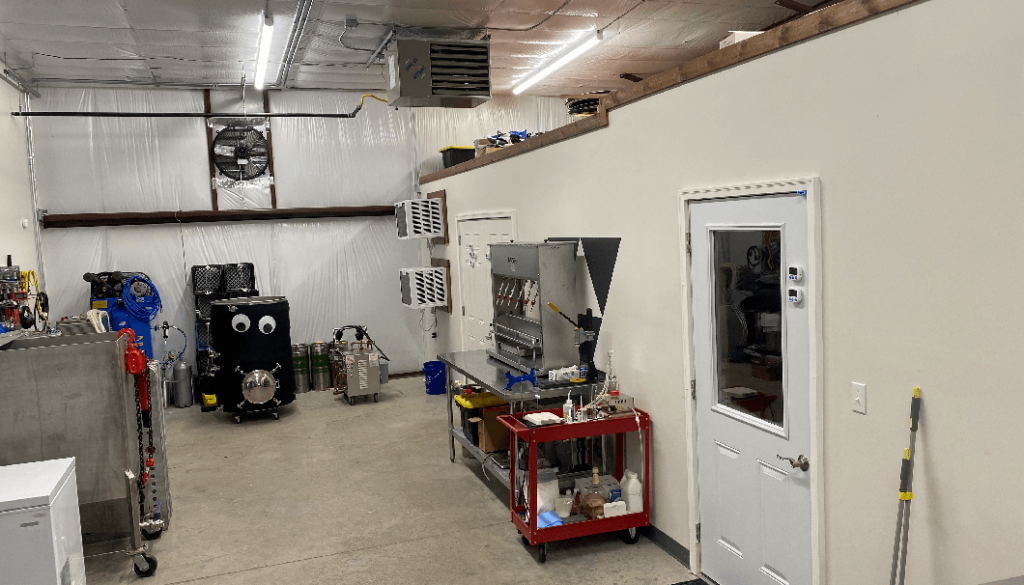 Their beer work has also given them a solid foundation of experience in fermentation. "Honestly, we are very focused on the sensory aspects when we make beer, so we can see how the numbers of brewing relate to the taste. We can carry that over to sake where, say, if it's a dryer sake, we can expect it to have this kind of characteristic in brewing," Floan elaborates.
The numbers are of particular interest to LeVaughn. "I come from an academic and science education background," he says, and his approach is accordingly concrete.
"The things that I focus on the most are our koji growing process to try to nail down growth consistency, and yeast growth in the mash. I do regular cell counts to hit the right yeast growth patterns."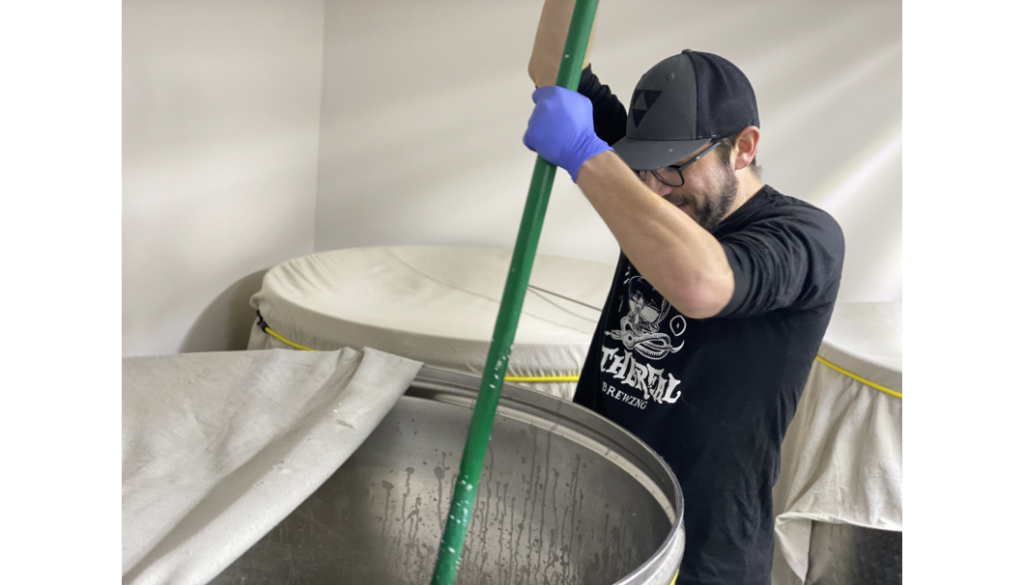 Counting yeast cells with a microscope, something he learned from beer brewing, gives him a grasp of how the mash is developing. He can use that information to adjust for the kind of sake he wants to brew.
At this point, the team has settled on long, slow fermentation for their sake.
"We've done faster ferments and very long ferments, and the type of sensory aspects that we like for our sake tend to come from longer fermentation." The range, he says, is anywhere from 35 to 40 days, which is much longer than a standard 30-35 day ginjo fermentation in Japan.
But it's still early days for the brewery. As Floan says, "We're still new to it. We found something that's worked well, and from there we can tweak things to see if we get the same flavor profile."


Bourbon Country Brewing
Kentucky is famous for bourbon, of course, and this association is influencing the fledgling brew team's business. LeVaughn says that many of their customers come through on distillery tours.
"We have a lot of alcohol tourism because of the distilleries, and we also have a lot of craft breweries around here. So, people already travel to this area to explore alcohol."
He says that their brewery, The Void Sake, pops up when tourists are Googling for bourbon distilleries, and some wander in looking for Kentucky's traditional spirit. Naturally, the Void team is more than happy to take the opportunity to educate these accidental tourists about sake.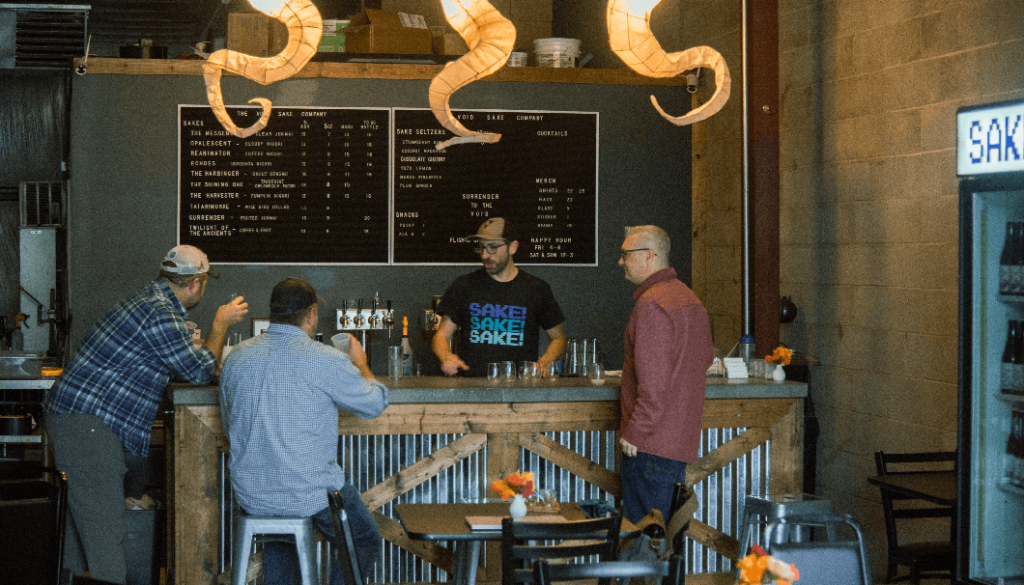 "We can go ahead and talk about processes because people have probably been to a bourbon distillery and they've seen the mash tanks and such. So, we can just explain that although we don't have pot stills, we do have a koji room. We have these open top tanks that we ferment in." These teachable moments help drive general interest in the drink, which is a win for everyone, the guys say.
Another draw is the branding. The Void's name came from a lucky coincidence of shared interest in dark fantasy in the H. P. Lovecraft vein, and one of the team noticing that there was so little sake in Kentucky. LeVaughn explains, "I think it was Brandon [Floan] who said, 'I guess we'll just fill that void.' and that was it!"
The brand imagery uses stark black and white triangles on labels with names like The Messenger, Reanimator, and Echoes. Everything hints at the unknown, the mysterious, and perhaps the dark, but the team wants to encourage interest, rather than fear.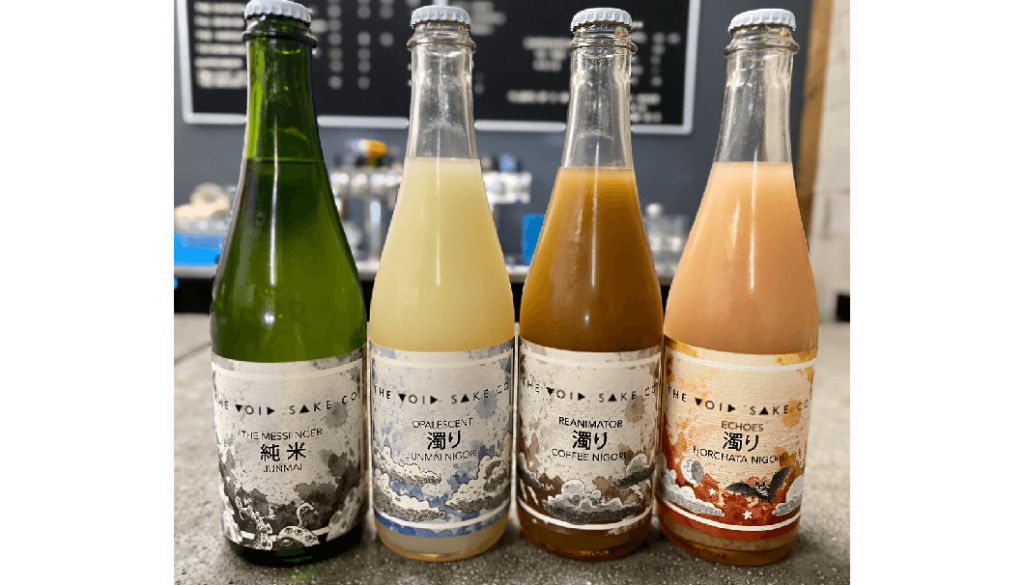 "It's more about the curiosity to learn about something or the intrigue of something new," says LeVaughn.


Taste of the Void
Once customers are inside the brewery, it's the sake that keeps them there. The Void offers up sake both bottled and on tap. The most popular products right now are the flavored nigori sake and low ABV sake seltzers. 
LeVaughn elaborates, "We have a couple on tap right now that are five percent [ABV] where we dilute it, add natural fruit flavors, and carbonate it. It's basically like a seltzer spritzer, and that's definitely got a lot of attention." 
The interest has been strong enough that the guys are planning to focus more on these sake seltzers going forward, while expanding their distribution of bottled sake nationwide. The Void also just announced a partnership with online retailer VinoShipper, making their junmai, nigori, and coffee nigori sake available to 39 states.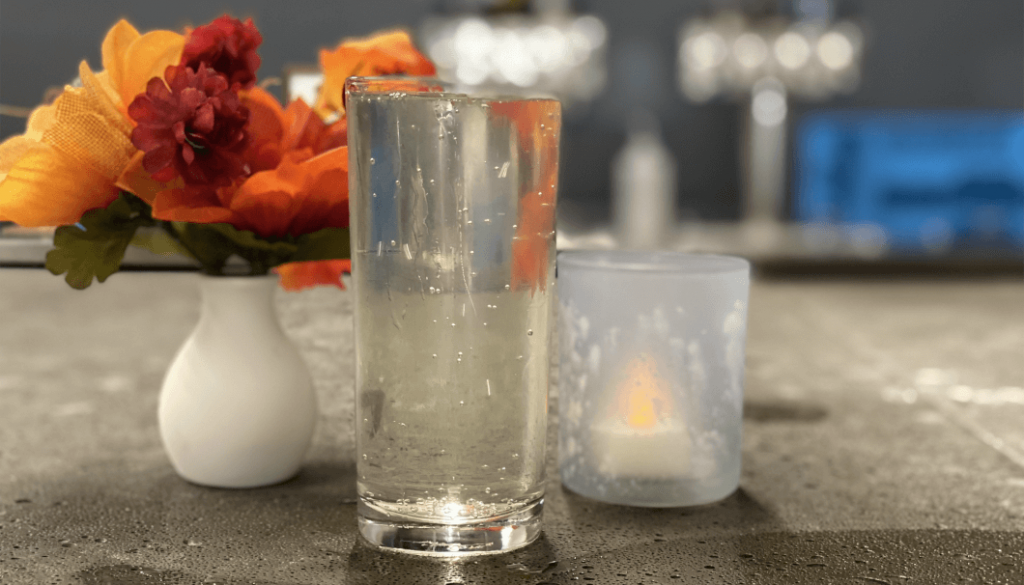 What does the future hold for The Void? For the moment, both Levaugn and Floan just want  to get glasses in customers' hands. "In the immediate future, what I think about is getting more people into the taproom," LeVaughn says. 
Floan adds, "I want people to know that sake is more than a novelty. That it's definitely pretty damn neat."
*If you would like us to send you monthly updates and information, register here.