The iconic Japanese chocolate and dairy producer Meiji recently launched a new project in Hong Kong promoting the seemingly unlikely combination of chocolate and sake.
This initiative pairs "Meiji The Chocolate," the company's high-quality yet affordable lineup of chocolate bars, each made with beans from different specific regions, with Wagauji, a sake label from Yamagata Prefecture's Oujiman Brewery.
Eager to learn more on this intriguing pairing concept, SAKETIMES visited Oujiman Brewery to interview the project team and experience this intriguing new offering first-hand.


Meiji popularizes the concept of cacao bean origin
In 2006, Meiji kicked-off their Meiji Cocoa Support project under a simple notion: to produce even better chocolate, the company had to get involved with the raw materials. Since then, Meiji officials have travelled to chocolate-producing regions throughout the world to work together with local cacao farmers.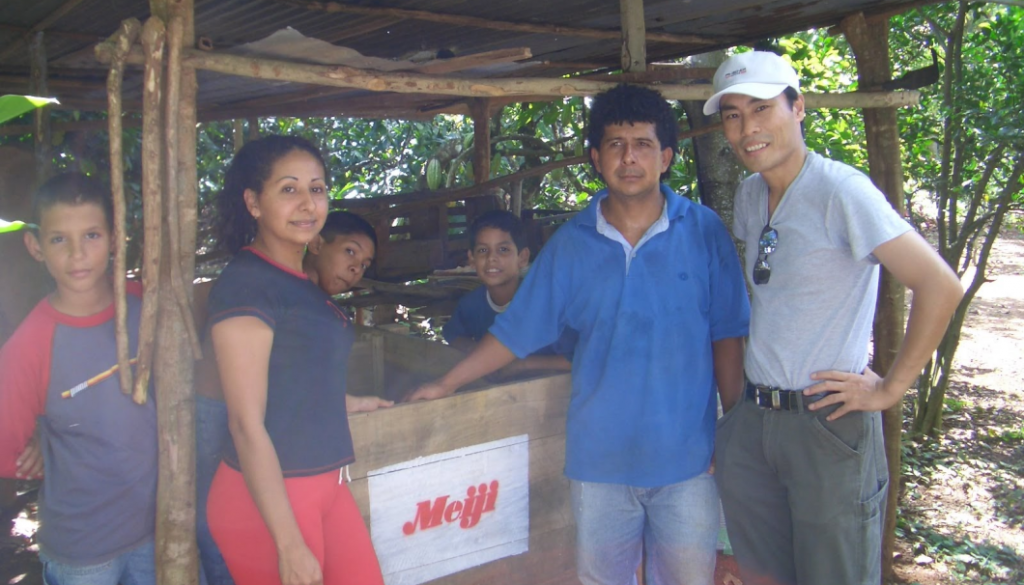 The company engaged directly with producers, exchanging opinions, conducting extensive testing and research, and providing feedback on cultivation and fermentation methods. This painstaking approach bore fruit with improved cacao yields and stabilized production leading to the release of Meiji The Chocolate in 2014.
In 2020, Meiji revamped the brand with an expanded line-up featuring cacao from several regions. To communicate the importance of the raw materials, the new range highlights the distinctive regional characteristics of different types of cacao.
"Our current line-up features cacao from four regions: Venezuela, Brazil, Peru and the Dominican Republic," says Akiko Kanegae, manager of Meiji's Cacao Marketing Department. "The range showcases the main flavor properties of chocolate — nutty, fruity, floral and spicy — based on the origin of the beans."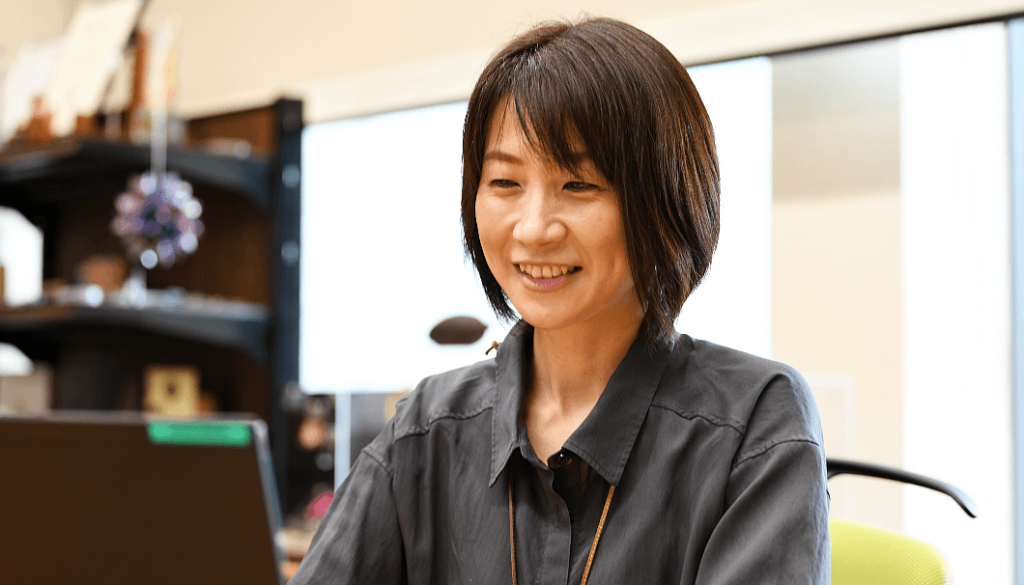 She continues, "Almost no other major chocolate company is doing what we are doing, in terms of actually traveling to the production regions and working together with farmers to produce chocolate using different types of cacao. With our thirst for knowledge of the raw materials and our focus on subtle regional differences, you could say that we are bringing the Japanese spirit of craftsmanship to chocolate-making."


Wagauji: A local sake label from a youthful team of brewers
Meiji selected Wagauji as their pairing partner, a sake label developed by Oujiman Brewery in Yamagata Prefecture. Founded in 1724, this renowned brewery has been in operation for almost 300 years, yet most of their seven-man brewing team are still in their twenties. The brewery staff has skewed young since at least 2009, when Oujiman faced the risk of closure. A neighboring producer, Tatenokawa Brewery, offered their support and dispatched a team of young brewers who ended up rejuvenating the flagging business.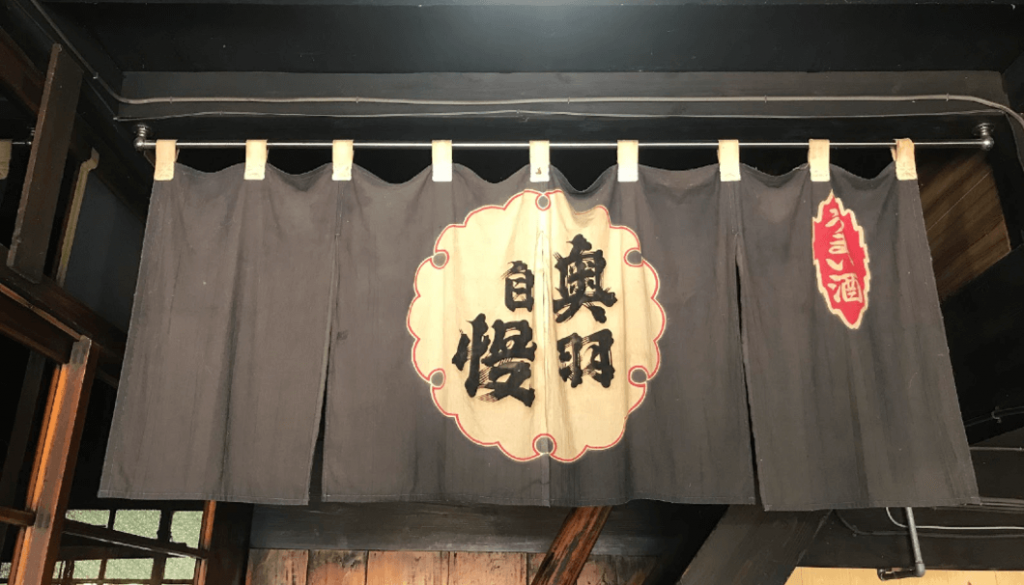 Oujiman Brewery released their Wagauji line-up in 2017. The brand takes its name from a Buddhist expression referring to the unity of time and one's own existence.
After testing a number of combinations, Meiji chose two Oujiman labels for their pairing project: Wagauji Junmai Daiginjo Kumo No Ue and Wagauji Fresh & Juicy Junmai Ginjo Unfiltered Unpasteurized Red Label.
"It seems that Meiji didn't know this when they made their selection, but by chance both these labels use Dewasansan sake rice," Wagauji label director Ryuya Abe says with a smile. Abe embodies the brewery's youthful approach. He began as an ace brewer who moved up the company ladder; he now sits in his current position at the age of just 30.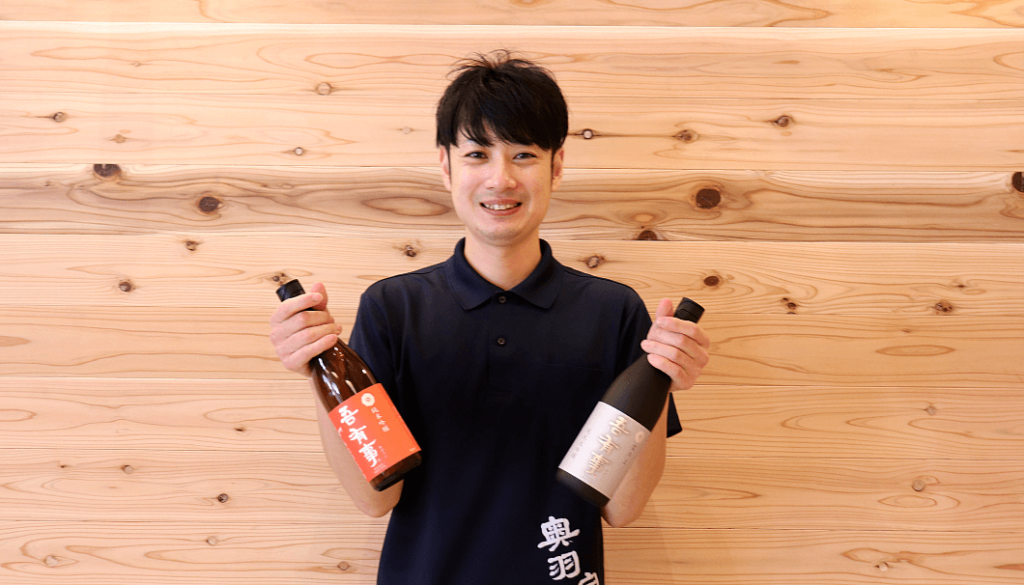 "Dewasansan is a daiginjo sake rice developed here in Yamagata. It's light and refreshing in comparison to other types of sake rice. We are directly involved in the production of this rice through discussions with local contracted farmers."
Wagauji Junmai Daiginjo Kumo No Ue uses Dewasansan rice with a generous 50% polishing ratio. It has a fruity flavor reminiscent of pineapple, strawberry and peach, plus a floral aroma provided by the no. 1801 yeast strain.
Wagauji Fresh & Juicy Junmai Ginjo is, as its name suggests, an un-charcoal-filtered, unpasteurized sake with a fresh and juicy flavor. This label is the first completely non-heat-treated sake that Oujiman Brewery has exported to Hong Kong. The sake uses rice with a 60% polishing ratio and no. 601 yeast, producing a subtly refreshing flavor reminiscent of grapes.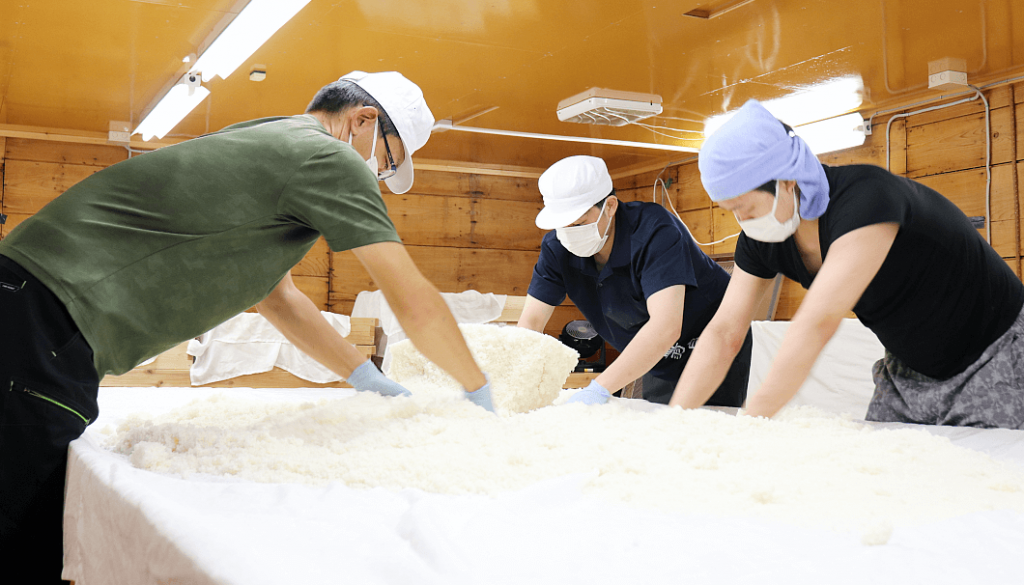 "Yamagata is known as the kingdom of ginjo, but Wagauji is particularly tart even within this category," says Abe.
"Starting with tartness as our base, we fleshed out the profile with sweetness and aroma to create a fresh, fruity flavor. We work entirely by hand, even on delicate processes that other breweries would typically carry out mechanically."
True to their label's name, the brewers are so focused on their work as to lose all track of time, combining traditional handicraft with youthful energy to create top quality sake.

The surprising connection between chocolate and sake
"Honestly, before starting this project, I didn't think chocolate and sake would go together," reveals Kanegae.
"We'd never tried anything like this before, and since Meiji The Chocolate contains a lot of cacao, I imagined that the chocolate flavor would overpower and that it would spoil the taste of the sake. However, the pairing with Wagauji convinced me for the first time that chocolate can pair well with sake. I realized that the interplay of flavors can highlight the fruity aromas of cacao."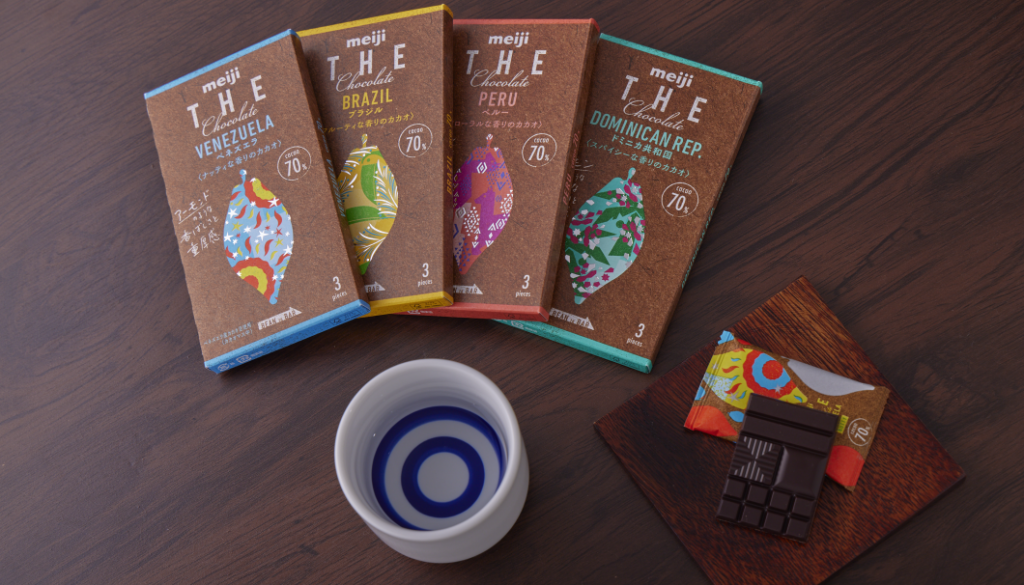 Kanegae had previous experience pairing whisky, tequila and other types of alcohol with chocolate. In her view, sake and chocolate share subtly complementary aromas.
"One of the main characteristics of Meiji The Chocolate is its aroma, so it makes sense that this would match the fruity nose of Wagauji. This works especially well if you take a sip of sake after the chocolate melts in your mouth so that the lingering chocolate aroma blends with the sake flavors."
And the similarities don't end there: "I had never really thought of chocolate as a fermented food before," says Abe. "But my perspective changed when I heard that the degree of fermentation affects the flavor, just like with sake."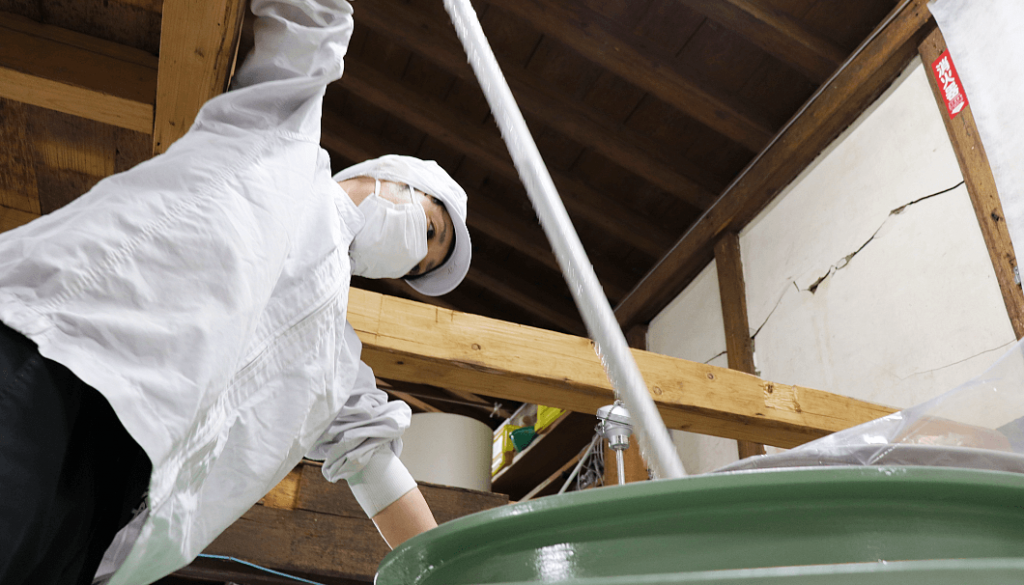 Abe also sees a connection between sake and chocolate: "When sake rice is purchased through agricultural collectives, rice from multiple producers get mixed together. Differences in water absorption mean that the rice may not be uniform, which affects the final product. So I can appreciate that Meiji takes care with their materials, meeting the producers face-to-face and managing their supply to maintain quality."
Meiji's pairing project was originally the brainchild of Masaaki Nakano from Meiji's Export Business Department, who struck on the concept when, unrelated to work, he happened to try Wagauji Junmai Daiginjo Kumo No Ue.
"Kumo No Ue is notable for its crisp aromas, clean acidity and muted sweetness. These qualities make it a good match for chocolate," explains Nakano. "The Red Label is soft with a juicy, fruity aroma that envelops the chocolate.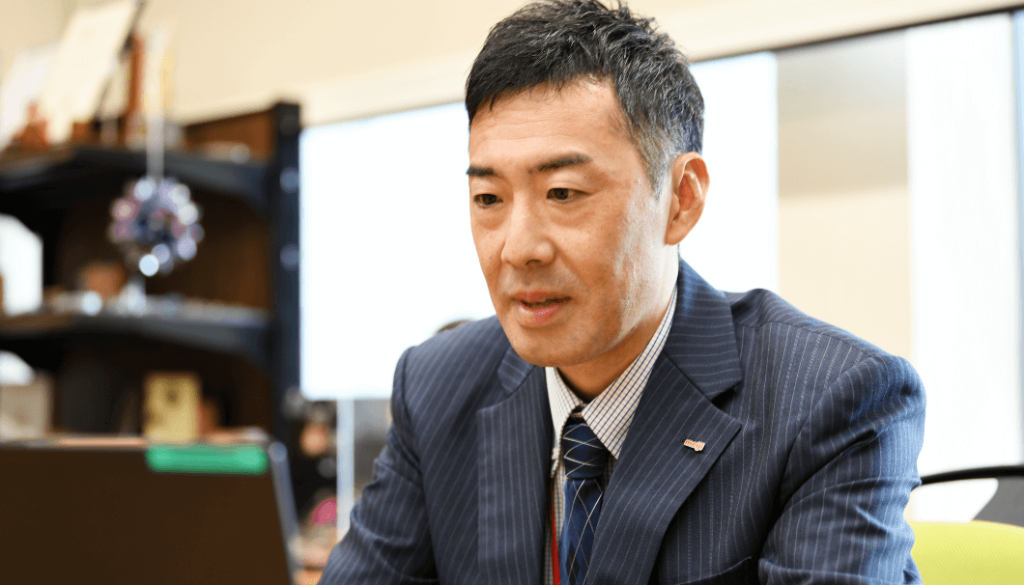 "A lot of people in Hong Kong only drink sake at bars and restaurants, but we are planning a collaboration with supermarkets that I hope will encourage more people to enjoy sake pairings at home."


The SAKETIMES verdict on sake and chocolate
SAKETIMES sent two experienced sake connoisseurs to sample the Meiji and Oujiman Brewery pairing: Jun Koike, editor-in-chief of our Japanese site, and Saki Kimura, director of our international site.
Both agreed that the best combination was Meiji's florally aromatic Peruvian chocolate paired with Wagauji Red Label. Below are a few samplings of their discussions: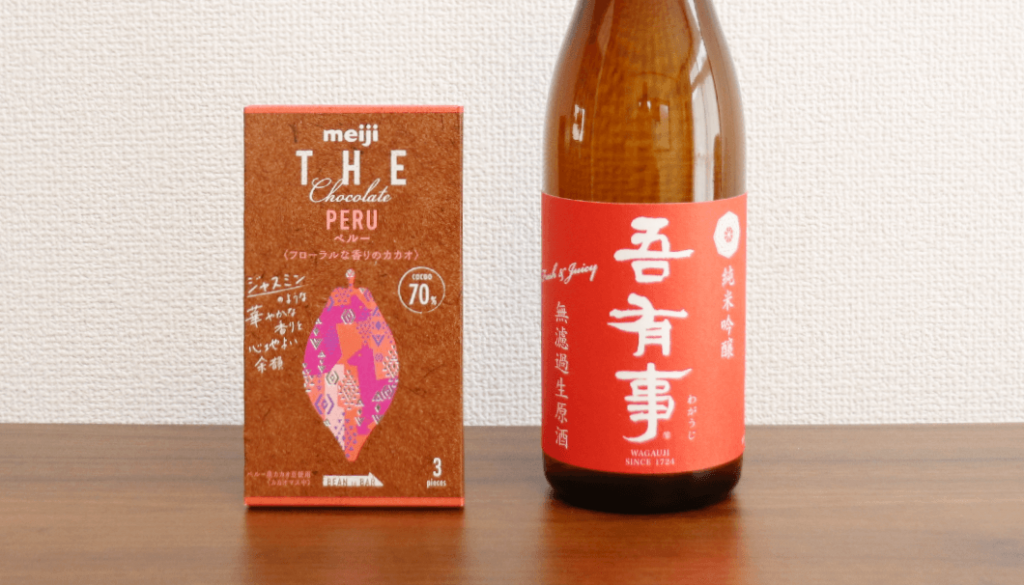 Koike: "This is good! It has aroma and body. The taste is great of course, but this collaboration is also interesting as an experience."
Kimura: "The jasmine aroma of the chocolate really brings out the flavor of the sake with this pairing. It would probably taste even better with warmed sake."
Opinions differed about the Kumo No Ue pairing however.
Koike: "The 55% cacao Venezuelan chocolate has a texture similar to nuts, which are often served with sake as a snack. If you drink the sake after the chocolate melts in your mouth, the aftertaste of the chocolate blends well with the dryness of the sake."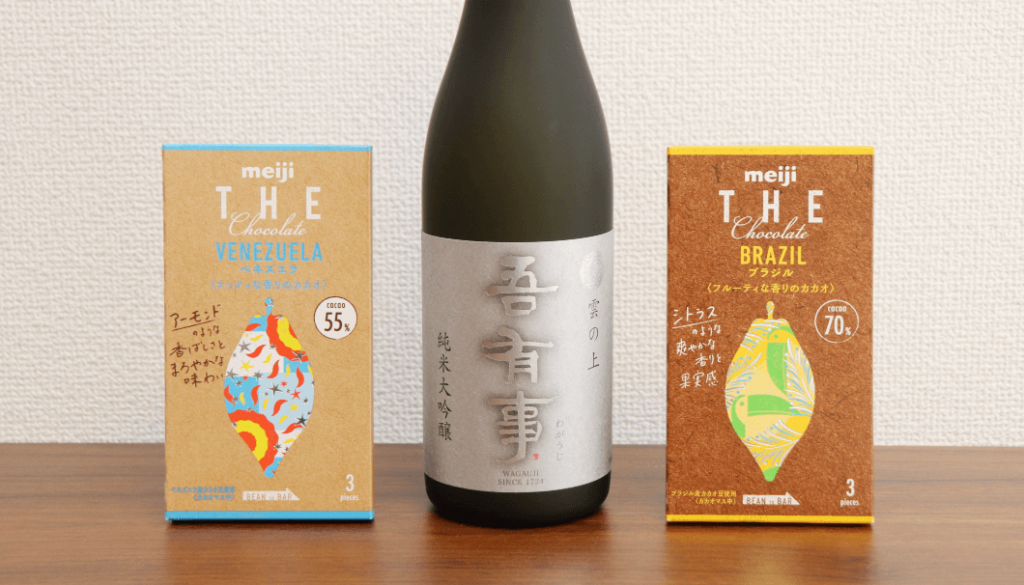 Kimura: "I thought the 70% cacao Brazilian chocolate was the best match. You get a berry-like flavor, as though there was a hint of jam inside the chocolate. The Dominican Republic chocolate also pairs well with this one. The flavor of the chocolate itself is unique, but it also complements the clear tone of the junmai daiginjo."
The six varieties of chocolate and two varieties of sake allow for a total of twelve different pairing possibilities, each with its own distinctive characteristics. Some combine similar flavors; some have a refreshing, pallet-cleansing effect; and some create new aromas. Part of the fun of pairing is exploring all these combinations.
Kimura: "Meiji The Chocolate contains a wealth of possibilities inside a single bar. Even the way you break the bar affects the flavor. The flavor of sake also changes depending on factors such as the drinking temperature, timing, and drinking vessel, but I was amazed at how much a little ingenuity can influence the flavor of chocolate. One of the nice things about drinking at home is that you can try different combinations to discover your own preferred pairing."
Koike: "In my view, this combination of sake and chocolate will appeal most to people who appreciate subtle flavors. In today's age where efficiency is emphasized, the idea of savoring the moment fits with Wagauji's concept of becoming one with time. I think this kind of pairing offers some unique possibilities, like enjoying some sake and chocolate before bed while reflecting on the day's events."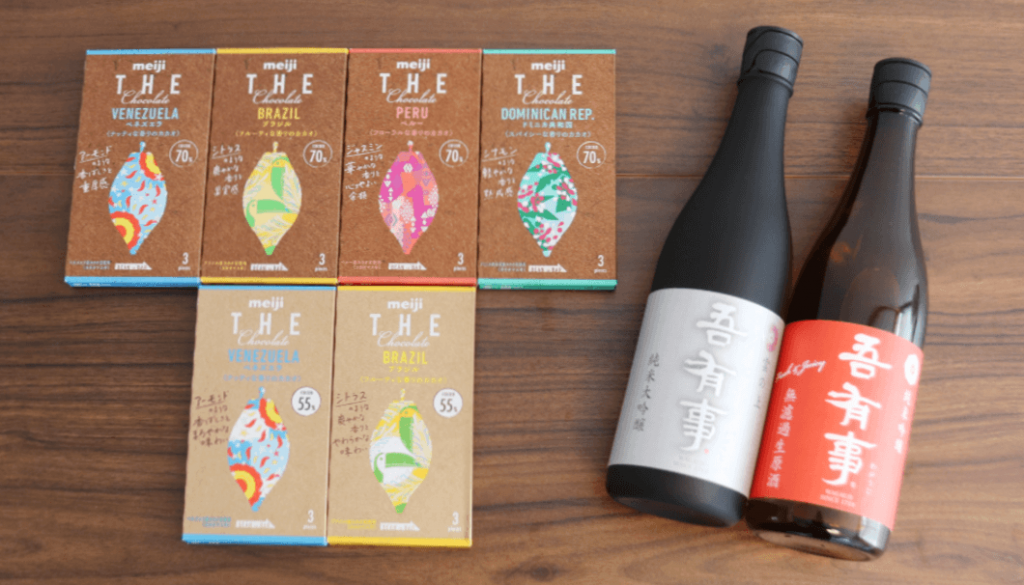 This special collaboration combines Meiji's passion for cacao with the youthful sensibility of Oujiman Brewing. There are numerous ways to enjoy this pairing, such as discovering your personal favorite from the 12 potential combinations, hearing the inspiring stories behind the products, and learning about the unexpected similarities between chocolate and sake. Why not enjoy a special moment at home and raise a cup to this happy meeting of new pairing partners?


◎About the Project
While this project is in effect, Meiji will promote Japanese sake and chocolate pairing at select supermarkets (primarily those run by Japanese entities) in Hong Kong. The project's rollout will occur through December 2021 to February 2022, and will continue to expand following the initial rollout.
The goal of this project is to promote a new style of food culture in the Hong Kong market through chocolate and sake, both of which importantly undergo the process of fermentation. Meiji and Oujiman would like to communicate the joy of discovery through this project, with the mixing and matching of the complementary and synergistic flavors and aromas of sake and chocolate.

*This article is sponsored by Meiji, as always all opinions expressed are our own.
*Translated by D. W. Lanark
*If you would like us to send you monthly updates and information, register here.