Alighting from the train at Aboshi Station in Hyogo Prefecture, visitors are quickly greeted with the words "Daiginjo Tatsuriki Kome No Sasayaki," written on the side of a nearby building.
This marks the location of Honda Shoten, producers of the famous Tatsuriki sake label. Boasting a strong reputation for innovation, Honda Shoten was one of the first breweries to produce sake using only high-quality sake rice instead of table rice. They also preempted the trend towards premium sake, switching their focus to ginjo brews as early as the 1970s. More recently, the brewery has received praise internationally, winning both a gold medal and a trophy in the sake category at the International Wine Challenge in 2021, and a gold prize at the Annual Japan Sake Awards in 2021.
In October 2021, a hundred years after the brewery was founded, Ryusuke Honda became the fifth successive member of his family to take on the role of company president. How will this recent change in stewardship affect the direction of Honda Shoten?
To find out more, SAKETIMES spoke to President Honda about the history of his brewery's flagship Tatsuriki label, as well as his plans for the future.


Doing what nobody else has done
The early history of Honda Shoten can be traced back to the middle of Japan's Edo Period (1603-1867), when the Honda family became head of a group of brewers in the Banshu region, now modern-day Hyogo Prefecture.
Shinji Honda, born into this brewing family as a second son, established Honda Shoten as a sake retailer near Aboshi Station towards the end of the Meiji Period (1868-1912). The brewery's origins as a retailer explain its unusual name, Honda Shoten, which means literally "Honda Store."
"From the early days, we wanted to do something nobody else had done," says Ryusuke Honda.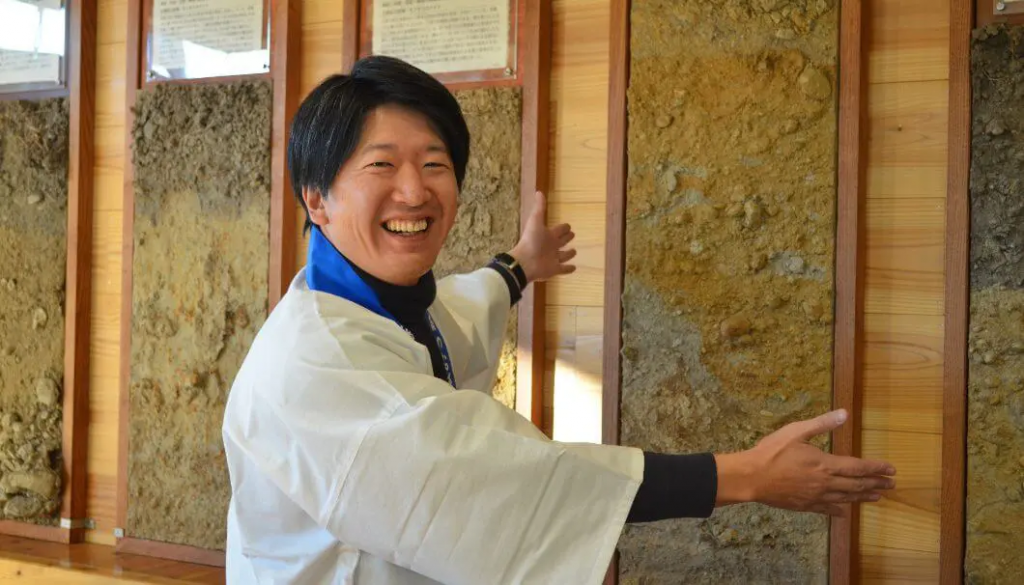 Due to its proximity to Aboshi Station, then a freight hub, Honda Shoten became a wholesaler of goods from other stores in the area. Later, in 1921, the retailer acquired a license to brew sake from a nearby soy sauce producer, Kanei Soy Sauce Co.
The desire to innovate has always been part of Honda Shoten's DNA, especially during the tenure of the company's third and fourth presidents.
Honda Shoten began producing ginjo sake in 1970, well before the style became widespread through the modern-day sake classification system. In 1976, the brewery became the first in the region to make fresh, unpasteurized namazake. In 1979, the company released its flagship Tatsuriki Daiginjo Kome No Sasayaki. And in 1981, the brewery established the Japanese Ginjo Association together with other influential producers.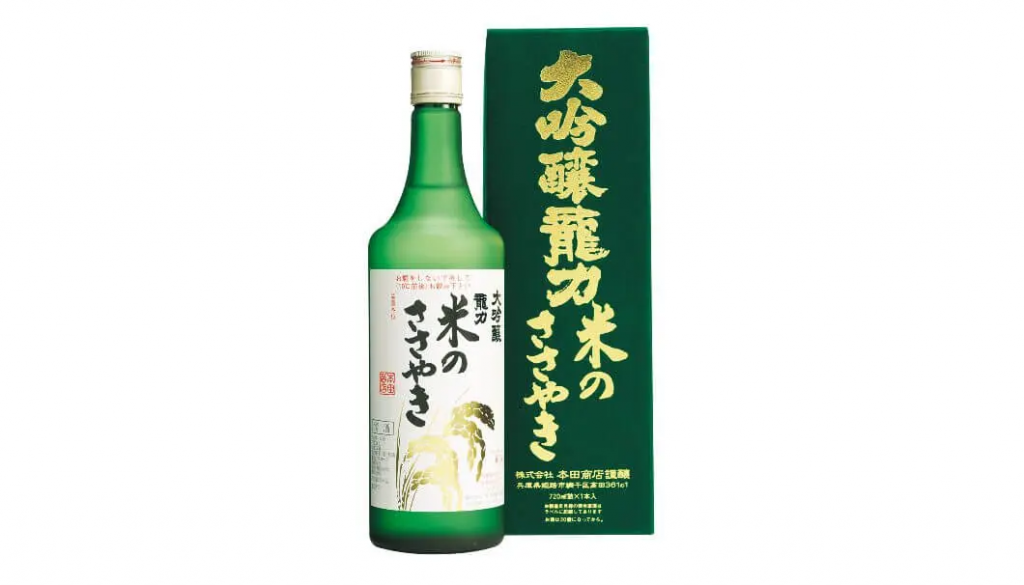 Around the same time, the brewery started polishing all of their rice in-house and built a new brewery dedicated to the production of daiginjo sake. In addition, Honda Shoten's fourth president, Shinichiro Honda, established the Association for Long Term Aged Sake, a voluntary association of brewers dedicated to the research of matured sake. Honda Shoten began brewing their own aged sake in 1982 with junmai ginjo as its base. Eight years later, in 1990, this sake finally went on sale under the name Shin-koshu.
"As a brewery, we are unusual in that we have mostly walked our own path without much concern for what others are doing," says Honda. "When warmed sake was popular, we sold sake that tastes best cold. And at the beginning of the 1990s, we switched to using 100% sake rice rather than table rice, an approach that later became widespread."
One label in particular has come to define Honda Shoten: Tatsuriki Kome No Sasayaki Junmai Daiginjo Akitsu. Pitched as Japan's answer to Romanée-Conti, this premium sake retails domestically at 15,000 yen for a 720ml bottle, and 30,000 yen for a 1.8L bottle at the time of writing. Honda explains the build-up to the label's release in 1996.
"A buyer from a department store said to us, 'Wine can sell for hundreds of thousands of yen, so why does sake only reach ten or twenty-thousand-yen maximum?
"The most valuable wine in the world at that time was Romanée-Conti. To find out how this wine was made, our third and fourth presidents traveled to Burgundy in France, where they learned about the importance of terroir and the effort that goes into growing grapes suitable for wine-making," Honda recalls.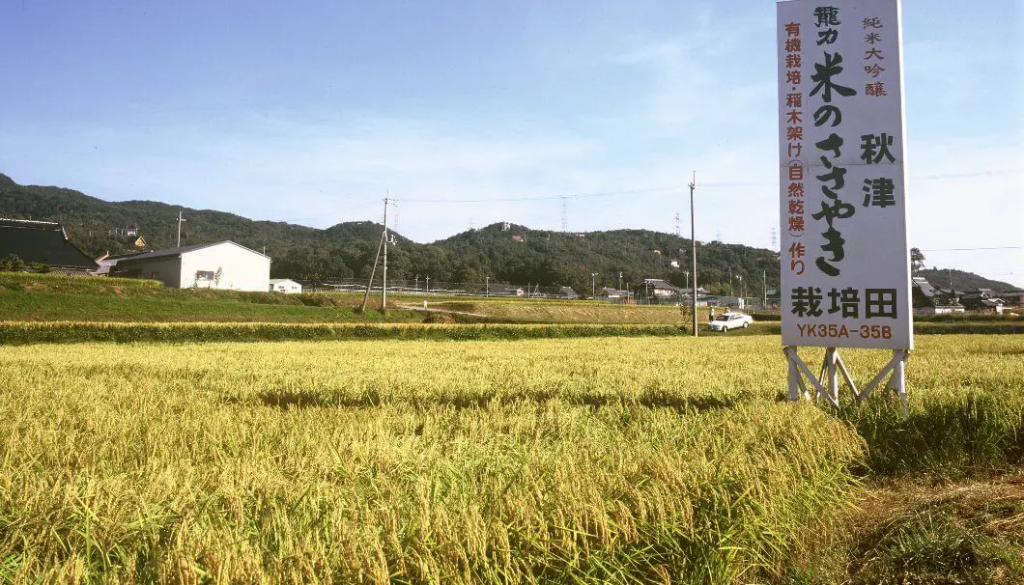 If Japanese sake producers could put the same amount of effort into rice cultivation, perhaps they could make sake to rival Romanée-Conti. With that goal in mind, Honda Shoten approached their rice farmers with a proposal: to produce the best Yamadanishiki sake rice in Japan, regardless of the cost or effort.
One producer, Tokura-san, accepted their challenge. Tokura's rice farm was located in the Akitsu area of Hyogo Prefecture, an area renowned as one of the best for Yamadanishiki cultivation, even among the other top ranked rice regions in Hyogo.
"Although we had been making ginjo sake since the 1970s, we had not received especially high marks at sake competitions. In 1981, we finally got our hands on Yamadanishiki rice from Hyogo Prefecture's special growing district. With Yamadanishiki finally available to us, we strengthened our research efforts into brewing ginjo. The culmination of that effort was our becoming the first Himeji Shuzo Brewing Cooperative member brewer to take a gold prize at the Annual Japan Sake Awards. Ever since then, we have been committed to the idea that great rice is essential to brew great sake.
"We signed contracts with our rice producers under the condition that they employed labor-intensive farming methods to improve rice quality, such as organic farming to limit the use of fertilizers, and traditional harvesting methods."
This focus on quality paved the way for Honda Shoten's crown jewel, Tatsuriki Kome No Sasayaki Junmai Daiginjo Akitsu. To make this opulent brew, Honda Shoten spares no expense, using Yamadanishiki rice harvested in Akitsu, which the brewers polish all the way down to 35%, then slowly ferment at a controlled low temperature. After being pressed from the fermenting mash, the sake is bottled over the course of a week, then left to mature for three years or more at a storage temperature of minus 3 degrees Celsius. At the end of this long process comes a tasting assessment, and only after passing this final test will the sake be deemed fit for sale. Akitsu is noted for its elegant floral aroma, mellow sweetness and refreshing finish.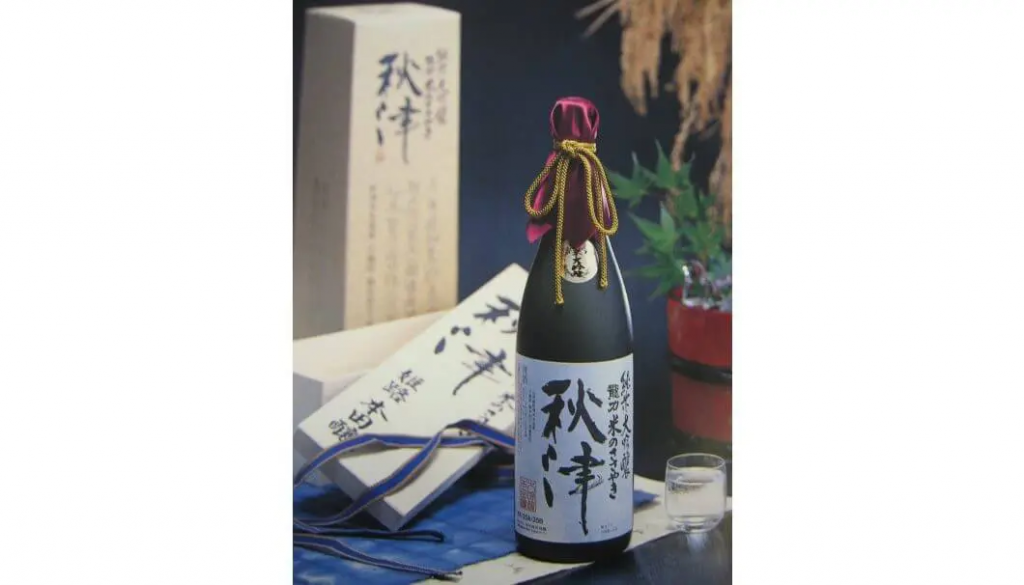 A hundred years of innovation
Honda Shoten celebrated their centenary on October 1, 2021. During their hundred years in business, they've left an indelible mark on the sake industry.
In that same year, the new President Honda stepped up to the role.
"When [my father] returned to the brewery in 1974, most of our turnover came from distributing beer from big producers. But my father wanted to bring back our sense of pride as a producer. He initiated our switch to daiginjo sake and Yamadanishiki rice, and saw those changes through to fruition.
That is why I wanted him to be here for our 100th anniversary. I would like our 101st year to mark the beginning of my own tenure, and the beginning of a new era for our brewery."
Ryusuke Honda studied brewing at The Tokyo University of Agriculture before joining Honda Shoten. He left the family business temporarily to work as a brewery management consultant for three years, before returning in 2005. To prepare for his future role as company president, Honda took on a wide range of roles from brewing to sales. After becoming a senior managing director in 2012, he set about understanding the essence of the Tatsuriki brand and how to incorporate this into the company's brewing practices.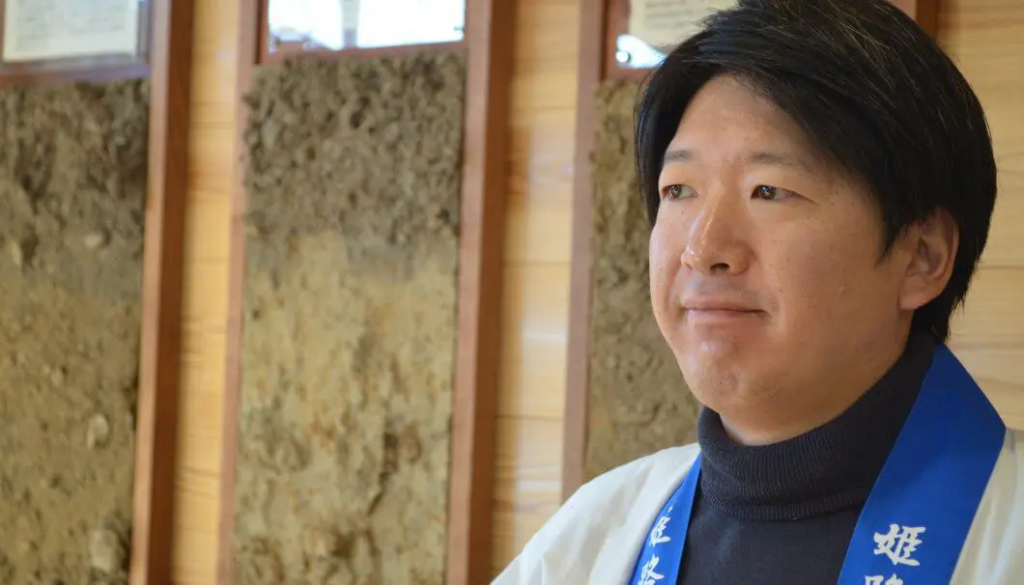 "We had won recognition before, like receiving the grand prize at the Japan National Kanzake Contest and receiving high ratings for our kimoto sake, but something didn't sit quite right. Our daiginjo is the most important thing to us. We felt like a ramen restaurant being complimented on its fried rice," laughs Honda. "We want people to compliment our sake whether it is served hot or cold, so we felt we had to develop a more consistent flavor profile for the Tatsuriki brand."
This led to the introduction of several new policies at Honda Shoten. Firstly, all daiginjo and tokubetsu junmai sake would now be brewed at controlled low temperatures. Secondly, the brewery had to make sake that would taste good hot or cold. For the Tatsuriki label, they decided to aim for a crisp and refreshing flavor as their baseline.
In addition to improving their Tatsuriki brand, Honda Shoten also ventured into new territory with the release of their Dragon series in 2012. This new range was designed to be accessible even for sake newcomers, with eye-catching label designs and easy-to-understand pairing options.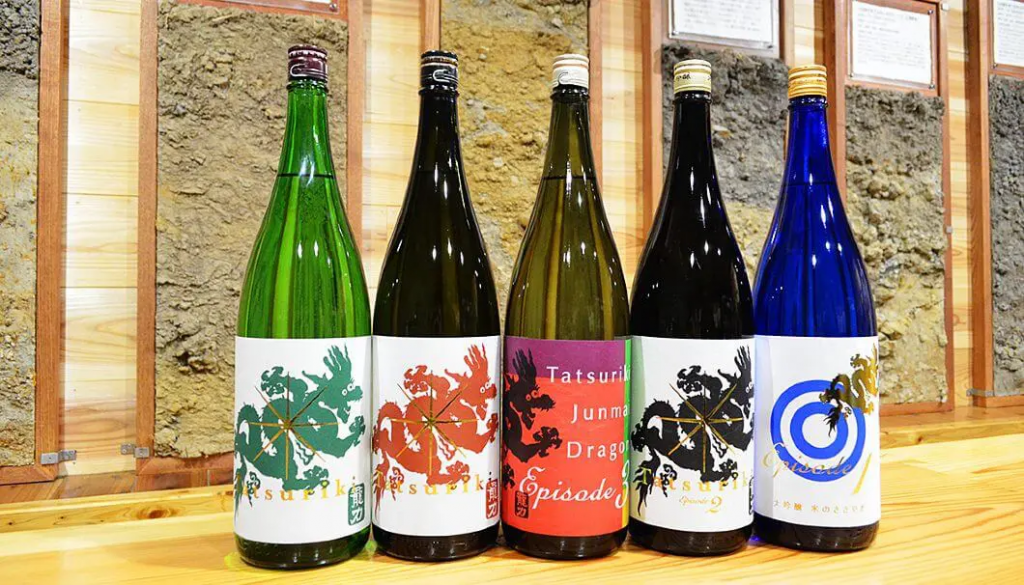 The dawning of a new era
Ryusuke Honda has invested a lot of time and energy into planning the next stage of his company's development, yet fate has also played its role, with his appointment as president coinciding with the outbreak of the coronavirus pandemic. "We had no choice but to tackle the situation head-on, with the attitude that things couldn't get any worse," says Honda.
"We stopped distributing beer around that time, and our profits fell to half those of the previous year. We really hit rock bottom," says Honda with a smile. "At the same time, I went on fewer business trips and spent more time in the brewery. That gave me a lot more time to reflect on our brewery's hundred years of history, and consider ways to move forward. It ended up being a good opportunity to bring about change."
Honda Shoten overhauled its website, adding information on the Yamadanishiki rice growing regions of Hyogo, which they introduced as "Tatsuriki terroir." The brewery also introduced a subscription service, offering customers monthly bottles of sake for a flat fee.
Adding to their focus on terroir and rice cultivation, the company created the Tatsuriki Terroir Center on the first floor of its brewery. In addition to soil sample exhibits and other materials detailing the history and characteristics of Hyogo Prefecture's Yamadanishiki rice paddies, the center also offers tastings of sake made from local Yamadanishiki rice.
In November 2021, the brewery opened a directly-run store, Tatsuriki Shop Genmyoan. This new store specializes in the aged sake that the company's fourth president, Shinichiro Honda, had spent many years researching. In addition to serving tastings of aged sake, the store offers visitors unique blends based on their own preferences.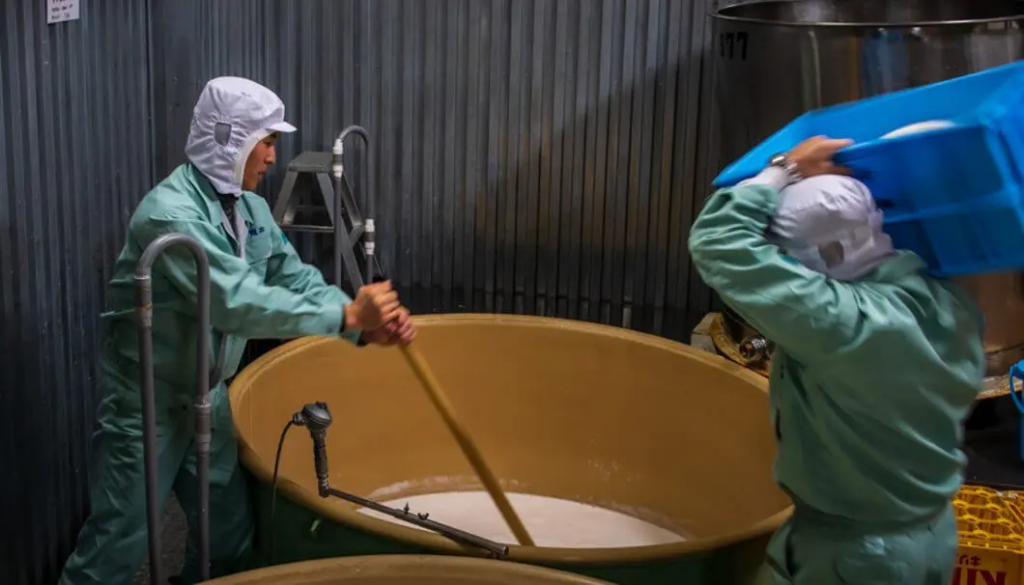 There were changes to working conditions back at the brewery, too. Until recently, Honda Shoten only brewed sake during the cold months of the year, but now they produce all the way up to the beginning of Japan's summer rainy season. The brewers' working hours have also changed. With an eye to improving efficiency, three mashes are produced per week instead of six, and the brewers now work from 8 am till 5 pm instead of 5 am till 3 pm.
"Sake brewing tends to fall into the traditional pattern of each brewer doing their work by hand, with the working day beginning at sunrise," says Honda. "But these days we can use air conditioners and temperature control equipment, employing sensors to take measurements and checking the condition of the brew in real time on our smartphones. Times change, and we need to move with the times.
"I would like sake brewing to be a viable career option. Of course, it is best if people get into brewing because they want to do it, but those brewers are a rare breed. If people start work early and finish at 3 pm, then it will be difficult for them to socialize normally. They always have to leave early because of work the next day. We want to make sake for people to enjoy at social gatherings, but brewers with anti-social [work hours] won't be able to make that kind of sake.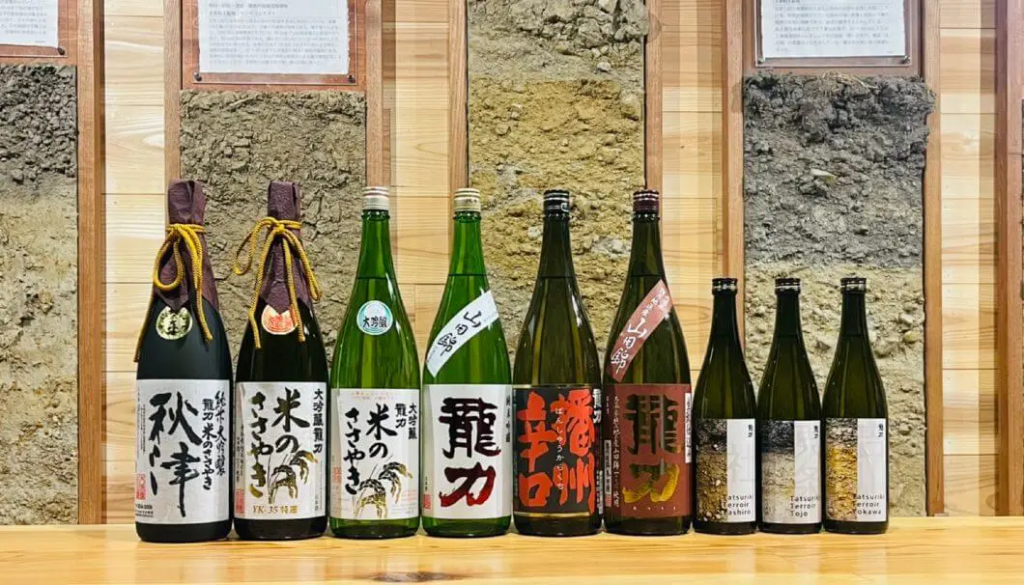 "If our brewers can have fun while making sake, instead of feeling miserable, the sake will surely improve. There is no need for our brewers to do unnecessary work. I think it is the same with any job," Honda concludes.
From ginjo sake, aged sake and freshly pressed namazake, through to their introduction of the concept of terroir to sake, Honda Shoten has an impressive list of achievements under its belt.
"A lot of breweries have long histories, but in the sake business it can be difficult to make significant changes," says Honda. "That is exactly why we have sought to embrace new challenges with our Tatsuriki brand. I think of myself as a runner in a relay race. I am carrying the baton passed on by previous generations, even if it means sometimes crawling forward on all fours. That is my role," Honda says.
*If you would like us to send you monthly updates and information, register here.